Grilling for family and friends this summer? 🔥 Keep the heat out of the kitchen and grill up some sausage, veggie + pineapple skewers! Dinner is fun, healthy and delicious with this easy recipe – perfect for weekend get-togethers or busy weeknights.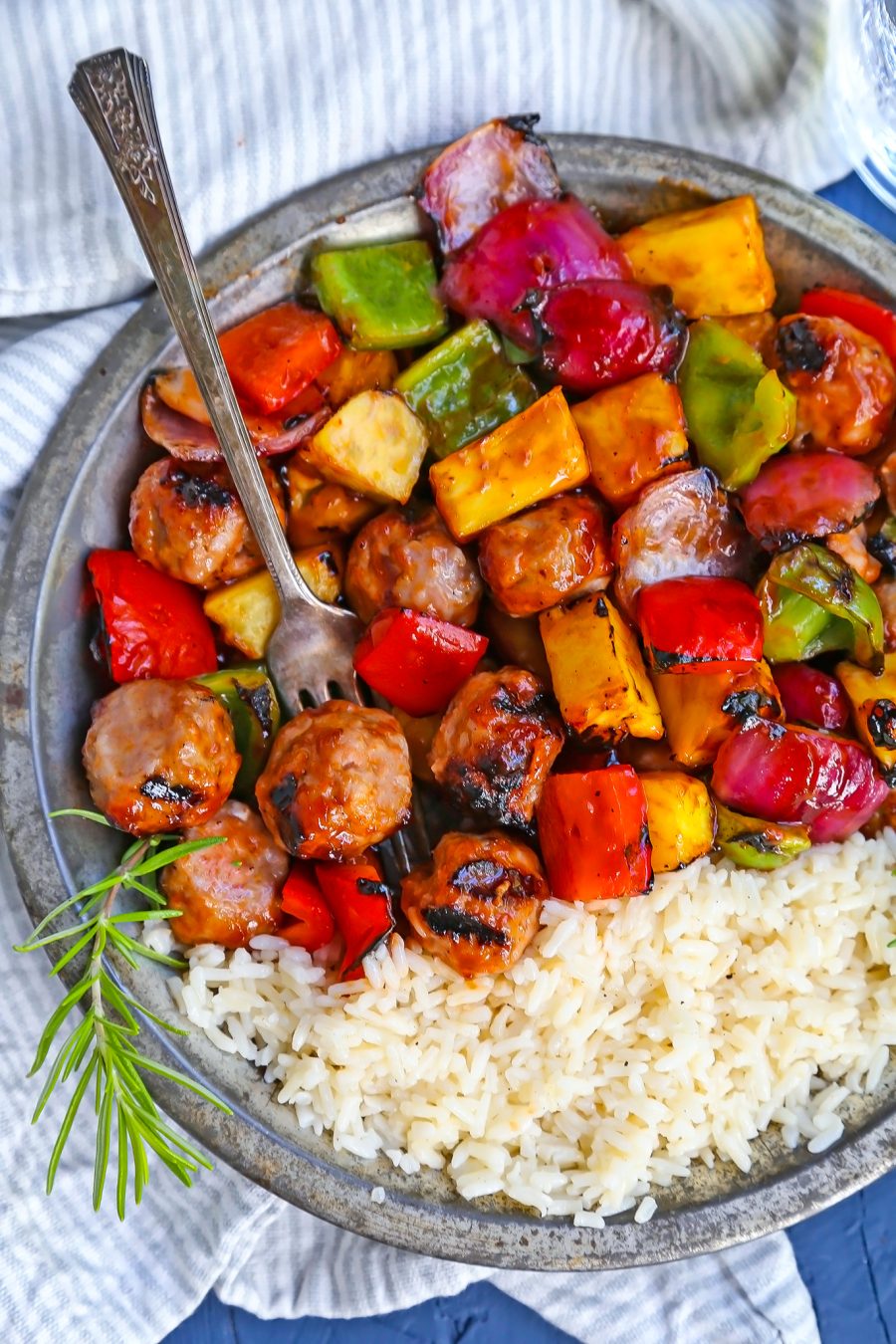 BBQ Sausage, Veggie + Pineapple Skewers
There is something so satisfying about colorful food! Especially in the summertime, when we can make it easy, healthy and on the grill. During this heat wave, I am all about keeping the heat out of the kitchen.
Need a little inspo for shaking up dinnertime? A quick, delicious meal is made simple in this 7-ingredient recipe. Prep in 15 minutes, then cook in 10 minutes. I love a 30-minute meal, don't you? These grilled sausage skewers are a go-to for busy nights or a backyard summer bash. Serve them with a side of hot buttery rice, a cool potato salad, or Italian pasta salad.
You can even toss together a fresh veggie salad to serve alongside, too!
We love switching up the ingredients on our skewers. Want to ditch the bell peppers? Try chopped zucchini, squash, or even parboiled baby potatoes, mushrooms or grape/cherry tomatoes. Not into pineapple? Chopped peaches are a perfectly juicy summertime switch.
Let's get you to the recipe and start cookin'!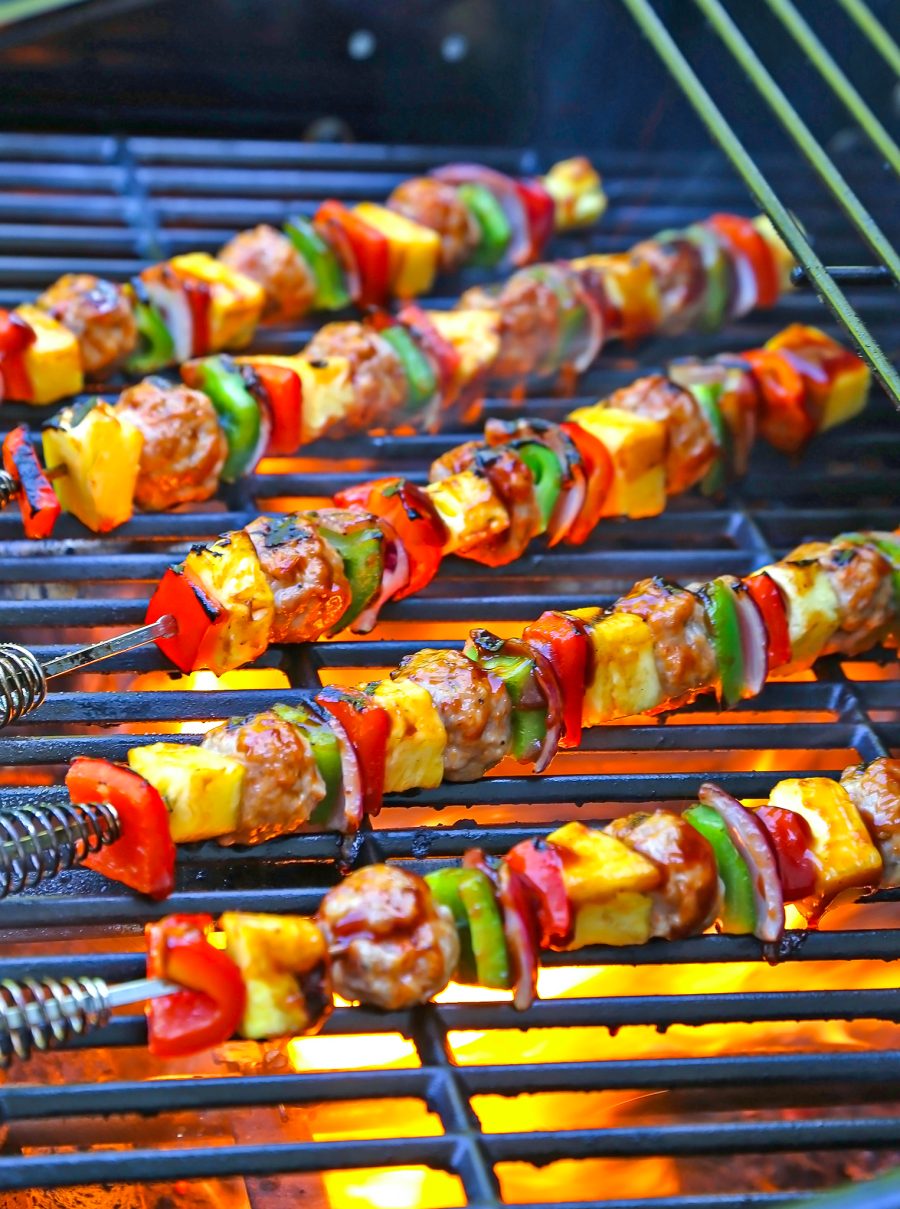 Ingredients for BBQ Sausage, Veggie + Pineapple Skewers
• Italian sausage
• olive oil
• red bell pepper
• green bell pepper
• fresh pineapple
• red onion
• barbecue sauce
Keep reading for full ingredient list + recipe, below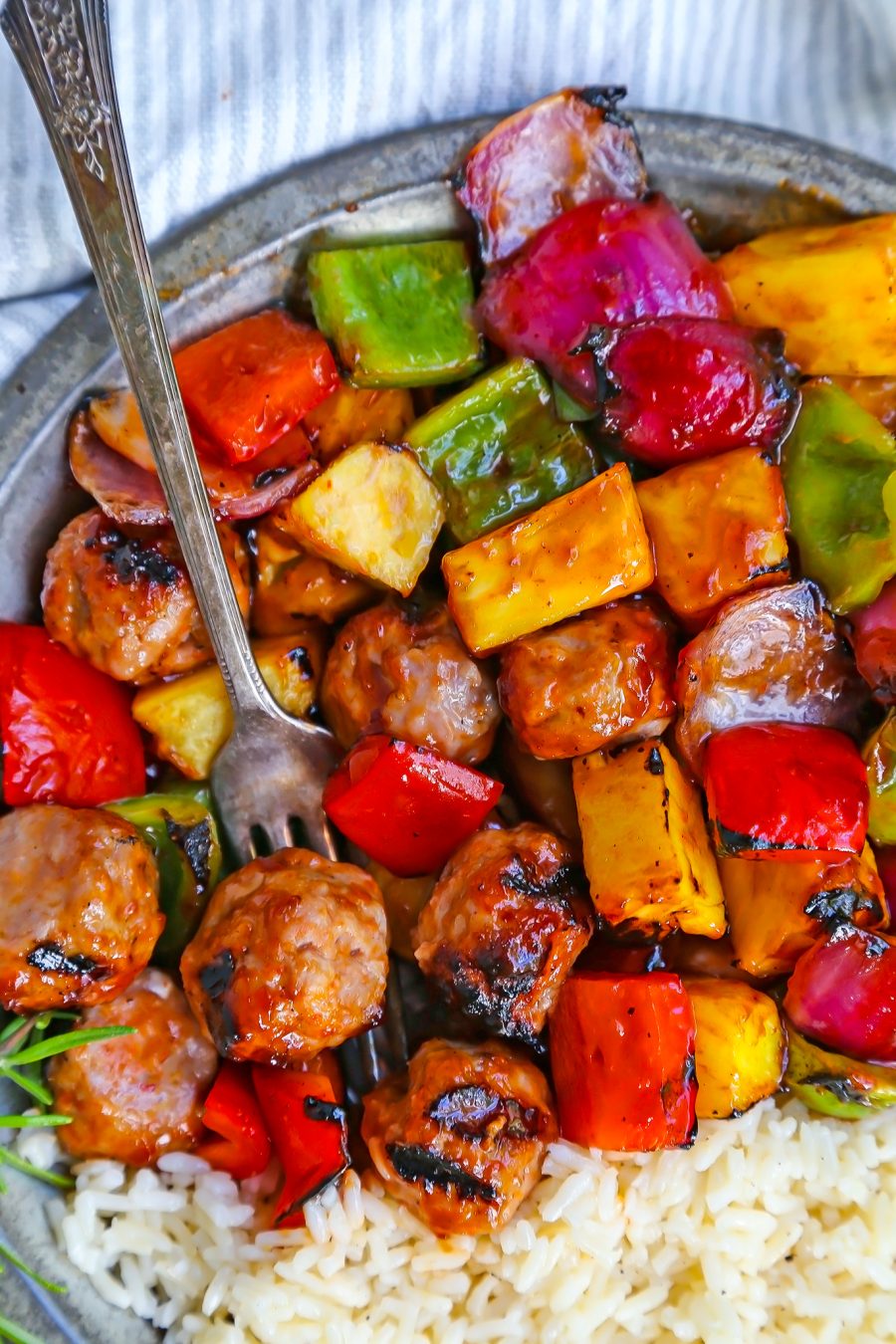 What makes these skewers so good?
These BBQ skewers are the perfect combo of smoky, salty and sweet. Want dinner ready fast? You only need 7 ingredients and 15 minutes of prep. The combo of juicy sausage, tender veggies and charred pineapple is melt-in-your-mouth good. This is the BEST dinner for keeping heat out of the kitchen and enjoying al fresco on a summer night.
Can I prepare these skewers ahead?
Yes. Assemble your skewers (or, chop your ingredients and assemble later) up to one day ahead. Keep refrigerated in a resealable bag or covered container.
What other fruits/veggies can I use?
Want to skip pineapple? Swap it with chopped peaches, or omit fruit altogether. Add grape tomatoes, chopped zucchini or yellow squash, parboiled baby potatoes, and mushrooms in place of (or, in addition to) the bell peppers.
What are side dishes pair well?
Serve these skewers with hot buttery rice, a cool potato salad, or Italian pasta salad. We love a leafy veggie salad and crusty bread on the side, too!
How do I store leftover skewers?
Place leftover skewered meat and veggies in a resealable container. Refrigerate up to 3 days. Reheat on your stovetop skillet or in the microwave.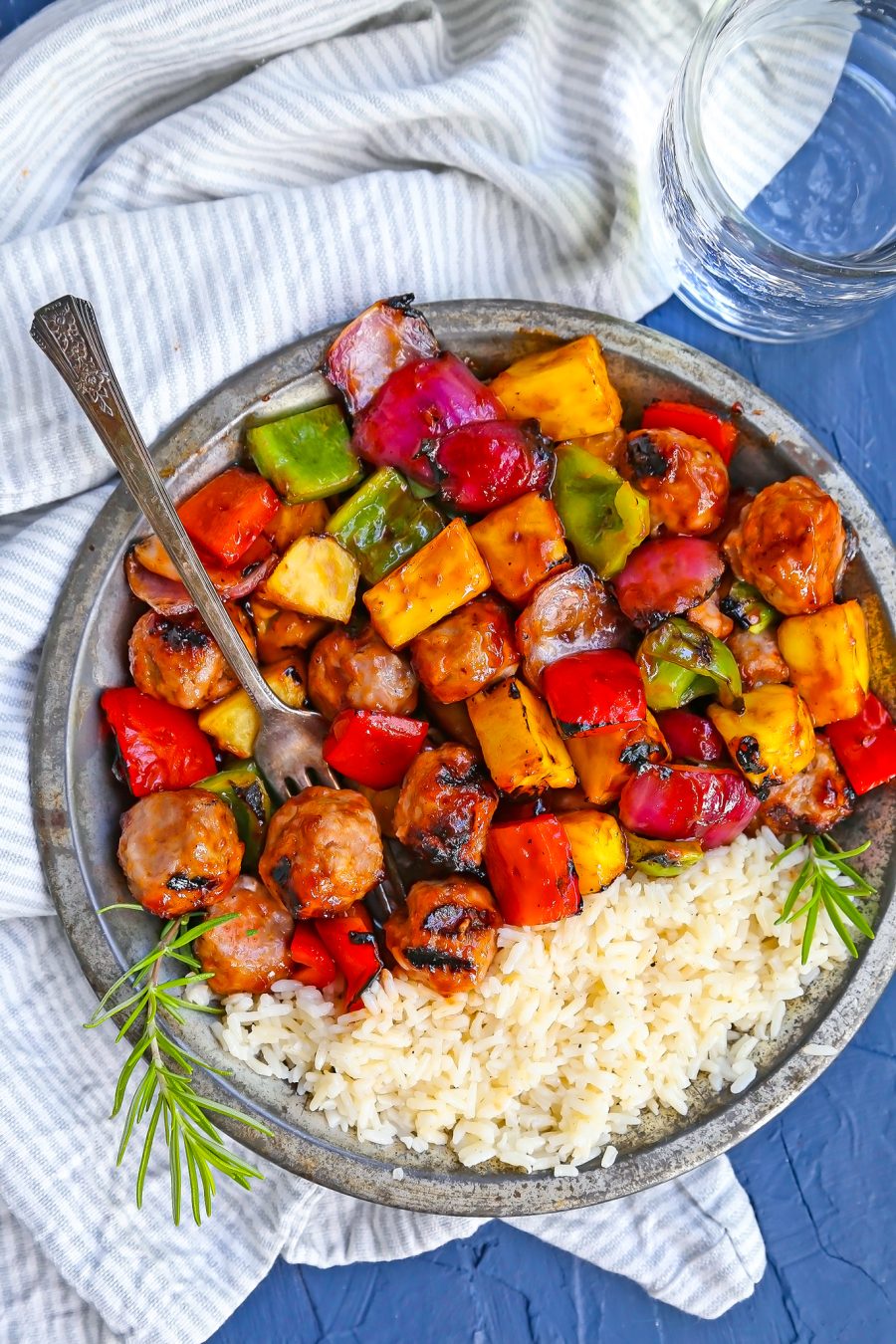 More easy grilled dinner recipes:
• BBQ Chicken, Bell Pepper and Pineapple Skewers
• Grilled Caprese Chicken and Summer Squash
• Mexican Grilled Steak Salad with Honey Lime Dressing
• Sweet Chili Hawaiian Chicken Skewers
• Grilled Marinated Flank Steak with Chimichurri Sauce
• Avocado Grilled Chicken Caesar Salad Sandwich
• Grilled Hawaiian Pineapple Pork Chops
---
I hope you enjoy this melt-in-your-mouth meal! It is our easiest-ever recipe for summertime grilling and lazy sunset dinners on the deck. These sausage skewers are cooked on repeat as long as the sun is shining and the grill is hot.
Cooking on a sheet pan? Try my One-Pan Roasted Sausage, Peppers and Potatoes, or my Sausage, Zucchini + Tomato Sheet Pan Dinner
Cooking in your skillet? Try this Summer Vegetable, Sausage and Potato Skillet, or my Skillet Italian Sausage, Peppers and Onions
If you're serving a crowd, double this recipe! You can quickly feed a bunch of hungry folks with this delicious, healthy grilled dinner. We love sliding some dinner rolls or crusty bread on the side, as well as a veggie salad.
Please feel free to leave a comment and a star rating, if you give it a go. I would love to know if you serve these skewers for your family and friends.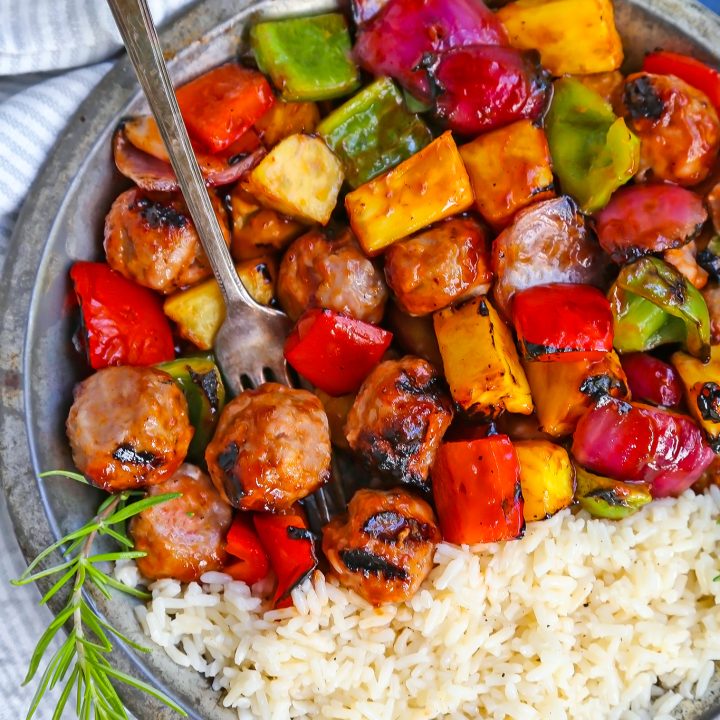 BBQ Sausage, Veggie + Pineapple Skewers
Ingredients
16 oz. Italian sausage (about 6 links)
2 Tbsp. olive oil, divided
1 red bell pepper, cut into chunks
1 green bell pepper, cut into chunks
1 fresh pineapple, cut into chunks
1 red onion, cut into chunks
1 cup BBQ sauce, divided
Instructions
Using a sharp knife, cut each sausage lengthwise and remove casing. Discard casing. Place sausage in a bowl. Mash until well blended; roll into 20-25 (2-inch) meatballs.
Preheat outdoor gas grill or grill pan to medium-high heat. Brush grates with 1 Tbsp. oil.
Using your hands, coat skewers with remaining oil. (I used five 12-inch metal skewers). Alternate sausage, bell peppers, onions and pineapple on skewers. Brush with 1/2 cup BBQ sauce.
Place skewers on hot grill and cook, rotating occasionally, until veggies are softened and slightly charred, about 8-10 minutes. Brush with remaining BBQ sauce and cook 1-2 more minutes, careful not to burn.
Remove skewers from grill and brush with more BBQ sauce, if desired.
Serve hot and enjoy!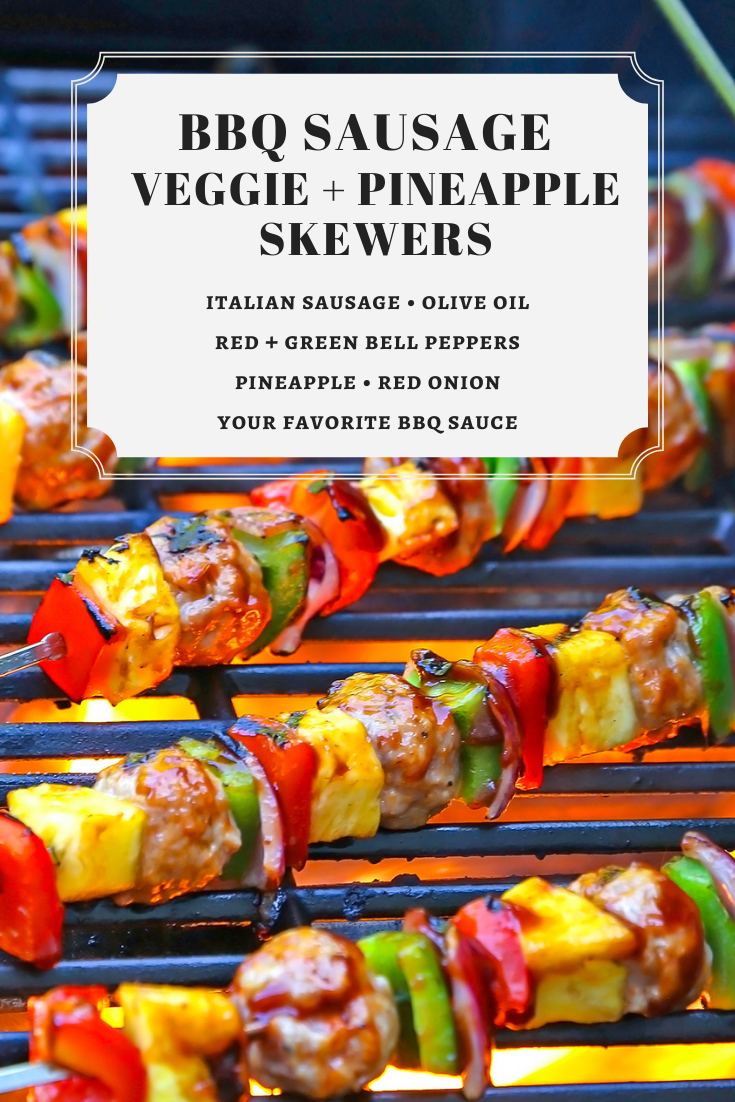 Want to receive our latest recipes straight to your email inbox? Click here to subscribe!