This post is sponsored by Holland House Cooking Wines.
Smoky, tender marinated chicken thighs with a creamy tahini sauce, fresh veggies, orzo and a squeeze of lemon! Dinner doesn't get any better than this mouthwatering all-in-one meal hot off the grill. It's full of bright summery flavors and nutritious, hearty goodness that will have you scraping the plate!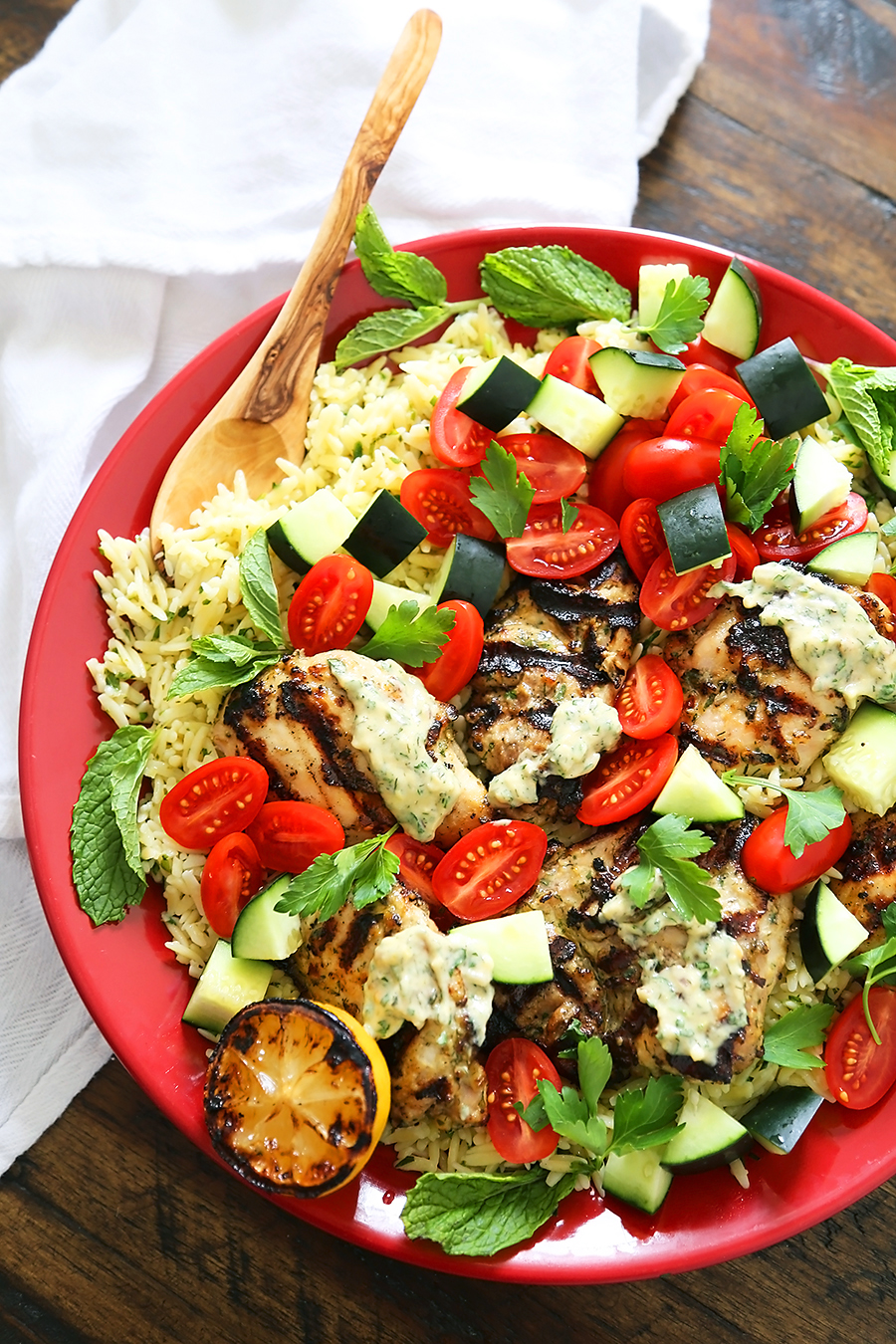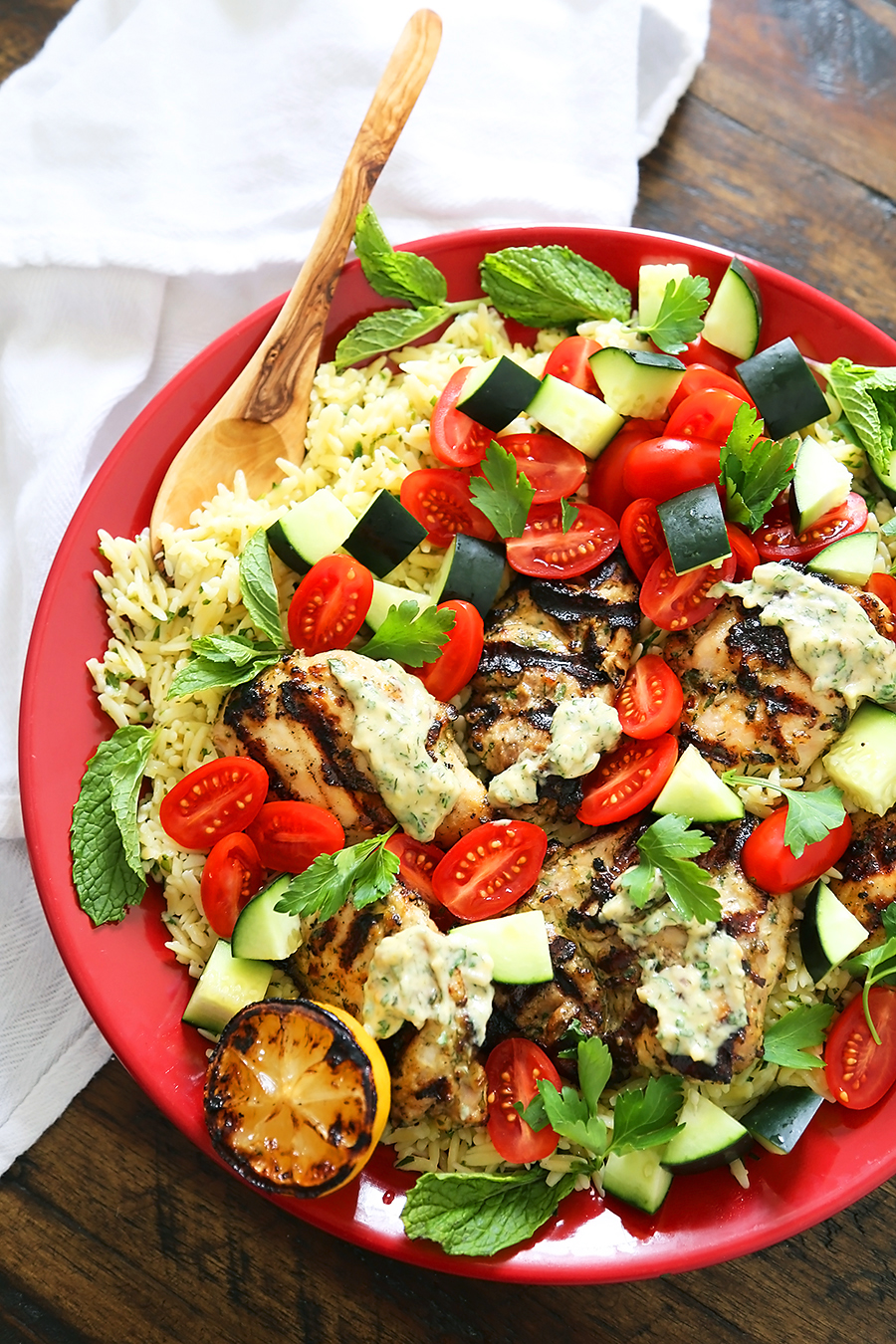 Today is my daughter's third birthday, and in honor of the pickiest eater in the world, I bring you one of her favorite dishes: my husband's grilled chicken. Nearly anything that comes off his grill, surprisingly, pleases this little girl, and this tender tahini-marinated chicken has become a fast family favorite. Now, if I could just get her to eat the veggies!
With her little hands helping in the kitchen, I have started really loving cooking on the weeknights again. I especially enjoy cooking when I don't have to think too hard about side dishes, though. All-in-one meals are my favorite to cook, because you get a little bit of everything you need with minimal clean-up and minimal sweat! This hearty, colorful chicken salad is what my summertime dinner dreams are made of. The smoky chicken with sweet tomatoes, crunchy cucumber and fluffy lemon-parsley orzo – oh yes! Topped with a drizzle of the reserved tahini-garlic marinade, which doubles as a dressing, you're looking at heaven on a plate.
Let's dig in!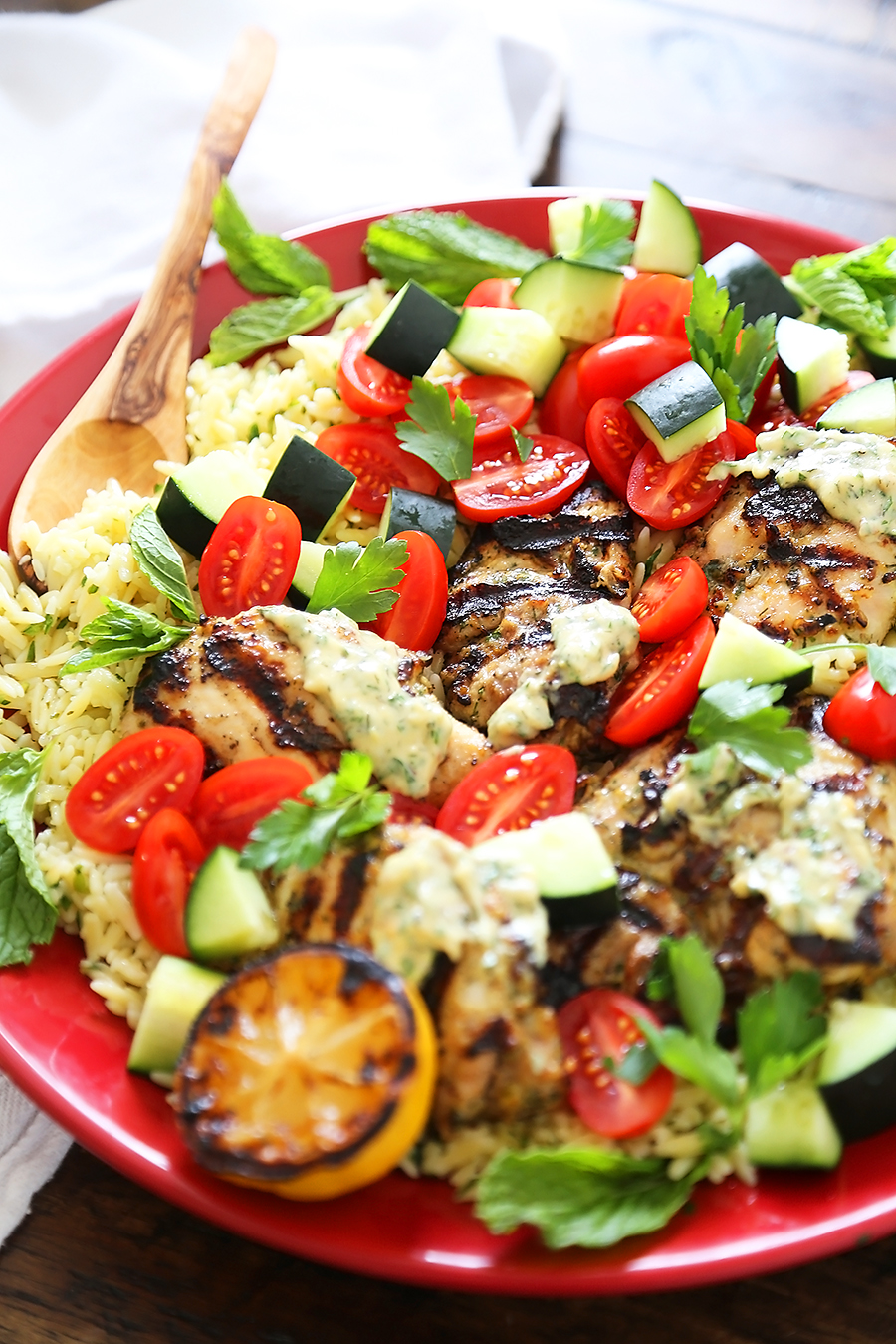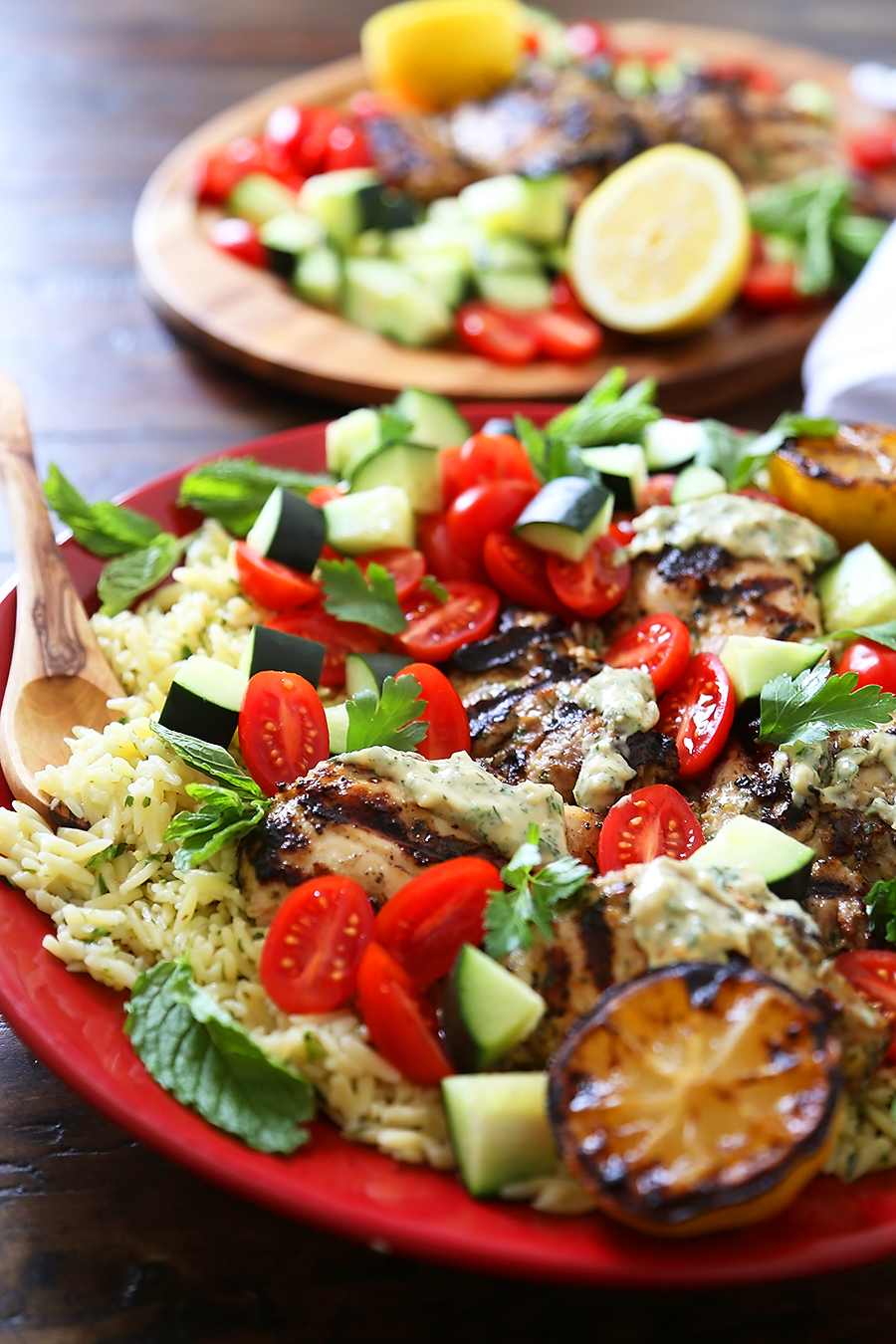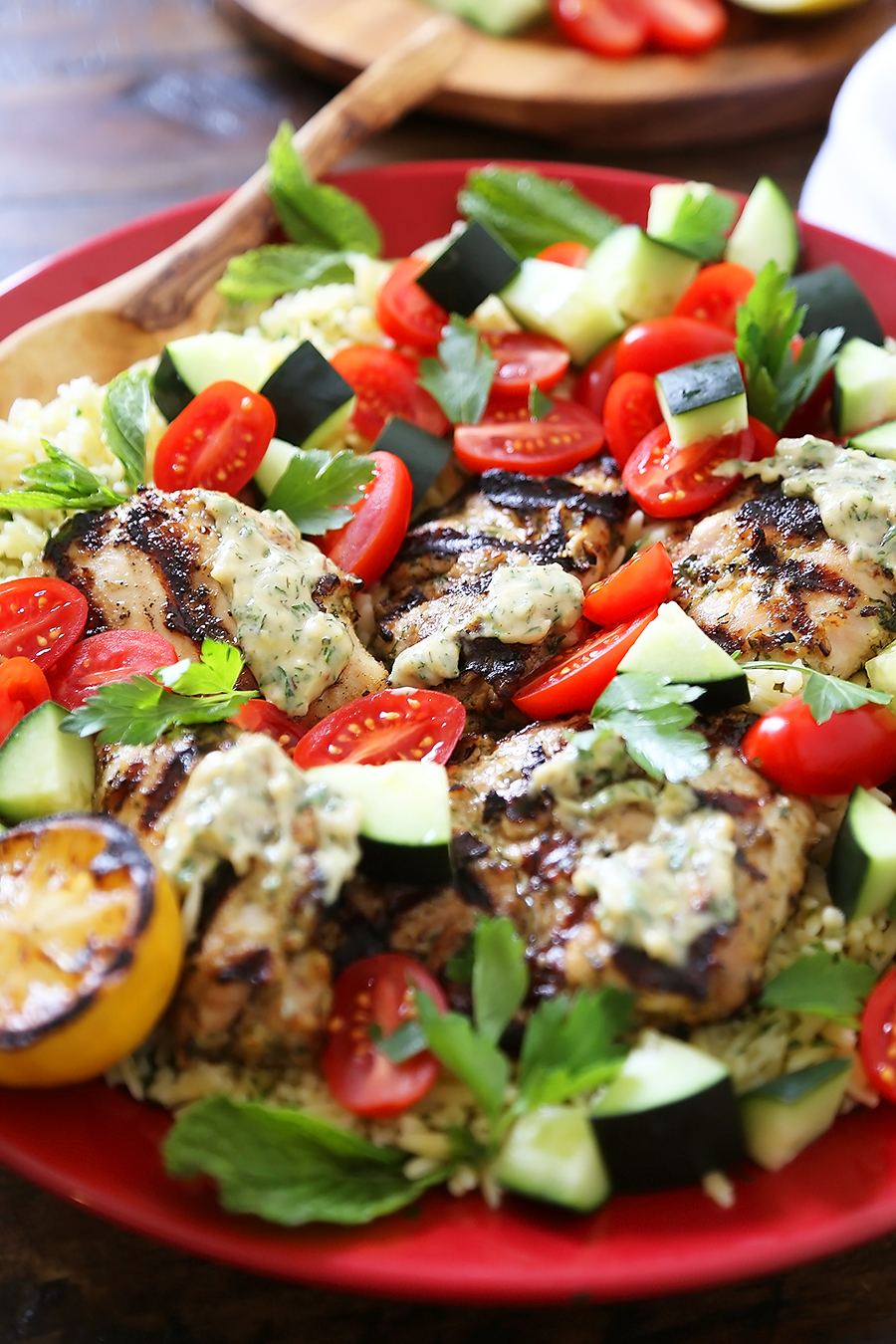 The marinade for this chicken is a simple mixture of tahini (sesame seed paste) olive oil, lemon, garlic, shallot, dry spices and fresh herbs. It also contains a few splashes of Holland House White Cooking Wine, which has become one of my favorite cooking buddies in the past year. This cooking wine adds the perfect tang and citrusy brightness. The flavors beautifully compliment the smoky and fresh flavors in this Mediterranean-inspired meal. Plus, I love that I don't have to open a large bottle of white wine – I can just reach in my cabinet for this cooking wine, pour in what I need, and place it back in the cabinet. It will store on your shelf for months!
Have you ever tried making a marinade with cooking wine? If you haven't, you are missing out!
I love that this mixture doubles as a deliciously creamy, cool sauce for topping the hot grilled chicken. The refreshing sauce drizzled over the chicken and veggies, nested on a bed of fluffy lemon orzo, is honestly the most scrumptious meal I've eaten all spring. Now that it's gotten a double thumbs up from my daughter, I'm excited to cook this one for my friends and family, too!
From my kitchen to yours, I hope you enjoy this recipe as much as we have.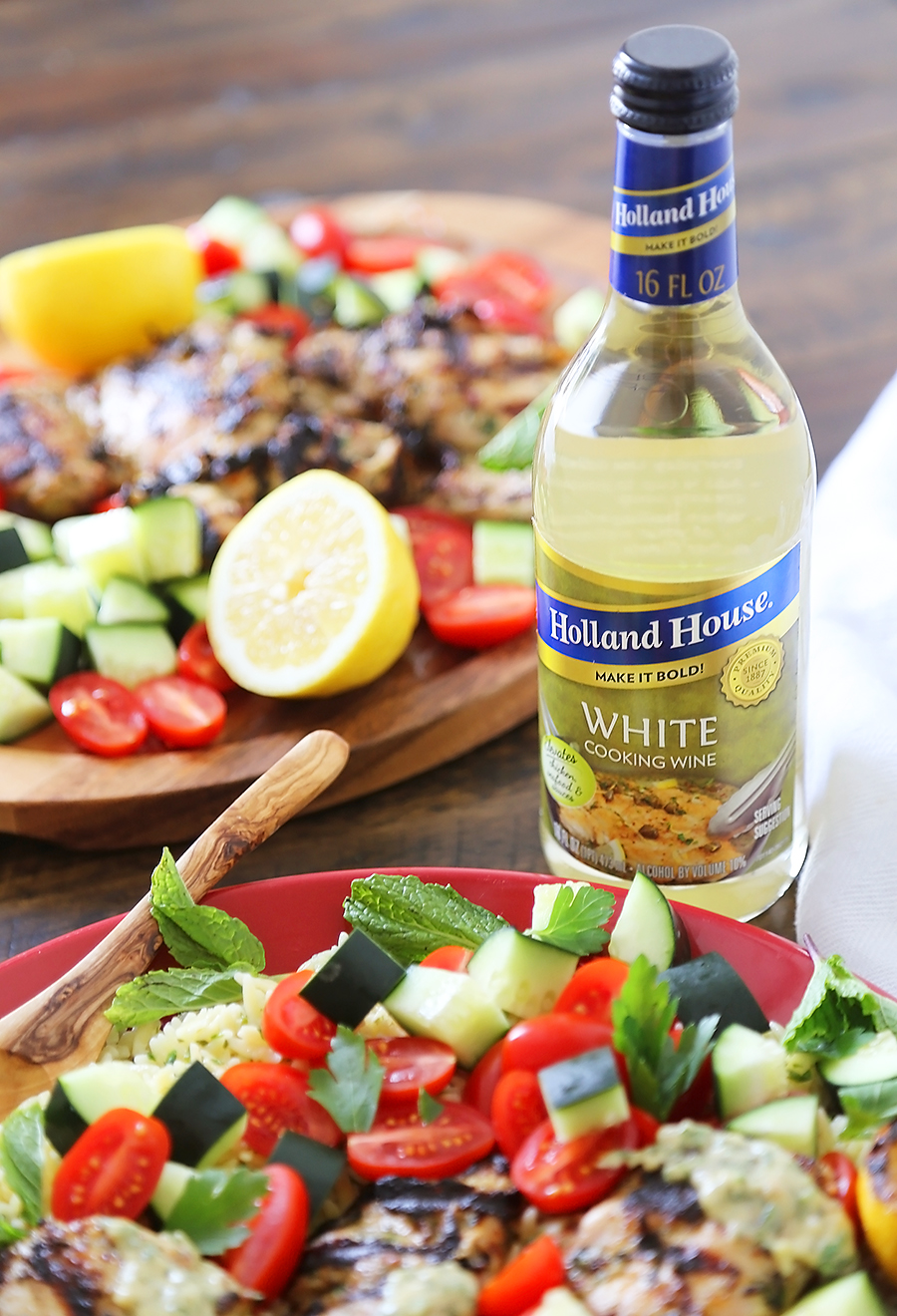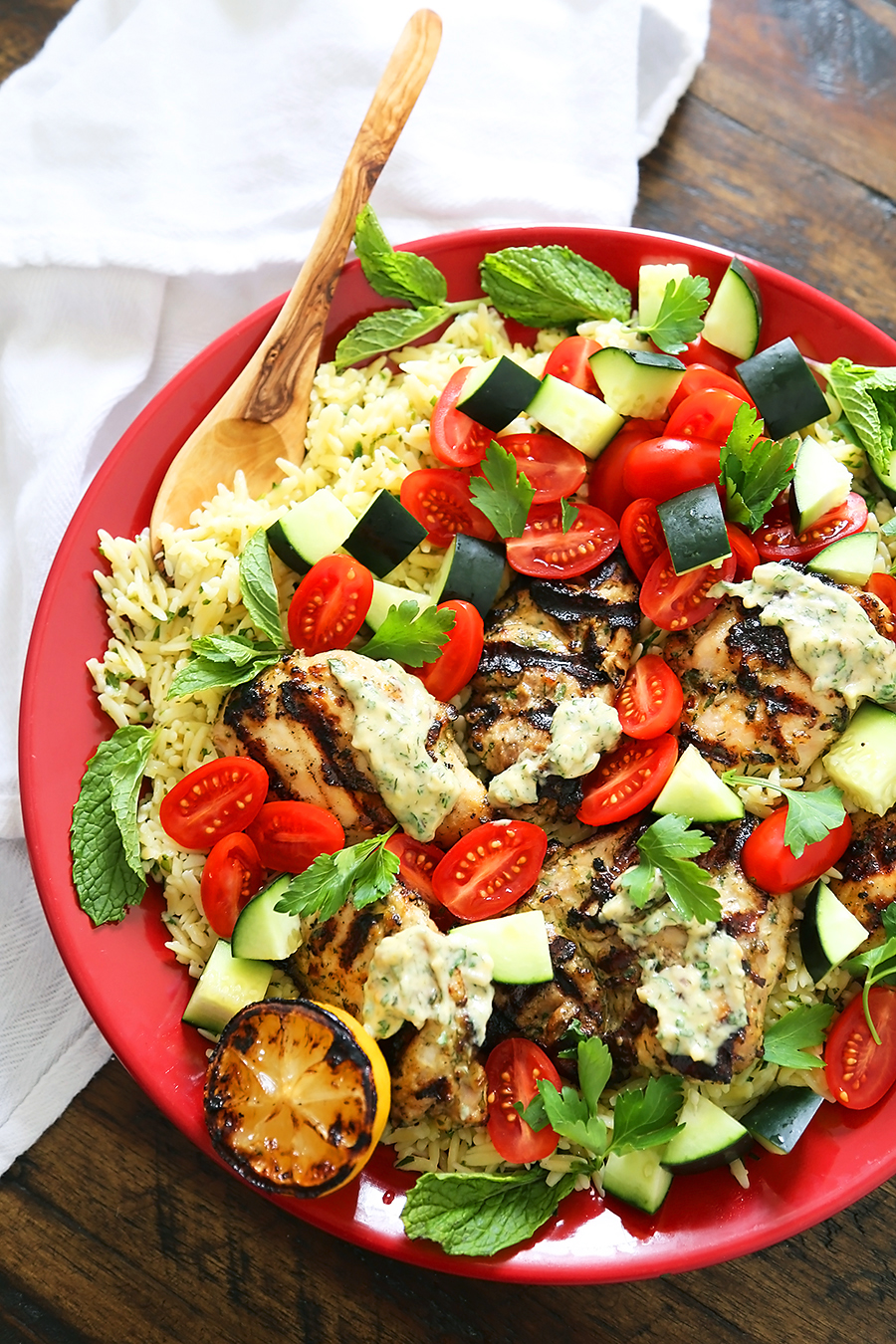 Greek Tahini Chicken with Cucumber, Tomato and Lemon Orzo Salad
Ingredients
For the Chicken Marinade & Salad Dressing:
1-1/2 lbs. (about 8) skinless, boneless chicken thighs, Set aside 1/4 cup of this mixture for the salad dressing
1/4 cup tahini (sesame seed paste), stirred
3 Tablespoons Holland House White Cooking Wine
3 Tablespoons olive oil
3 Tablespoons warm water
3 Tablespoons chopped fresh parsley
1 Tablespoon dill weed
Juice and zest from 1 lemon
1/2 teaspoon kosher salt
1/2 teaspoon crushed red pepper flakes
2 garlic cloves, minced
1 small shallot, minced
Nonstick cooking spray, for cooking
For the Lemon Orzo:
2 cups hot cooked orzo or white/brown rice
Juice and zest from 1 lemon
2 Tablespoons olive oil
1/4 teaspoon kosher salt
1/2 cup chopped fresh parsley
For the Salad:
1 medium cucumber, chopped
2 cups grape tomatoes, halved
1/2 cup chopped fresh parsley
1/4 cup chopped fresh mint
1 Tablespoon fresh lemon juice
Instructions
For the Chicken Marinade & Salad Dressing:
Add chicken thighs to a large resealable plastic bag; set aside. In a medium bowl, whisk all marinade ingredients together until well blended. Reserve 1/4 cup tahini mixture in a small bowl (this will be your dressing for serving on top of cooked chicken). Pour remaining tahini mixture into the bag, seal, and toss to coat chicken in marinade. Refrigerate at least 1 hour, or up to 1 day.
When ready to cook, preheat your gas grill to medium (350°F to 450°F), or set a grill pan to medium heat. Generously coat grill grates with cooking spray. Remove chicken from marinade; discard marinade.
Arrange chicken thighs on grill. Cover and cook 4 minutes on each side, or until done. Remove chicken from grill and place on a platter. Set aside.
For the Lemon Orzo:
While chicken grills, cook orzo according to package directions. Once cooked, add lemon juice and zest, olive oil, salt and parsley. Stir to blend flavors. Spoon onto a large platter, or onto individual plates. Place chicken thighs on top of orzo.
For the Salad:
Arrange cucumber, tomatoes, parsley and mint over the platter, or each serving. Spoon remaining tahini mixture (salad dressing) over top of chicken and vegetables. Serve immediately.
Enjoy!
Notes
For a thinner tahini salad dressing, add 1/2 teaspoon water at a time, until you reached your desired consistency.
Disclosure: This recipe was created for Holland House Cooking Wines. All opinions are my own.