For weekend parties, or quick and easy weekday meals, these sweet and salty Sonoma chicken salad sandwiches (no mayo) hit the spot!


I'm not too particular of an eater. Sling me a saucy, slimy plate of fresh seafood… heck, I'll try it! Try out a topsy-turvy soufflé on me… pass the fork! But overload an otherwise good chicken salad sandwich with mayo? No way José.
That's why instead of using mayonnaise in this sandwich's scrumptious dressing, I used plain yogurt. No flavor lost and no extra calories!
For a group of girlfriends last week, these sandwiches were great fuel to go along with wine and good conversation! Also, this already easy recipe was made even easier by using Foodie Bride's quick method for shredding chicken.
With handfuls of chopped pecans and dried cranberries, freshly grated Parmesan cheese and a sweet-salty poppy seed dressing, these Sonoma sandwiches could be a hit at your fall festivities, too! Check out the quick 'n easy six steps below, and you'll be on your way to lunchtime bliss!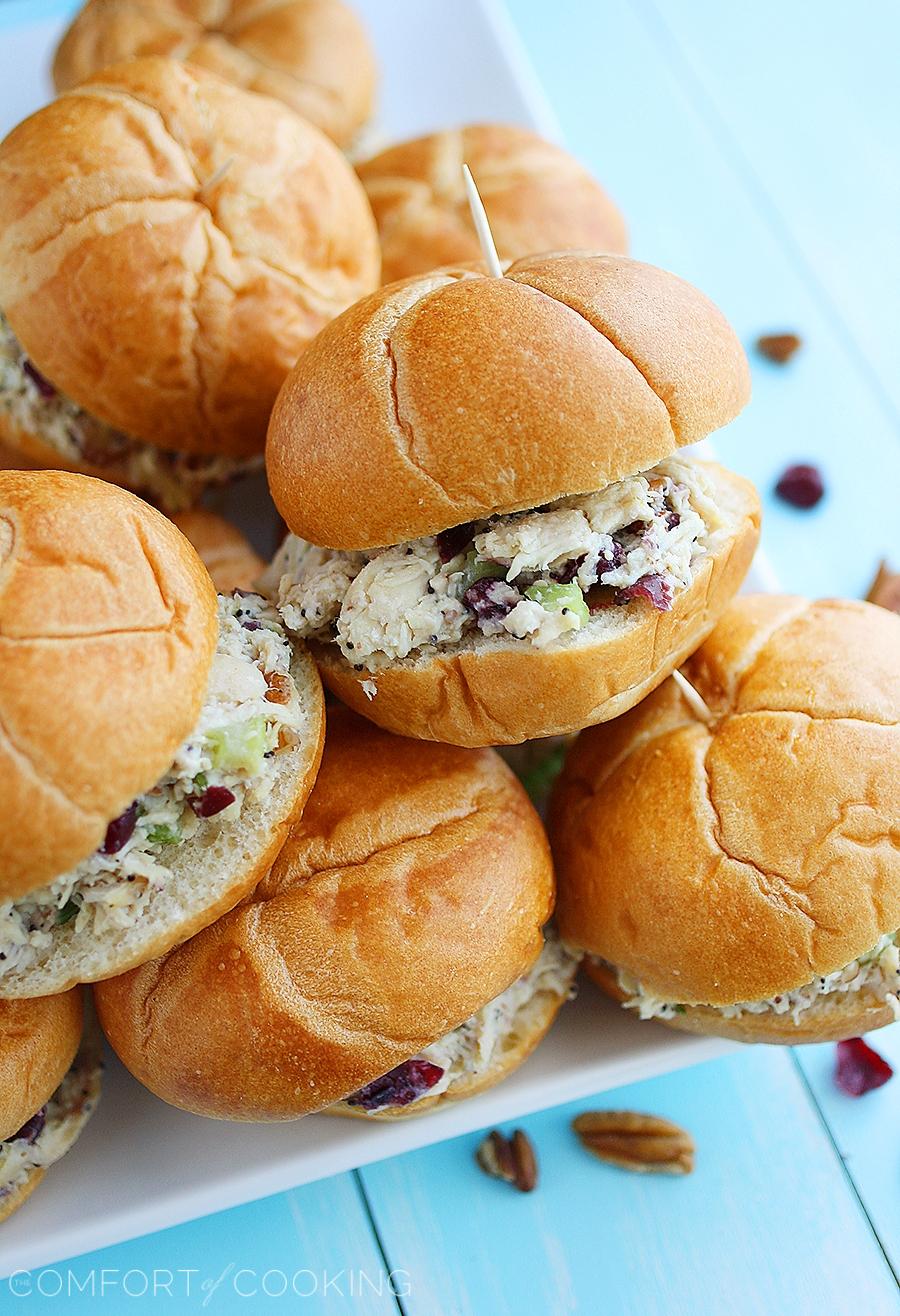 Sonoma Chicken Salad Sandwiches
Ingredients
For the chicken salad:
3 1/2 cups cooked shredded chicken, (about 2 lb. boneless skinless chicken breasts)
3 stalks celery, chopped (about 1 cup)
2/3 cup pecans, chopped
1/2 cup dried cranberries, roughly chopped
2 Tbsp. finely grated Parmesan cheese
Sliced bread, croissants or rolls, for serving
For the dressing:
2/3 cup plain yogurt
1/4 cup apple juice
3 Tbsp. honey
2 tsp. apple cider vinegar
1 tsp. yellow mustard
1 Tbsp. poppy seeds
1/2 tsp. onion powder
Salt and freshly ground black pepper, to taste
Instructions
In a large mixing bowl combine shredded chicken, celery, pecans, dried cranberries and Parmesan cheese; set aside. In a separate mixing bowl whisk together all dressing ingredients until well blended. Pour dressing mixture over chicken mixture and toss to evenly coat. Serve over sliced bread, croissants or rolls.
Store chicken mixture in resealable, refrigerated container, up to 3 days.
Enjoy!