This wholesome, colorful sausage skillet dinner is easy to whip up on weeknights! You only need a handful of ingredients and 15 minutes. It has something everyone will love!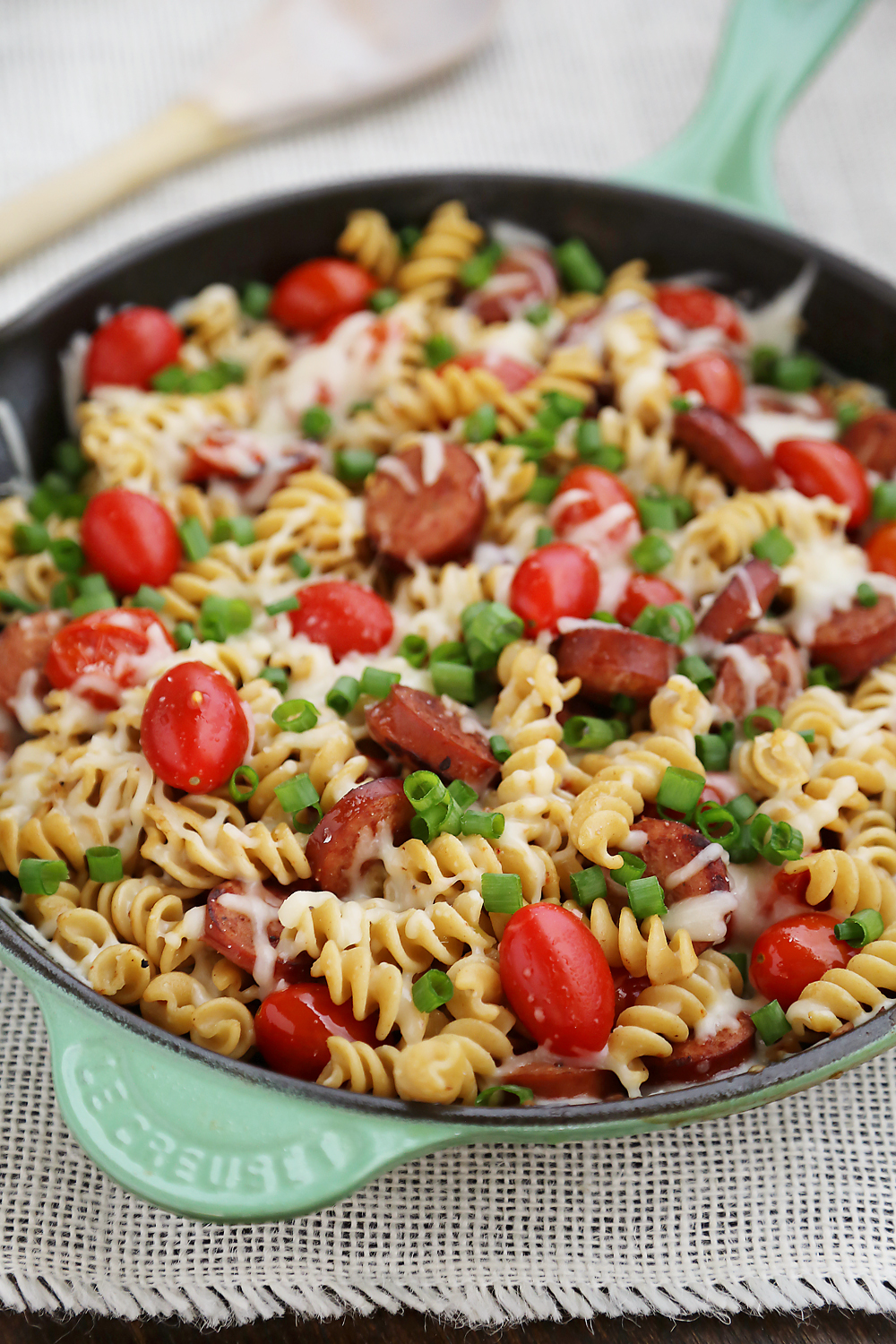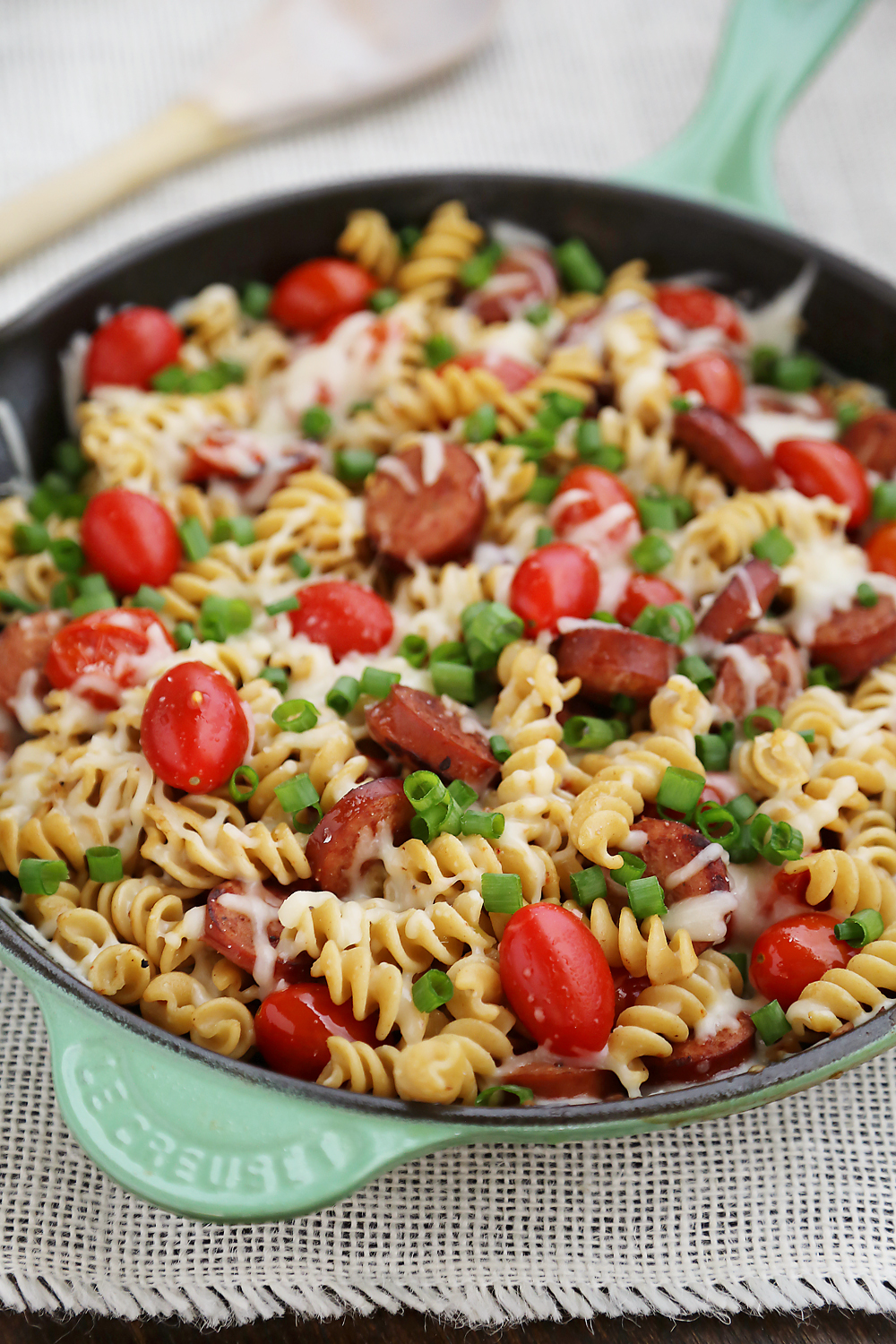 There is something so deliciously comforting about whipping up a warm homemade meal with ease! Especially after a long workday, I like my dinner to be simple yet scrumptious. Even better when it makes a heap of leftovers for the next day's lunch!
I love all-in-one meals like this delicious skillet full of pasta, sausage, tomatoes, scallions and a little gooey mozzarella. Colorful, healthy and a cinch to cook up on weekday evenings. Serve it with a crisp green salad, and dinner is done!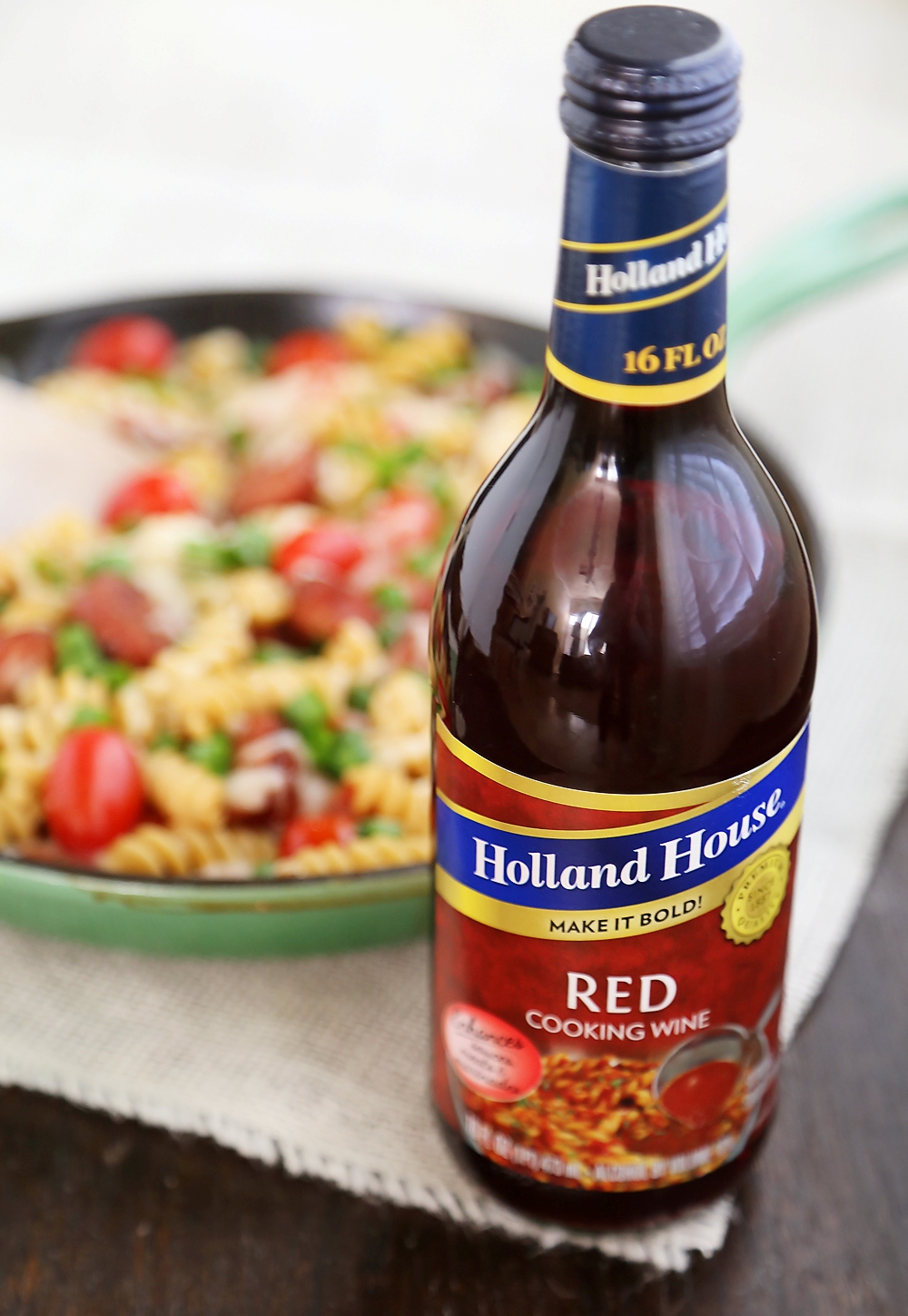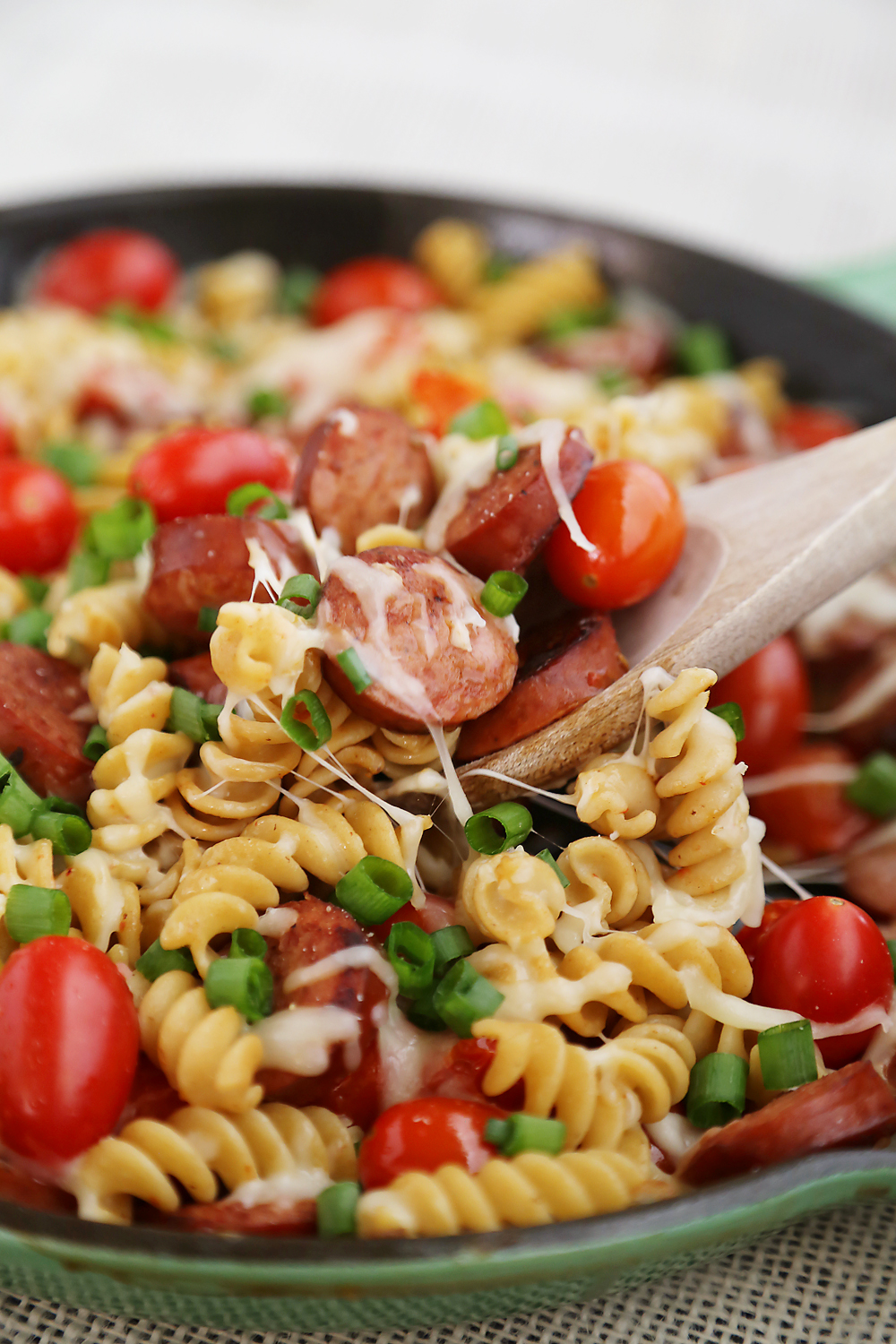 This skillet dinner is simple in preparation but amazing in flavor! It smells incredible as it sizzles in your skillet, and pairs perfectly with a nice glass of red or white wine. Speaking of wine, have you heard of Holland House Cooking Wines and Vinegars? Their Red Cooking Wine is a particular favorite of mine, because I can use a splash and cap it up to use for later. Saves me from having to uncork a whole bottle of red, just to have it spoil on my countertop. This red cooking wine gives incredible flavor, just like a drinking dry red wine, to many of the skillet meals I sizzle up for dinner!
I know you will absolutely love this easy, wholesome weeknight meal. You may already have all of the ingredients on hand. Try it tonight, and please let me know how you enjoy it!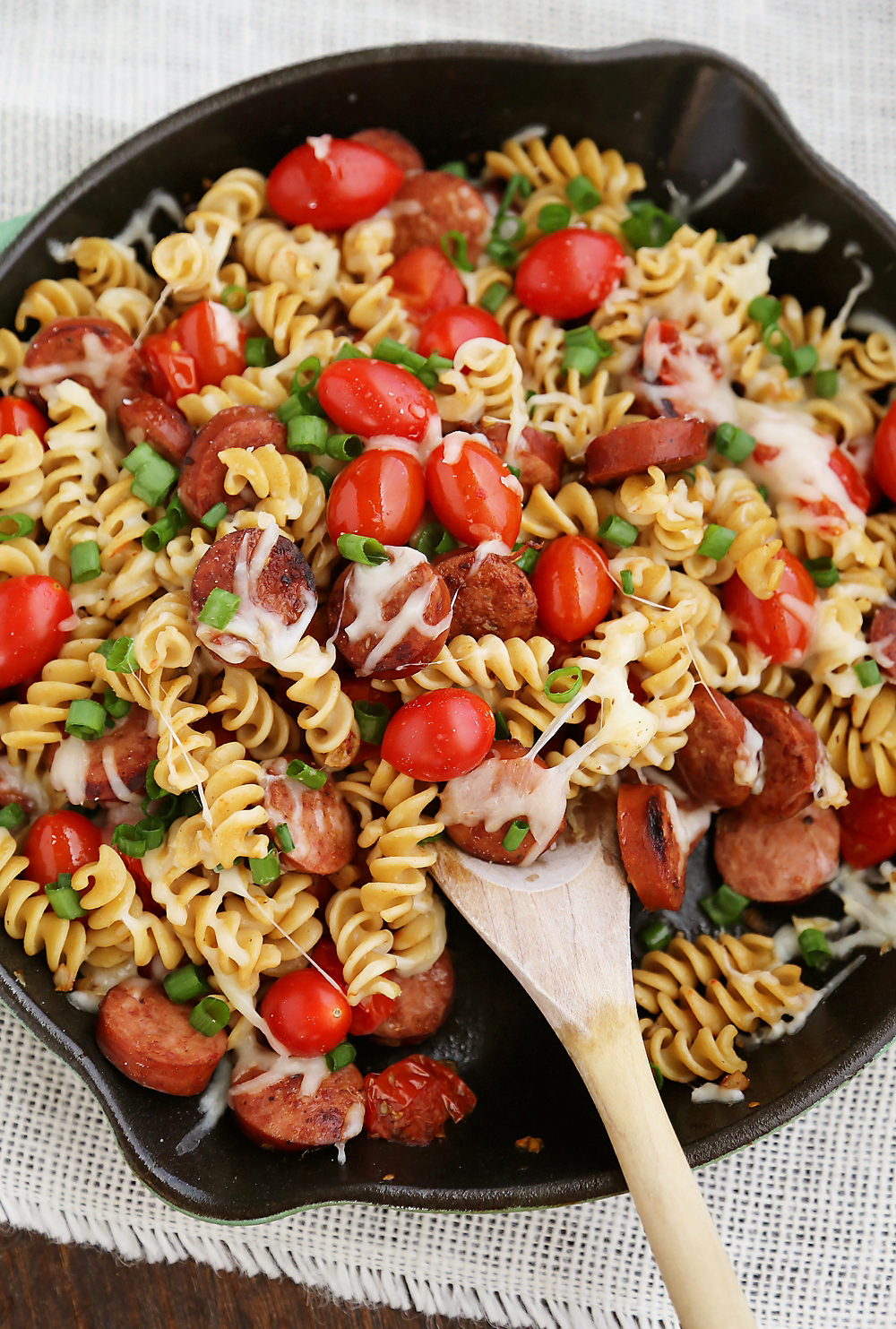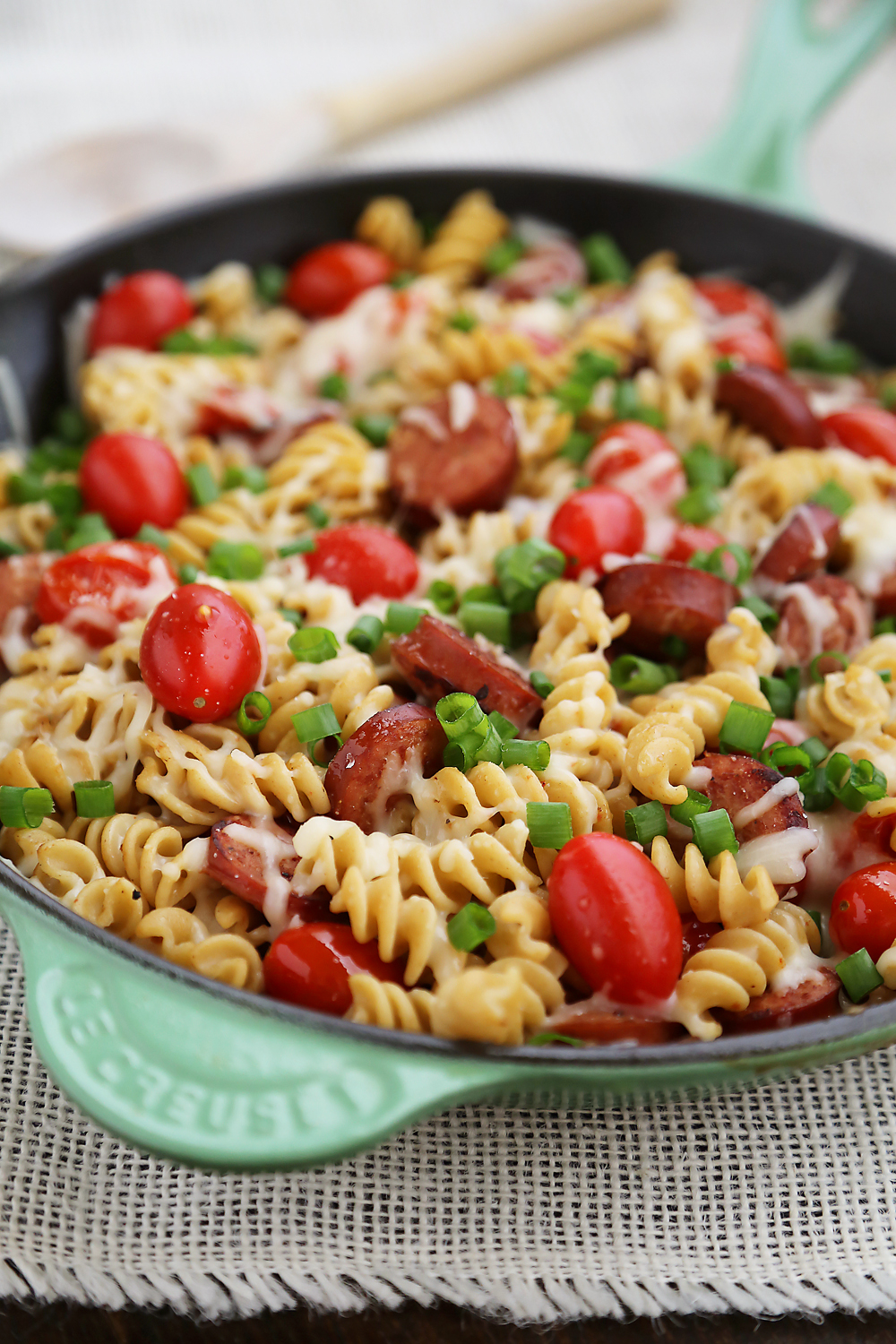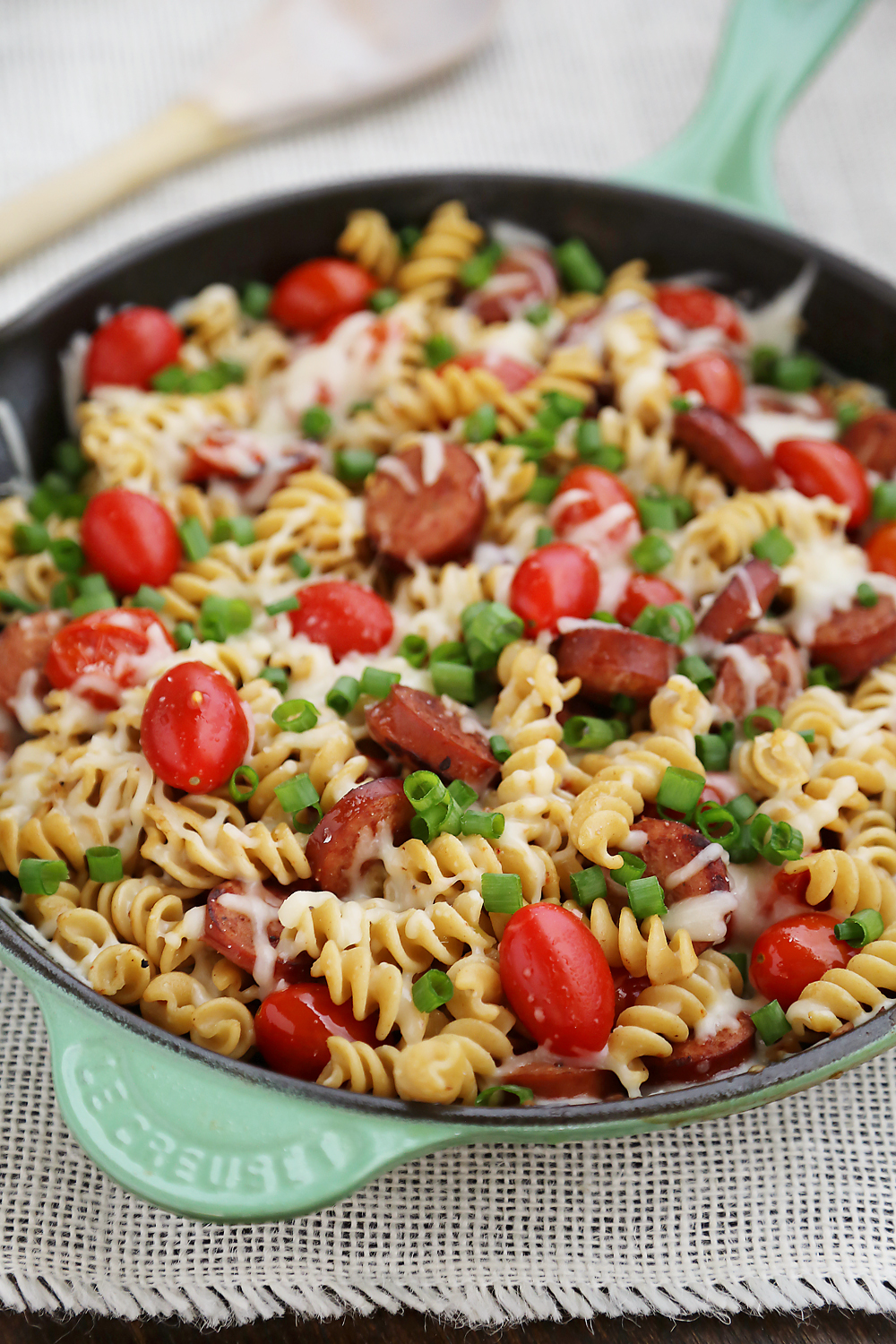 Cheesy Sausage and Tomato Pasta Skillet
Ingredients
2 cups whole wheat rotini pasta,, or your preference
1 (12-13 oz.) smoked chicken, pork or turkey sausage, sliced
1 pint cherry or grape tomatoes
2 cloves garlic, minced
1/4 cup Holland House Red Cooking Wine
1/3 cup shredded mozzarella cheese
3 scallions, sliced
Instructions
Set a pot of salted water to boil. Add pasta and cook according to package instructions. Drain well; set aside.
Heat a 10-inch or larger skillet over medium heat. Add a drizzle of olive oil. Once hot, add sliced sausage and cook for 3 minutes, stirring occasionally to brown on all sides. Increase heat to medium-high.
Add tomatoes and cook for 3 minutes, until blistered. Stir in garlic and cook 1 minute more. Reduce heat to medium. Pour in red cooking wine and simmer until reduced by half. Stir in cooked pasta and combine with all ingredients. Season to taste with salt and pepper.
Remove skillet from heat and stir in mozzarella. Top with scallions.
Enjoy!