Melt-in-your-mouth, creamy pasta with the ultimate 6-ingredient alfredo sauce! Pure fall comfort in a bowl. Create this cozy, savory pumpkin dish for a twist on traditional weeknight meals. So simple and addictively scrumptious with fresh Parmesan and herbs.
I cannot even begin to describe to you how DELICIOUS this is.
Pumpkin lovers and even non-pumpkin lovers, this one is for you. Does that make sense? Maybe not.
The addition of pumpkin puree to the creamy, buttery, garlicky sauce adds the most luscious flavor and texture that isn't in-your-face "pumpkin!" The whole combination makes for a surprisingly delicious and rich, restaurant quality dish in your own home. All with only six ingredients.
It's my new favorite thing, and may be yours too. Even if you don't enjoy leaf crunching and sweater weather and pumpkin spice lattes. You. must. try it.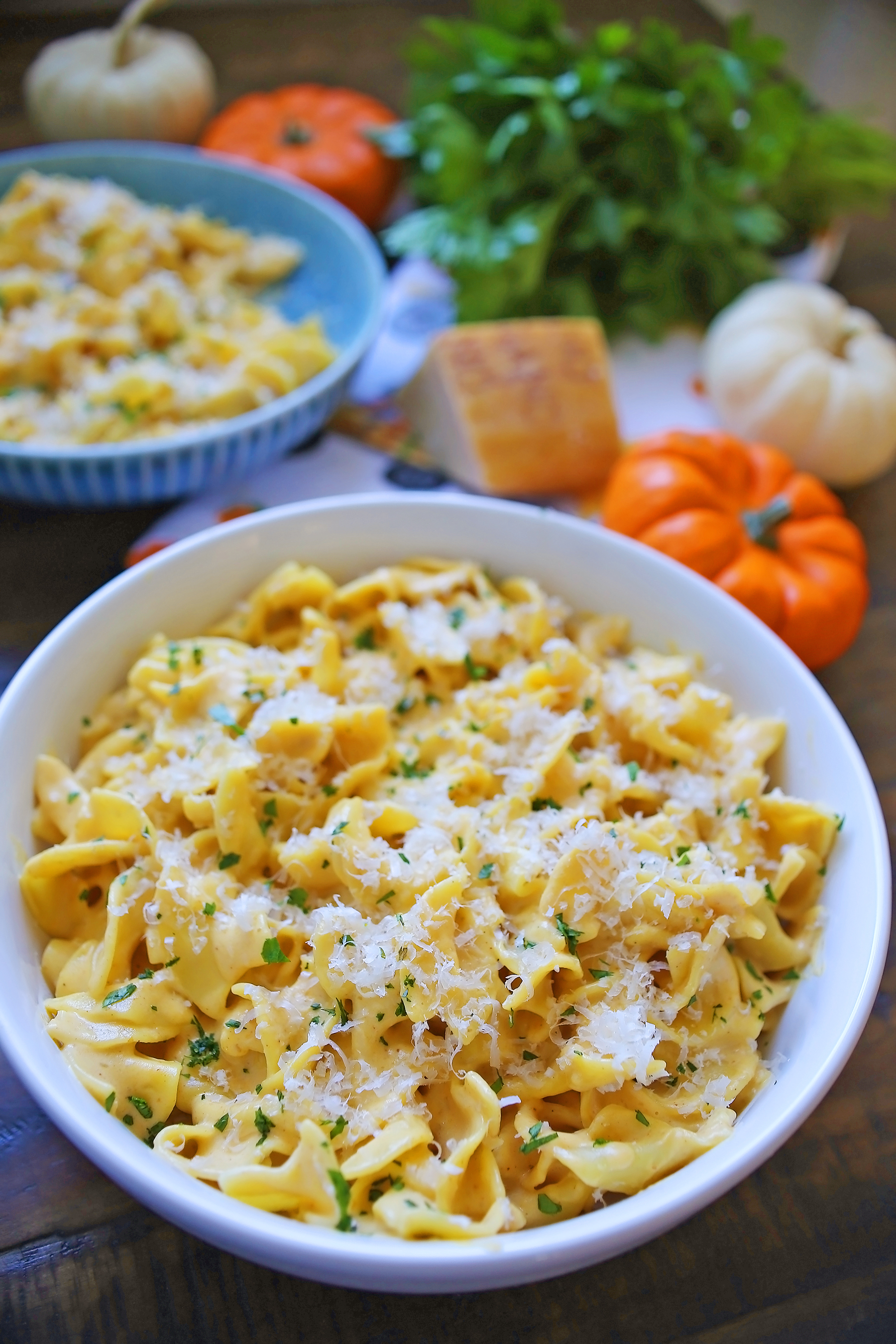 Egg noodles are my love language. In the pasta world, they are unrivaled for comfort and coziness. However, you can use any pasta you prefer. The magic is in the sauce, so the pasta is not of great importance. Combined with the silky, buttery sauce, egg noodles are pure perfection in this dish. Egg fettuccine or similar would also be lovely.
Simply bubble a bit of butter in a hot saucepan. Add your garlic and sizzle 'til soft and fragrant. Then, add your pumpkin puree and heavy cream. Bring to a boil and reduce until the sauce has become thick enough to coat a spoon. Remove from the heat and stir in grated Parmesan and your desired amount of salt and pepper.
Meanwhile, boil your noodles in a large pot until done. Once they're strained, return to the pot and pour over your cheese sauce. Stir together, serve and sprinkle on more cheese and freshly chopped herbs like parsley, rosemary or sage. Absolute perfection!
Serve this scrumptious, melt-in-your-mouth dish for weeknights, holidays and any day in between. You will love this cozy twist on classic alfredo!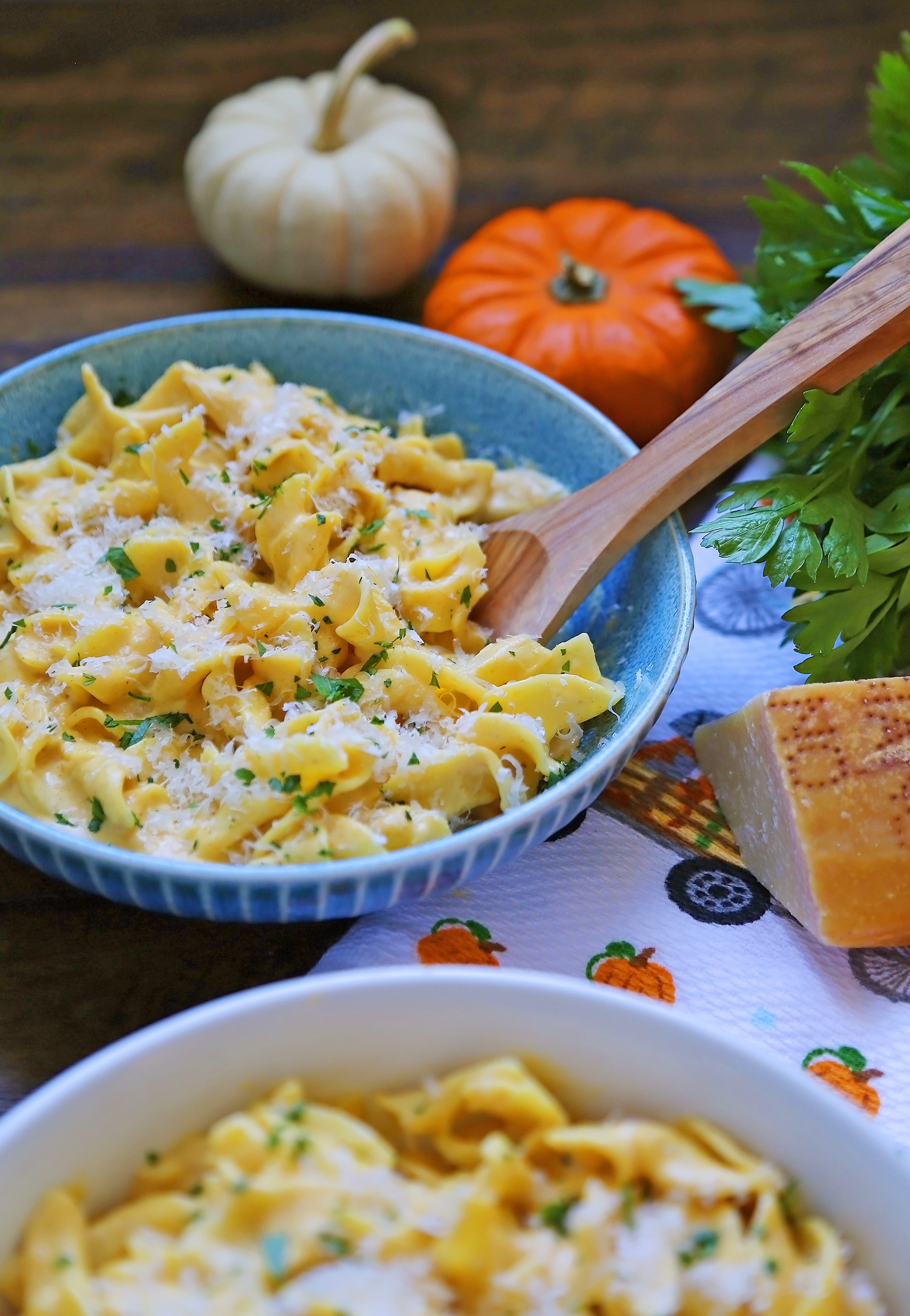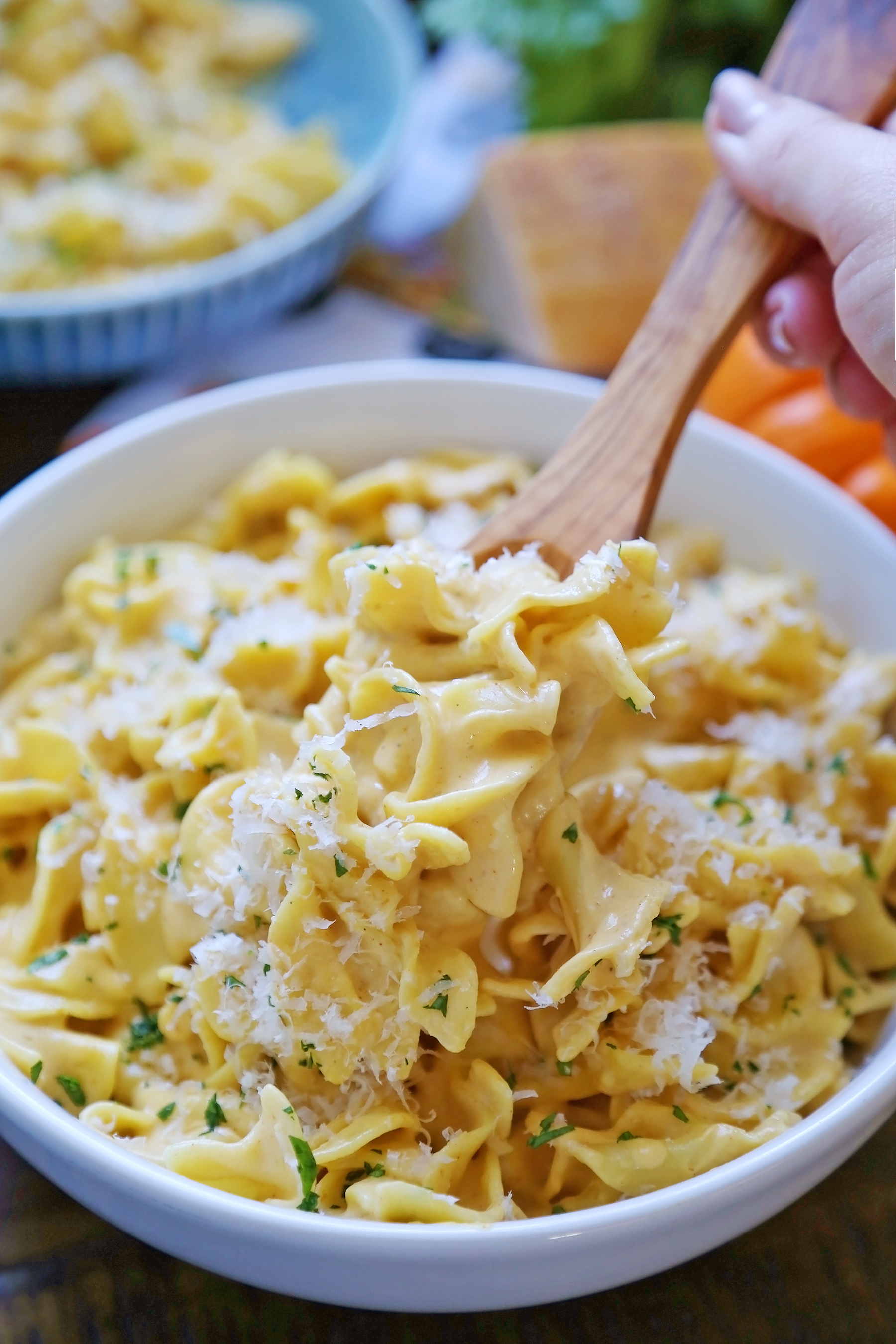 Creamy Pumpkin Alfredo
Ingredients
Wide egg noodles (8-12 oz. package), or your preferred pasta
2 Tablespoons butter
4 garlic cloves, minced
1 cup pumpkin puree
2 cups heavy whipping cream
1/2 cup grated Parmesan cheese
Kosher salt and ground black pepper, to taste
For serving:
Fresh chopped herbs, such as parsley, rosemary or sage
Extra grated Parmesan cheese
Instructions
Set a large pot of water to boil. Cook pasta uncovered, according to package directions (7-8 minutes for egg noodles).
In a medium pot set to medium heat, add butter and stir until melted. Add garlic; sauté until soft and fragrant. Add pumpkin and heavy whipping cream. Simmer until slightly thickened.
Remove from heat. Add Parmesan and stir to combine.
Add pasta to the sauce; stir well to combine. Season to taste with salt and pepper.
Top with additional Parmesan and fresh chopped herbs, if desired.
Serve immediately and enjoy!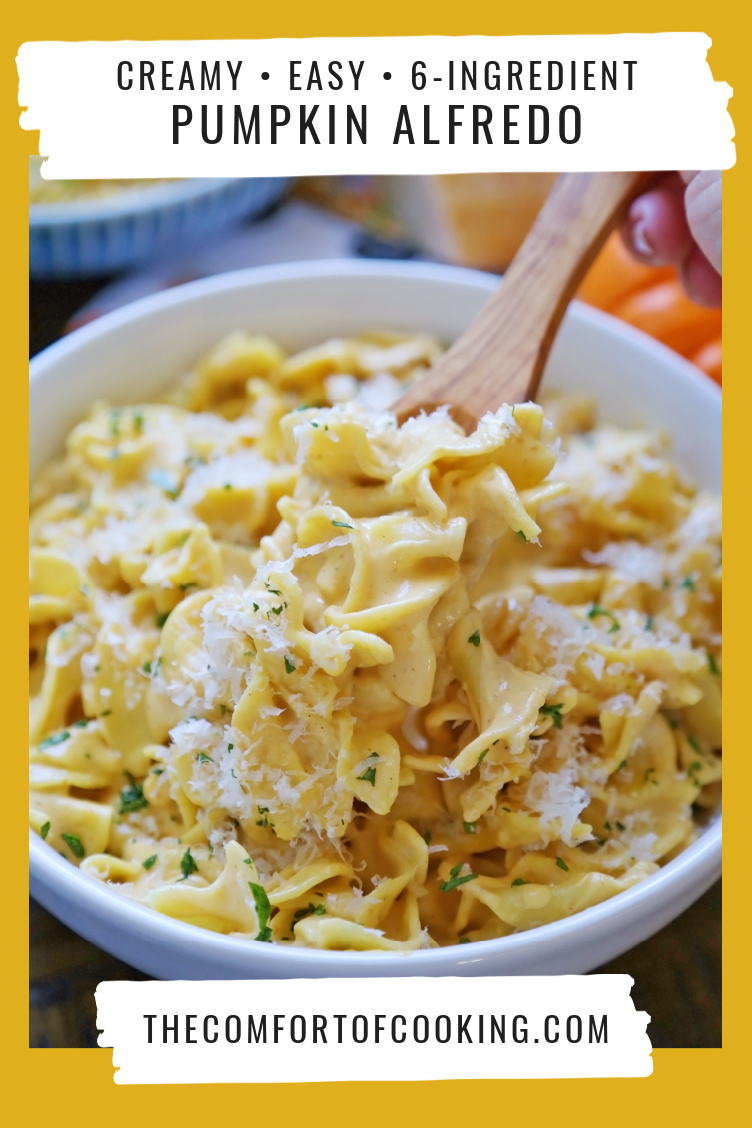 Want to receive our latest recipes straight to your email inbox? Click here to subscribe!