One of my favorite things to do in the spring and summer is make sandwiches, hop in the car with my hubby and set off for somewhere to have a picnic. Sometimes it's the beach, or a mountaintop, or even just a park bench. It's such a fun thing to do when nothing else is on our weekend agendas. Plus, soaking up the sunshine, noshing on a sandwich outside and enjoying good conversation always keeps me smiling for the rest of the day.
My favorite sandwich for picnicking is this: Deli-sliced roast beef, roasted red peppers, provolone and fresh basil on a warm, toasted roll. It tastes similar to what we used to get at Dino's, a favorite restaurant steps from our first apartment in Boston's Italian district, the North End.
We're making new memories now, though, and this time on the sandy beaches and high hills of Southern California. Topped with gooey melted Sargento® Deli Style Sliced Provolone Cheese (you could also use sliced mozzarella), soft and flavorful roasted red peppers and fresh basil, this is one delicious deli-style sandwich perfect for a lazy weekend lunch!
If you've never roasted a bell pepper or eaten a slice on a sandwich before, it's a truly easy thing to do and is a magical taste. Check out this excellent, easy guide from Kevin at Closet Cooking on how to roast red peppers for yourself, the same way I do. Once you taste them with this sandwich, you'll never go back to the store-bought jarred variety!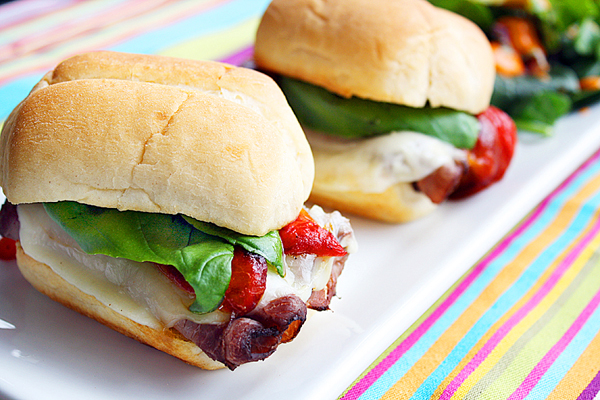 Italian Roast Beef Sandwiches
Yield:
4 (1 sandwich each)
Ingredients
4 thick sandwich rolls, split
Cooking spray
8 slices roast beef, get the good stuff at the deli counter, it's worth it
4-6 roasted red pepper slices, jarred or homemade
4 slices Sargento® Deli Style Sliced Provolone Cheese
4 basil leaves
Instructions
Lightly coat inside of halved rolls with cooking spray and toast until lightly browned in a toaster, toaster oven or oven on a low setting.
Preheat oven to 300 degrees.
Line a small baking sheet with aluminum foil and place the bottom of each roll on sheet. Top the bottoms with roast beef and Provolone cheese. Bake in the oven for 5 minutes, or until cheese is melted and bread is warm. Remove from oven and top each sandwich with 1-2 red pepper slices and 1 basil leaf. Top each sandwich with its top roll, and serve immediately.
Enjoy!