Crispy, cheesy pizzas on top of mini bagels, piled with your favorite toppings and baked to golden brown perfection! These little bites are super fun for parties and busy weeknights that call for quick & easy!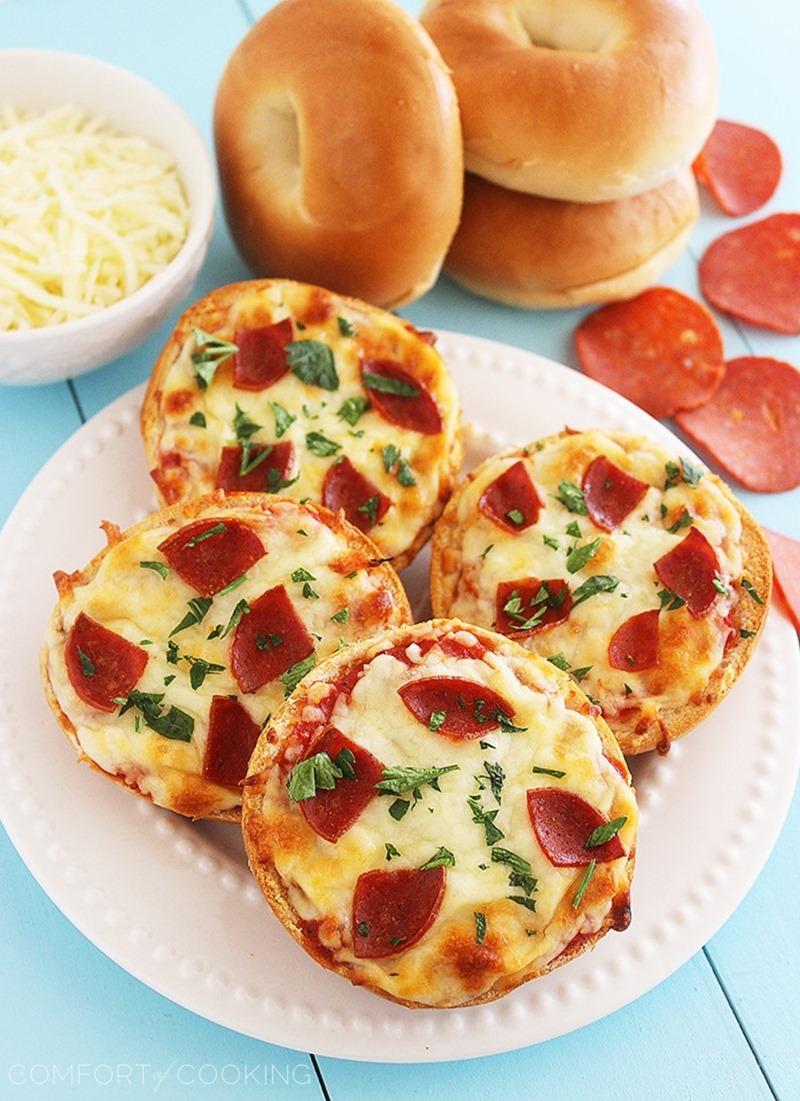 If there's one thing I've learned about entertaining, it's that easy does it when it comes to the food…. especially when guys are involved! I cooked a big batch of these mini bagel pizzas for hubby's poker night last weekend, and wouldn't ya know it, the simplest recipe (among a sizable spread) flew off the platter! They couldn't keep their card-playing paws off these cheesy, gooey bites of pizza goodness.
Who could blame 'em?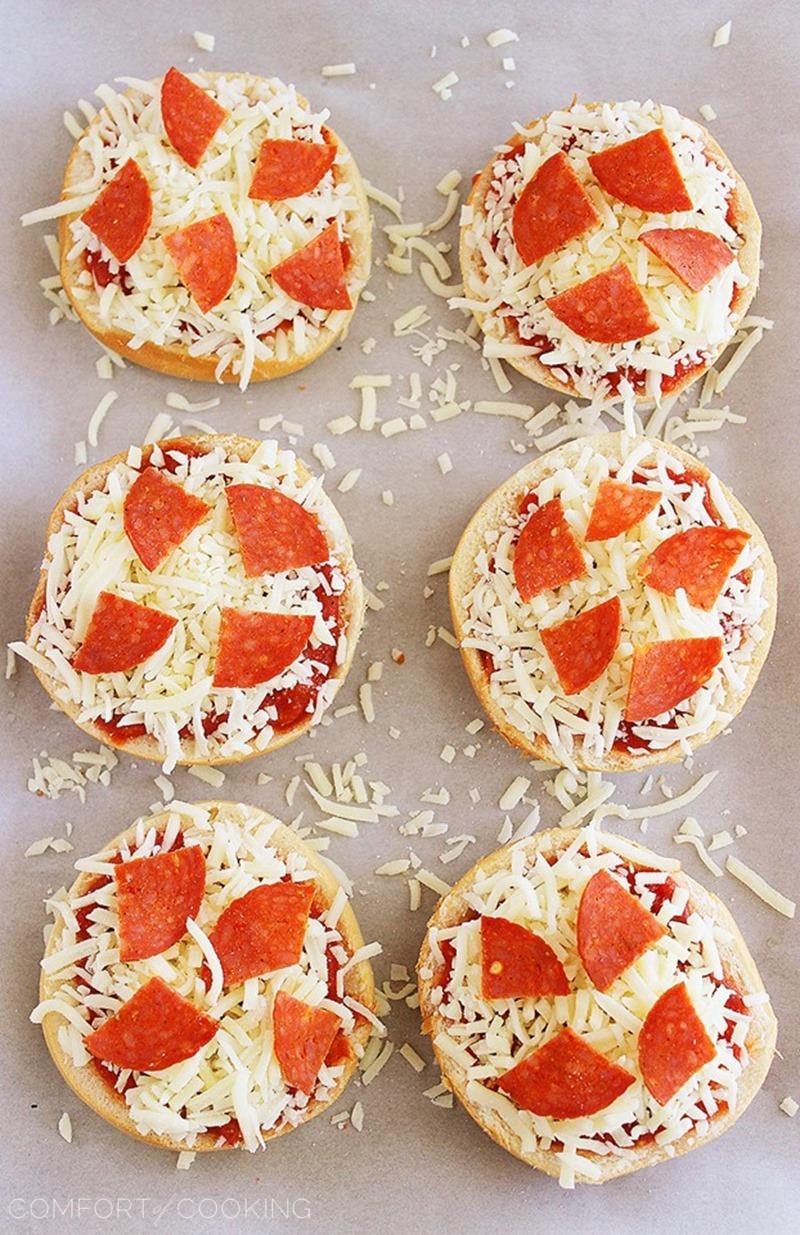 I've made mini pizzas on top of homemade dough, sandwich thins, and zucchini slices, but you just can't beat it on top of a toasty hot bagel. The short time it takes to make and bake these delicious mini pizzas yields insta-satisfaction for your pizza cravings. And who wants to wait more time than absolutely necessary to enjoy pizza?
Just split a bunch of mini bagels in half, spoon on your favorite pizza sauce, and top with shredded mozzarella. Toss on your favorite toppings (or stick with turkey pepperoni like me), and bake 'til crisp and golden.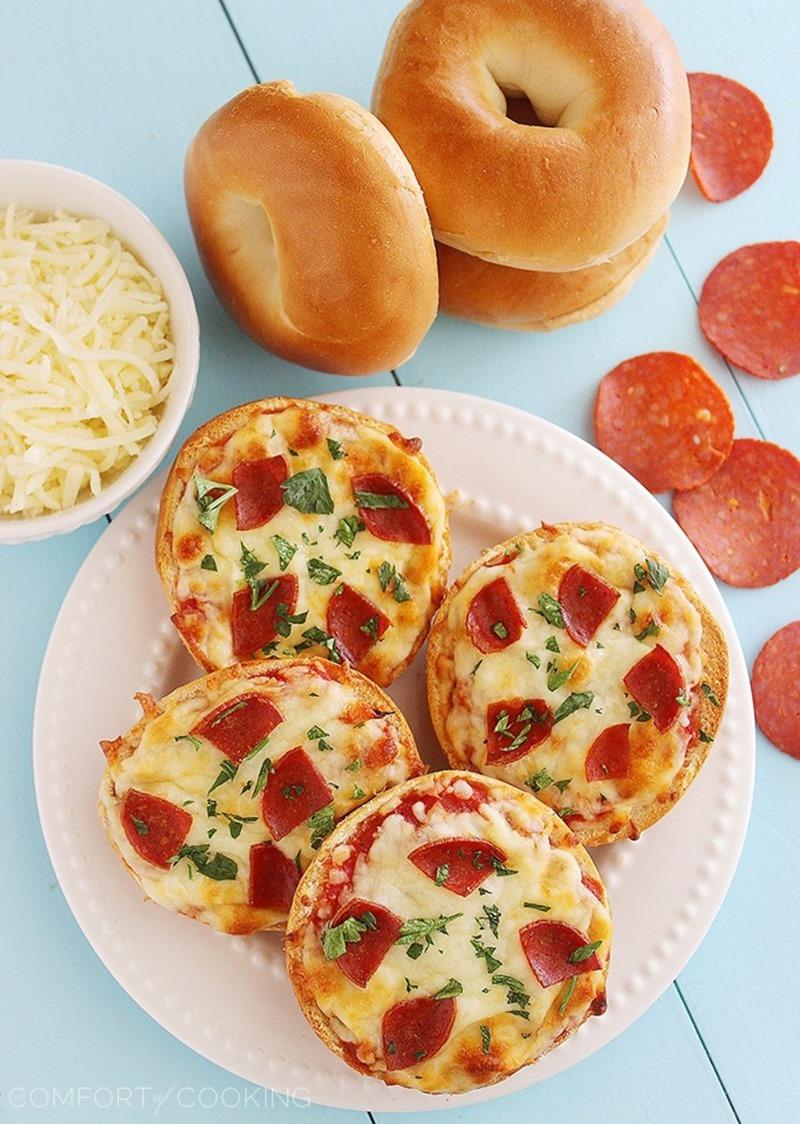 Voila! Kids love 'em, guys gulp 'em down like water, and you're left with hardly any cleanup. Everyone's happy.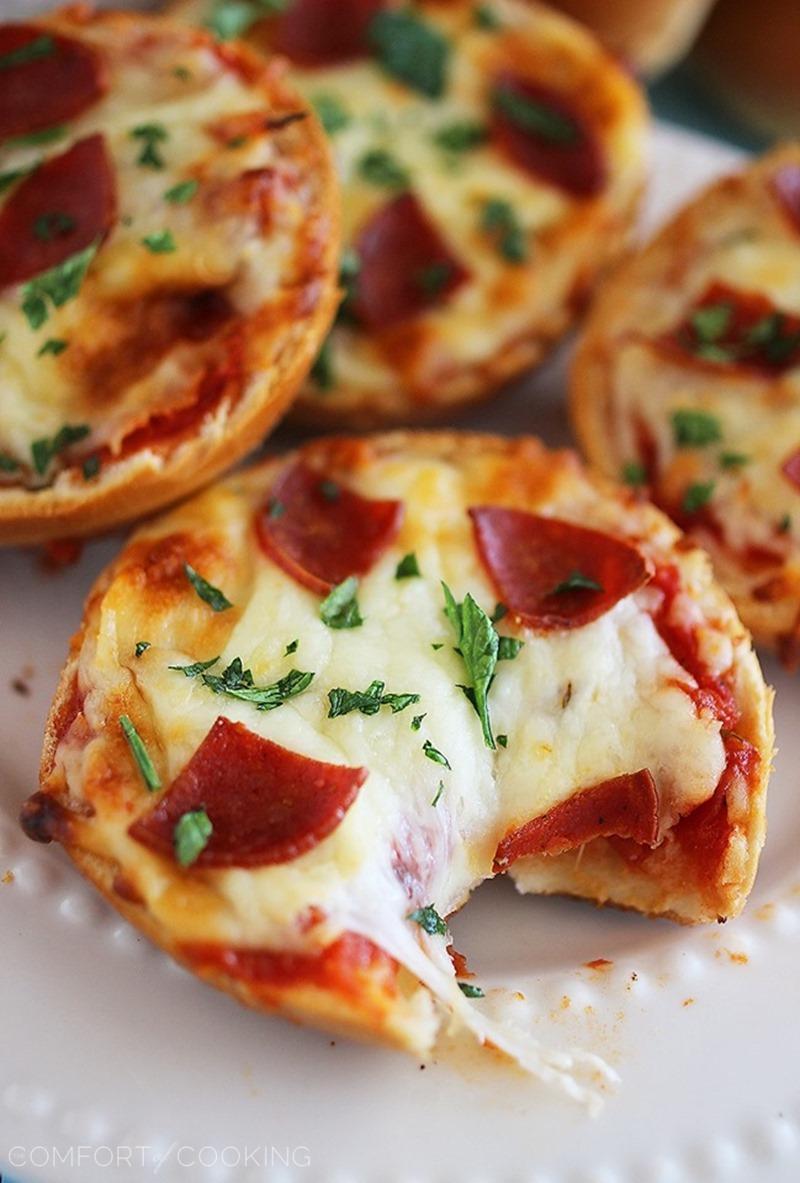 For casual parties, these mouthwatering mini bagel pizzas would be a huge hit. They were at mine! Customize them to anything you like, and get some inspiration with my long list of topping ideas below! Keep busy weeknights easy by assembling these in the morning, then pop 'em in the oven when you get home. Scoot a fresh green salad alongside, and dinner is served!
Cook up these crisp, delicious bagel pizzas tonight… and just try not to sing the jingle while you do!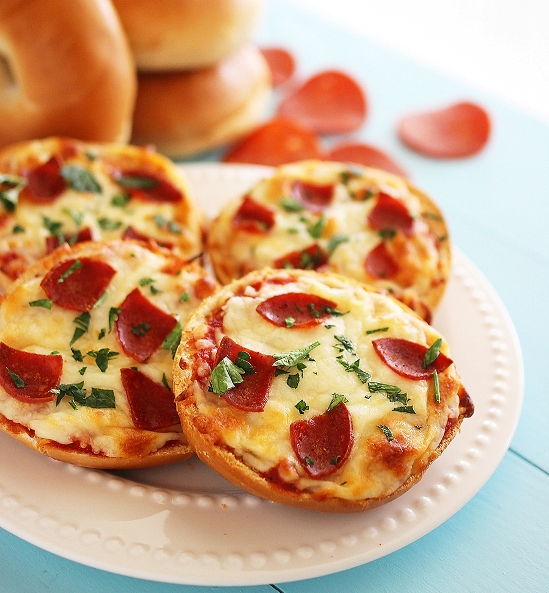 Easy Mini Pizza Bagels
Ingredients
10-12 plain mini bagels, halved
1 cup pizza sauce/pasta sauce
8 oz. 2 cups shredded mozzarella cheese
Topping Ideas
● Cheese: Mozzarella, Mexican cheese, Asiago, Parmesan, Romano, bleu cheese, feta, provolone
● Meat: Chicken, Italian sausage, bacon, ham, beef, chorizo, pepperoni, prosciutto, shrimp
● Vegetables: Tomatoes, artichokes, roasted red peppers, onions, green peppers, jalapenos, spinach, cherry tomatoes, olives, mushrooms, banana peppers, squash, sweet corn, peas, avocado
● Other: Pineapple chunks, black beans, fresh basil, garlic, sprouts, capers
Instructions
Preheat oven to 400 degrees F. Line a large baking sheet with parchment paper or nonstick aluminum foil.
Place mini bagels 1 inch apart on baking sheet. Top each with pizza sauce, cheese, and your desired toppings.
Bake for 10-12 minutes, or until bagel is crisp and cheese is golden. Serve immediately.
Enjoy!