These healthy, colorful 5-ingredient pita bread pizzas with fresh pesto make for a fun twist on dinner and an easy next-day lunch!
In the summertime, I love a fresh, light Caprese salad in any form. Placed on a plate and drizzled with oil and vinegar, melted into a creamy pasta dish, or decorating delicious mini pizzas perfect for parties and weeknights… there is just nothing better than a Caprese with Galbani® Mozzarella Fresca™!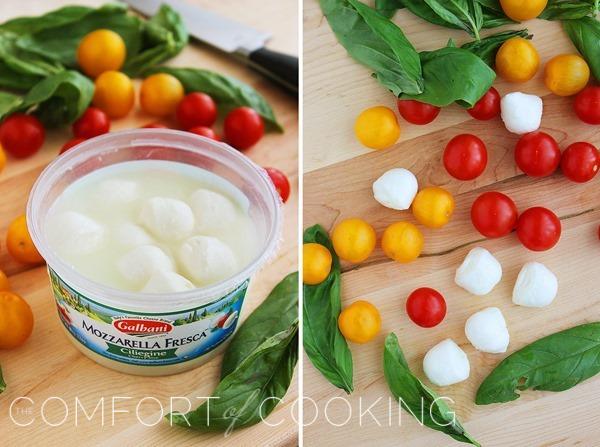 I've been using this incredible mozzarella long before Galbani Fresh Mozzarella reached out to me about collaborating on this special blogger challenge. I'll get to that in a minute! Before I do, though, I just have to tell you about this amazing brand that I've called a favorite for years…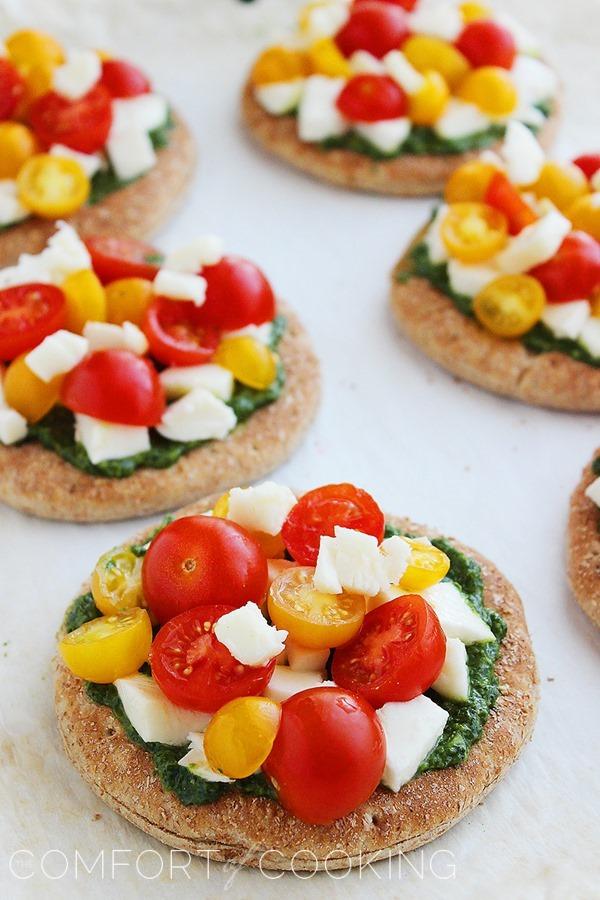 Using an original secret family recipe, Galbani Fresh Mozzarella is crafted here in the United States. Their high-quality cow's milk mozzarella is traditionally made through a process known as pasta filata – a process of gently stretching and kneading the mozzarella into soft, melt-in-your-mouth cheese with the mild, delicate taste Galbani Mozzarella Fresca is known for.
You can find the mozzarella, listed by Saveur Magazine editors as one of their favorite fresh mozzarellas, in the specialty cheese section. Check out the Galbani store locator to find it in the grocery store nearest you.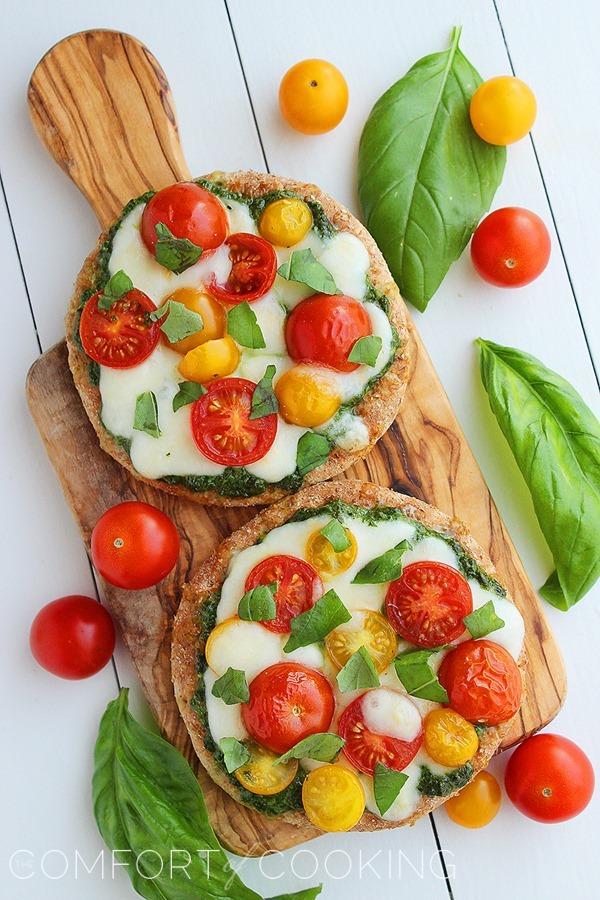 In this exciting challenge, I'm up against many other mozzarella-lovin' bloggers to create the most original, inspiring Caprese dish ever. Kind of a big weight on my shoulders, huh?
The true essence of my cooking, though, is simplicity. Simple, easy-to-find ingredients, simple preparations, and simply fabulous flavors! I am a fuss-free kind of girl in every day life, and that also reflects in my style of cooking… Even though what results may taste like you've been slaving in the kitchen all day!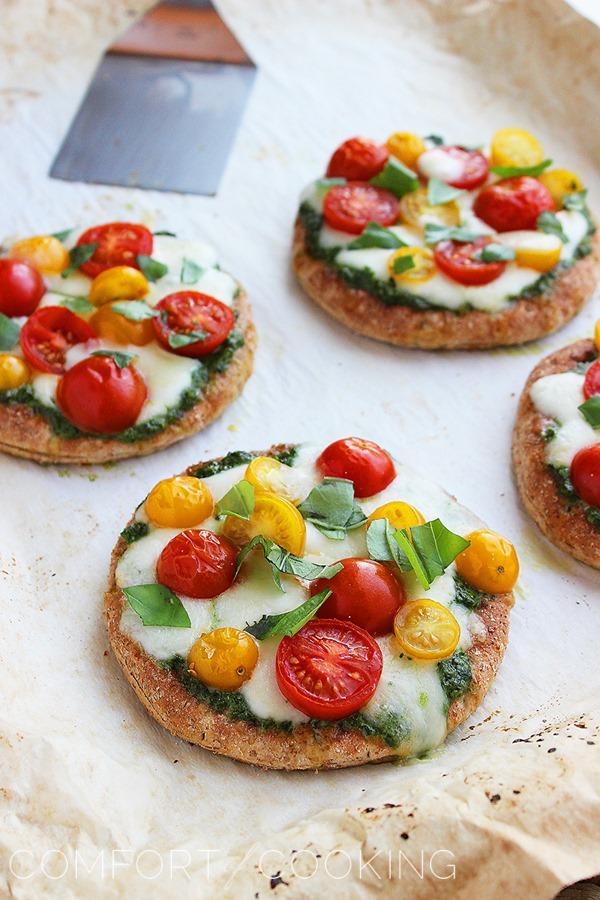 These Caprese Pizzas are the perfect representation of not only my cooking, but me, as the colorful, uncomplicated, (mostly) healthy, and often cheesy person that I am!
To make the pizzas, just place 6 whole wheat sandwich thins or pita bread on a baking sheet, spread each with basil pesto (recipe below), and top with Galbani Fresh Mozzarella and handful of halved cherry tomatoes. Once they're melted and gooey after just 10 minutes, sprinkle with fragrant fresh basil and dig in!
Delicious, easy, and fun as all heck to make. Not to mention pretty healthy, too!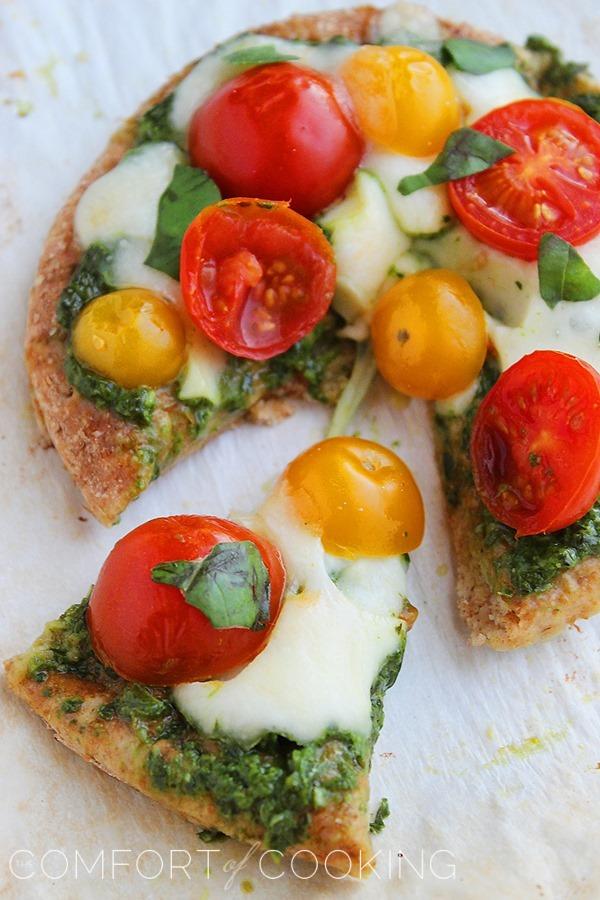 Let's get back to the challenge, though. This is where it gets really fun!
As I mentioned above, these little pizzas are up against a BIG challenge to be crowned the best blogger caprese dish of 2013. I know they're the most delicious, inspired and family-friendly take on caprese I've ever made, but I need you to know this, too – and vote!
Now, let me tell you what's in it for YOU…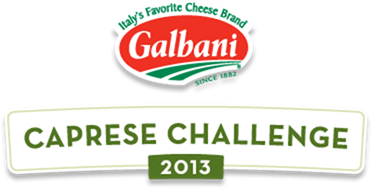 Cast your vote between July 1 through August 9, and vote for my Mini Whole Wheat Pesto Caprese Pizzas as often as you like at www.GalbaniCheese.com/caprese. Your vote also gives you the chance to win one of 60 prizes over 6 weeks, and a grand prize of $500!
In a nutshell… Each vote for my Mini Whole Wheat Pesto Caprese Pizzas is another chance for YOU to win prizes!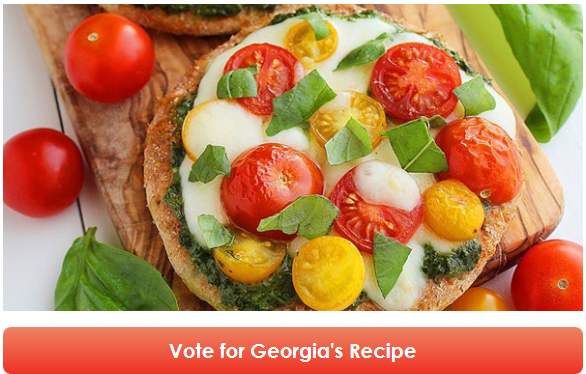 The grand prize winner will be announced on August 13, and with your helpful votes (and some finger crossing), I could be honored as the 2013 Galbani Caprese Challenge Champion on August 10!
So, what are you waiting for? Go vote and enter for your chance to win great prizes!
Thank you for your votes (voting ends August 9) and please share this post with your friends!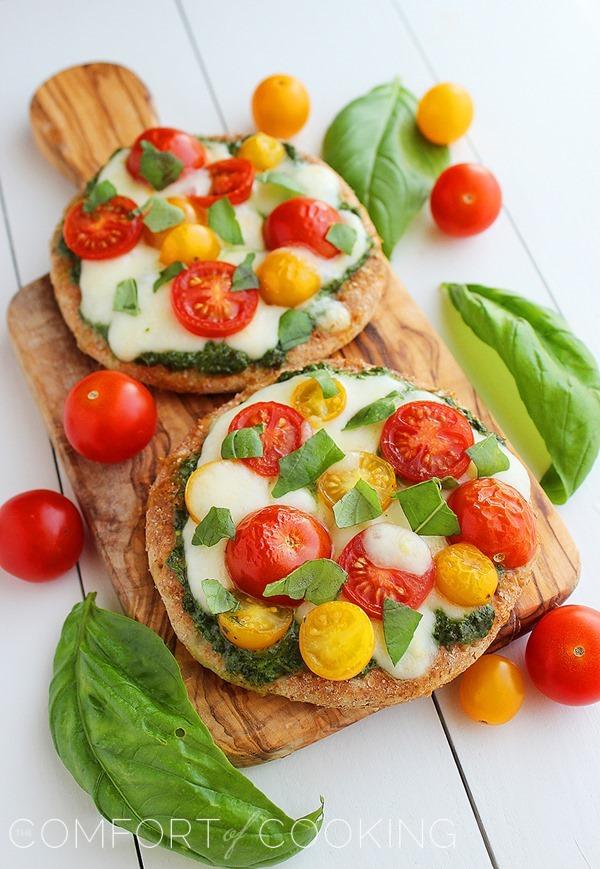 Mini Whole Wheat Pesto Caprese Pizzas
Ingredients
For Easy Basil Pesto:, makes 1 cup
2 cups packed fresh basil leaves
2 cloves garlic
1/4 cup pine nuts
2/3 cup extra-virgin olive oil, divided
Kosher salt and freshly ground black pepper, to taste
1/2 cup freshly grated Parmesan cheese
For Caprese Pizzas:
6 whole wheat sandwich thins or pita breads
2 cups grape or cherry tomatoes, halved*
8 oz. 1 cup Galbani Fresh Mozzarella, torn into small pieces
Salt and pepper, to taste
1/4 cup fresh basil, torn into small pieces
Instructions
For Easy Basil Pesto:
Pulse basil, garlic, and pine nuts in a food processor until coarsely chopped. Add oil and process until fully incorporated and smooth. Season with salt and pepper. Transfer the pesto to a bowl or jar. Mix in Parmesan. Use as desired.
For Caprese Pizzas:
Preheat oven to 425 degrees F. Place 6 sandwich thins or pita breads on a baking sheet lined with parchment paper or foil. Spread each with a small spoonful of basil pesto. Top equally with tomatoes and mozzarella. Bake for 8-10 minutes, or until cheese is melted. Remove from oven and sprinkle pizzas with salt, pepper and fresh basil. Serve warm.
Enjoy!