For an indulgent breakfast or dessert, try these soft, sweet no-bake donut shortcakes with berries – ready in 5 minutes!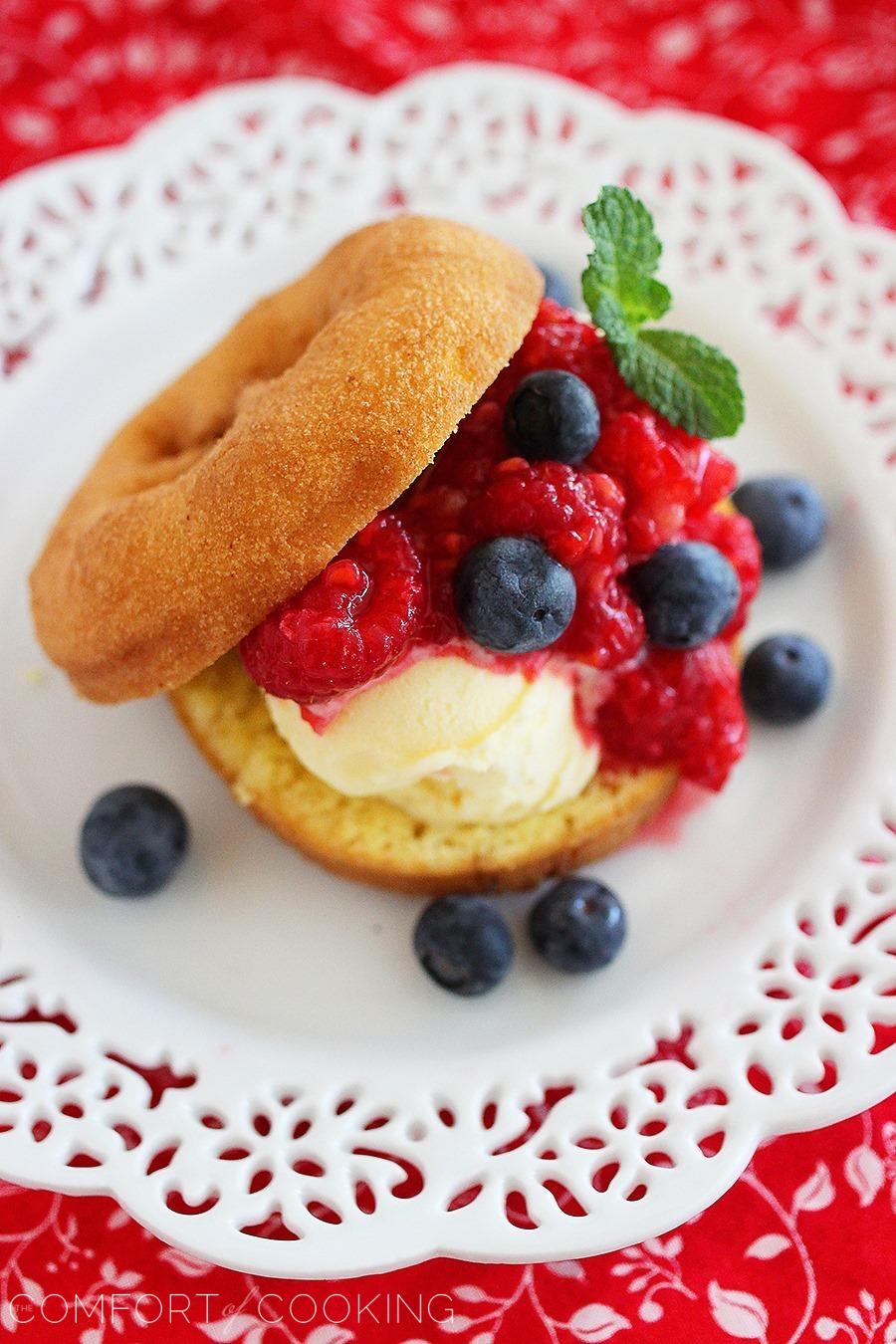 These are kind of ridiculous. I mean, really.
These delicious donut shortcakes take, like, five minutes to make, involve no cooking or baking whatsoever, and are just about the cutest little patriotic, all-American treats ever. The hardest part about this whole recipe is the end. That's right, when it's all over. When it's just a bunch of crumbs and your tears, and a lonely fork on the plate.
Actually, what fork? Who has time for forks in a situation like this?!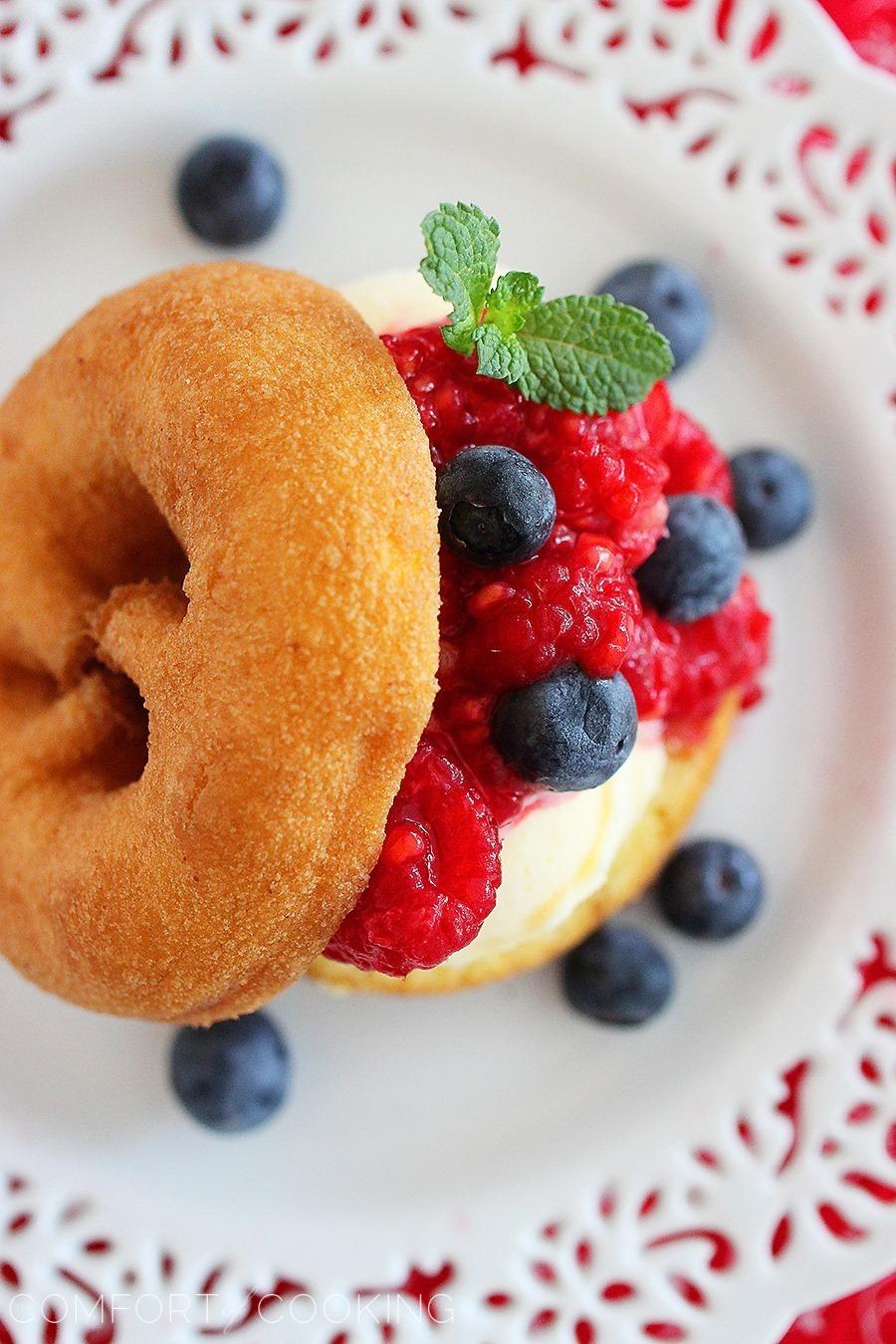 Let's break it down now. I really want you to know JUST how easy this recipe is before having to scroll all the way down. I'm nice like that… and I appreciate laziness.
So, you ready? Okay. Just grab a couple cake donuts from your best bakery, sandwich a scoop of vanilla ice cream (or whipped cream) into the middle, and mash up a few handfuls of raspberries and lemon juice into a chunky, sweet sauce. Pour it over, plop on some blueberries, and dessert is served. Done and done.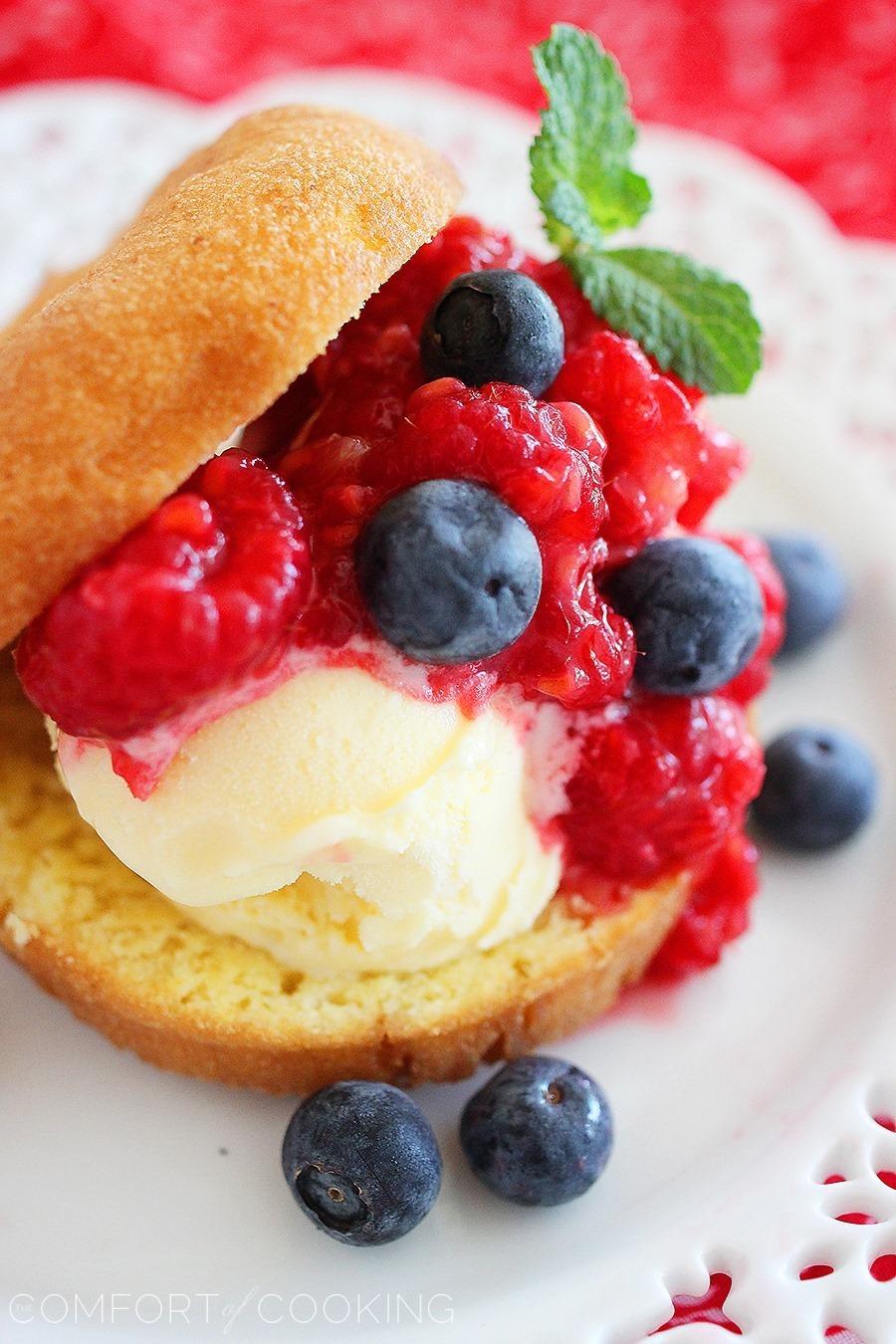 I'll be honest with ya. Traditional shortcake dough has never appealed to me much; it just seems dry and bland. Maybe I'm just not a good enough baker to get it really "right." I've always loved to use pound cakes, angel food cakes, and now, pillowy-soft donuts to cushion layers of cream and fruit into one heavenly dessert!
Yep, with a half-dozen donuts being a dollar, my favorite berries on sale, and ice cream always in the freezer, I can see this being a problem. A problem, indeed. You hear that, bikini?!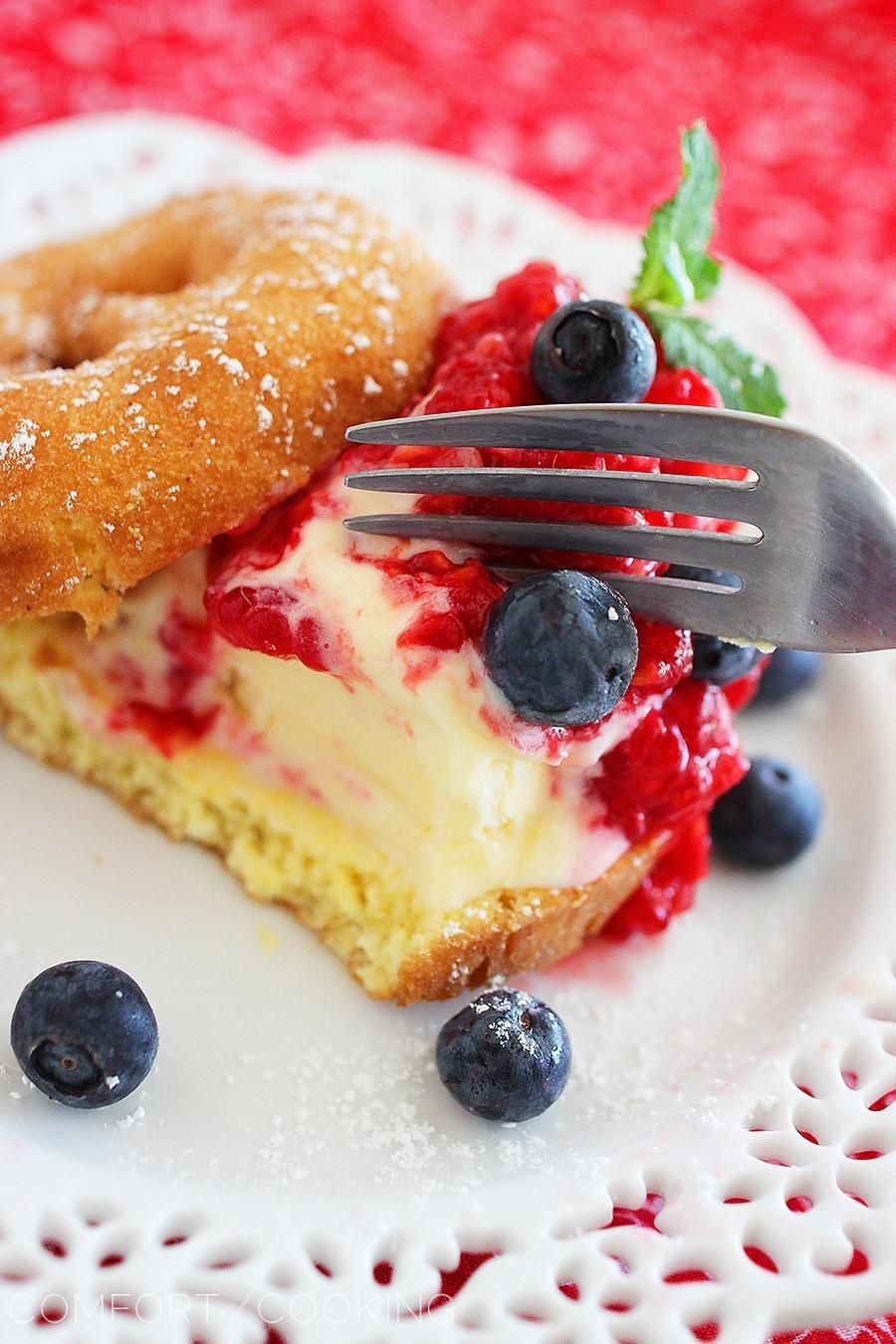 For a red, white and blue breakfast on July 4th, or for a decadent dessert to round out any scrumptious summer barbecue the right way, these donut shortcakes will totally hit the spot. No need to turn the oven on, bust out the cutting board, or swamp yourself in dishes.
This is an easy, no-fuss dessert that you're going to love for warm-weather indulging!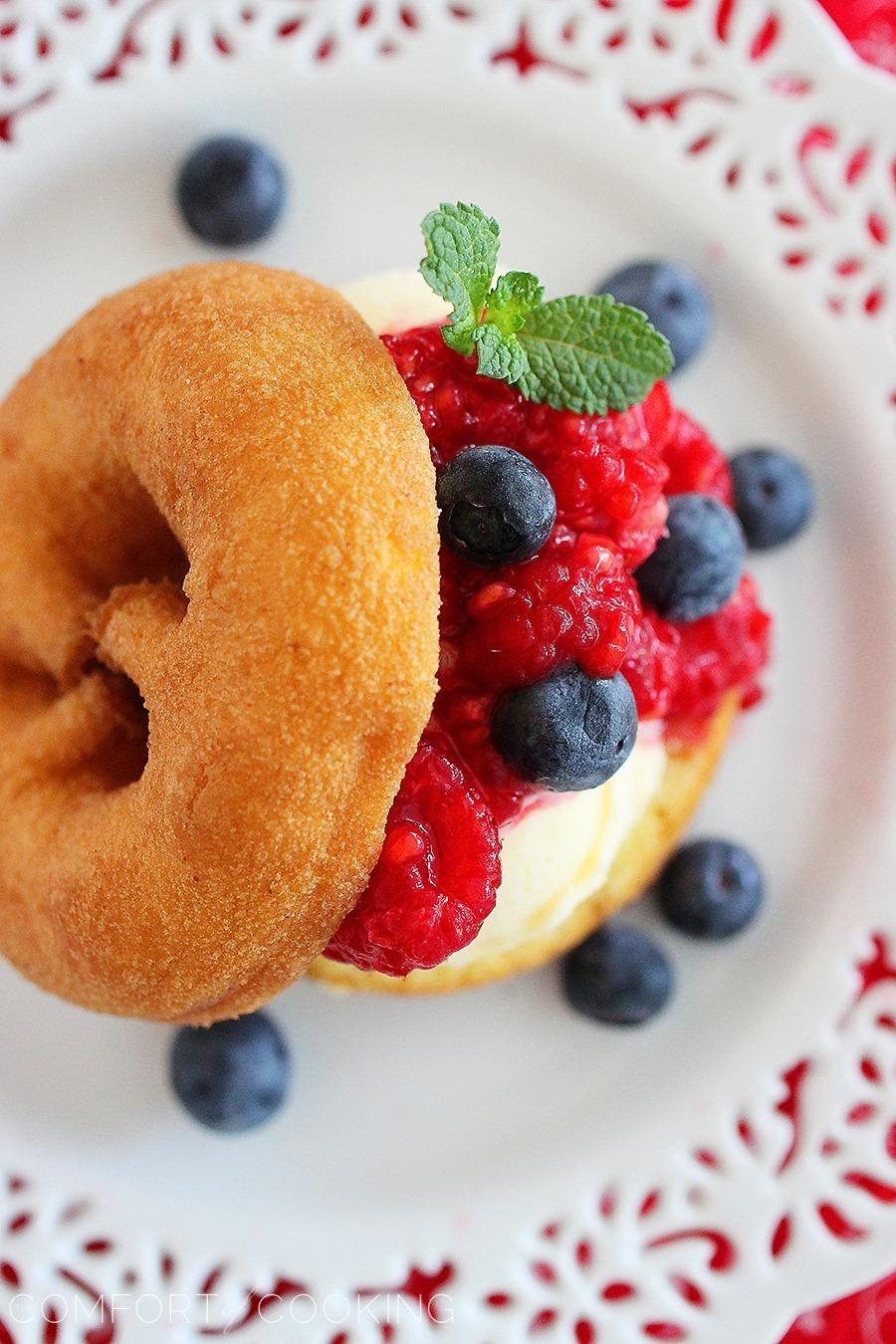 Easy No-Bake Berry Donut Shortcakes
Ingredients
1 pint fresh raspberries
1 tablespoon lemon juice
4 cake donuts, split horizontally
1 pint vanilla ice cream*
1 pint fresh blueberries
Fresh mint leaves and powdered sugar, for garnish (optional)
Instructions
In a medium bowl, add raspberries and lemon juice. Mash together with a fork or potato masher until you form a chunky sauce.
Divide the doughnut bottoms among 4 plates. Top each with a scoop of ice cream, some of the raspberry sauce and a handful of blueberries. Cover with the doughnut tops.
If desired, garnish with mint leaves and sprinkle with powdered sugar.
Enjoy!