Whenever my husband and I visit his parents in New Jersey, his mother always has Bing cherries in her fridge. She excitedly pulls out a big bag, sets out a little dish for our pits, and we lean against the kitchen counters for a while, catching up over the sweet little snack.
Since this is such a fond memory and we've never had cherries at home in California, I was so happy to find them for only $1.99/lb. at my local grocery store last week. But instead of savoring them as a snack, I was envisioning a baked breakfast treat with warm Bing cherry compote…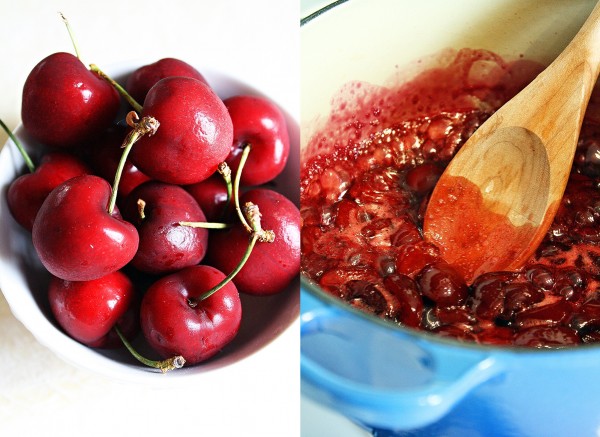 This compote, made with a hint of orange juice, sugar and cornstarch, was a cinch to whip up. After it was wrapped in squares of puff pastry dough, popped in the oven and ready to eat, these turnovers were pure bliss in a baked good.
The compote, warm with juicy cooked cherries, oozed out of the flaky layers of pastry, and each layer gave a satisfying crackle as it was devoured. It was heaven!
Only, as soon as the turnovers were baked and eaten, as were most of my leftover cherries, I realized I was almost fresh out. And now that I am fresh out, it's time to go to the store and get some more! Only this time, they'll be for snacking.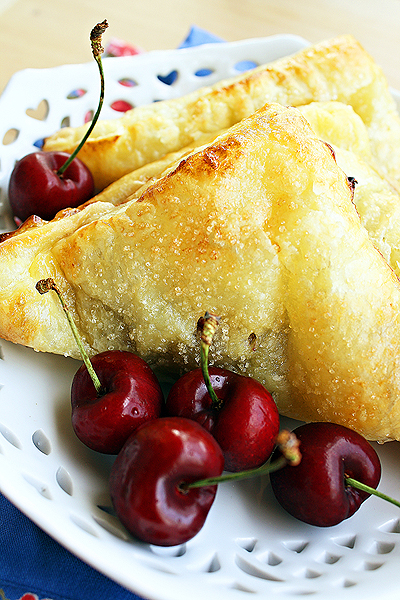 Bing Cherry Turnovers
Ingredients
1 pound fresh Bing cherries, rinsed and pitted
1/4 cup orange juice
1/4 cup granulated sugar
2-3 tsp. cornstarch
2 tsp. water
1 sheet puff pastry, thawed
1 large egg
1 Tbsp. water
2 tsp. milk or cream
1-2 Tbsp. granulated or raw sugar
Instructions
Place the cherries, juice and sugar into a heavy-bottomed pot and heat over medium. Simmer for about 10 minutes, or until the cherries soften slightly.
Mix the cornstarch and 2 tsp. of water together in a small bowl. Once the compote has cooked, add the cornstarch a bit at a time while stirring. Simmer for 1 minute.
Preheat your oven to 425° F.
Using a sharp knife, cut the puff pastry into 4 squares.
In a small bowl, beat the egg and 1 Tbsp. water until smooth. Using a pastry brush apply the egg wash around the perimeter of the square.
Place about a tablespoon of the compote into the center.
Fold the dough over to create a triangle and match up the tips. Press gently to seal. Use a fork to press the seams together. Place the turnovers onto a lined tray and chill in the refrigerator for 10 minutes.
Once the turnovers are cold, mix the milk or cream with the remaining egg wash. Brush the top and sides of the turnovers with the egg wash. With a sharp knife, make 1 or 2 small openings on the top of each turnover. Sprinkle with a bit of sugar.
Bake for 15 minutes, or until golden brown. Once done, transfer to a cooling rack. Let cool before serving.
Enjoy!