This giant, soft skillet-baked chocolate chip cookie is the ultimate indulgence for cookie lovers! And it makes more than enough to share. Top with vanilla ice cream for a truly decadent treat.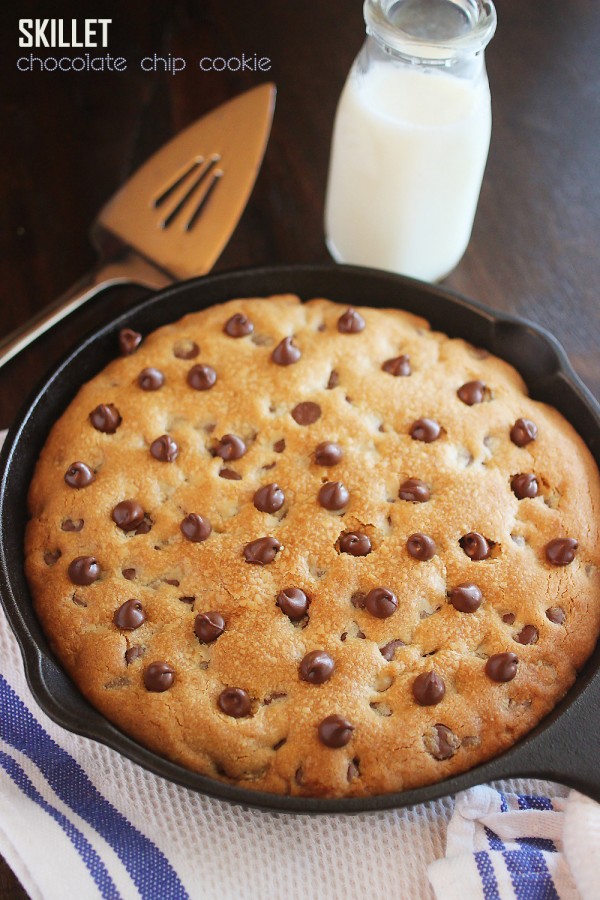 I've made chocolate chip cookies into bars, flourless blondies, bakery style batches, and even microwaved them in a mug. However, I've never baked them this BIG. And since we're in Texas, of course, everything is just a little bigger. So, you know I need to represent.
I have cooked a lot of savory scrumptiousness in this pan, but this is the first time I've ever skillet-baked a sweet! And it turned out amazingly good. And soft. And gooey. Oh, the gooiness.
I apologize in advance to your New Year resolutions.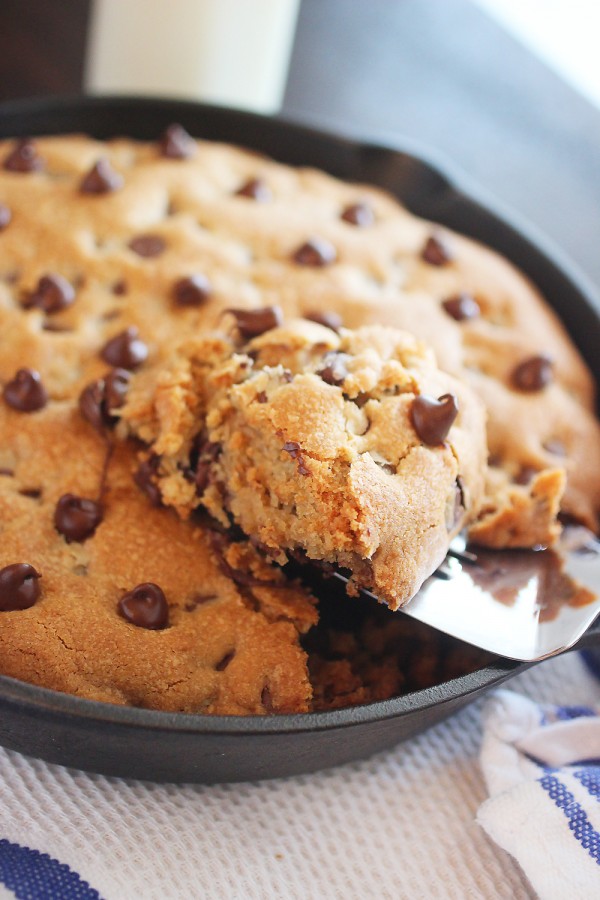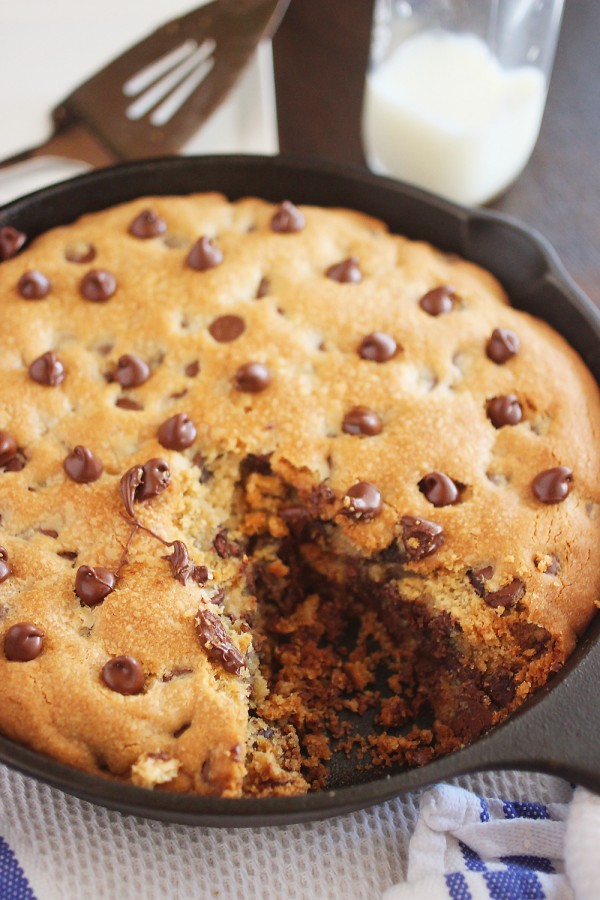 Using a batch of my best-ever chocolate chip cookie dough, this golden brown skillet cookie couldn't have been simpler. I just greased my pan well, spread out the dough (pinching off a bit for taste-testing, naturally), and slid it into a hot oven. Just 30 minutes later, it was ready for devouring with a dollop of vanilla ice cream and my cookie-lovin' partner in crime.
This skillet cookie is outrageously good (and did I mention soft and gooey?), and since it requires no cookie scooping, super quick to assemble! For a fun weekend project, potluck parties, girls' night in or any occasion, you're going to love this chocolate chip cookie in a pan.
We sure did!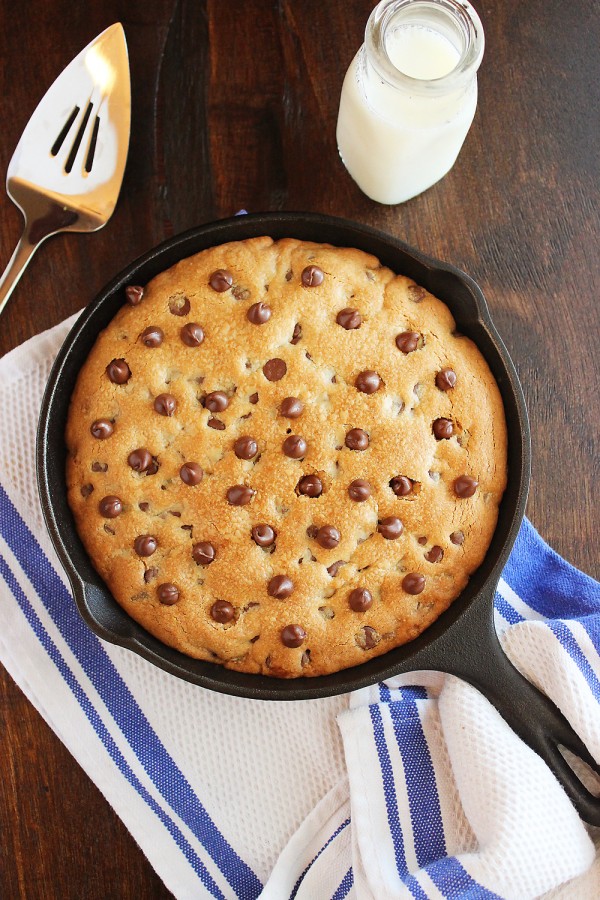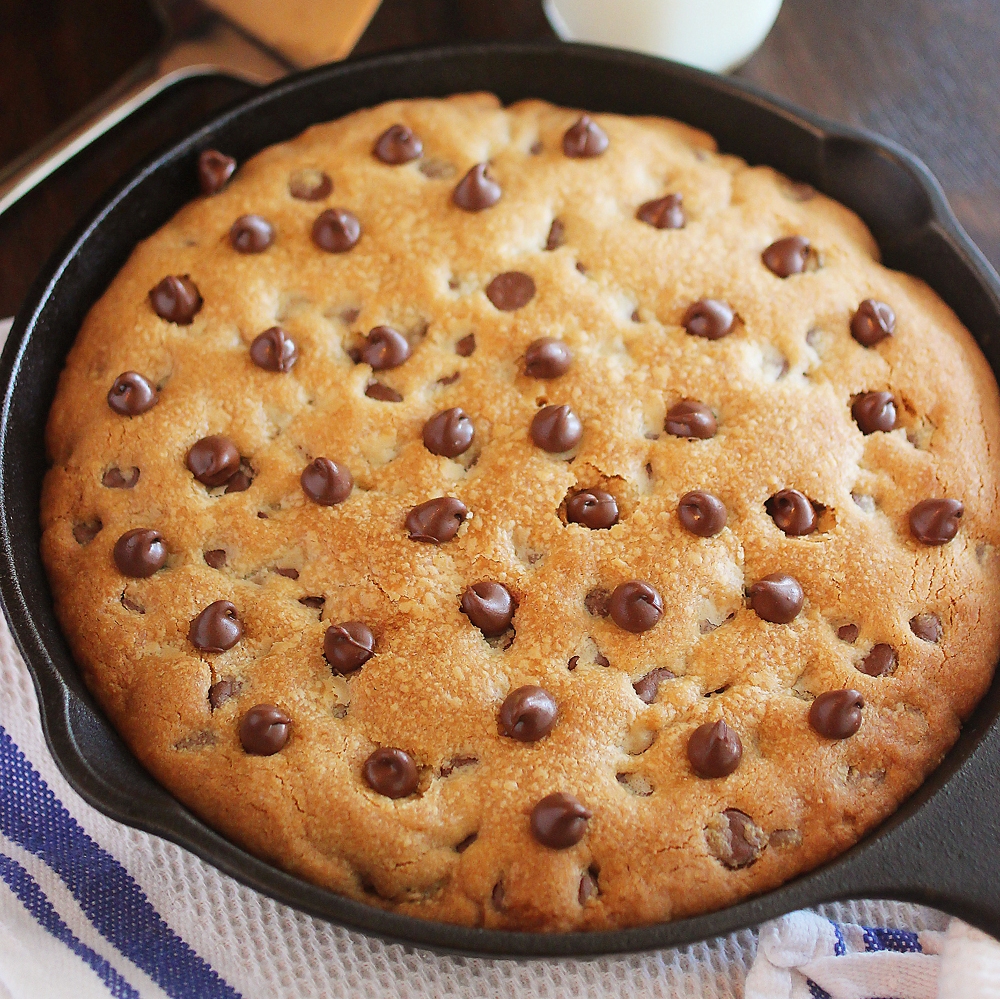 Gooey Skillet Chocolate Chip Cookie
Yield:
8 wedges / 8 servings
Ingredients
2 cups all-purpose flour
2 teaspoons cornstarch
1 teaspoon baking soda
1/2 teaspoon salt
1/2 cup 1 stick + 6 Tablespoons unsalted butter, softened
3/4 cup light brown sugar
1/4 cup granulated sugar
1 large egg
2 teaspoons vanilla extract
1 cup semisweet or milk chocolate chips
Instructions
Preheat oven to 350 degrees F.
In a medium bowl, whisk flour, cornstarch, baking soda and salt. Set aside.
In a separate large bowl, or the bowl of your stand mixer fitted with the paddle attachment, beat butter and sugars until light and fluffy. Add egg and vanilla extract. Add flour mixture, mixing until completely combined. Do not over-mix. Fold in chocolate chips.
Transfer dough to a 10-inch ovenproof skillet. Press to flatten, covering bottom of pan. Bake until edges are brown and top is golden, about 30 minutes. Don't overbake; it will continue to cook a few minutes out of the oven.
Transfer to a wire rack to cool for 15 to 20 minutes. Cut into 8 wedges. Serve warm.
Enjoy!