So scrumptious and simple! Fluffy English muffin pieces topped with salty sausage, scrambled eggs and cheddar make a warm, hearty breakfast or brunch. Cook this delicious casserole 1 day ahead, then bake in the morning for someone special!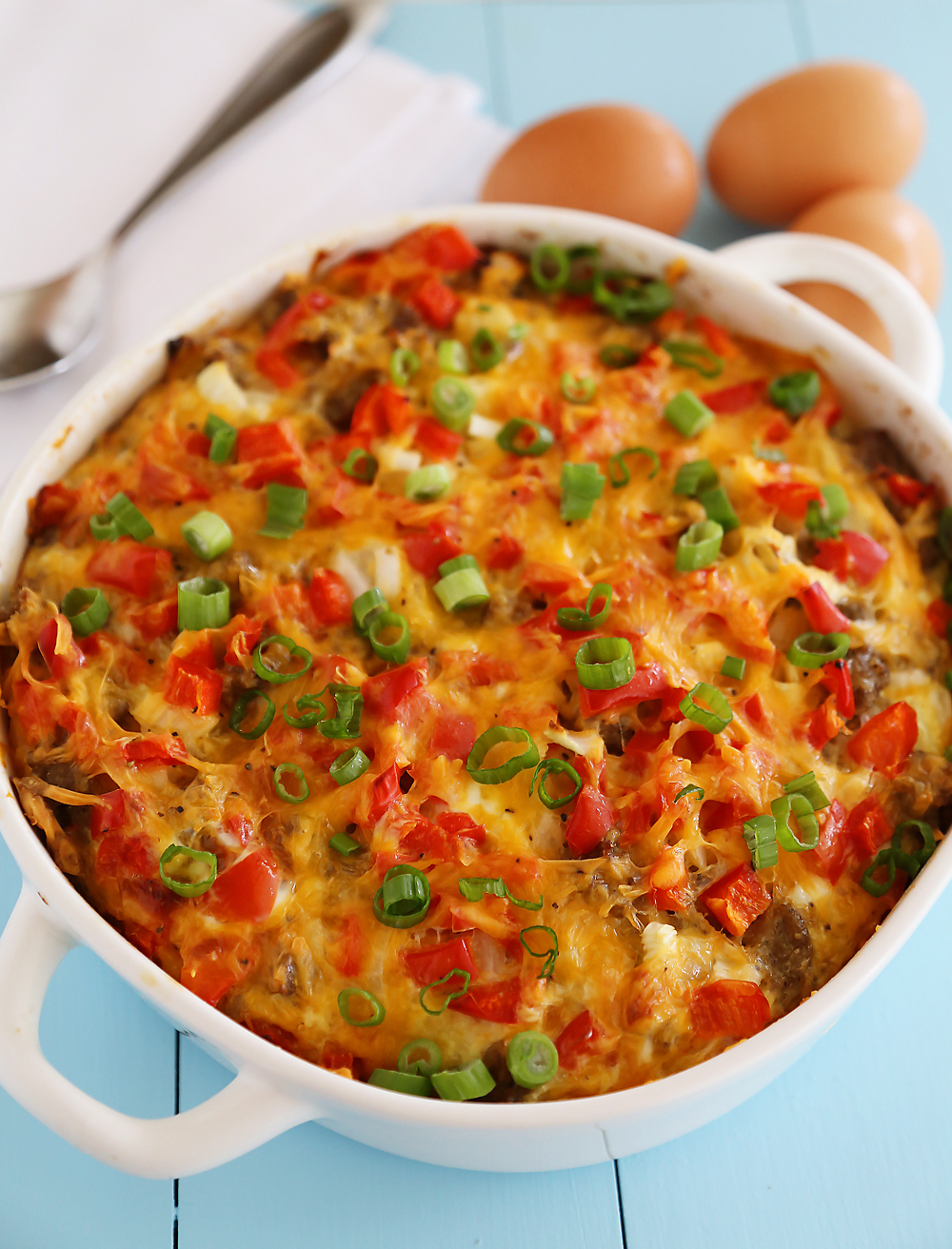 Stretch your arm out long in front of you. Recline your back. Give a little waddle. That's approximately how full o' baby I was around this time last year. So, while I am celebrating my first official Mother's Day this year, I was definitely doing the physical work of mothering full-tilt last year.
Last year, I remember well. I was so happy (with a dash of overwhelmed), and looking forward to meeting our little miss in just a matter of days. We had a mini celebration with morning pancakes on the patio, and a museum trip in the hot May afternoon. I wore my favorite green dress, did my hair nice, and insisted we take lots of pictures, our last as a twosome. I remember thinking about what I would be doing a year from that day.
And, just like that, here we are.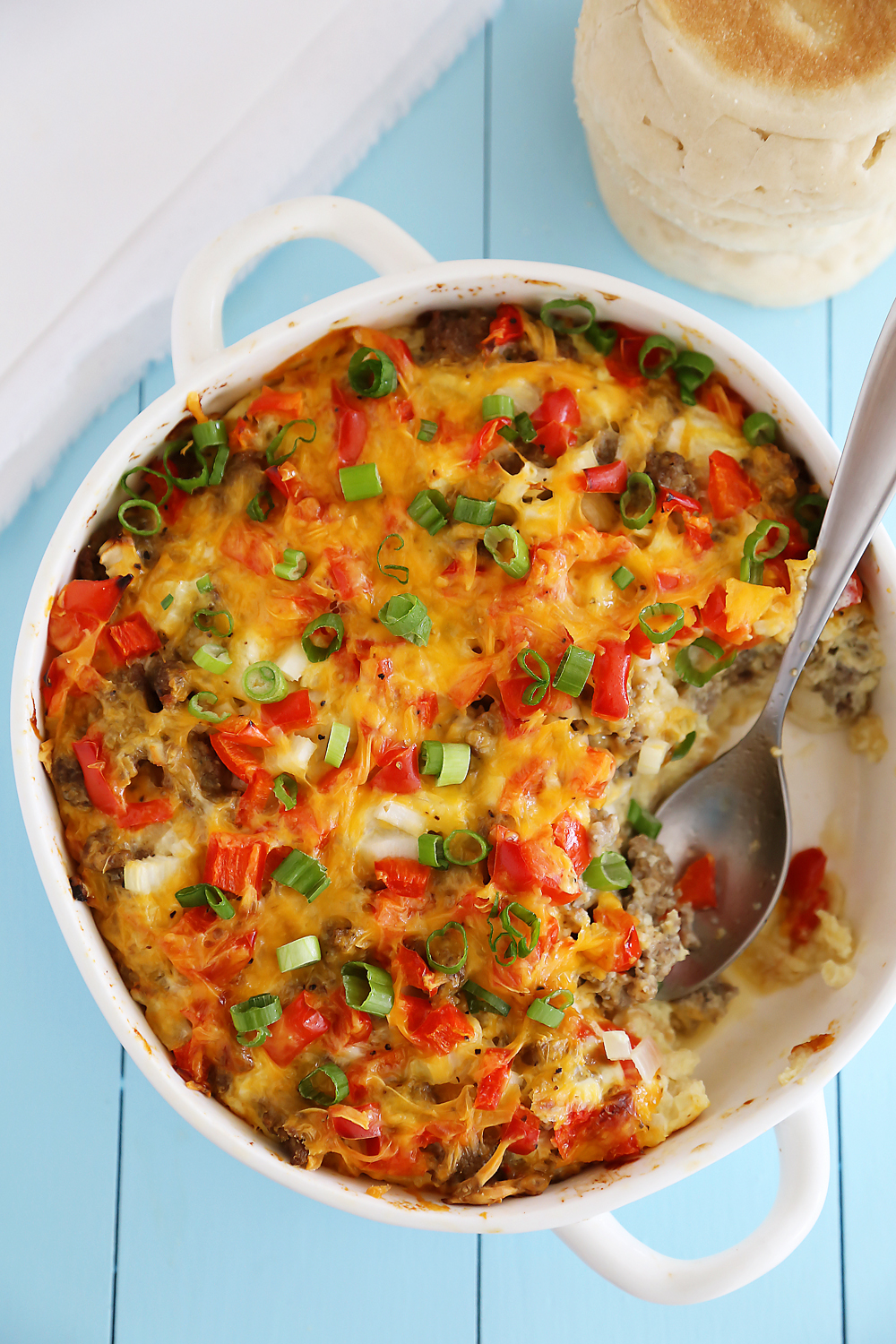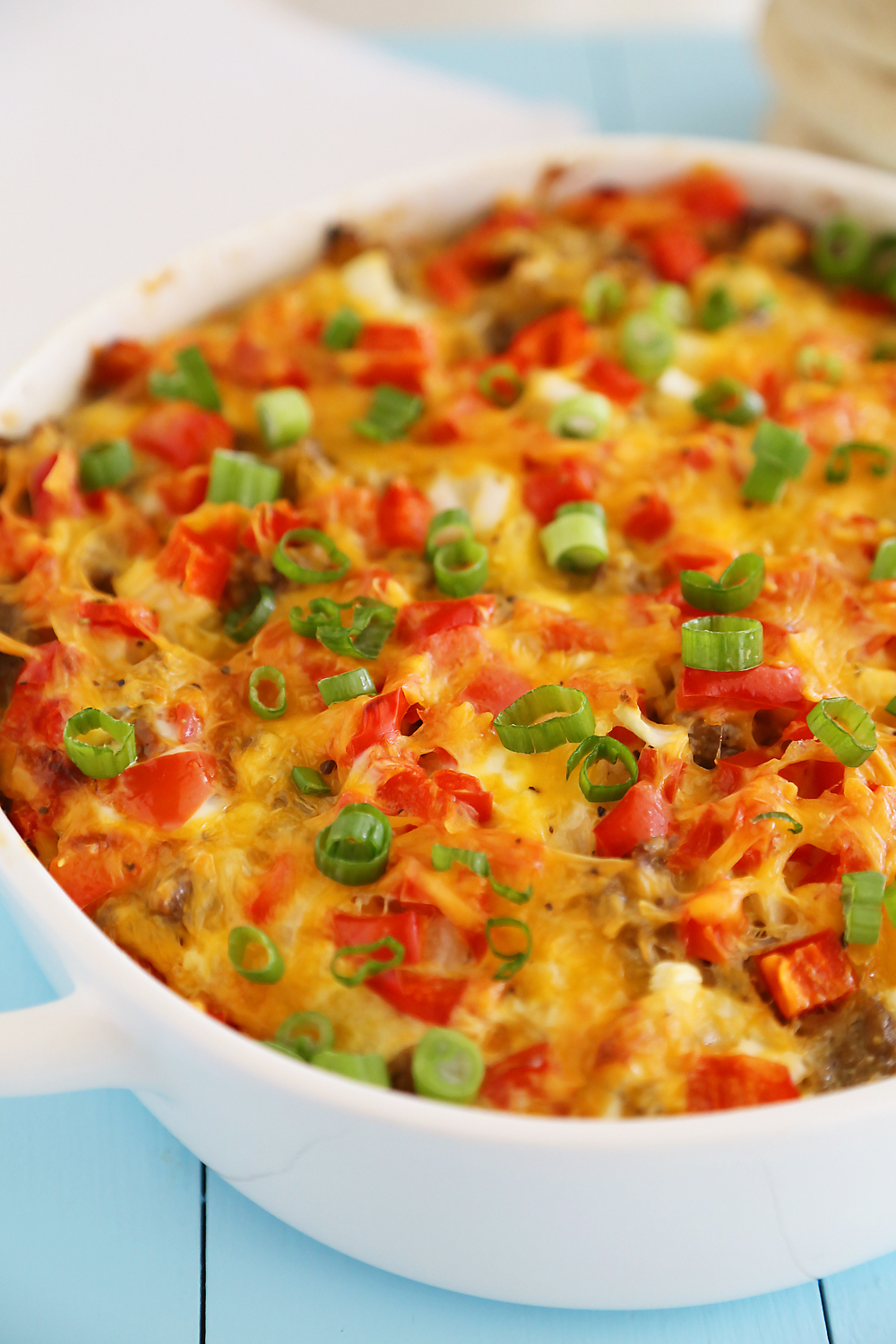 I imagined this Mother's Day, and piling into my big marshmallow bed with my little girl, cuddling her tight, and (now this is the funny part) falling back asleep only to be awoken by breakfast in bed. Ha!
Snapping back to reality… I thought we would all paddle sleepily downstairs, and I'd cook up a hot, hearty breakfast casserole. But, not just any casserole! I'm talking a layer of fluffy, crisp Thomas' Original English Muffins (an all-time fave), salty sausage, bell peppers, onions and gooey cheddar. A simple, scrumptious way to start any weekend off on the right, or end it on a sweet note.
This crazy easy casserole has become my new favorite dish for lazy weekends and a.m. entertaining. It is so easy, and so delicious… especially with a few shakes of spicy hot sauce! You can prepare it the night before serving, too, to keep the morning low-key.
Bake it up for mom this Mother's Day, or any day that you want to share a delish morning meal with someone special!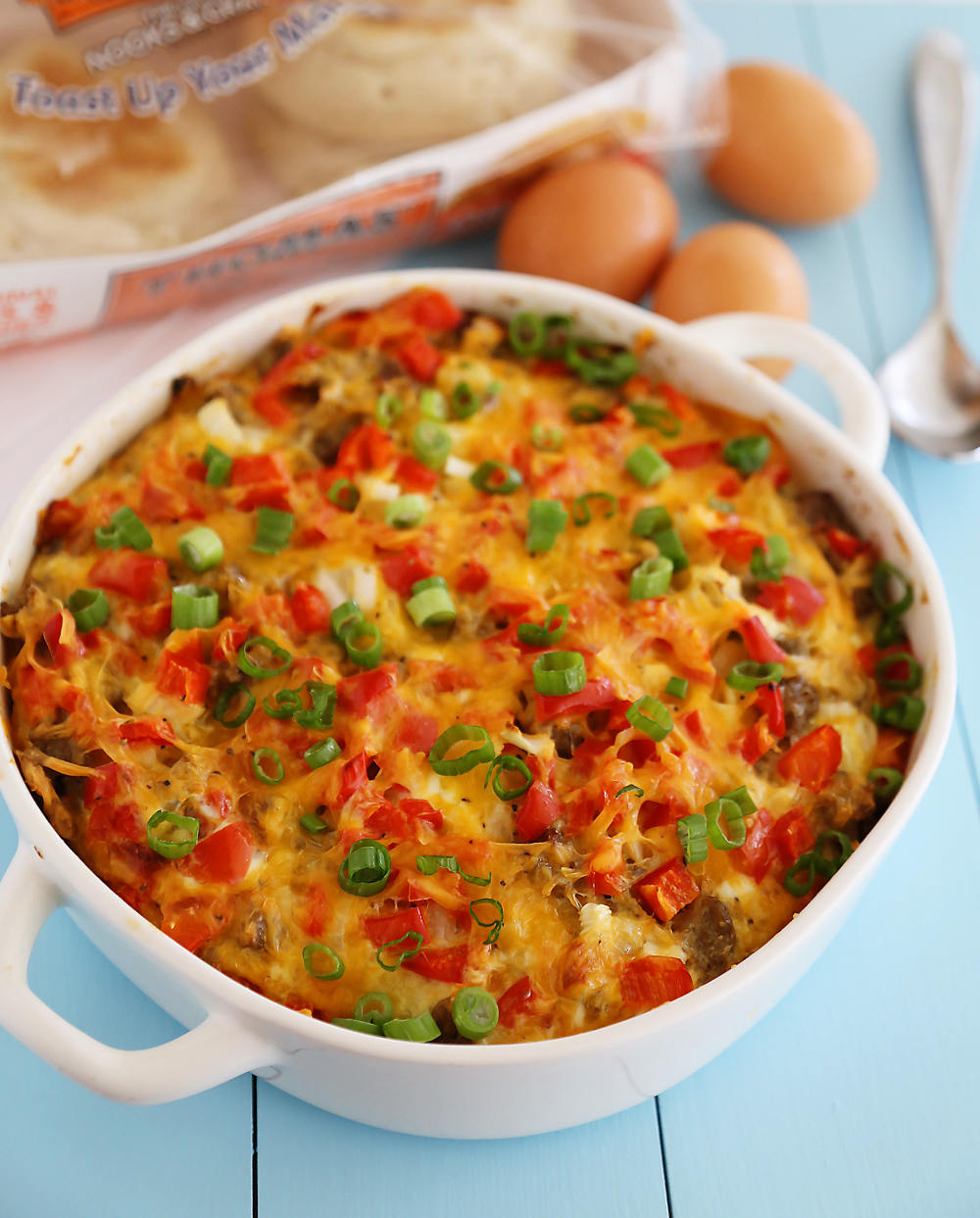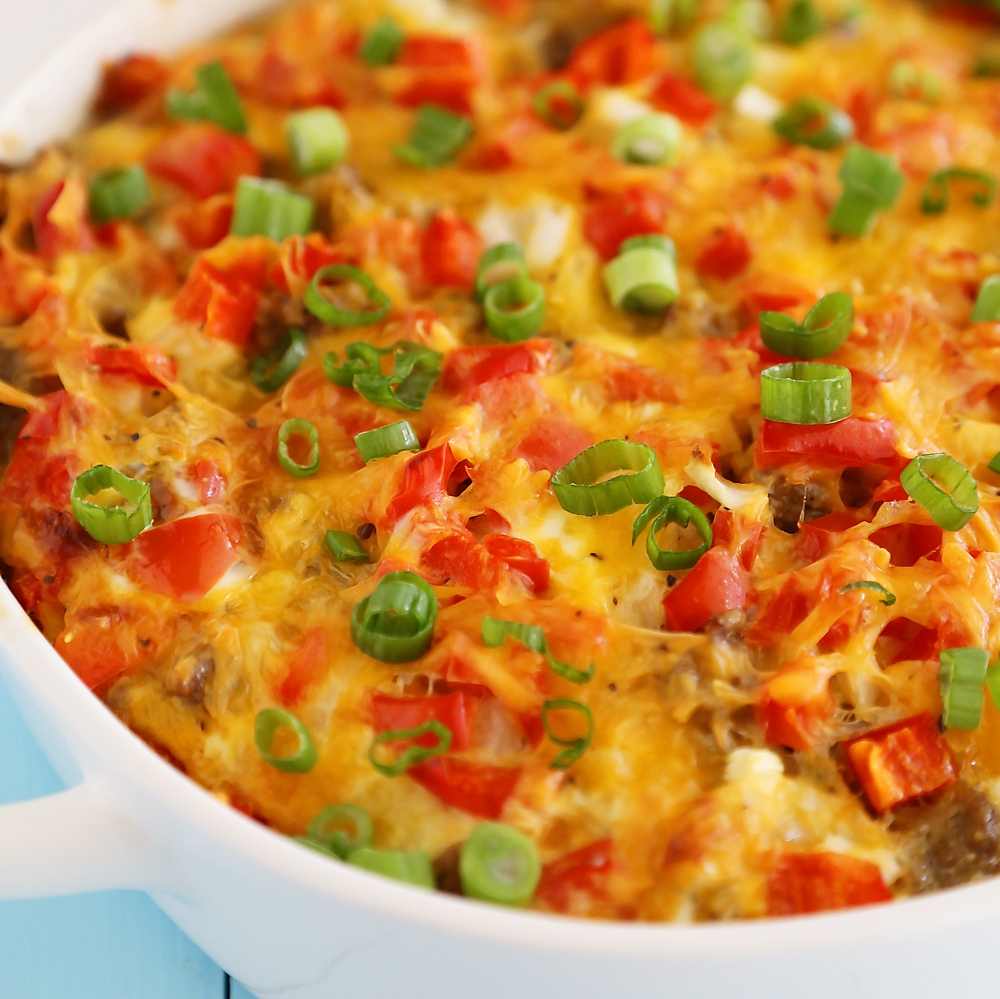 English Muffin Sausage, Egg and Cheese Breakfast Casserole
Ingredients
1/2 teaspoon olive oil
8 oz. uncooked breakfast sausage or pork sausage
3 Thomas' Original English Muffins, cut into 1-inch cubes
2 Tablespoons unsalted butter, melted
1/2 medium yellow onion, chopped
1/2 bell pepper, any color, chopped
1 cup shredded cheddar cheese
6 large eggs
1 cup fat-free milk
1/4 teaspoon kosher salt
1/4 teaspoon pepper
Instructions
In a medium skillet set to medium-high heat, add olive oil. Once hot, add sausage, crumbling with a wooden spoon as it cooks. Cook until golden brown, about 5 minutes.
Place English muffin cubes in the bottom of a greased 8 x 8-inch baking dish. Drizzle with melted butter. Top with sausage, onion and bell pepper.
In a large bowl, whisk shredded cheddar, eggs, milk, salt and pepper. Pour over top of casserole. Cover baking dish and refrigerate overnight.
When ready to bake, remove from refrigerator 30 minutes before baking. Preheat oven to 350 degrees F. Bake uncovered for 45-50 minutes, or until a knife inserted in the center comes out clean. Sprinkle with green onions. Let stand for 10 minutes before serving.
Enjoy!