Talk about cozy comfort food! This Irish beef stew with mashed potatoes hits the spot on chilly nights. So easy to make this tender beef and veggies in a rich gravy. Melt-in-your-mouth good over warm, buttery mashed potatoes. Warm up with a big bowl this weekend!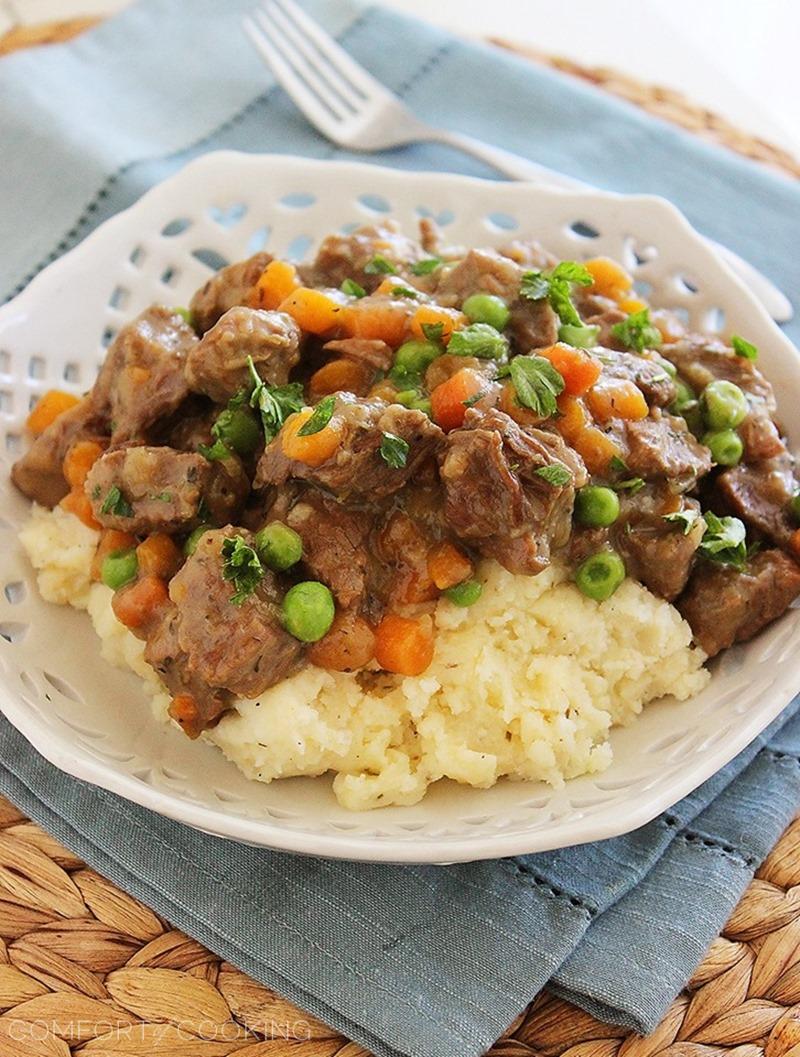 I'm convinced that at the end of every rainbow is a pot of beef stew. A happy, dancing little leprechaun and a steaming hot cauldron of bubbly beefy-carrot-peas-and-potato goodness. Better than gold anyway, I'd say!
The gold would be a little more practical, I guess. A little less fleeting, and not so much cleanup. But, who can resist comfort food like this?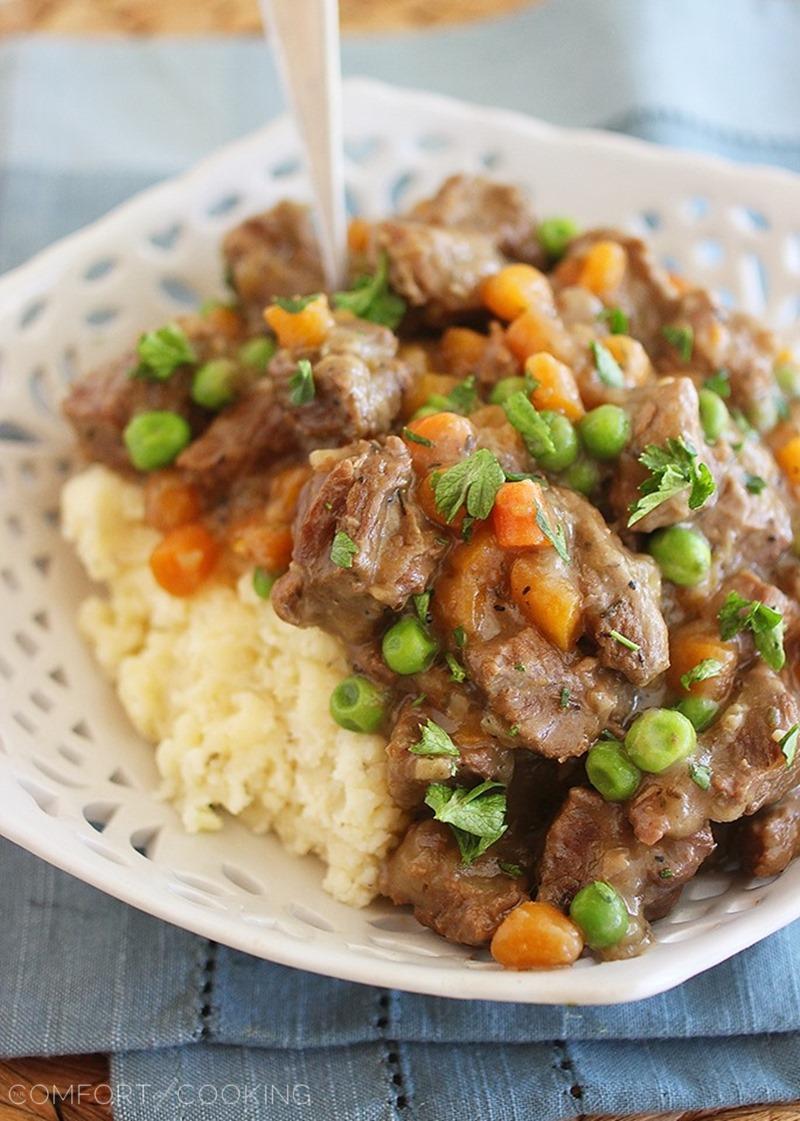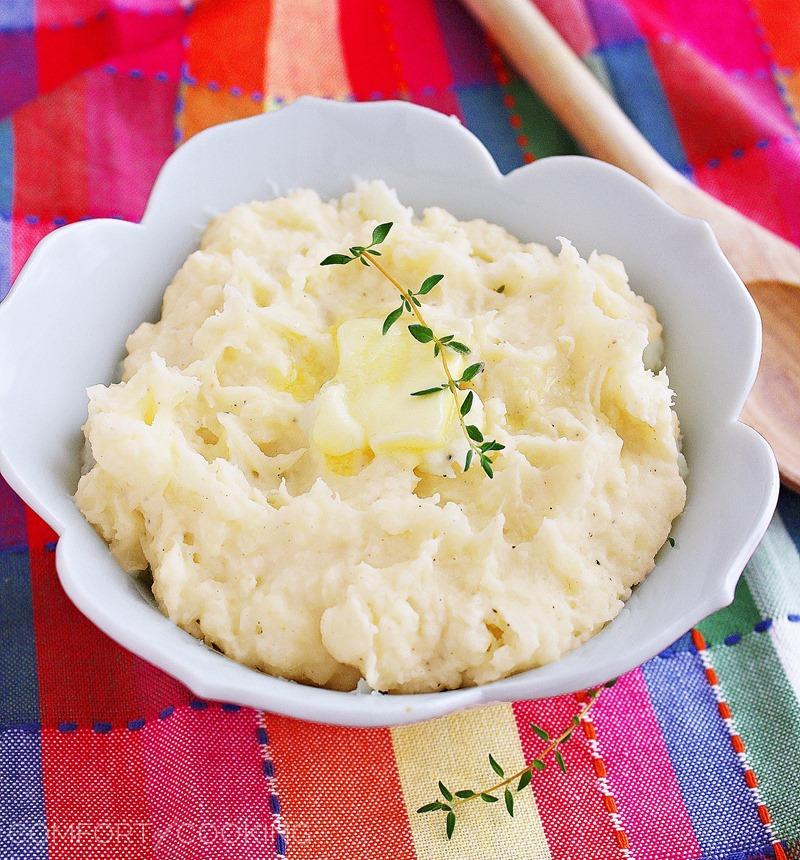 Speaking of happy little leprechauns… today is my hubby's 31st birthday. Though the man doesn't have a drop of Irish in him, there's nothing he loves more than a hearty, meaty meal. Slide a Guinness alongside a plate brimming with beef stew and potatoes, and you've made his day.
So, this one's for you, love!
Well… It was for you. I ate your leftovers. Forgive me?
This tender beef stew is so mouthwatering, incredibly easy, and can even be cooked in your CrockPot! The aroma as it simmers fills your home with scrumptiousness, and you won't be able to wait to dig in. There's just about nothing more comforting than enjoying a hearty, home cooked meal with your lucky companions, after all!
Served on a heap of my fluffy Light 'n Creamy Garlic Mashed Potatoes, a big scoop of Irish beef stew totally hits the spot for chilly nights in. It would make for a perfect St. Patrick's Day meal!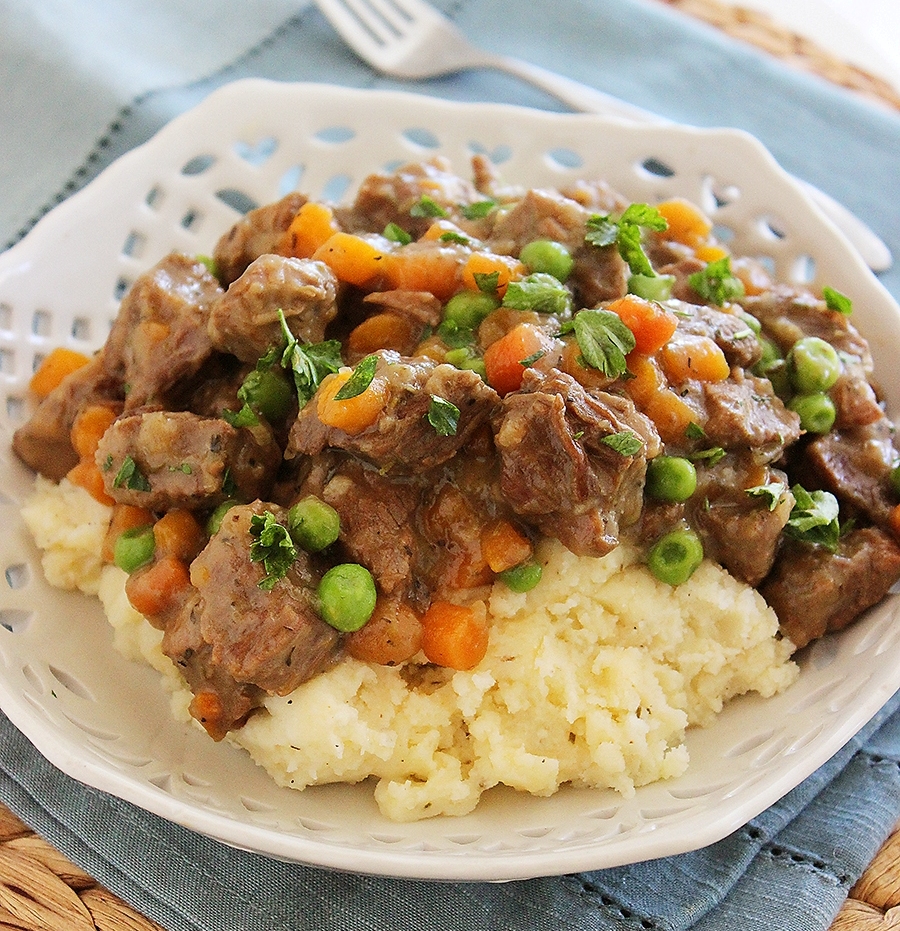 Irish Beef Stew with Mashed Potatoes
Ingredients
1 Tablespoon olive oil
1 lb. chuck roast, trimmed and cut into cubes
1 yellow onion, diced
4 large carrots, peeled and chopped
2 cloves garlic, minced
1 teaspoon kosher salt
1/2 teaspoon freshly ground black pepper
1 teaspoon thyme
1 teaspoon crushed rosemary
2 bay leaves
2 cups beef broth
2 Tablespoons butter, softened
2 Tablespoons flour
Heaping 1/3 cup frozen peas
For serving:
Instructions
In large pot or deep skillet set to medium-high heat, add olive oil. Once hot, add chuck roast and cook until browned on all sides, about 4 minutes. Add onions, carrots, garlic, salt, pepper, thyme, rosemary and bay leaves. Cook another 5 minutes. Pour in beef broth. Cover and simmer 2-4 hours, until meat and vegetables are tender.
When ready to serve, remove bay leaves. In a small bowl, stir softened butter and flour together until smooth. Stir butter mixture into the stew. Add frozen peas. Once the gravy thickens slightly, it's done. Serve hot over mashed potatoes.
Enjoy!