Comfort food at its best. Add this hearty, healthy one-pan meal to your weeknight menu and you'll see why it's one of our readers' quick and easy dinners!
Aaaand, we're back!
After three days in D.C. and one amazing day celebrating my cousin's happy new marriage (congrats, guys!), this girl is wiped. Wanna hear about the trip? Well, I'll tell ya! Just here for the delicious chicken-potato-tomato goodness? Keep readin'.
Nevertheless… Day one, we hit the ground running, picked up our sleepy bums after an early flight, and enjoyed the beautiful and historic city on foot. We ran around to all the usual landmarks with our map in hand and trusty cameras to catch it all! Day two brought all the museums and monuments we missed the day before, and a wonderful reunion with my childhood best friend, her hubby and their adorable blonde babies. Skip ahead to the next day, which brought more family, hugs and laughter than I could count at my cousin's wedding. Day four was a sad farewell to our short and sweet Mid-Atlantic adventure, but we promised to be back again soon, or at the very least try to see everyone more than once every four years!
If we had an indispensable income and no real responsibilities at home, I could have easily spent several more days continuing to wander Washington with a comfy pair of kicks and coffee in hand! BUT. My lovely little friend called "Reality" had to come waltzing in and wallop me in the tush eventually! That is, the reality in which the most difficult decision of my day is no longer whether to order the crab cake or ribeye.
Le sigh.
But actually, my home is my favorite place in the whole world, and the comforts of it incomparable to any hotel. Before my husband and I keyed our way into these cozy four walls, anywhere was a welcome vacation, and we'd pack our bags anytime and leave. No homesickness, no longing. Now, though, as much as I love to travel, there really is nowhere else I'd rather be.
Where I love to be is mixing up a delicious meal in my kitchen, sitting with my hubby, and sipping on a glass of wine talking about our days. Dishes be damned. I'm enjoying myself and I'll get to 'em later!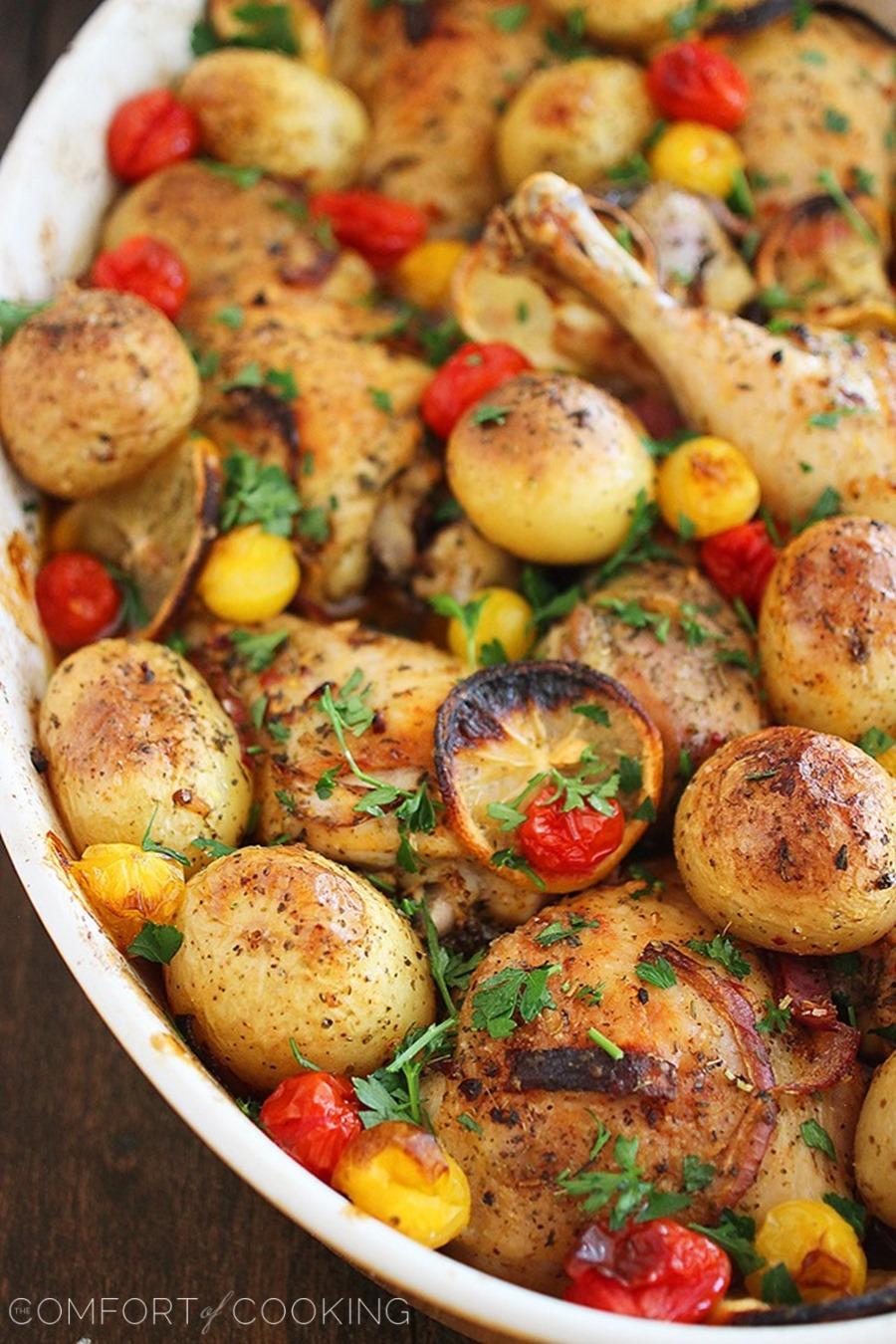 That feeling is especially amplified after I've come home from traveling, though. There's nothing better than sinking your fork into a scrumptious homemade dinner, with the aroma filling your kitchen and the goodness filling your belly! That is comfort food.
This big, luscious pan full of lemony roasted chicken parts, baby potatoes and sweet cherry tomatoes with onions and herbs is my definition of comfort after a long trip. It's easy to whip up, absolutely delicious, and makes leftovers for days while you're busy getting back into the swing of things!
For weeknights, special occasions, and even lazy weekends, I know you'll love this one-pan meal as much as I loved making it to share with you. Whip it up at home tonight!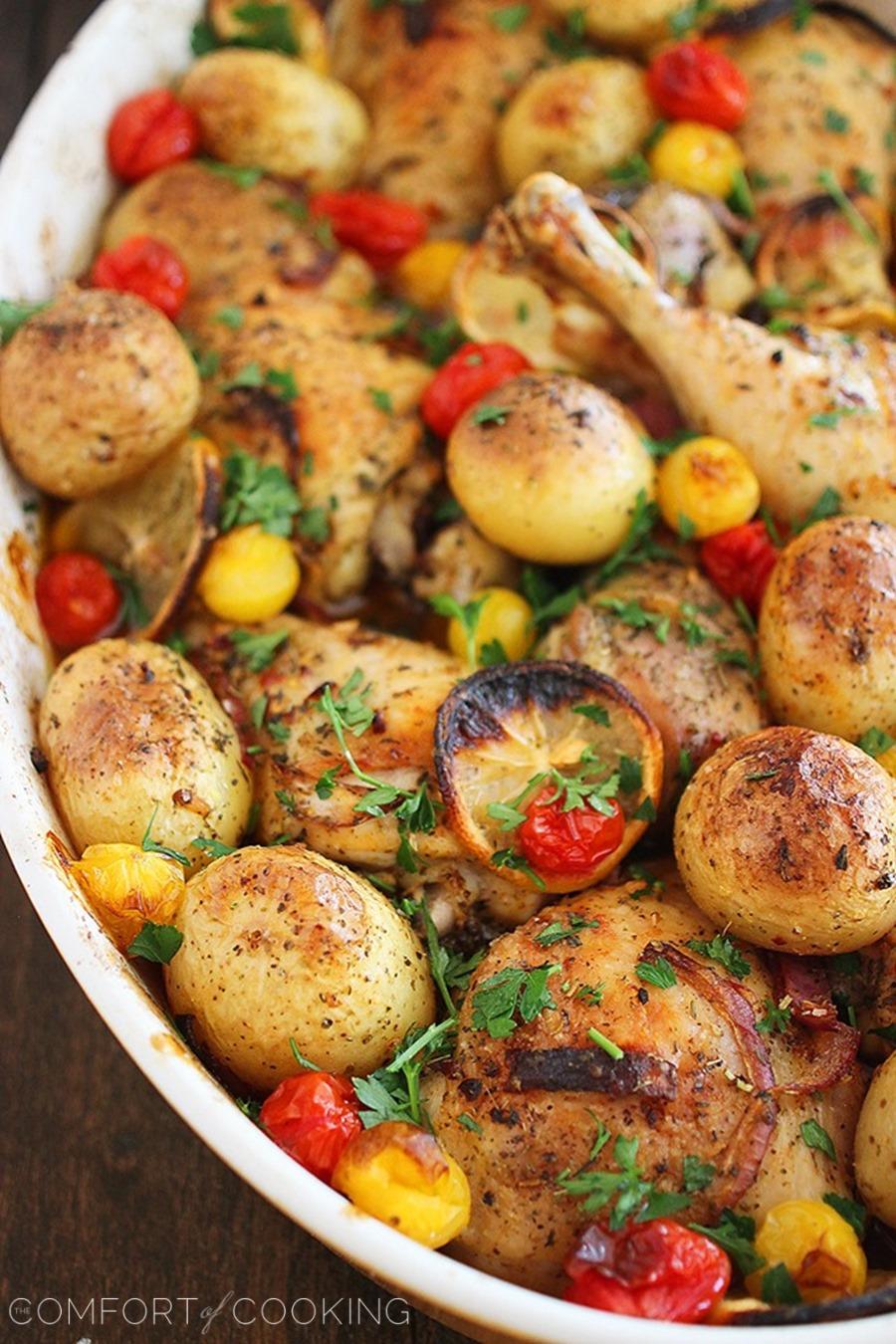 Easy Roasted Lemon Chicken with Tomatoes and Potatoes
Ingredients
Nonstick cooking spray
4 lbs. 10-12 skin-on, bone-in chicken parts (thighs, legs, wings)
1 lb. baby potatoes
1/2 onion, yellow or red, thinly sliced
2 lemons, 1 sliced and 1 juiced
1/3 cup olive oil
2 garlic cloves, minced
1 teaspoon Italian seasoning
1/2 teaspoon crushed red pepper flakes
1/2 teaspoon paprika
1 1/2 teaspoon kosher salt
1/4 teaspoon freshly cracked black pepper
10 oz. cherry tomatoes
Instructions
Preheat oven to 400 degrees F.
Spray a rimmed 13-in. x 9-in. baking dish with cooking spray. Into the baking dish arrange chicken parts (skin side up), potatoes, sliced onion and lemon slices evenly in pan.
In a small bowl, whisk together lemon juice, olive oil, garlic, Italian seasoning, crushed red pepper flakes, paprika, salt and pepper. Pour mixture all over chicken and potatoes. Sprinkle all over generously with additional Italian seasoning, salt and pepper.
Bake uncovered for about 1 hour, or until chicken and potatoes are fully cooked. During last 20 minutes of cooking, add cherry tomatoes and continue cooking for the 20 remaining minutes.
Enjoy!