Deliciously fluffy, soft mini beignets made with just three ingredients. Perfect for breakfast and brunch with coffee, or an indulgent dessert with a dusting of powdered sugar and fresh strawberries.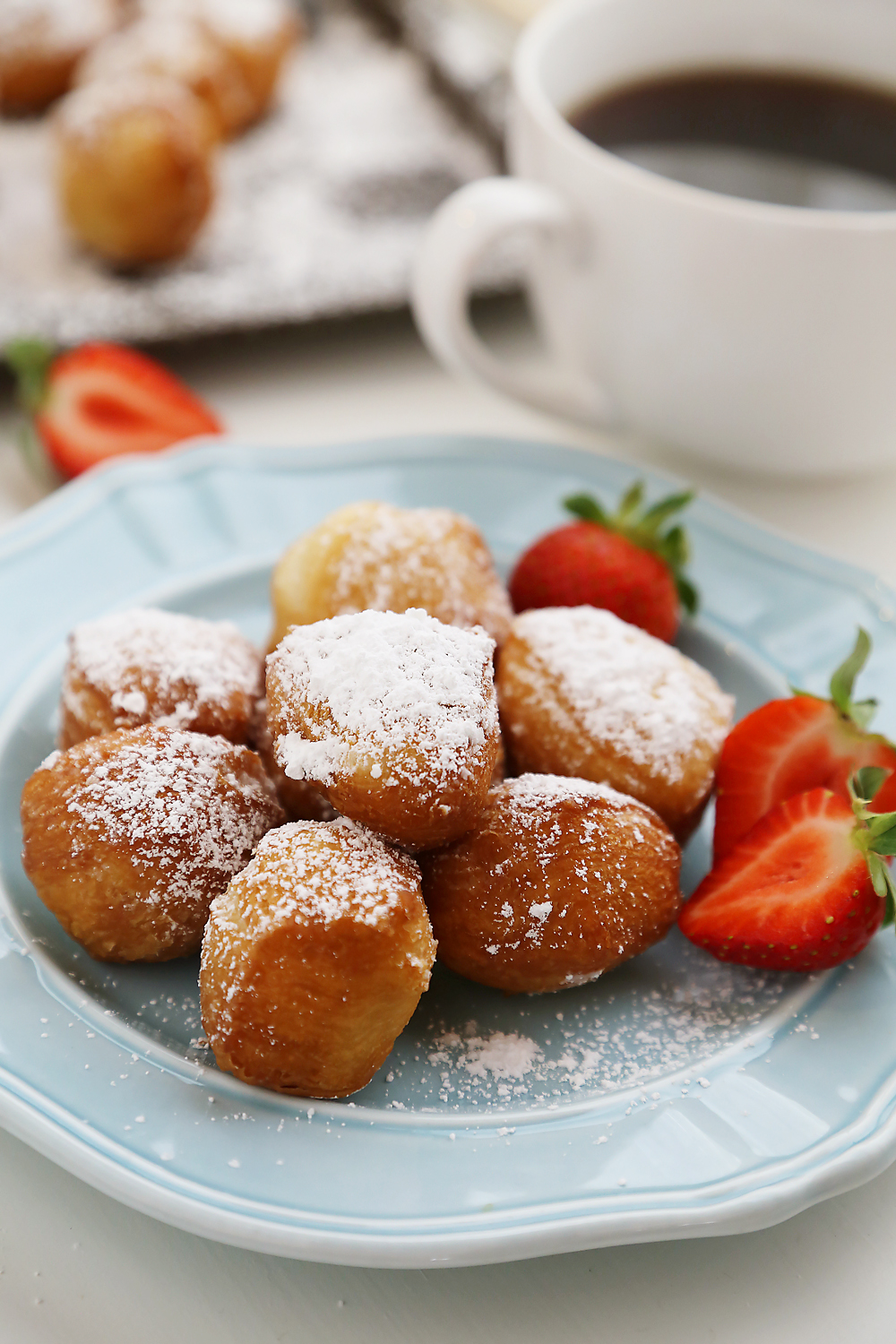 One thing is for sure, and that is that I haven't subscribed to any New Year resolutions. For me, it's been more about doing things that make me happy – travelling, volunteering, being silly with my little girl, cooking for friends, and rescuing this sweet dog named Roma. Oh, yeah. And making big batches of warm, fluffy beignets. Lots and lots of beignets.
I have made these an embarrassing amount of times in the past week. Like, an unreasonable amount of times. I haven't yet heard a complaint from friends and my boyfriend's coworkers, though!
Just show up anywhere with a hot, grease-dotted paper bag of homemade beignets and see how fast you make friends. It's really as simple as that.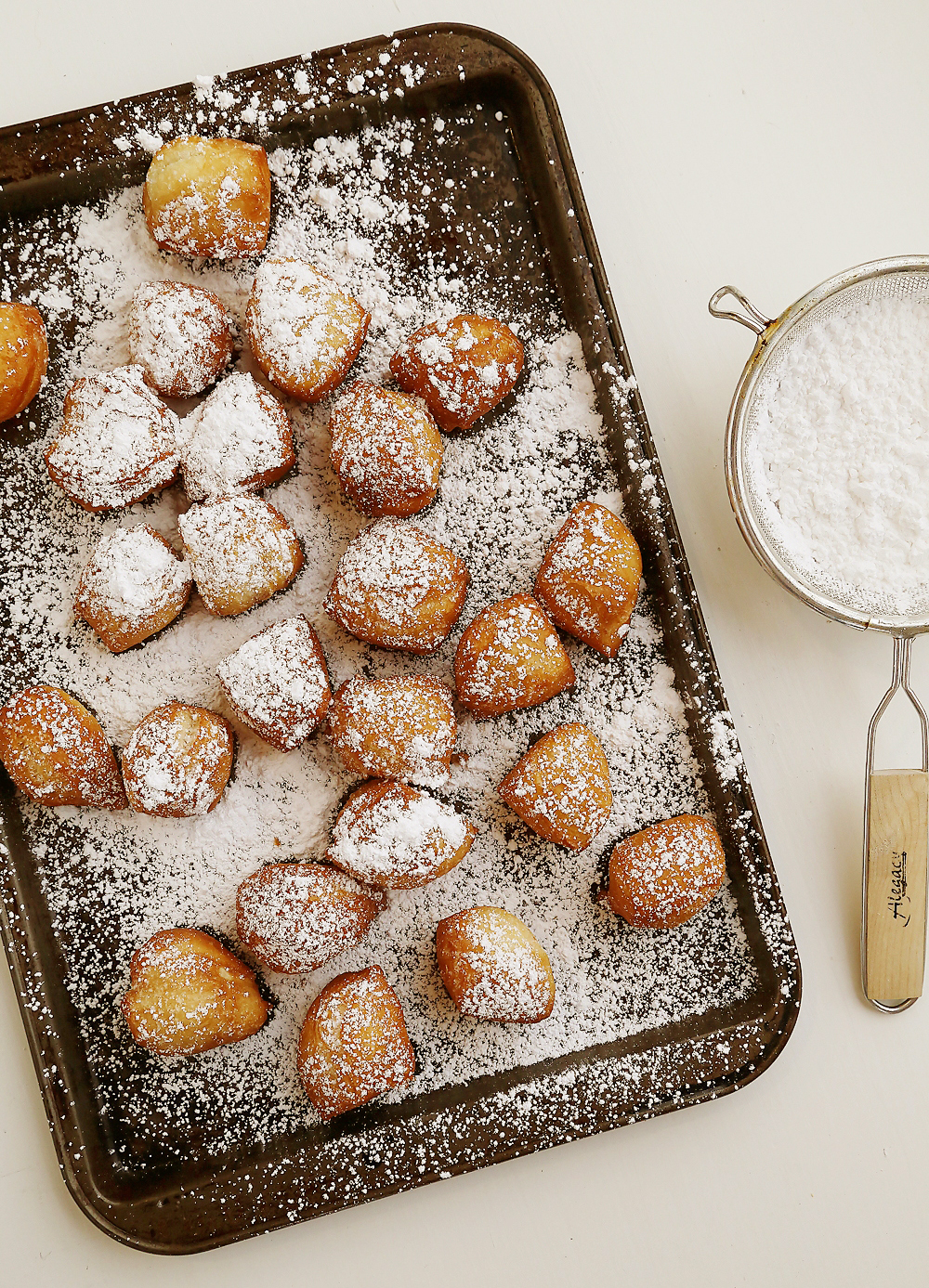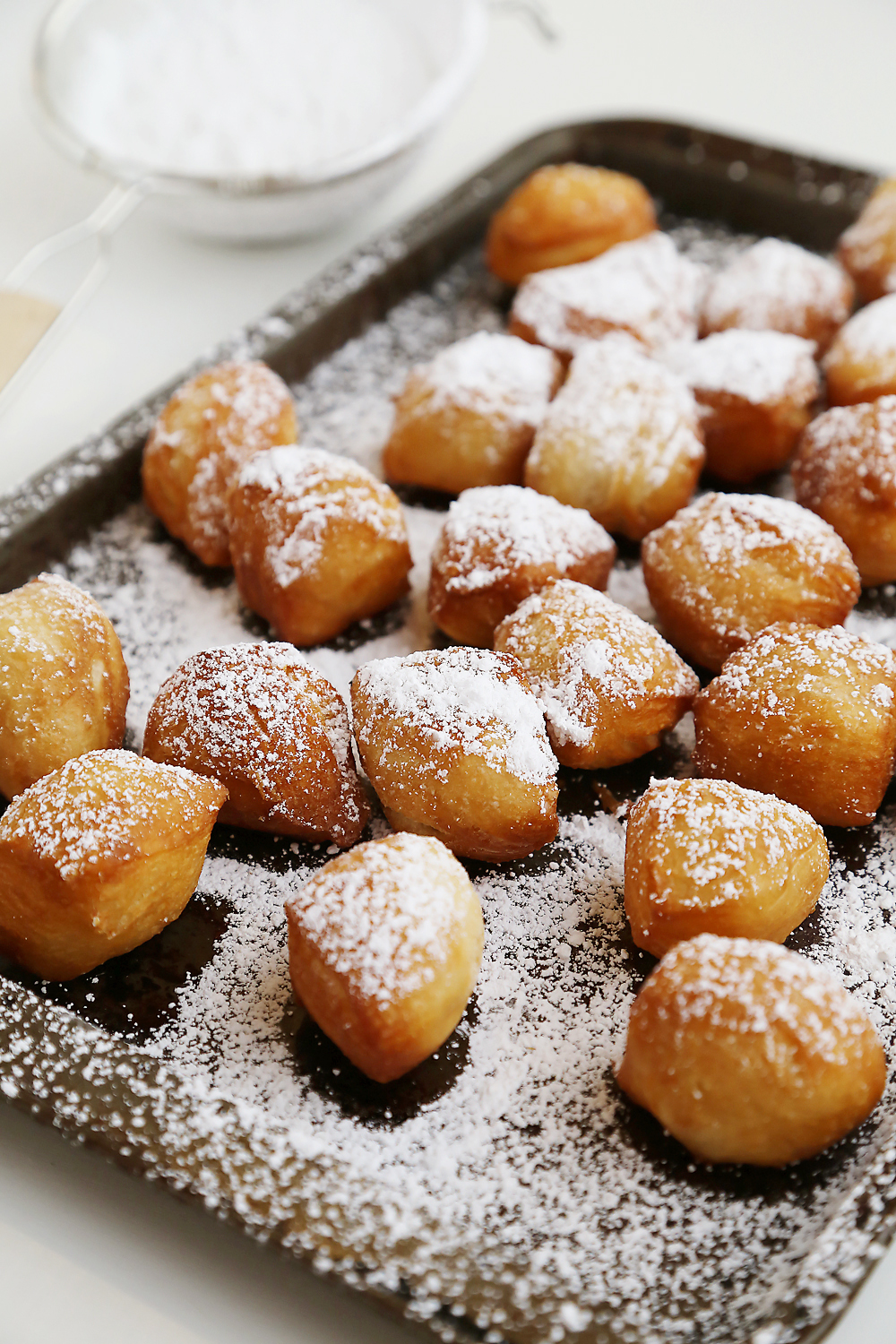 This past Christmas, I traveled with my sweet Southern guy to his family's home in Louisiana. It was a wonderful, low-key visit full of warm people, good food, hand-in-hand walks, orange picking and pajama relaxing. On the menu? Huge pots of delicious sausage gumbo, dirty rice, and irresistible peanut butter fudge. To name just a few of my favorites from the enormous spread.
A few days later, we jumped in the car and headed for New Orleans. Where, the favorite sweet of my deep South visit was swiftly decided after a visit to Cafe du Monde, famous for their magnificently puffy, powdery beignets.
We tucked into a small table, piled on the napkins, and devoured our treat hungrily. It was then that I discovered the eye-rollingly good magic of a freshly fried beignet. Gorgeously golden on the outside, light as air on the inside, and not as overly sweet as they may appear, dusted with a snow shower of sugar. Simply delicious and perfect with a hot cup of coffee.
So, imagine my horror delight when I found out I could make these sinfully delicious treats at home! In my pajamas. No people. No lines. No crowds. Just a tin of biscuits and a hungry girl.
Want to make them yourself? You can! Just grab yourself a tin of refrigerated biscuits (the ones I used are noted below), powdered sugar, and some vegetable or canola oil. Chop up your biscuits into four pieces each. Heat the oil in a large, heavy pot and use a thermometer to check the temp. Don't be afraid of frying, it's easy! Once your heat reaches about 350 degrees F, drop in your biscuit pieces and let them sizzle for a couple minutes. Flip 'em a little with your slotted spoon. When they're golden, remove them to a paper towel lined plate. Then, repeat with your remaining biscuits. Shower on the sugar, and you're done!
I guarantee you will LOVE these beignets for a breakfast or brunch treat, or delicious and unique dessert. They are so simple, fun to make and a total crowd pleaser. Try them today!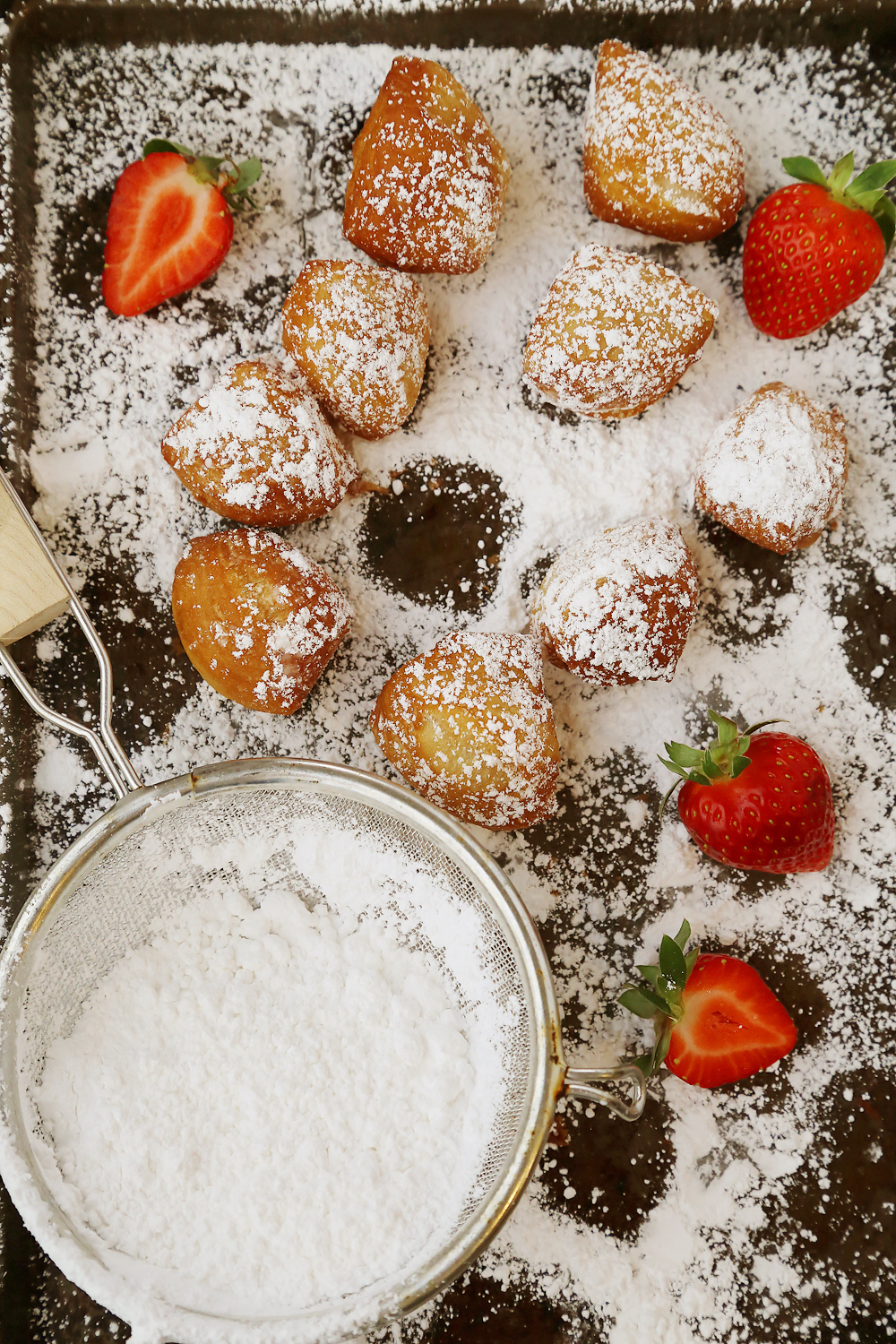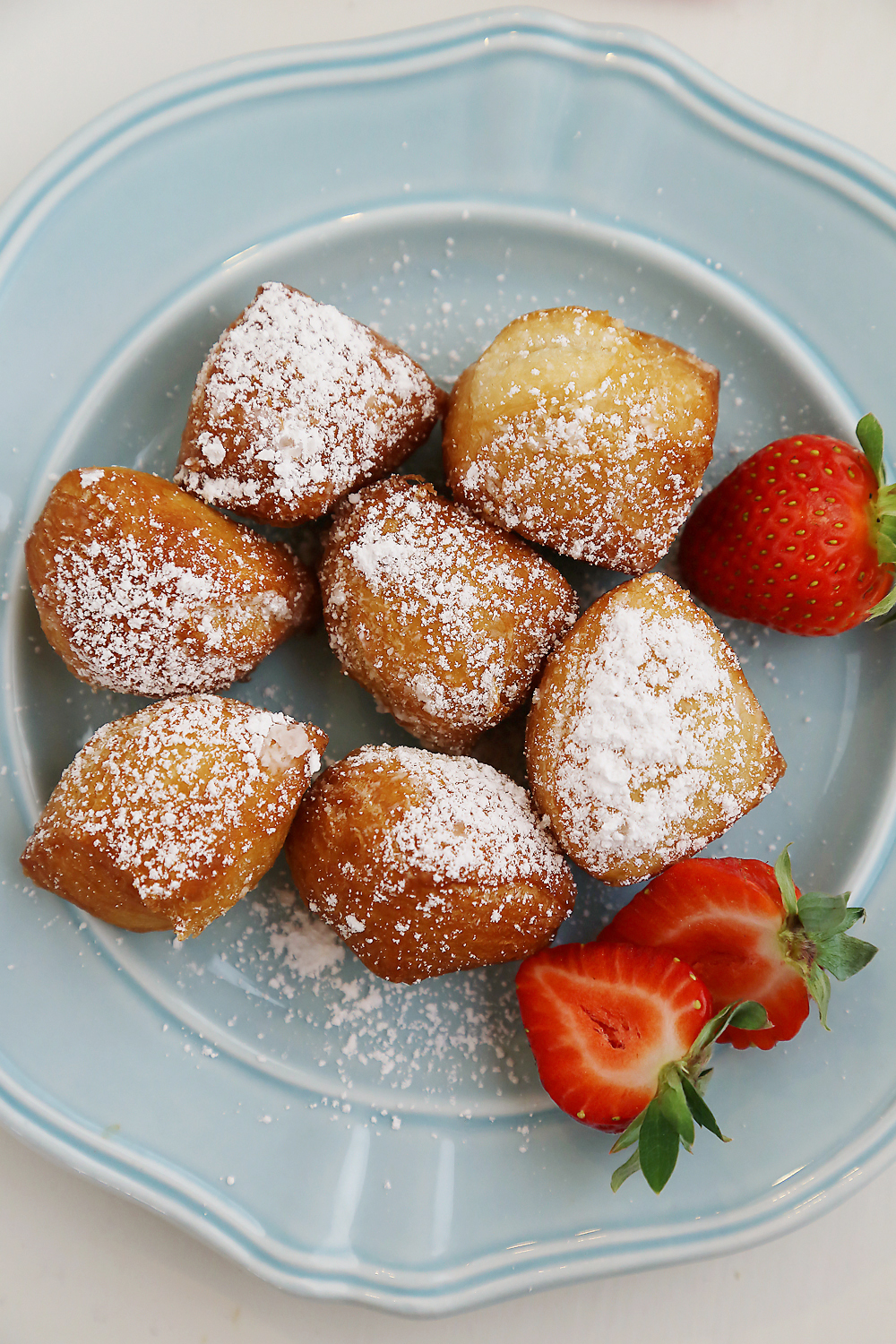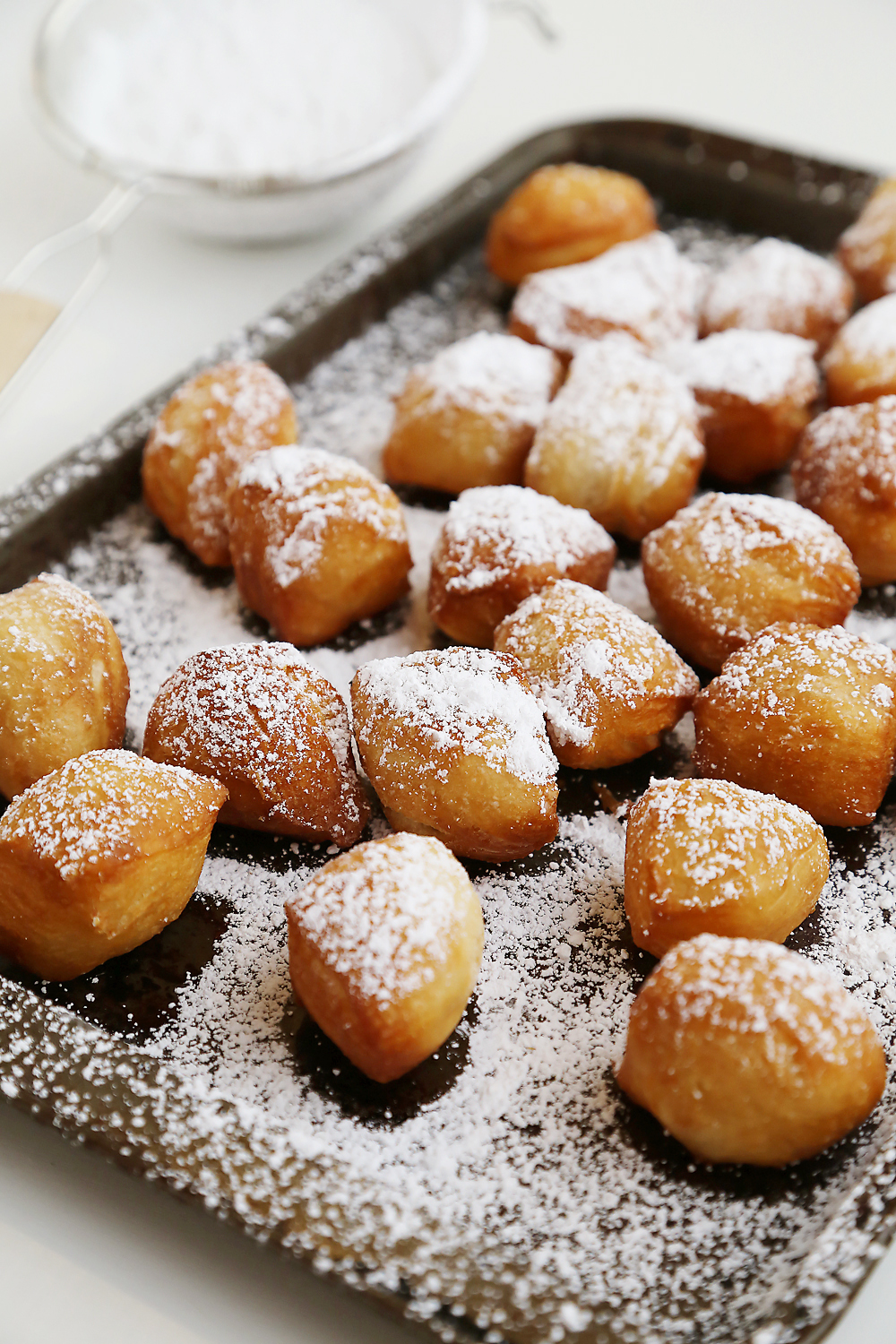 3-Ingredient Beignet Bites
Ingredients
1 16 oz. can refrigerated biscuits (8 per can)
Vegetable or canola oil
Powdered sugar
Special equipment needed:
Large baking sheet
Dutch oven or other medium heavy pot
Candy thermometer, recommended or other kitchen thermometer
Slotted spoon
Fine mesh sifter/sieve
Instructions
Line a large baking sheet with paper towels; set aside.
Separate biscuits into individual rounds. Cut each round into 4 equal-sized pieces.
In a medium Dutch oven, pour oil to a depth of 2 inches. Set to medium heat until temperature reaches 350 degrees F. Measure temperature carefully with a kitchen thermometer.*
Fry biscuit pieces in batches, turning with slotted spoon, about 1 minute on each side, until golden. Drain on paper towels, and dust generously with sifted powdered sugar. Serve immediately.
Enjoy!