Comforting, classic apple cider donuts made with real cider, hot and ready in 10 minutes. Buttery, warm and dipped in spiced cinnamon sugar, these easy fall treats are heaven with a cup of coffee. Bake a batch one brisk morning and enjoy with family and friends.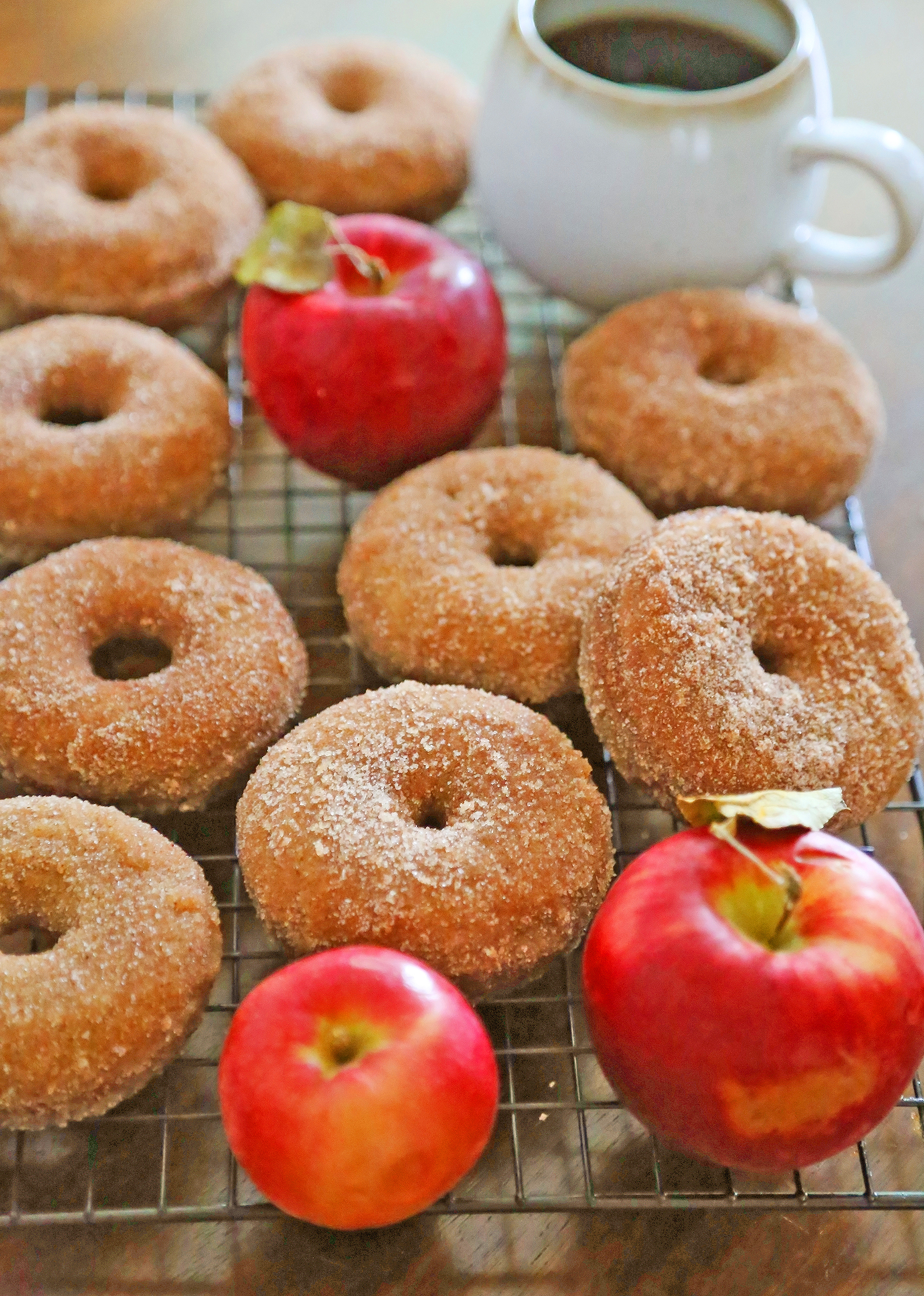 Apple cider donuts have been a longtime tradition in my New England home. Every October, we race out to our favorite apple orchards for bushels of apples and gallons of cider. Not to mention, a soft and fluffy apple cider donut!
We have loved this homemade recipe for years. I love that they are baked and dipped in butter and cinnamon sugar, instead of fried! Every bite is full of intense apple cider flavor and warm cinnamon-sugar spiced goodness. Like fall in a handheld bite!
The steps are simple:
• Simmer apple cider to reduce (this gives the donuts major cider flavor!)
• Whisk dry ingredients, then wet ingredients. Stir in apple cider.
• Pour batter into your donut pan and bake for 10-12 minutes.
• Remove from pan. Dip in melted butter, then coat generously in cinnamon-sugar.
• Serve warm with hot coffee or tea!
Keep reading for full ingredient list + recipe, below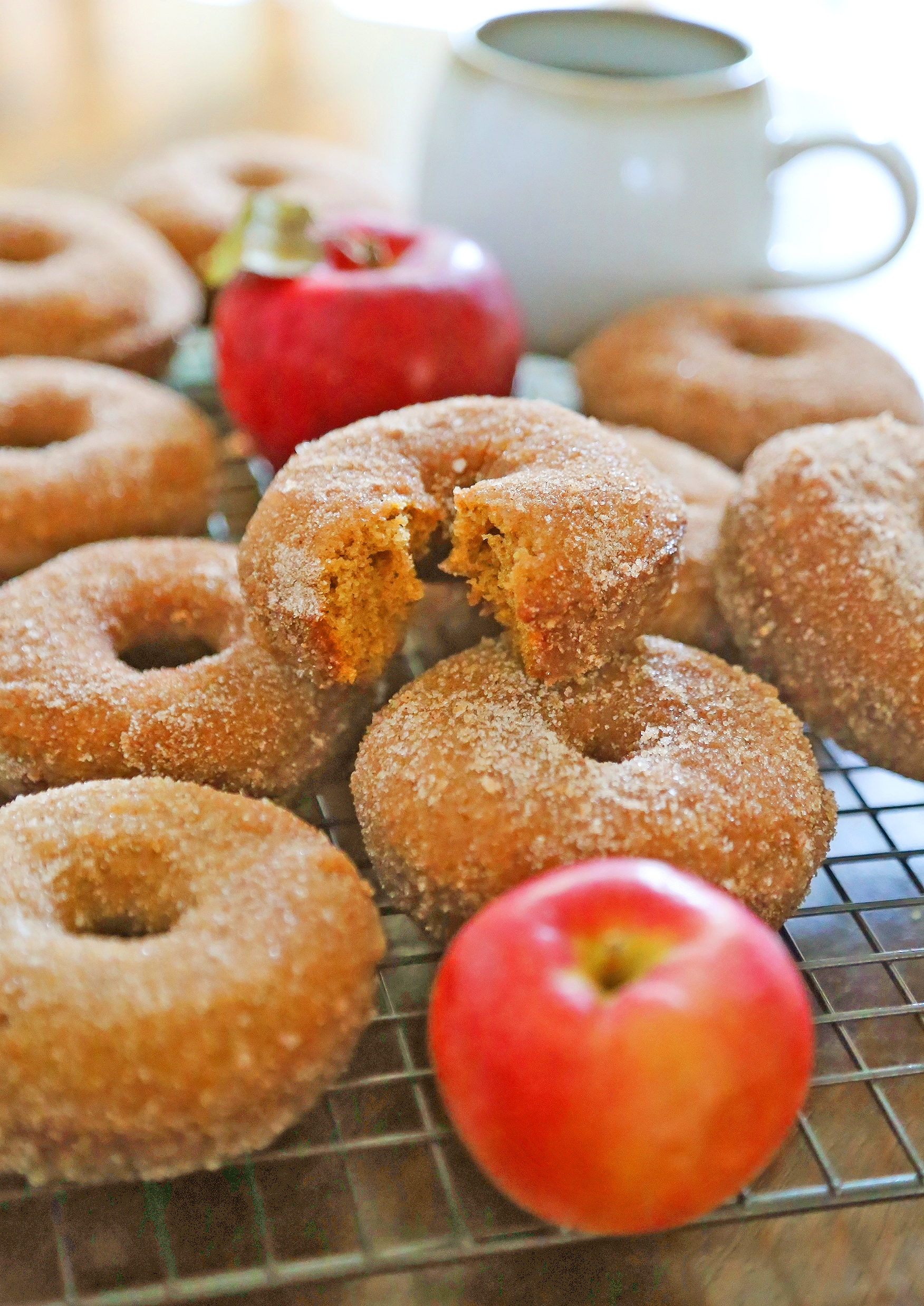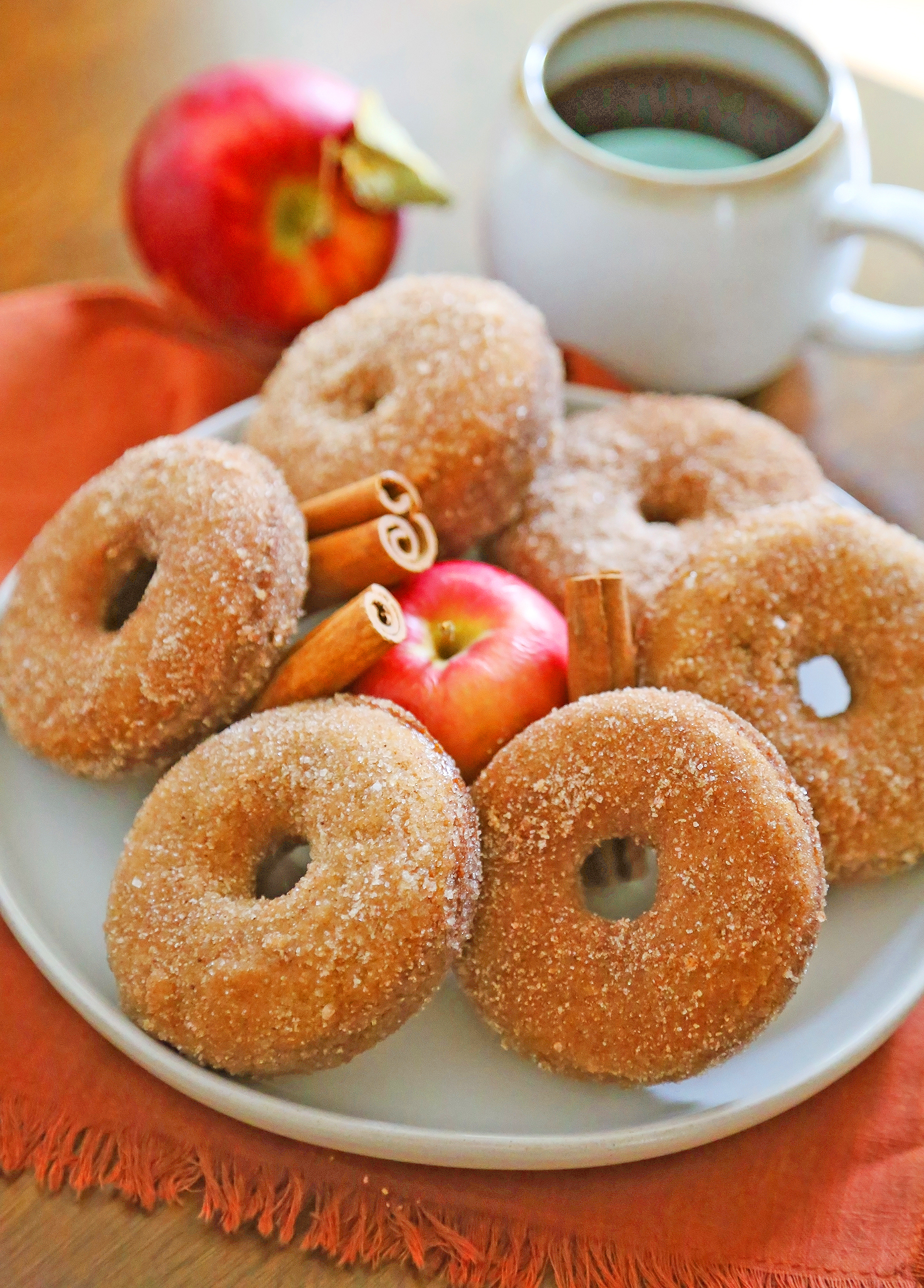 You can easily make these in a muffin tin, if you don't have a donut pan. Baking time would remain roughly the same – just keep an eye on them.
Want them smaller? Try my recipe for Baked Apple Cider Donut Holes. Perfect for bite-sized cider donut satisfaction, and sharing with friends and family!
Want more apple recipes? Try these!
• Easy Apple Turnovers
• Best Ever Apple Pie
• Apple Tarte Tatin
• Light Apple Pecan Crisp
• Spiced Apple-Caramel Crumble Bars
If you want more donut recipes, I've got you covered!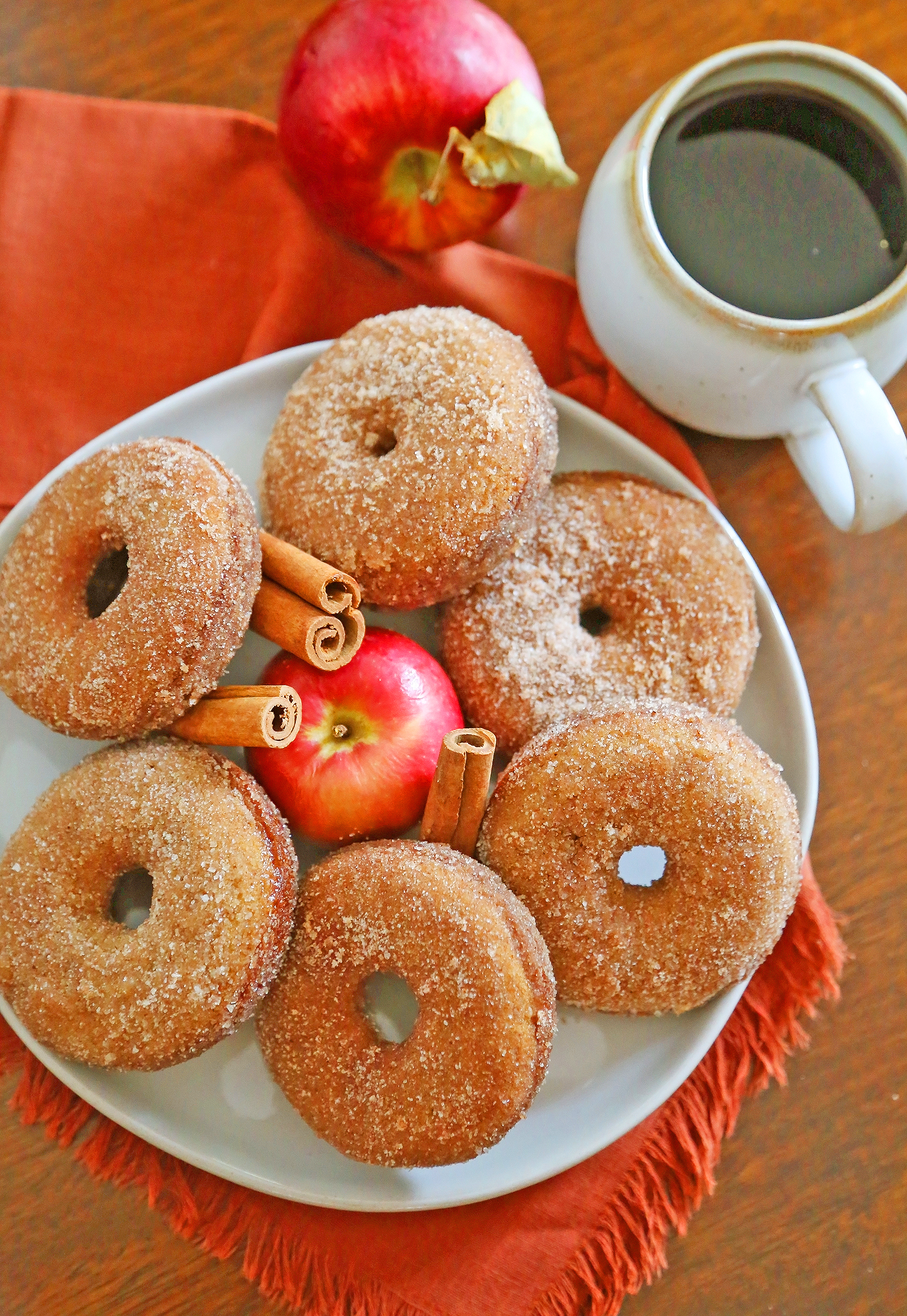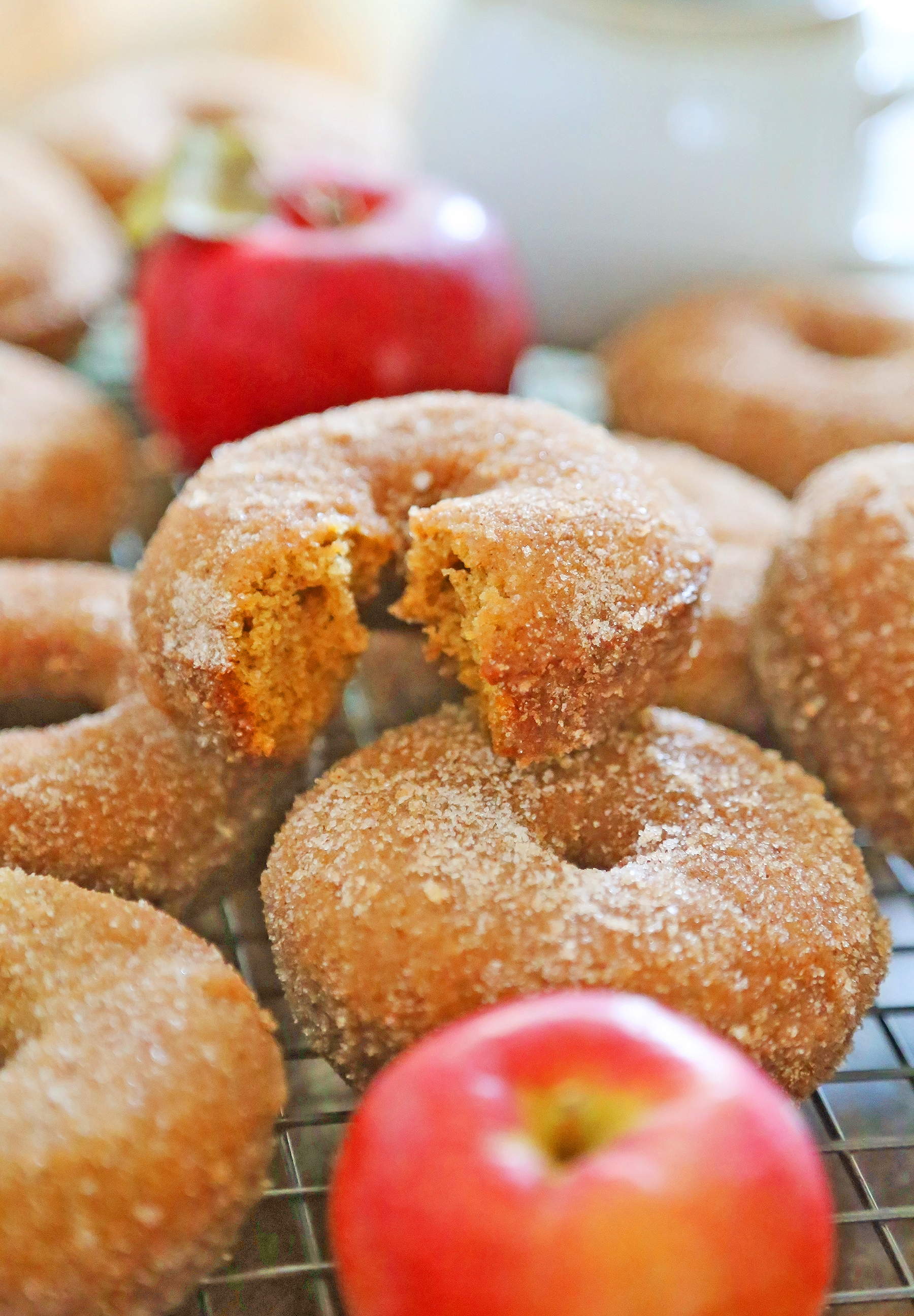 We love baking batches of these cozy, melt-in-your-mouth apple cider donuts on a brisk morning at home. After one bite, I know these will become your family's fall favorite, too!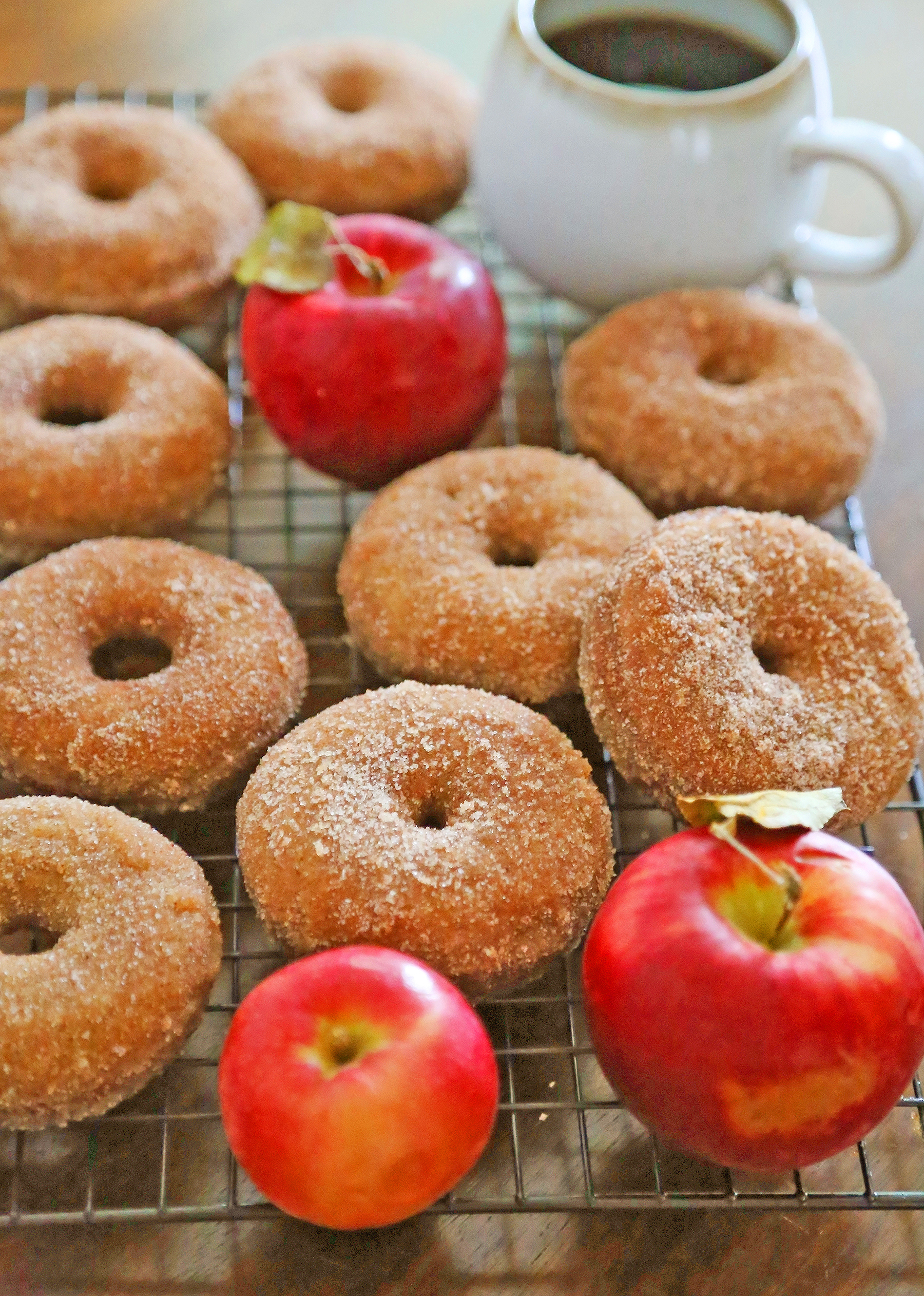 Baked Apple Cider Donuts
Ingredients
1 1/2 cups apple cider
2 cups all-purpose flour
1 teaspoon baking soda
3/4 teaspoon baking powder
1 teaspoon ground cinnamon
1 teaspoon apple pie spice*
1/4 teaspoon kosher salt
2 Tablespoons melted butter or canola oil
1 large egg
1/2 cup packed light or dark brown sugar
1/2 cup granulated sugar
1/2 cup milk
1 teaspoon vanilla extract
For the topping:
1 stick (8 Tbsp.) unsalted butter, melted
1 cup granulated sugar
1 teaspoon ground cinnamon
1 teaspoon apple pie spice*
Instructions
In a small pot, simmer apple cider over low heat. Reduce until 1/2 cup remains, about 15-20minutes. Remove from heat. Let cool for 10 minutes.
Preheat oven to 350 degrees F. Spray donut pan with nonstick cooking spray.
In a large bowl, whisk flour, baking soda, baking powder, cinnamon, apple pie spice and salt.
In a separate bowl, whisk butter, egg, sugars, milk and vanilla extract. Pour into dry ingredients. Add apple cider. Stir until smooth and combined. Spoon batter into donut pan, filling about halfway.
Bake for 10-12 minutes, or until tops are puffed and golden brown. Let cool for 2 minutes. Transfer to a wire rack to cool completely. Re-coat donut pan with nonstick spray. Fill and bake the remaining donut batter.
For the topping:
Prepare melted butter in a medium bowl. In a separate bowl, combine sugar, cinnamon and spice. Dunk donuts in butter, then roll generously in cinnamon-sugar topping.
Notes
* For an apple pie spice substitute (makes 1 teaspoon):
1/4 teaspoon ground cinnamon
1/4 teaspoon ground nutmeg
1/4 teaspoon ground allspice
1/4 teaspoon ground ginger
Donuts are best served immediately. Leftovers keep well covered tightly at room temperature for up to 2 days or in the refrigerator for up to 5 days.
Adapted from Sally's Baking Addiction

Want to receive our latest recipes straight to your email inbox? Click here to subscribe!