Crispy, comforting and so easy! These 6-ingredient fritters are a cross between donuts and funnel cake. Every bite is filled with juicy apples, cinnamon and drizzled with an easy two-ingredient glaze. They are ready in under 20 minutes! Perfection with a cup of coffee on a chilly morning.
When we want to share a special fall treat, you can find me dropping of batches of delicious, fluffy apple fritters with our friends! Using only a few basic everyday ingredients, you can enjoy these glazed donut-style apple fritters any time of year. Drizzle on a gooey 2-ingredient glaze, and you'll see these are over-the-top tasty… like a crispy, soft funnel cake stuffed with apples!
The steps are simple:
• Preheat oil in a large pot.
• Combine Bisquick, water, eggs and sugar in a large bowl.
• Fold in apple pie filling and cinnamon.
• Add 1 tablespoon of dough to oil. Fry 'til golden brown, 3-4 minutes.
• Mix milk and powdered sugar to make a glaze; drizzle over warm fritters.
Keep reading for full ingredient list + recipe, below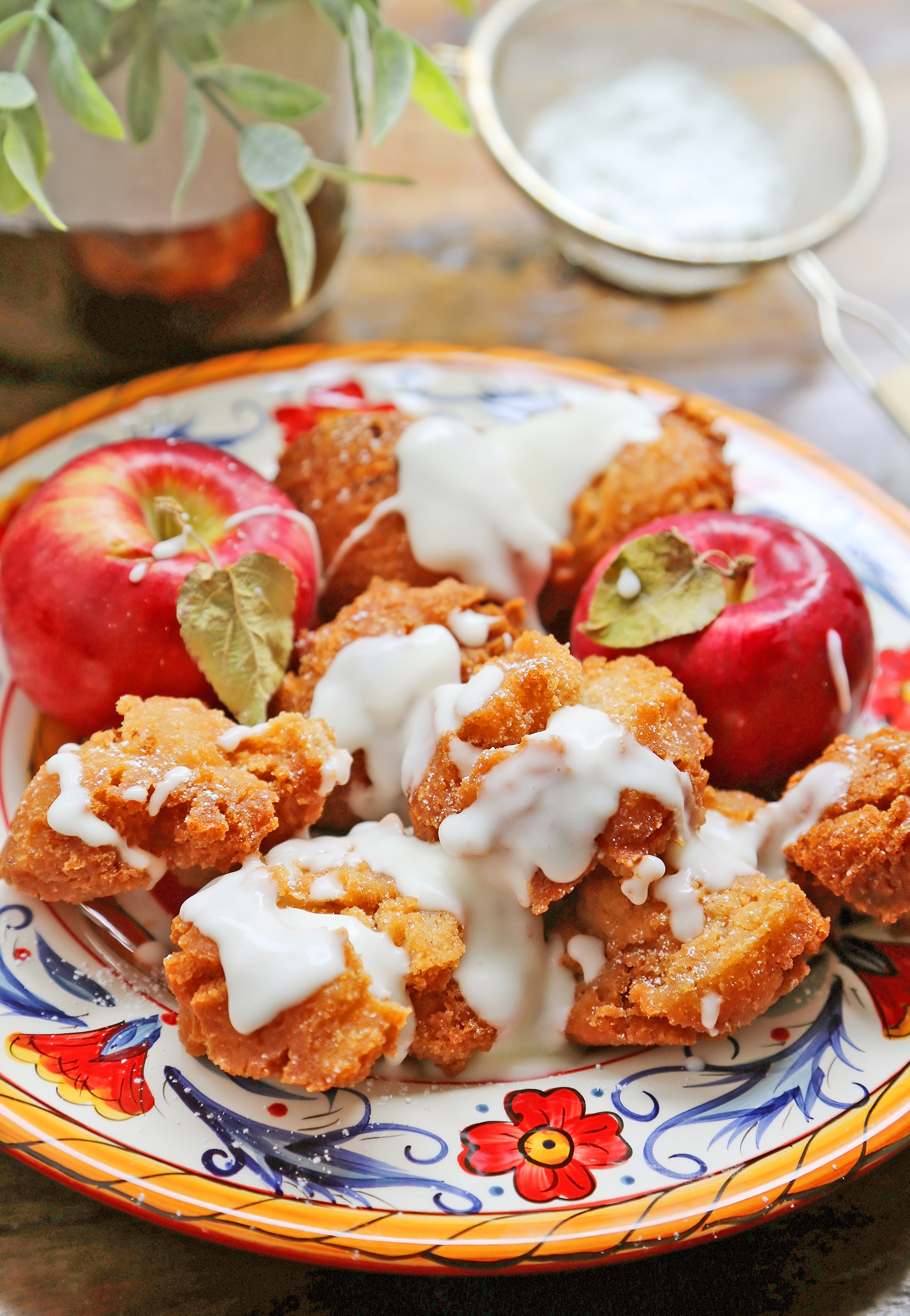 You can easily substitute the Bisquick or apple pie filling (recipes linked in the Notes section). Using these shortcuts keeps these fritters fast and no-fuss, without compromising flavor!
Don't be afraid to jazz them up a bit, too! Want more spice? Add a dash of nutmeg, allspice and ginger. Need a bit of crunch? Chopped walnuts and pecans make a delicious mix-in. If your batter is too thin, add a bit more Bisquick. Too thick? A splash of water should do the trick! You want the batter relatively thick, so that it holds up in the hot oil. The fritters will puff up to a small fist-size amount, so drop in only about one tablespoon.
Want more apple recipes? Try these!
• Easy Apple Turnovers
• Best Ever Apple Pie
• Apple Tarte Tatin
• Light Apple Pecan Crisp
• Spiced Apple-Caramel Crumble Bars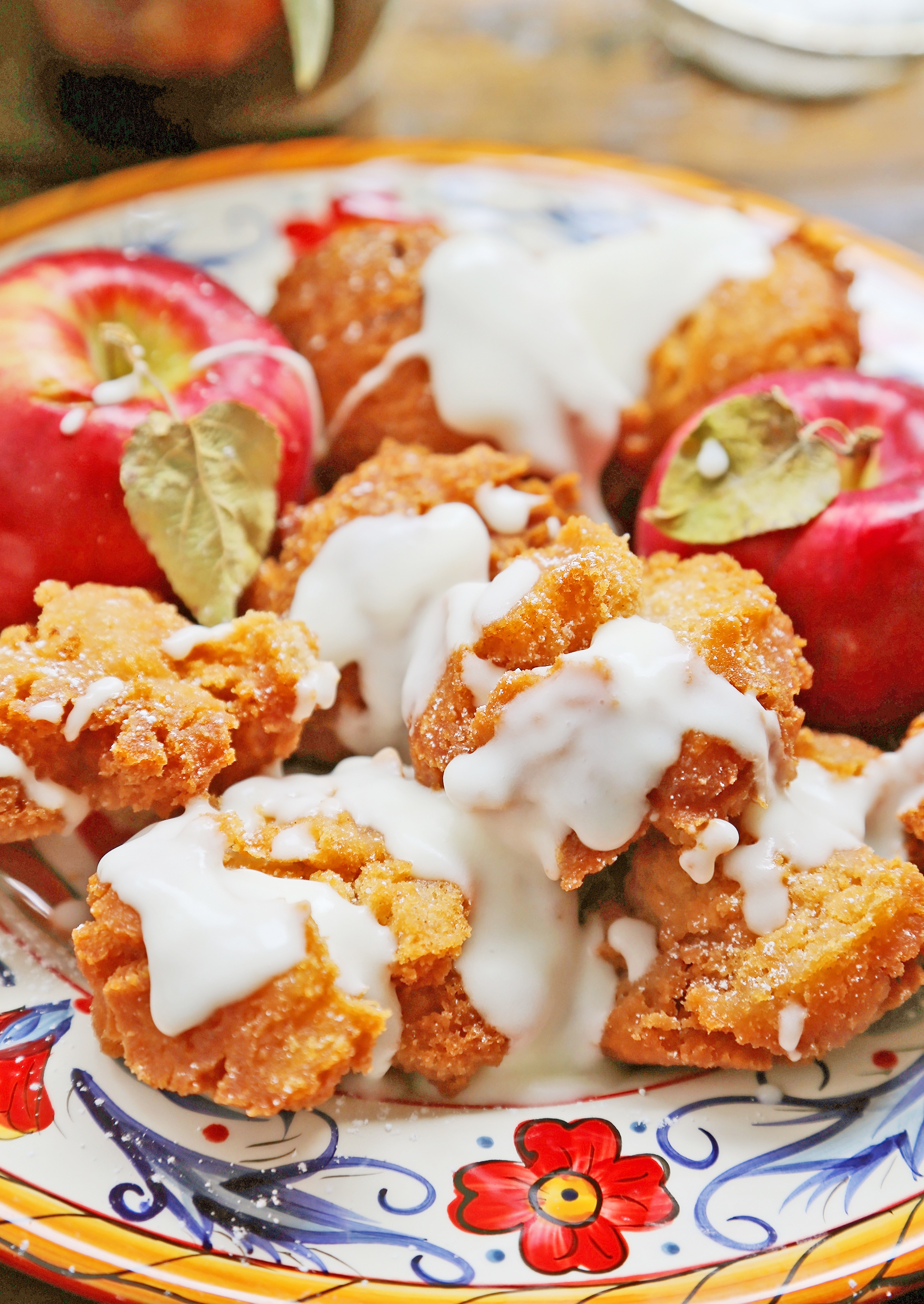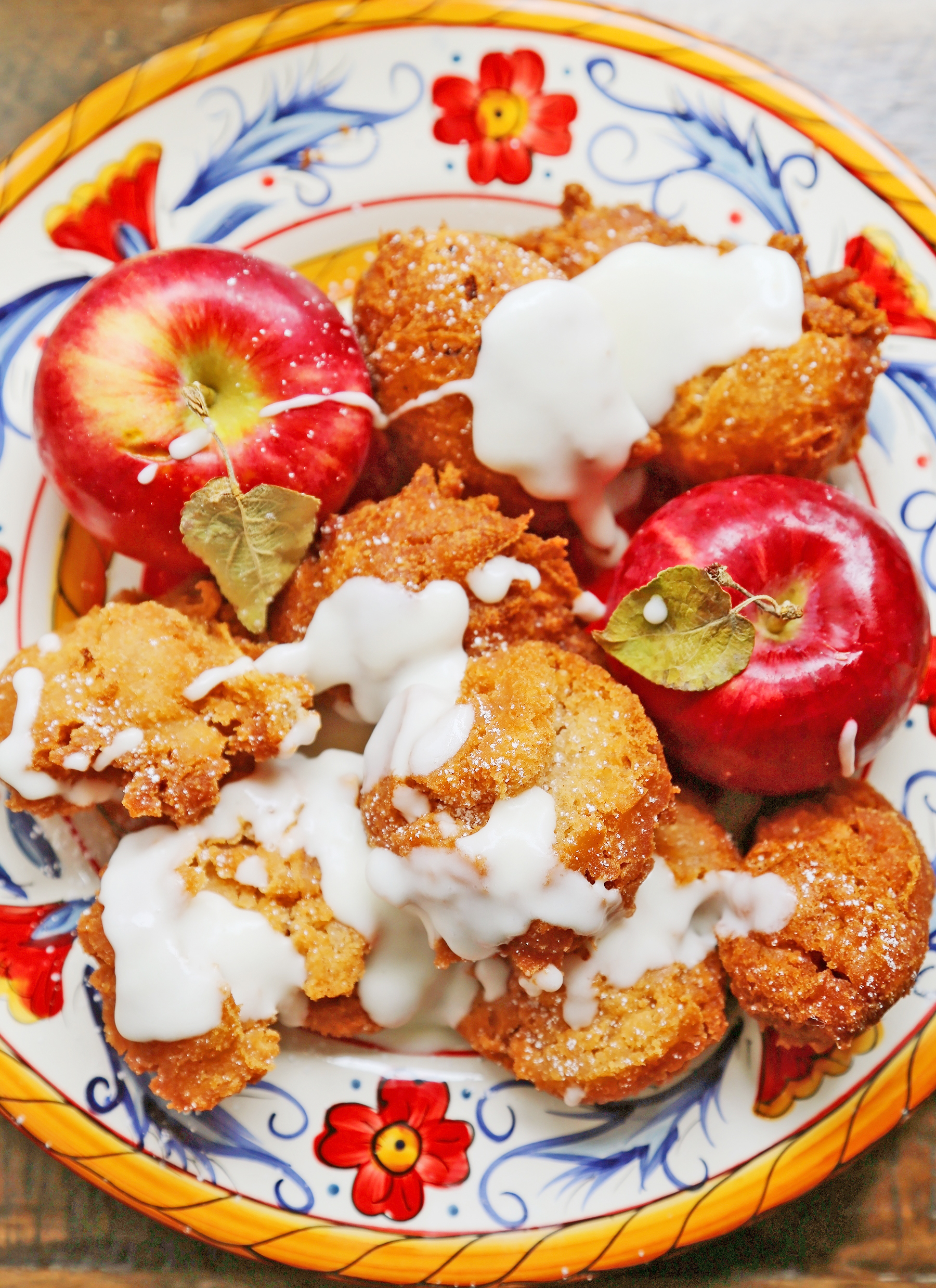 Enjoy frying up a plateful of comforting, crispy apple fritters on a brisk fall weekend! I can guarantee these will become a family favorite.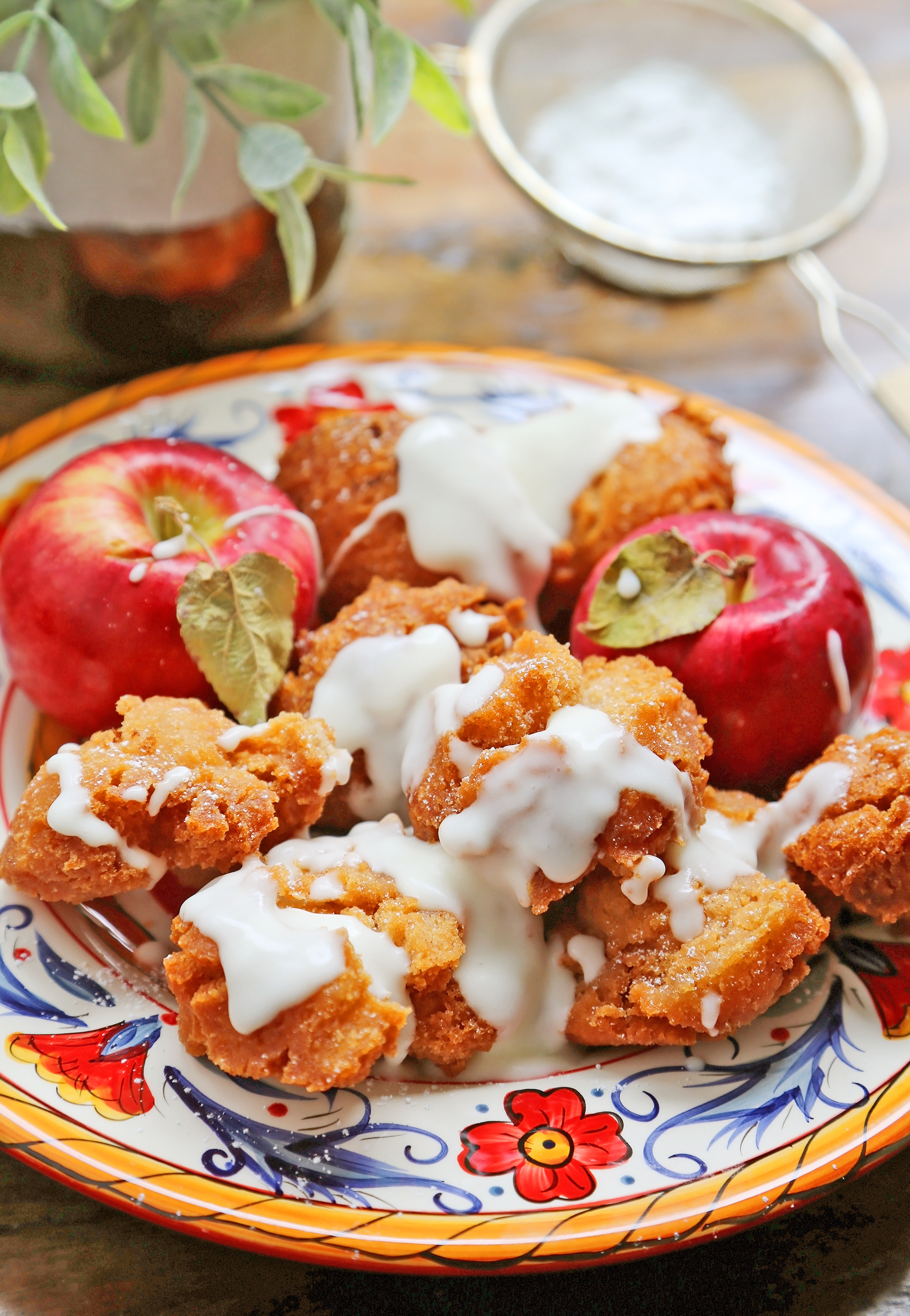 Glazed Apple Pie Fritters
Ingredients
For the apple fritters:
6 cups vegetable or canola oil, for frying
3 cups Bisquick mix,
1/2 cup water
1 large egg
1/4 cup granulated sugar
1 cup apple pie filling
1/2 teaspoon ground cinnamon
For the glaze:
1/2 cup milk
1 1/2 cups powdered sugar
Instructions
For the apple fritters:
In a large pot, preheat oil to 350 degrees F. Line a large baking sheet with paper towels. Place a wire rack over top.
In a large bowl, combine Bisquick, water, eggs and sugar. Run a knife through the can of pie filling to cut slices into chunks. Fold apple mixture into the batter. Fold in cinnamon; do not overmix.
Carefully add 1 heaping tablespoon of batter into the hot oil and fry. Only cook 3-4 fritters at a time, for about 3-4 minutes total. Flip with a fork, halfway through cooking. Remove fritters with a slotted spoon. Place on wire rack to cool.
For the glaze:
Combine milk and powdered sugar in a bowl. Whisk well and drizzle over warm fritters.
Enjoy!
Notes
To substitute Bisquick: Sift 2 cups flour into a bowl. Whisk in 3 teaspoons baking powder and 1/2 teaspoon salt. Cut 1 tablespoon butter into flour mixture until you have pea-sized crumbs.

Want to receive our latest recipes straight to your email inbox? Click here to subscribe!