Cozy up to this hot and hearty homemade clam chowder. Perfect for those cold nights! Tender clams, creamy potatoes and crispy bacon create the ultimate comfort food in this delicious bowl. So easy to make and full of rich, belly-warming flavor the whole family will love.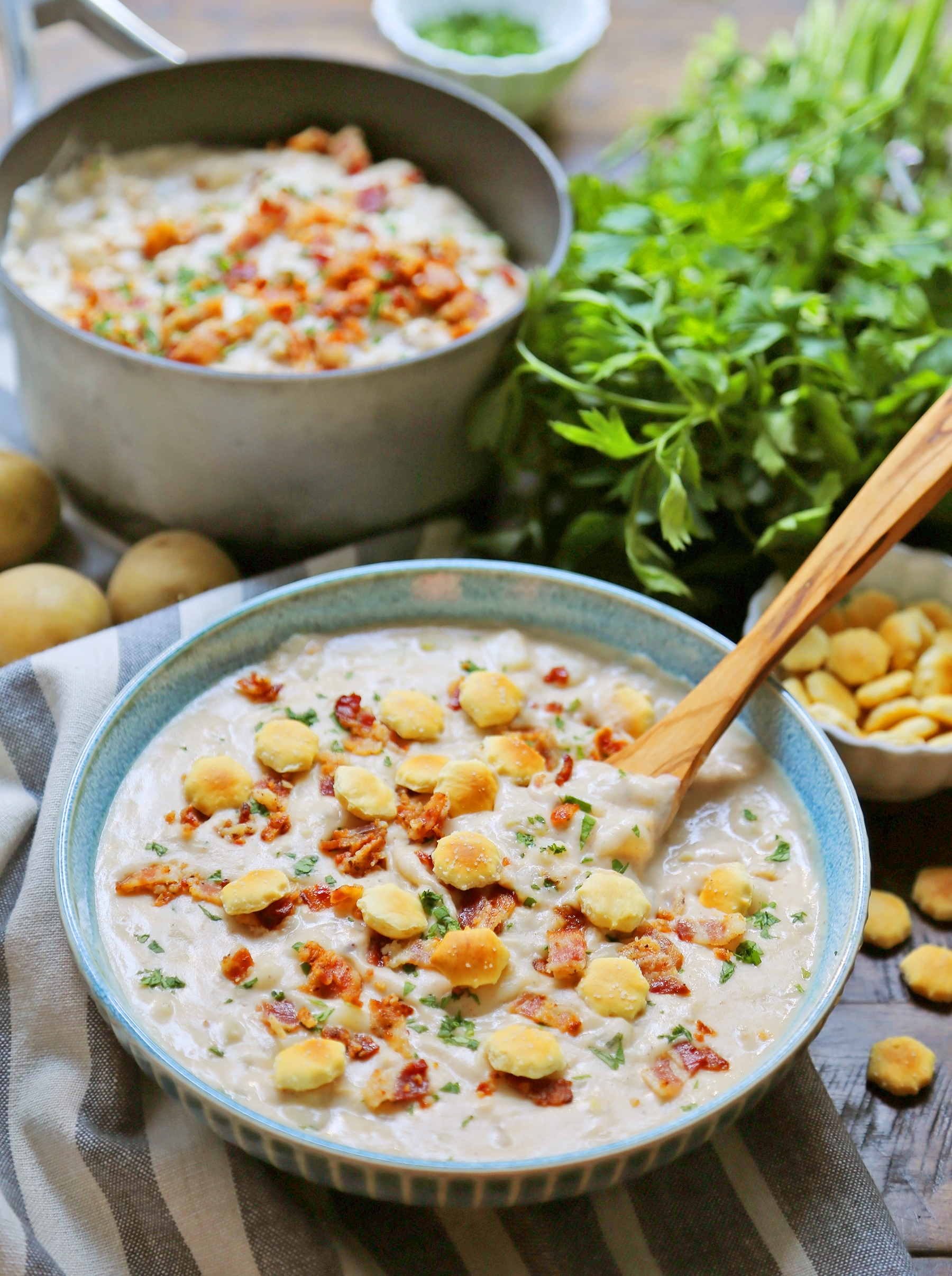 I love a good family recipe as much as the next person, but sometimes, even family keeps their best recipes under lock and key. Such was the case with my Uncle Chris: Married to one of my mom's four sisters, unafraid to wear fuchsia and white to my wedding, and completely unwilling to give me his family-wide famous "chowdah" recipe.
Well, as mothers often do, mine came to the rescue with her own delicious, classic New England clam chowder recipe. Boy, am I glad she did.
Thick, creamy and full of fragrant onions, celery, chunky potatoes and soft clams, it was just as rich and flavorful as I remember. I love to serve this family recipe in a warm sourdough bread bowl, like all true New Englanders have to have it. Every time I enjoy clam chowder, I'm instantly transported back to Boston, where we used to sit every cold winter weekend in Quincy Market, gobbling up bread bowls of hot chowder with our heavy coats and gloves still on.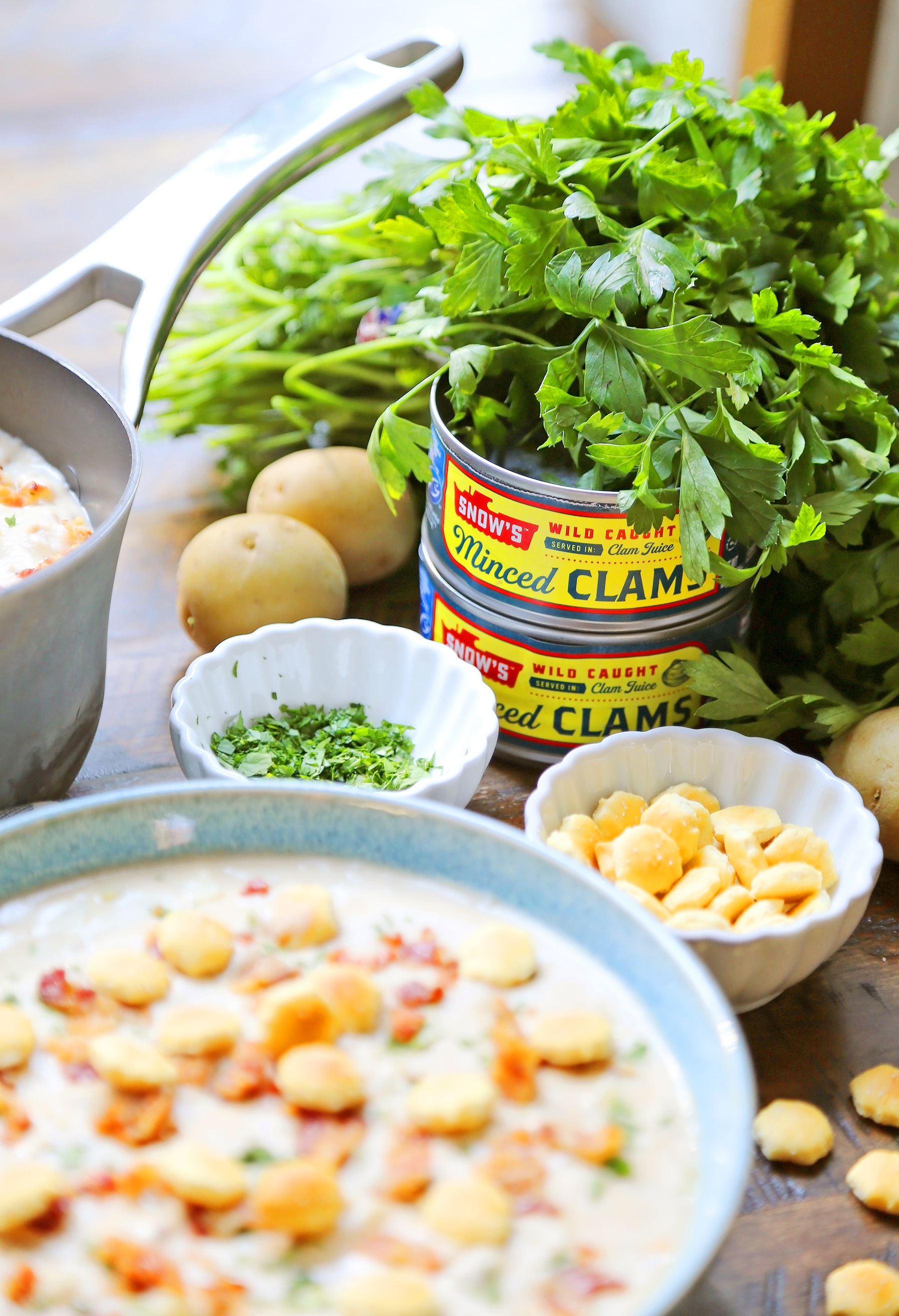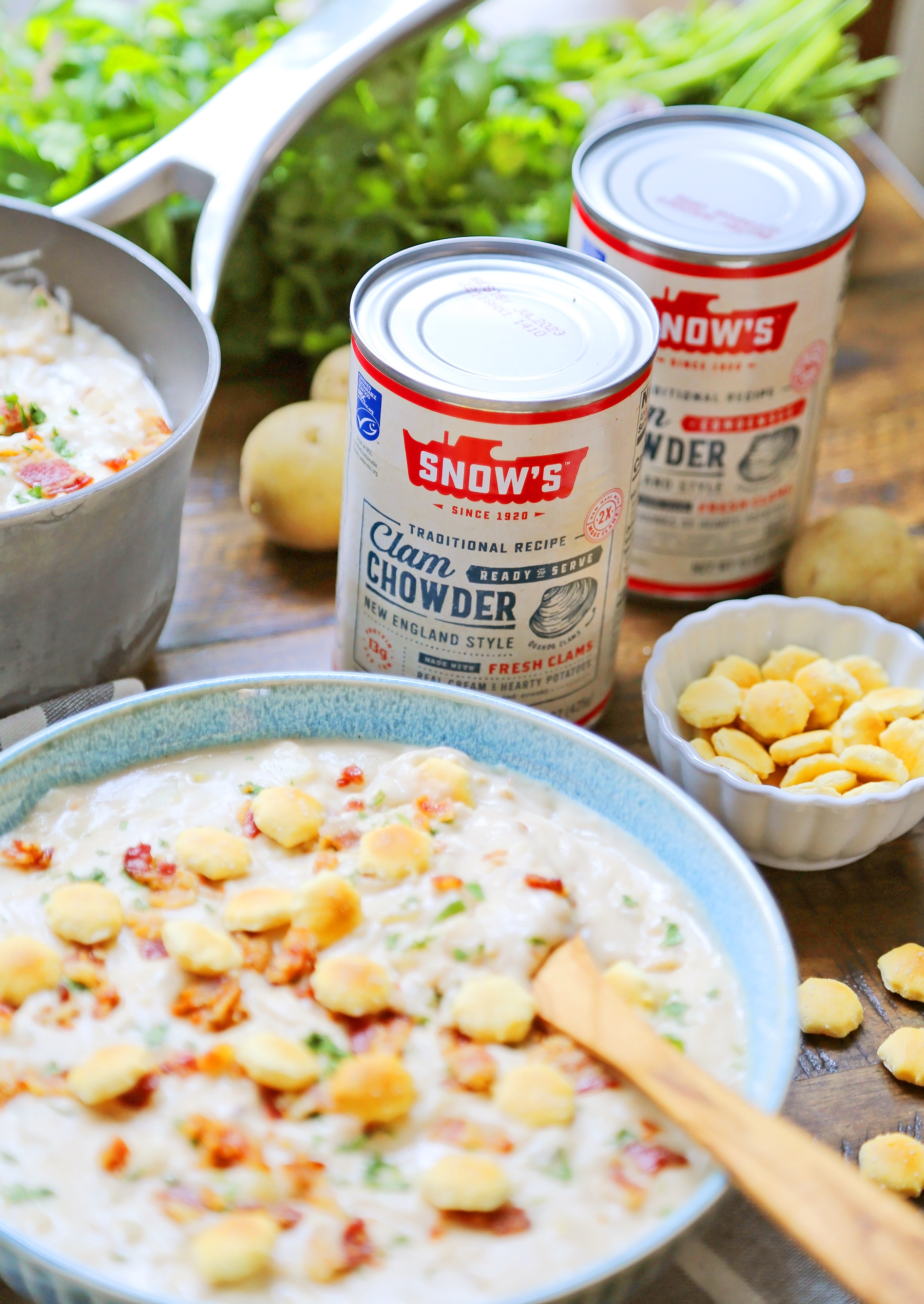 I was so excited when Snow's® reached out to collaborate on a clam recipe with their new line of products. I have been a longtime fan of their Ready to Serve New England Clam Chowder and Manhattan Clam Chowder for their rich flavors and protein-packed servings (13g protein per can!). Snow's® also has a delicious Condensed New England Clam Chowder and Corn Chowder – Just add milk and bubble on your stovetop. So easy to grab and serve for a quick-fix, comforting lunch.
The Snow's® Minced Clams and Chopped Clams are essential for a perfect homemade chowder full of tender little morsels. I love to use the Snow's® Clam Juice for giving my stir-fries and bolognese sauces a boost, or for making a luscious Linguine with White Clam Sauce. Yum!
This recipe makes about 8 servings (one heaping cup each, or so). Lovely for a lazy, cozy weekend in with family. Or, enough for you to make-ahead for those busy work days. The steps are simple: Bubble together a mixture of onion, celery, potatoes and water. While the veggies soften, sizzle butter and flour in a separate pot. Stir in half and half. Pour over the veggies. Just like that, you have your chowder base! Let this mixture simmer for a bit, before adding clams and red wine vinegar before serving. Wonderful, simple and impressively homemade.
Craving more soup recipes? Try these!
• Creamy Sweet Potato Soup with Bacon and Goat Cheese
• Tomato-Basil Soup with Grilled Cheese Croutons
• Cheesy Chicken and Potato Chowder
• Loaded Baked Potato Cheddar Soup
• Lemon Orzo Chicken Soup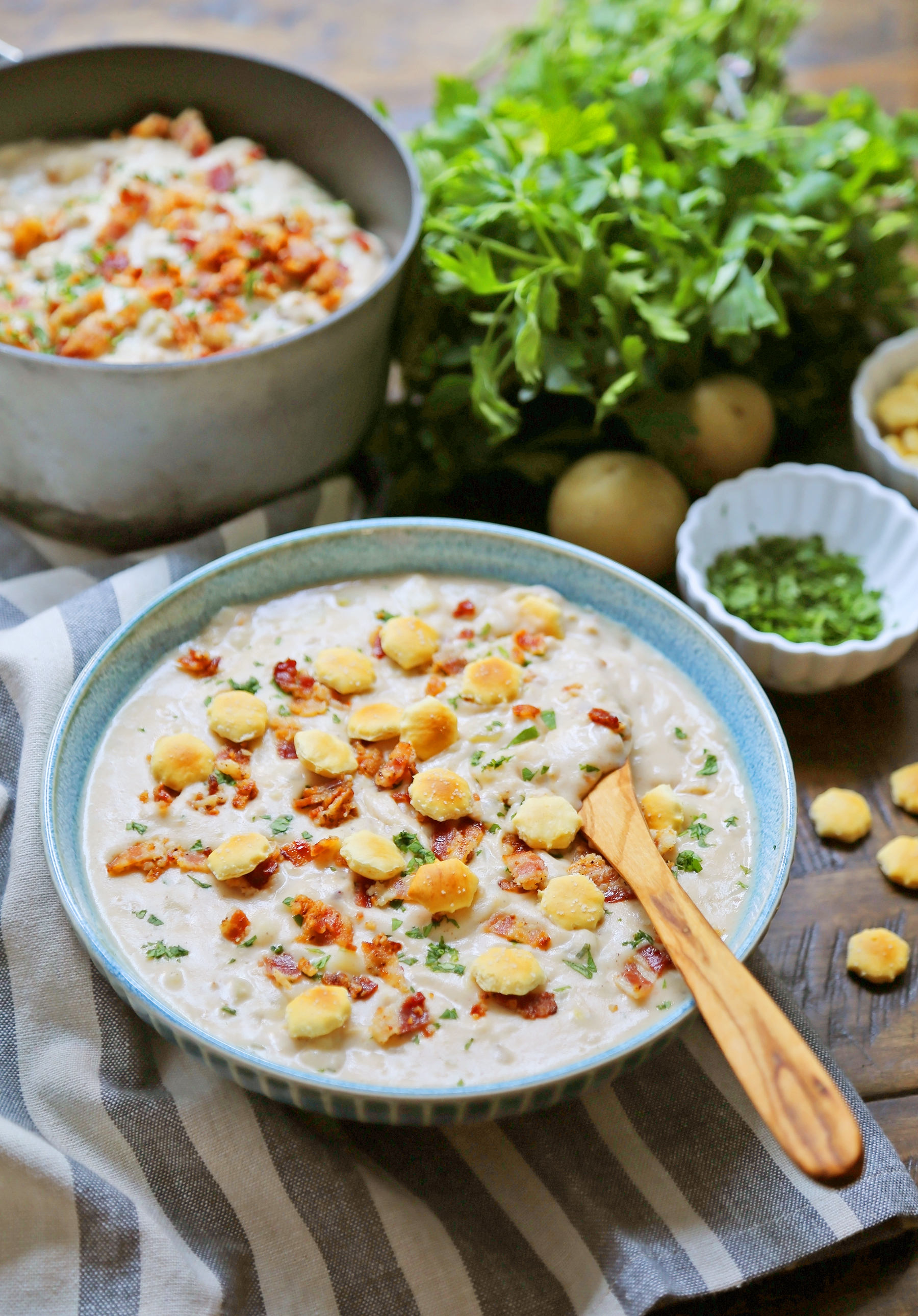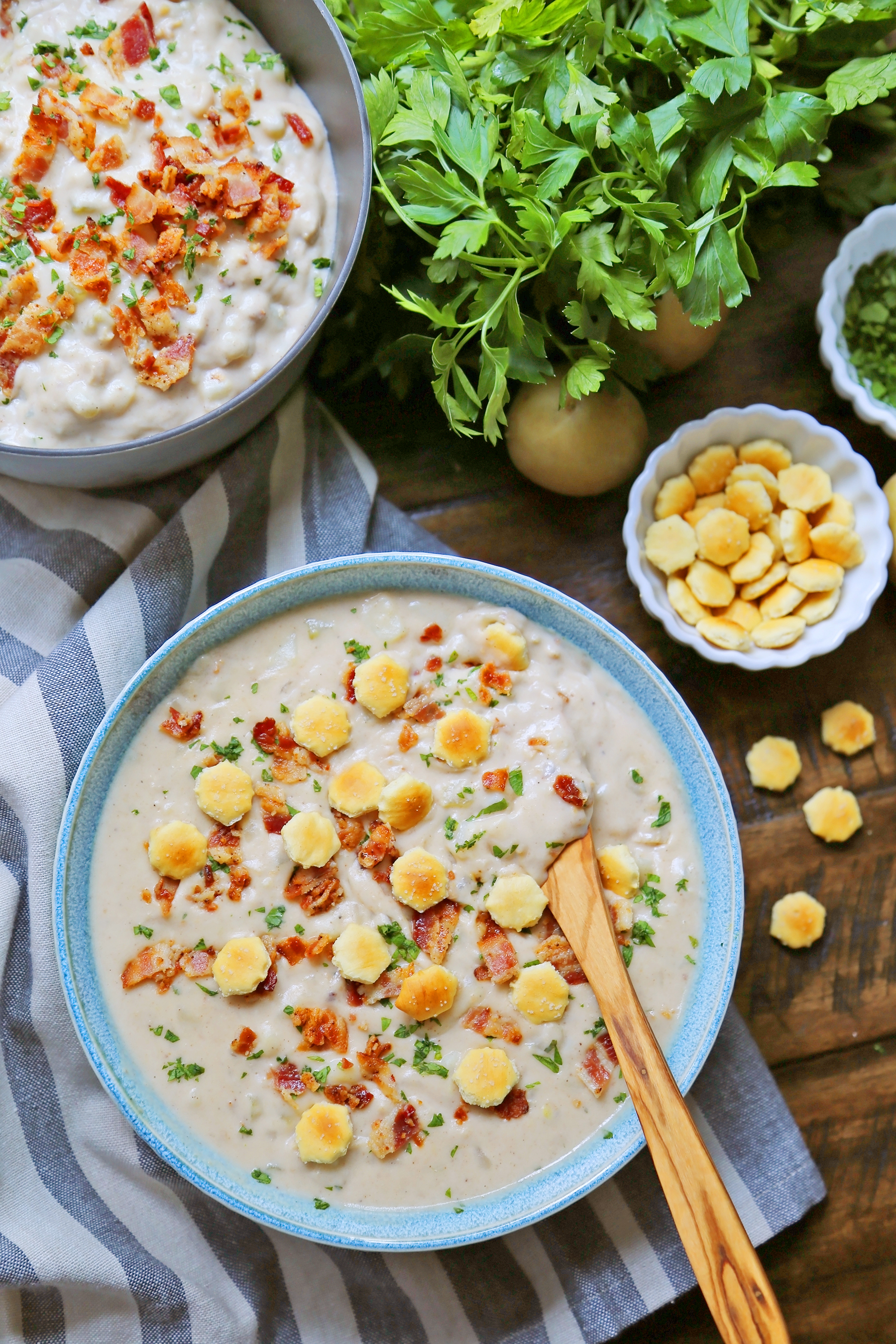 Snow's® Chowders are relaunching in a big way! Every can has double the clams, fresh ingredients and a bold, modern-retro style nodding to their New England heritage. You can find new recipes to inspire on their website, too!
The new ready-to-serve chowders are proudly made with real cream and fresh clams from the deep, cold waters of the North Atlantic. What you will find? Incredibly rich, indulgent taste in every spoonful. What you won't find? Artificial colors, artificial flavors and MSG. Only true, hearty New England goodness!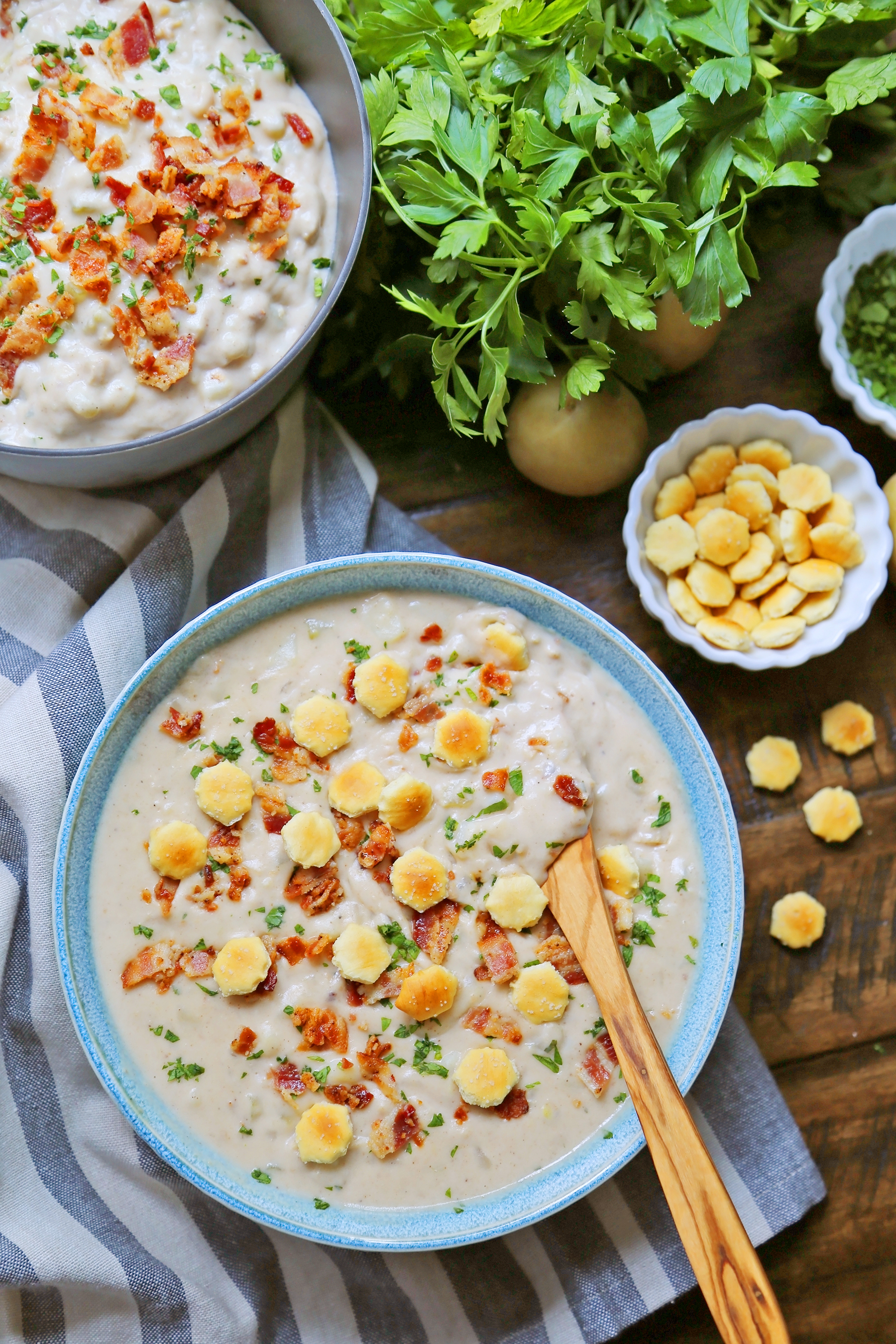 New England Creamy Clam Chowder
Ingredients
3 Snow's New England (6.5 ounce) cans minced clams
1 cup minced onion
1 cup diced celery
2 cups cubed potatoes, peeled
2 fresh carrots, small diced
3/4 cup butter
3/4 cup all-purpose flour
4 cups half-and-half
2 tablespoons red wine vinegar
1-1/2 teaspoons kosher salt
Freshly ground black pepper, to taste
Instructions
Drain juice from clams into a large, deep skillet over the onions, celery, potatoes and carrots. Add water to cover vegetables, and cook over medium heat until tender, about 30 minutes.
In a large, heavy saucepan, melt butter over medium heat. Whisk in flour until smooth. (Essentially, a very large roux.) Whisk in half-and-half, and stir constantly until thick and smooth. Heat through, but do not let it boil. Stir in vegetables and liquid.
Stir in clams just a few minutes before serving. If they cook too long they get tough. When clams are heated through, stir in vinegar, and season with salt and pepper. Good idea to make this a day ahead - it will naturally thicken overnight in the refrigerator.
Serve with oyster crackers or crusty bread on the side, or in a sourdough bread bowl.
Enjoy!
Notes
This recipe was created for Snow's New England. All opinions are my own.

Our homemade clam chowder recipe is easy, requires basic ingredients that you can find in any grocery store. It is the creamiest, most delicious clam chowder you will ever eat!
I hope you try my family's favorite recipe some fall or winter weekend. You will not regret it. If you do, please let me know how it turns out for you! I will be sure to thank my mom on your behalf.
Want to receive our latest recipes straight to your email inbox? Click here to subscribe!