Crispy pan fried chicken with a fresh, crunchy apple-cucumber salsa and bacon is what's for dinner. This delicious medley tops mixed greens for a mouthwatering weeknight meal!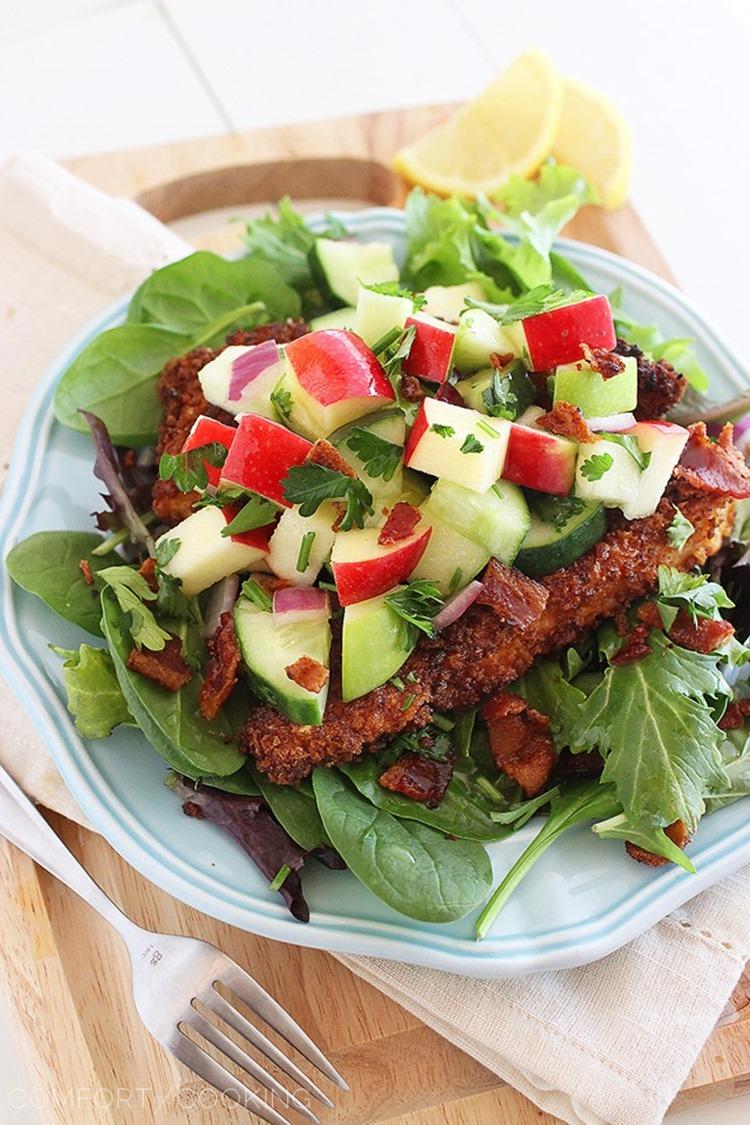 This weekend, we're in Chicago to visit family, celebrate a wedding, and gorge ourselves silly on the Windy City's best grub. Let's just put it this way… the next three days probably won't involve much salad! Truth is, I do love a good heap of greens in between all the deep dish pizzas, so it's only fair I try and show you my healthy side.
Welcome to my favorite salad ever, ever, ever. At least this week.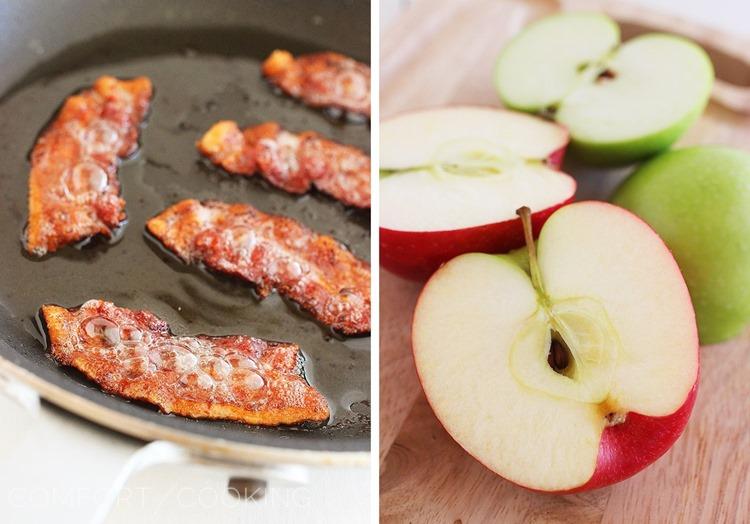 Loaded with fresh, crunchy apples and cucumbers tossed in a simple lemon-honey vinaigrette, this salad's got it all goin' on, girrrrl. A handful of chopped red onion adds a little sass, and crispy crumbled bacon adds a nice salty crunch to the sweet apple salsa.
This salad so badly wants to be good, but it's allll kinds of naughty.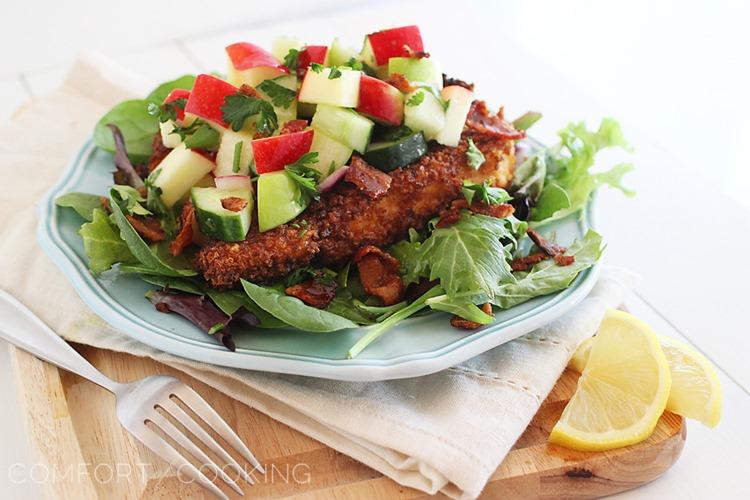 I'm always looking for salads to convince the mister (and myself) that they can be hearty enough for dinner. This one totally hit the jackpot!
Simple pan-fried chicken cutlets rest on top of a bed of fresh greens topped with a light, refreshing apple-cucumber salsa. The salsa is mixed with an easy oil, lemon and honey vinaigrette which coats the salad so nicely! I like to serve this with a big hunk of crusty bread, garlic bread or rolls. Just don't forget a glass of white wine! (That will be a pairing waiting for me in July…)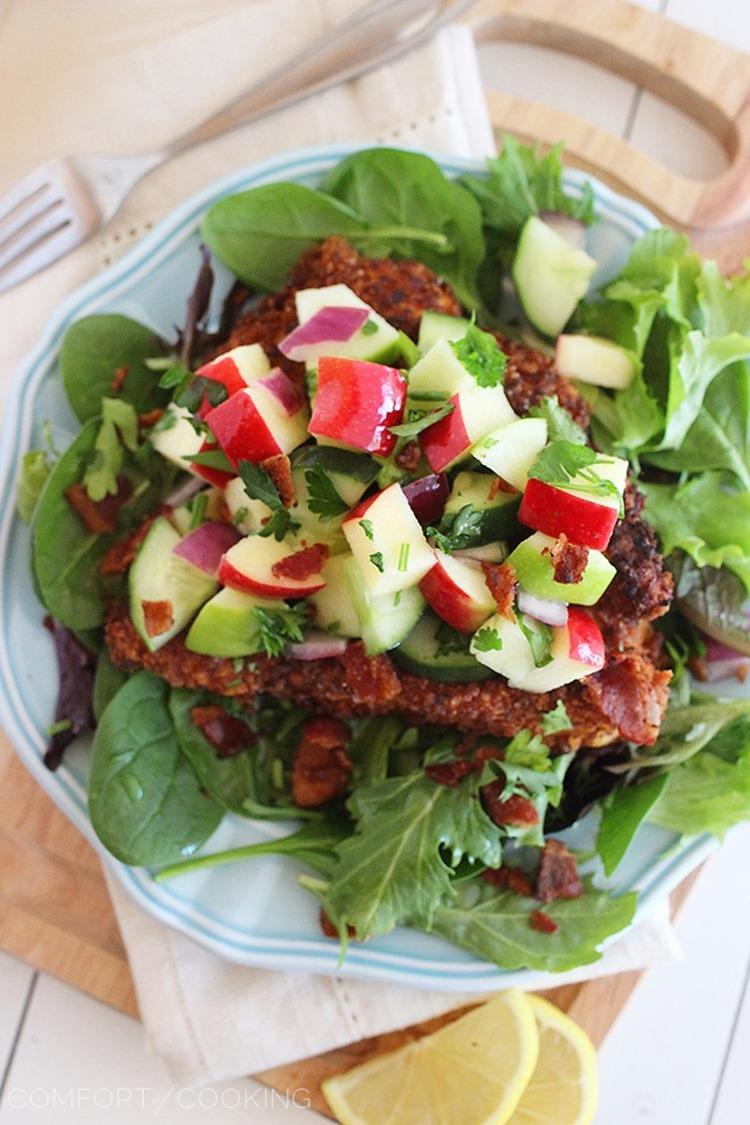 I know you'll love this light and easy meal for weeknights, or even for impressing dinner guests with something new and delicious! We gobbled up our plates and went for leftovers, but sadly that left none the next day. I know I'll be making this again very, very soon, though!
Enjoy your weekend, friends! I'll be back on Monday if I'm not lost and frozen solid somewhere in the middle of Chicago.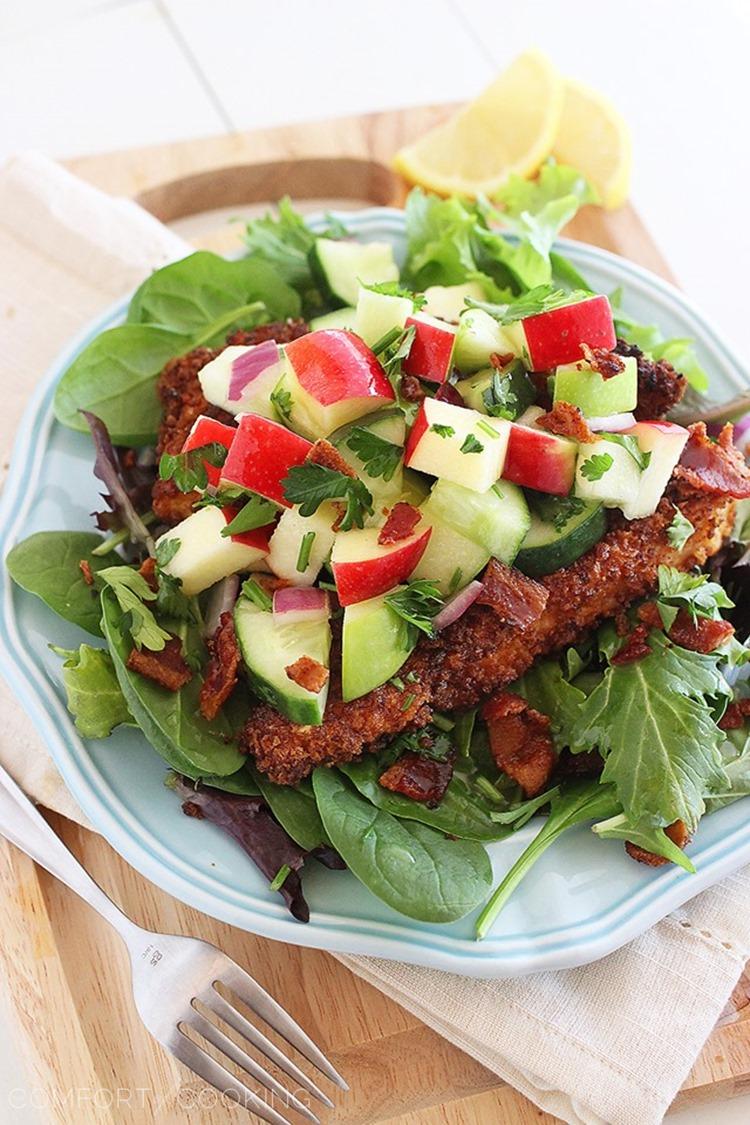 Crispy Chicken Salad with Apples and Bacon
Ingredients
For apple salsa:
2 Tablespoons extra-virgin olive oil
1 Tablespoon lemon juice
1 Tablespoon honey
1/2 cup fresh parsley, chopped
1 pinch salt and pepper, to taste
1 green apple, diced
1 red apple, diced
1/2 cucumber, diced
1/4 cup diced red onion
For crispy chicken:
1/3 cup flour
2 eggs, lightly beaten
1 cup panko breadcrumbs
2 chicken breasts, sliced into strips
Olive oil, for frying
For serving:
3 cups mixed greens
4-5 strips bacon, cooked 'til crisp and crumbled
Instructions
For apple salsa:
In a medium bowl, combine olive oil, lemon juice, honey and parsley. Season with small pinches of salt and pepper; toss to combine. Add diced apples, onions and cucumber. Toss and set aside.
For crispy chicken:
Spread flour in a shallow dish. Beat eggs in a second shallow dish. Add panko to a third shallow dish. Pat chicken dry with paper towels and season with salt and pepper. Working 1 chicken strip at a time, dredge strips in flour, dip in egg, then coat with panko mixture, pressing gently to adhere.
Heat 3 Tablespoons oil in a 12-inch nonstick skillet set to medium heat. Once hot, cook 2 cutlets at a time until golden brown and crisp, about 2 minutes per side. Transfer to a paper towel-lined plate and place in a warm oven (170-200 degrees) to keep warm. Repeat with 3 Tablespoons oil and remaining cutlets.
Serve chicken strips on a bed of mixed greens and top with apple salsa.
Enjoy!