I don't cook pork very often, and I think it's because I tend to run out of ideas for "the other white meat." Also, my favorite kind of pork cuts, like tenderloins and roasts, are usually on the expensive side and so they're not something I keep on hand.
However, I scouted out a sale recently, snatched up this loin, and scoured my cookbooks and favorite websites for ideas. Well, it turns out I found one in the unlikeliest place – a YouTube video from a chef for Lights, Camera, Cook!
The fun thing about finding recipes on Youtube is that you can see the process in action and read reviews of what others thought of the dish. Even before I made this, I realized how very simple it would be!
All it takes a handful of basic ingredients and about 10 minutes of prep work. After rubbing the pork with an aromatic mixture of chili powder, cumin, paprika, salt, pepper and cinnamon, it is topped with a few strips of bacon and placed into a hot oven. Meanwhile, brown sugar, flour, cider vinegar and a little dry mustard are combined in a small saucepot, simmered into a syrupy glaze and poured over the pork. Another 15 minutes in the oven allows the glaze to saturate the meat and give it a very subtle, sweet flavor that I know you would absolutely love! Served with roasted potatoes and some steamed vegetables, you have a delicious dinner in under an hour and a new source for finding easy and tasty recipes!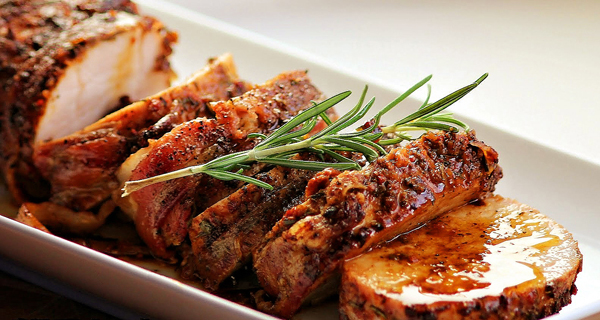 Roast Pork Loin with Bacon and Brown Sugar Glaze
Ingredients
Pork Loin:
1 boneless pork loin
1 1/2 to 2 pounds
2 slices bacon
1/2 teaspoon chili powder
1/4 teaspoon paprika
1 teaspoon salt
1/4 teaspoon coarse ground black pepper
1/4 teaspoon ground cumin
1/2 teaspoon ground cinnamon
Glaze:
1/2 cup light brown sugar, packed
1 tablespoon flour
1 tablespoon cider vinegar
1/4 teaspoon dry mustard
Instructions
Heat oven to 350° F. Place pork loin in a roasting pan or deep casserole dish lined with aluminum foil. Combine the rub ingredients in a small bowl and rub over the pork. Cut each strip of bacon in half and lay strips over the pork loin. Roast for about 40 minutes.
Combine the brown sugar, flour, cider vinegar, and dry mustard in a saucepan. Simmer for 1 minute. Spoon over the pork and return to the oven. Roast for about 15 minutes longer, or until pork registers 160°. Let sit for 2 minutes after removing from oven. Slice and serve.
Enjoy!