Enjoy these cheesy, garlic butter mini meatball subs for parties, snacks and weeknight meals! Full of homemade goodness, easy to make, and packed with flavor. These simple sliders are so hearty and delicious!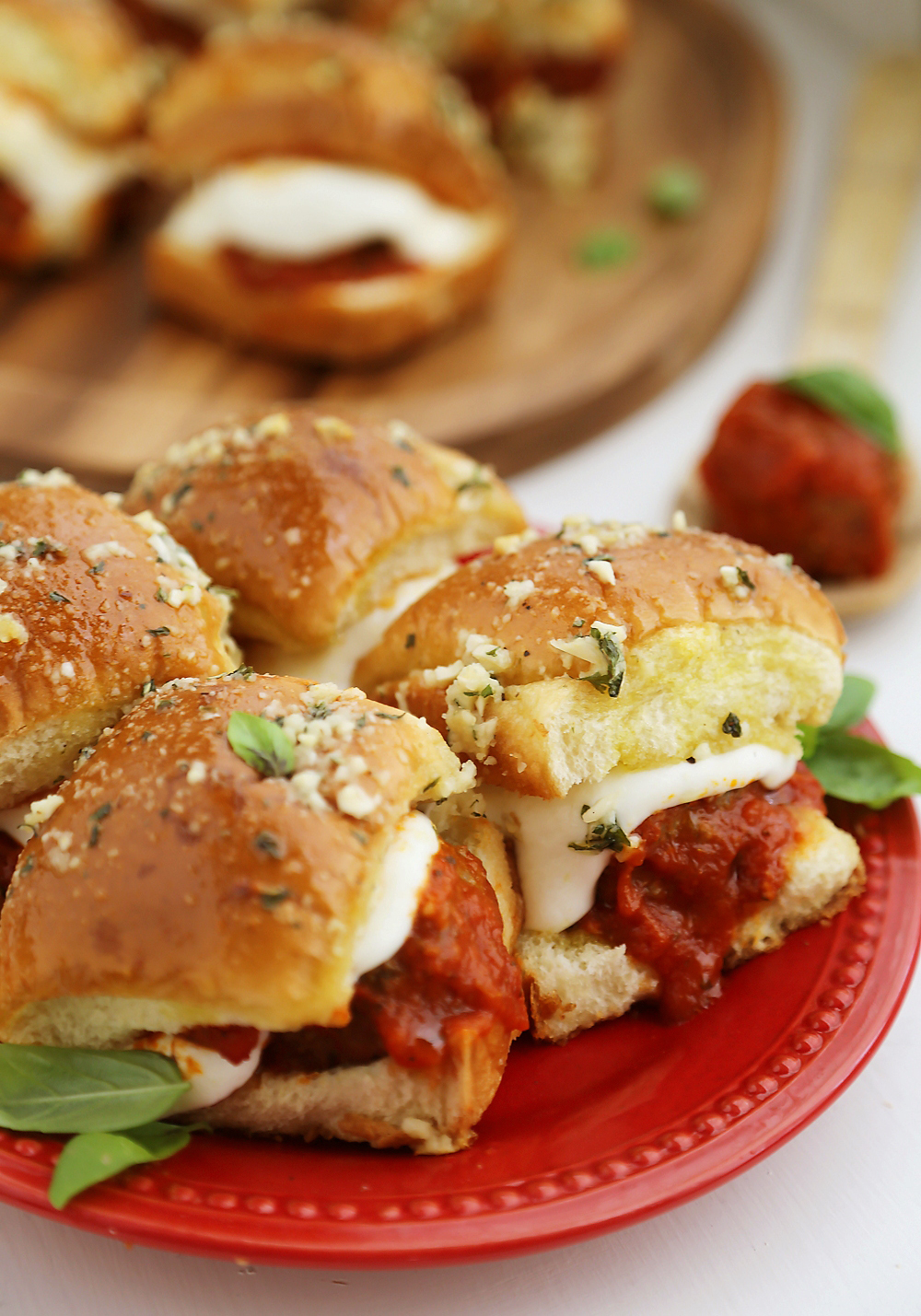 Wrapped up in a soft, garlic-butter bun, there is just about nothing more comforting than a meatball sub. But, who needs those monster portions? I loved the idea of making this comfort food classic mini, by using slider buns stuffed with one saucy, scrumptious homemade meatball and melty mozzarella cheese. Topped off with a mixture of garlic, Parmesan, butter and basil, and baked until gooey, weeknight dinners don't get much better!
These savory mini subs would also be a hit for get-togethers with friends and family, or for holiday celebrations. The recipe can be easily doubled or tripled for a hungry crowd.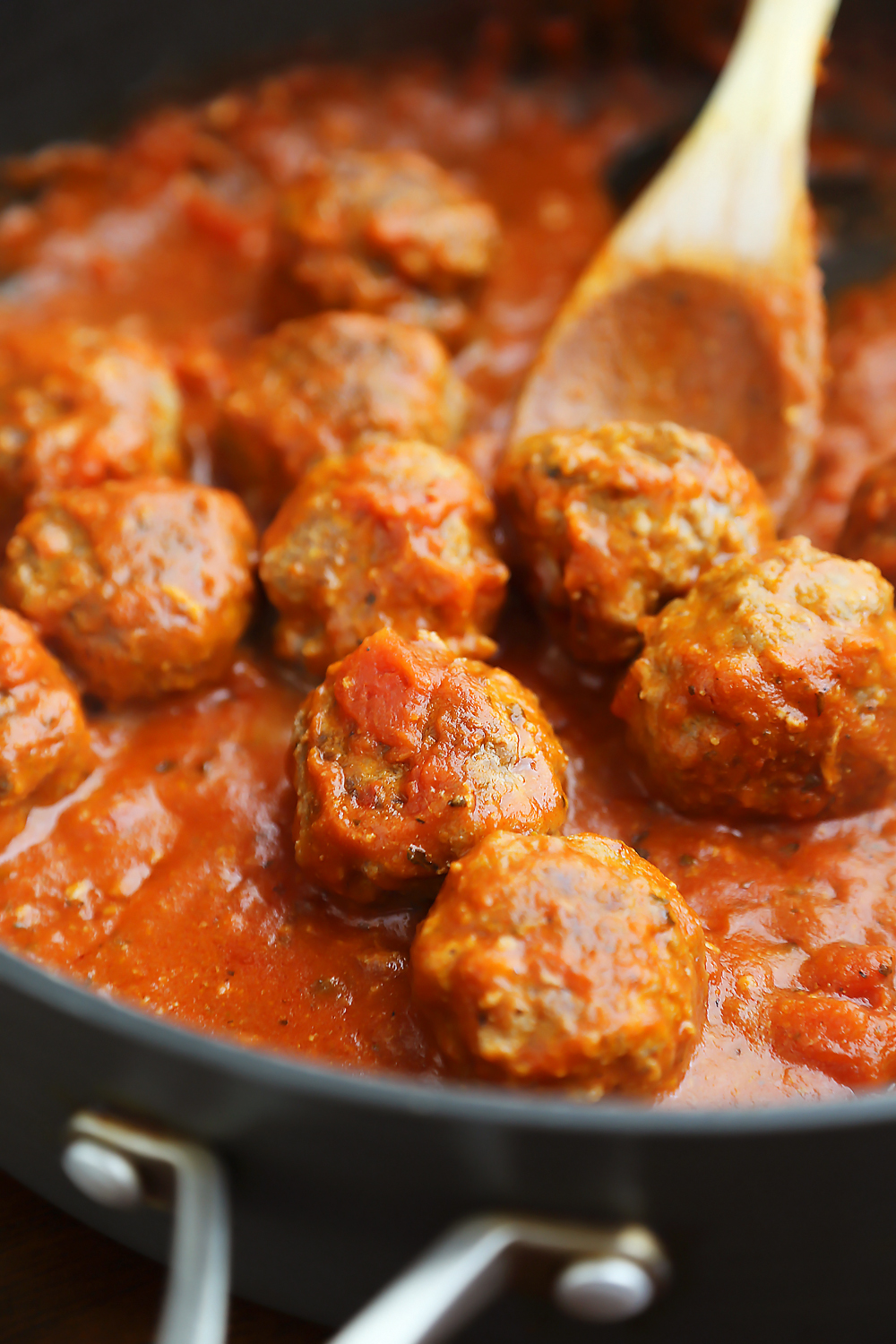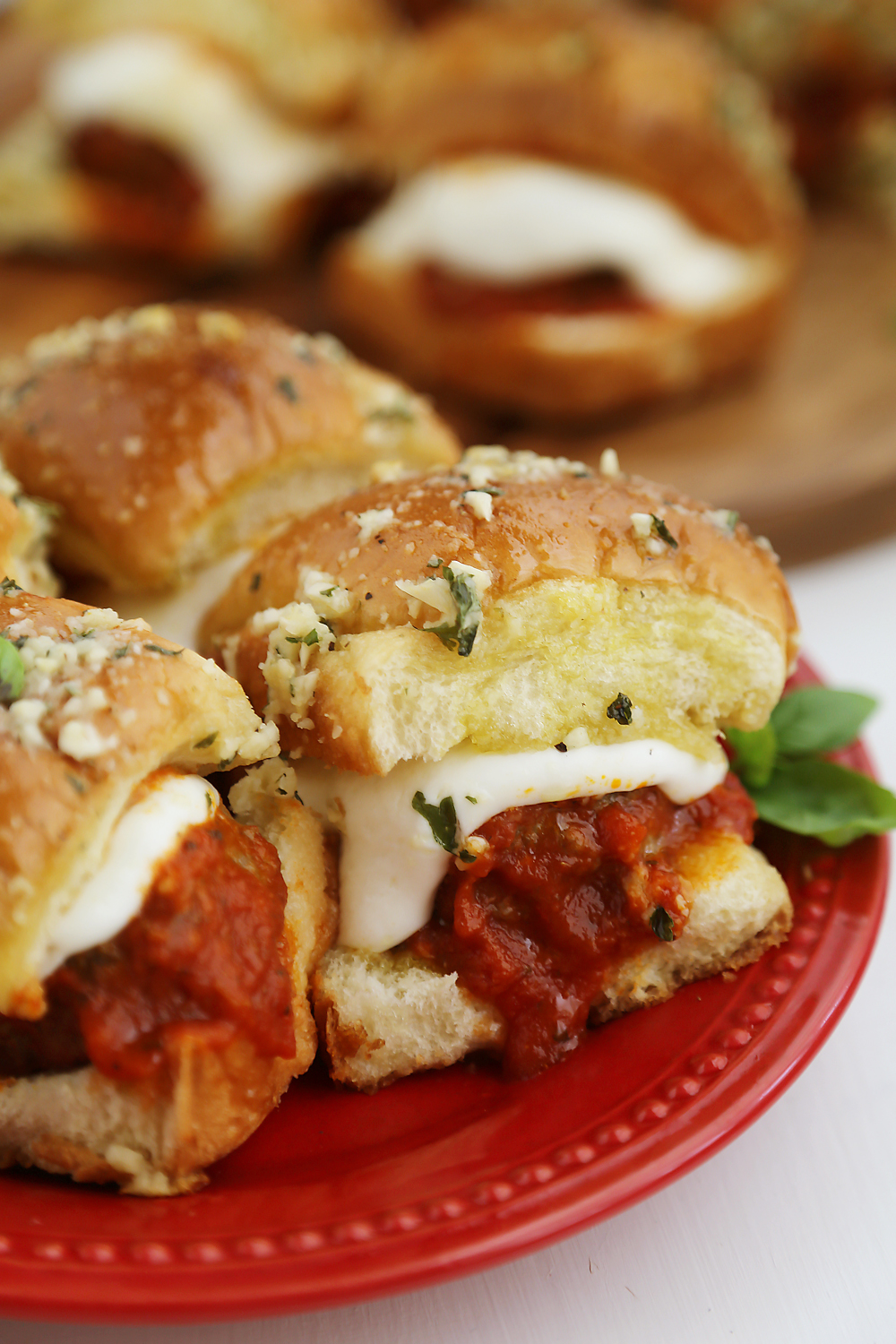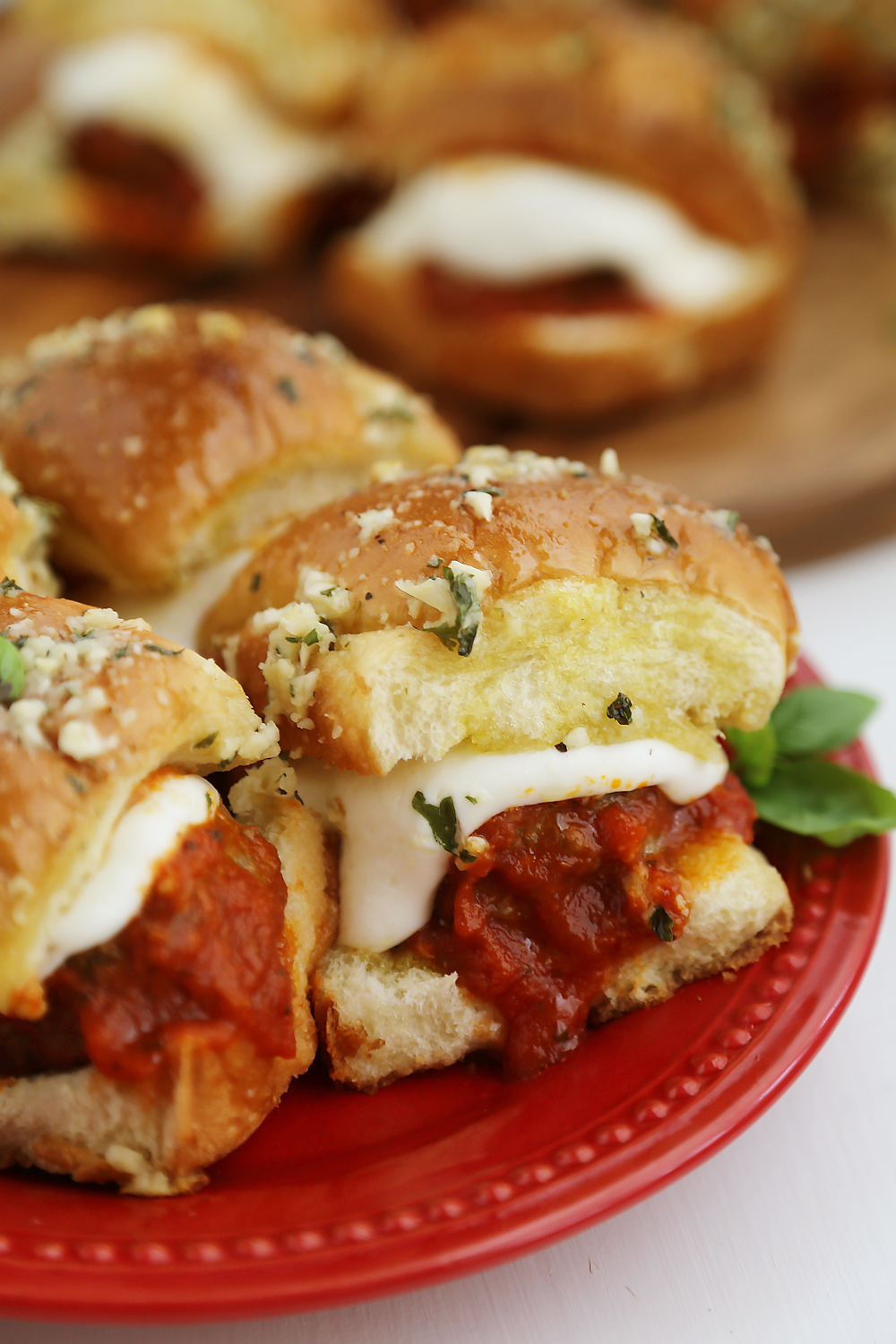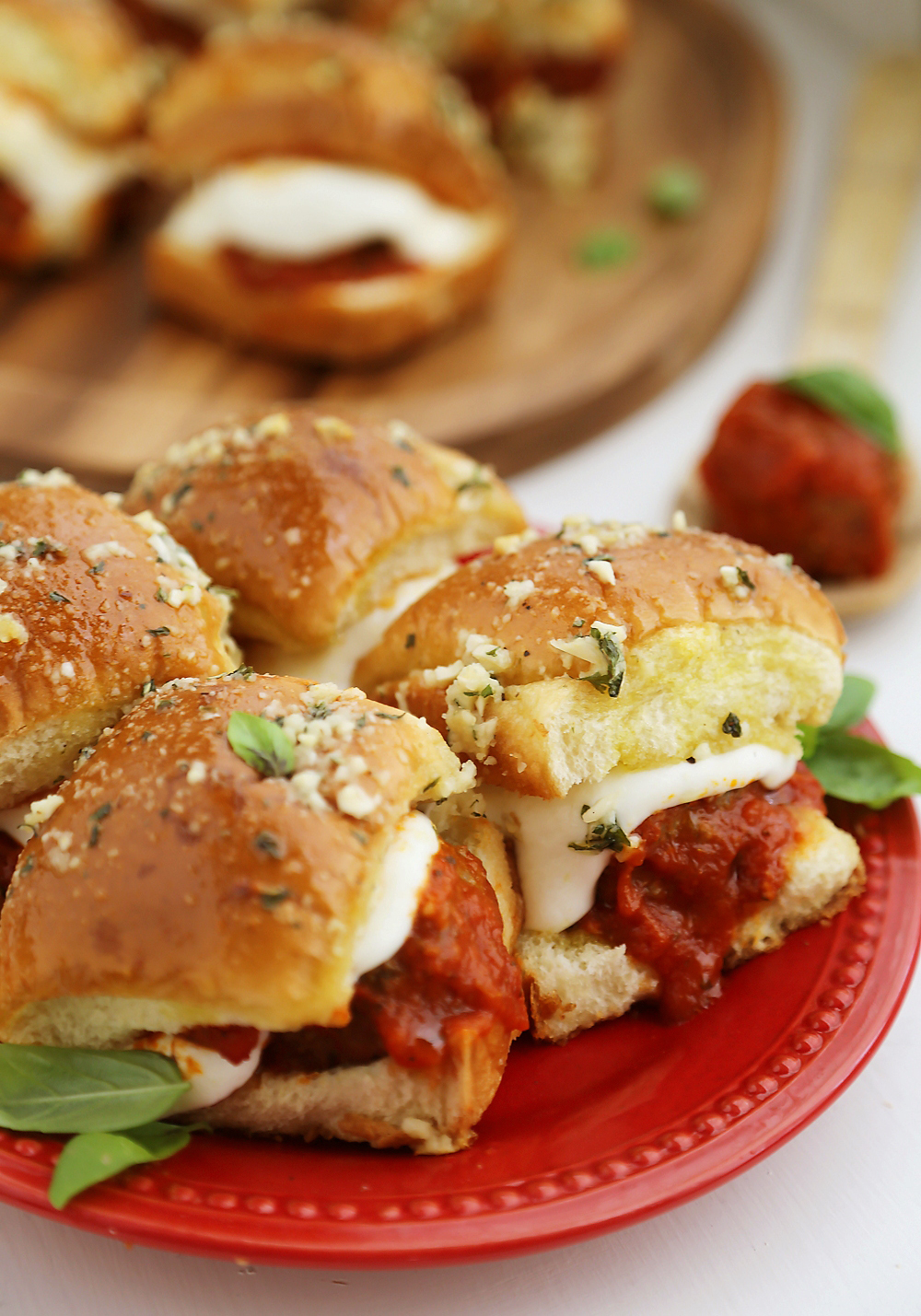 Cheesy Garlic Bread Meatball Sliders
Ingredients
For the meatball sliders:
1 lb. ground beef
1 large egg
1 teaspoon kosher salt
1/4 teaspoon freshly ground black pepper
1 Tablespoon garlic powder
1/4 cup grated parmesan
2 Tablespoons chopped basil
1 Tablespoon canola or vegetable oil
1 cup marinara sauce
1 package (12 ct.) dinner rolls
12 slices mozzarella cheese
For the garlic butter:
4 Tablespoons melted butter
2 Tablespoons minced garlic
2 Tablespoons chopped basil
2 Tablespoons grated parmesan
Instructions
For the meatball sliders:
Preheat the oven to 350 degrees F. Halve individual dinner rolls; set aside.
In a large bowl, combine beef, egg, salt, pepper, garlic powder, parmesan, and chopped basil. Mix until all ingredients are well blended. Shape mixture into 12 golf ball-sized meatballs; set aside on a plate.
Set a large pan to medium-high heat. Once hot, add meatballs and cook 1-2 minutes per side, then flip. (They do not need to be fully cooked at this point.) Remove meatballs to a paper-towel lined plate; drain excess fat in pan.
Pour marinara sauce into the pan and place meatballs in the sauce. Cook for 8-10 minutes, flipping meatballs occasionally, until sauce has reduced to a thick consistency. Remove from heat.
Place one meatball inside each halved dinner roll. Top with sliced mozzarella, then cover with dinner roll top. Place on a large baking sheet.
For the garlic butter:
In a small bowl, combine butter, garlic, basil, and parmesan, stirring until evenly mixed. Pour garlic butter mixture over top of the sliders. Bake for 15-20 minutes, until the rolls are golden brown and cheese is melted. Cut into individual sandwiches, and serve.