When we lived in California, there was this little Greek restaurant my husband and I used to walk to for dinner sometimes, usually on a weeknight because it was less crowded. He always ordered a pita sandwich, I ordered chicken and steak kebabs, and we both drenched everything in this delicious but mysterious sauce they called "tzatziki."
If only I had known it was just a mix of yogurt, dill, cucumber, garlic and lemon juice, I would have been making it a long time ago!
Kebabs are one of our favorite easy weeknight meals to make, since we always have chicken and a variety of vegetables at the ready. Last night, it just happened to be zucchini, onion and pineapple slices. So, I simply marinated some chicken in a mix of olive oil, lemon, garlic and dried herbs, skewered the meat with the veggies and fruit, and dinner was done as soon as they were nicely browned on the grill!
Once they're done, just pile them pretty on a long platter, or carefully slide a fork down the skewers to mix it all up. You can serve these delicious, tender chunks of meat and vegetables over rice, in a salad, or just as they are. They're hard not to love as is.
Served with my pesto potato salad, these kebabs made for a very satisfying and simple end-of-summer meal. I have a feeling, with the consistent 100+ degree temperatures in Texas, we'll still be using our grill plenty in the fall, but I'm really hoping to break out my blue jeans and break in my oven a little more this coming season!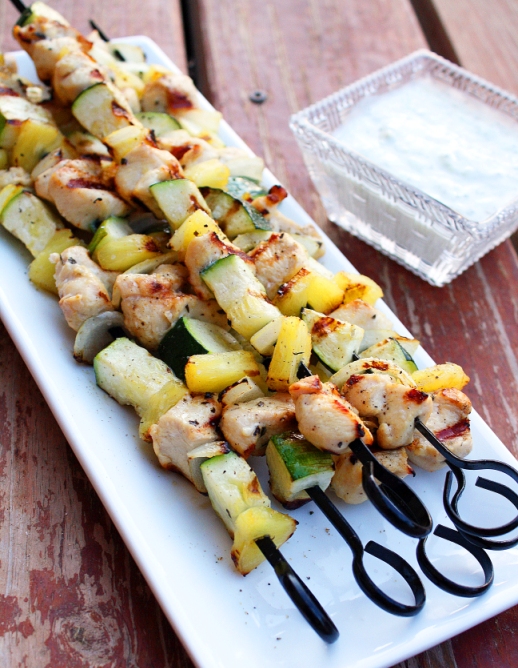 Mediterranean Chicken Kebabs with Tzatziki Sauce
Ingredients
Mediterranean Chicken Kebabs
2 boneless skinless chicken breasts, cut into 1-inch chunks
1 tablespoon fresh chopped basil, or 1/2 tablespoon dried basil leaves
1 teaspoon dried oregano
Juice of 1 lemon
1 tablespoon olive oil
2 cloves garlic, minced
1 large zucchini
1 small pineapple or 1 can pineapple chunks
1 yellow or red onion
1 1/2 tablespoons olive oil
Salt and pepper, to taste
Tzatziki Sauce
1 cup low-fat Greek or plain yogurt
1 tablespoon fresh chopped dill, or 1/2 tablespoon dried dill
1/2 cucumber, peeled and finely grated (1/4 cup)
1 teaspoon lemon juice
2 small cloves garlic, minced
½ teaspoon salt
Instructions
Mediterranean Chicken Kebabs
Combine basil, oregano, lemon juice, olive oil and minced garlic in a large food storage bag; add cut-up chicken, coat evenly with the marinade and refrigerate for at least 1 hour, or up to 2 days.
Cut zucchini, pineapple and onion into 1/2-inch chunks. Brush the skewers lightly with olive oil and arrange with chicken, pineapple, zucchini and onion. With a pastry brush, brush the assembled kebabs with remaining olive oil. Sprinkle with salt and pepper.
Set your gas grill or grill pan to medium-high heat and arrange kebabs evenly. Cook for 10 to 12 minutes, turning often, until vegetables are tender and chicken is cooked through. Carefully remove kebabs from grill or grill pan with an oven mitt.
Serve with tzatziki sauce, if desired. Also, you can serve the kebabs over rice, with basil pesto potato salad, or your favorite Mediterranean side dish.
Tzatziki Sauce
In a bowl, combine the yogurt, dill, grated cucumber, lemon juice, minced garlic, and salt. Stir ingredients together and serve, or cover and refrigerate until ready to use.
Enjoy!