Looking for the perfect burger recipe for summer grilling? Turn to these scrumptious turkey burgers with sweet-salty BBQ sauce and melty Swiss!
Happy Memorial Day, everyone! I hope you have a delicious day with friends and family planned, but more importantly remember that today is about honoring the American armed forces members who have laid down their lives. Without their bravery and selfless service, all the freedoms that we hold dear would not be a reality.
So, today, keep the good people of our military in the back of your mind, but for now, let's turn our attention to some good food!
Sometimes you've just gotta sink your teeth into a burger, but you want something that packs more protein and less fat. Turkey burgers may tend to be bland, but I just see that as an excuse to jazz 'em up with any kind of mix-ins you like! Minus the salt, of course, since salt draws out moisture and makes for a drier burger. Wait to salt until you throw them on and you won't be disappointed!
Nom nom nom.
Especially since I have a vacation to Spain and France next week to consider, it's been high time that I chuck the cheeseburgers and pick up the poultry! Besides, who wants to be walking next to waiflike Europeans looking like you had one too many croissants?
With mix-ins like spicy brown mustard, garlic, fresh parsley and pepper, these turkey burgers were super flavorful and scrumptious! Served with some sweet potato fries and a spinach-tomato-feta salad, it was a perfectly filling and healthy meal in just under 20 minutes.
Today or any day, toss these tasty turkey burgers with BBQ sauce and melty Swiss on the grill, watch 'em sizzle and enjoy a delicious, nutritious lunch or dinner! Just don't forget an icy cold drink and a pile of your favorite toppings!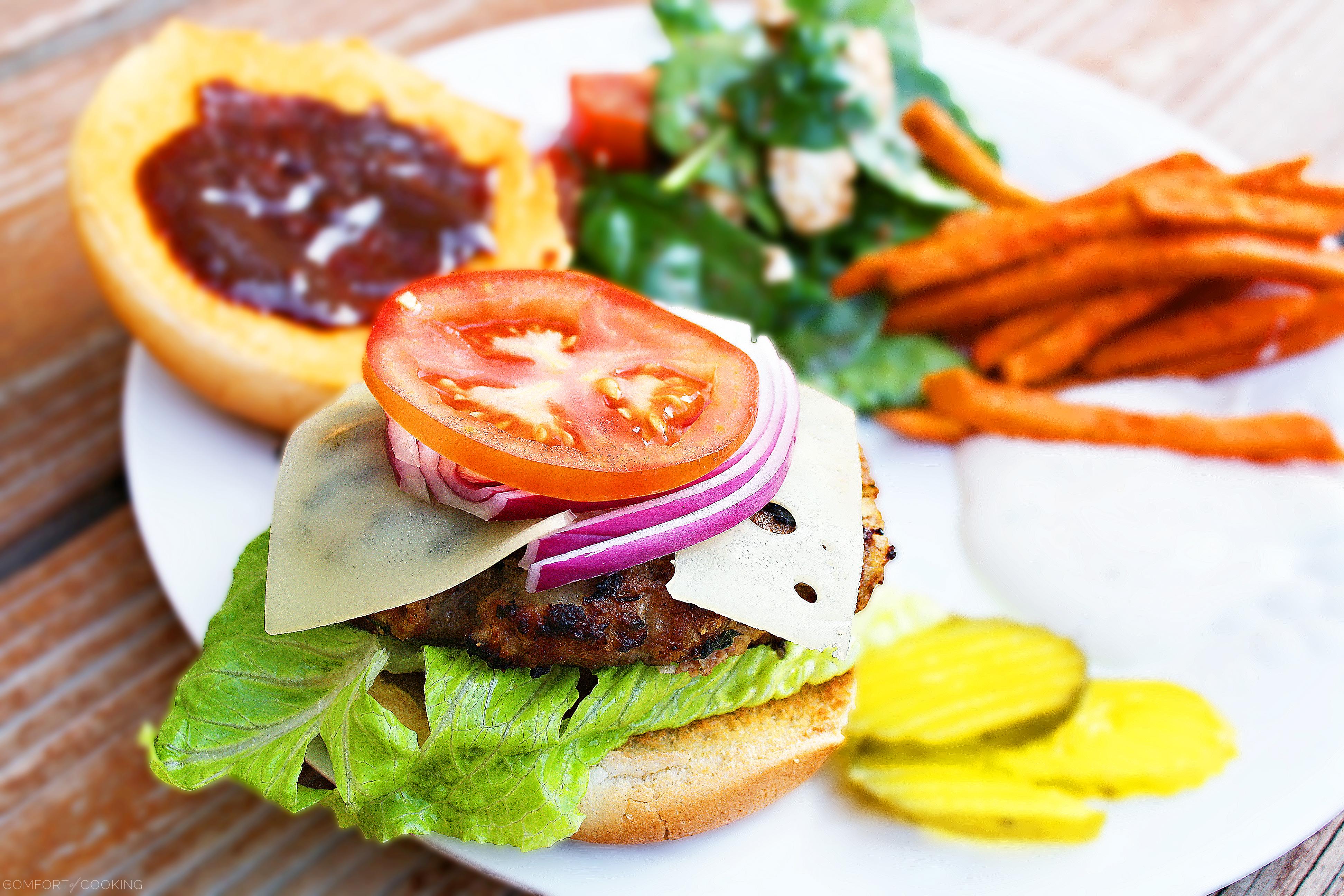 BBQ Swiss Turkey Burgers
Ingredients
1 teaspoon olive oil, plus more for grilling
1/2 medium yellow onion, diced small
1 clove garlic, minced
1 pound lean ground turkey
1 tablespoon plain dried breadcrumbs
1 tablespoon spicy brown mustard
1/4 cup chopped fresh parsley
Salt and pepper
4 slices Swiss or cheddar cheese
4 hamburger buns
Toppings
BBQ sauce, mayo, mustard, tomato, lettuce, etc. (optional)
Instructions
In a large skillet, heat oil over medium high heat. Add onion and sauté until translucent, 4 to 5 minutes. Add garlic and cook until fragrant, 1 minute. Transfer to a medium bowl and add turkey, breadcrumbs, mustard and parsley. Gently mix until combined and form into 4 thin patties.
Heat a grill or grill pan to medium-high. Clean and lightly oil hot grill. Season patties with salt and pepper, then brush with oil. Grill, covered, until cooked through, about 4 minutes per side. Top each burger with Swiss or cheddar cheese. Serve burgers on buns with desired toppings.
Enjoy!