Say hello to my best-ever recipe for my favorite-ever pizza… creamy, salty, fresh and SO easy. You'll go for slice-after-slice of this scrumptious, authentic Margherita pizza!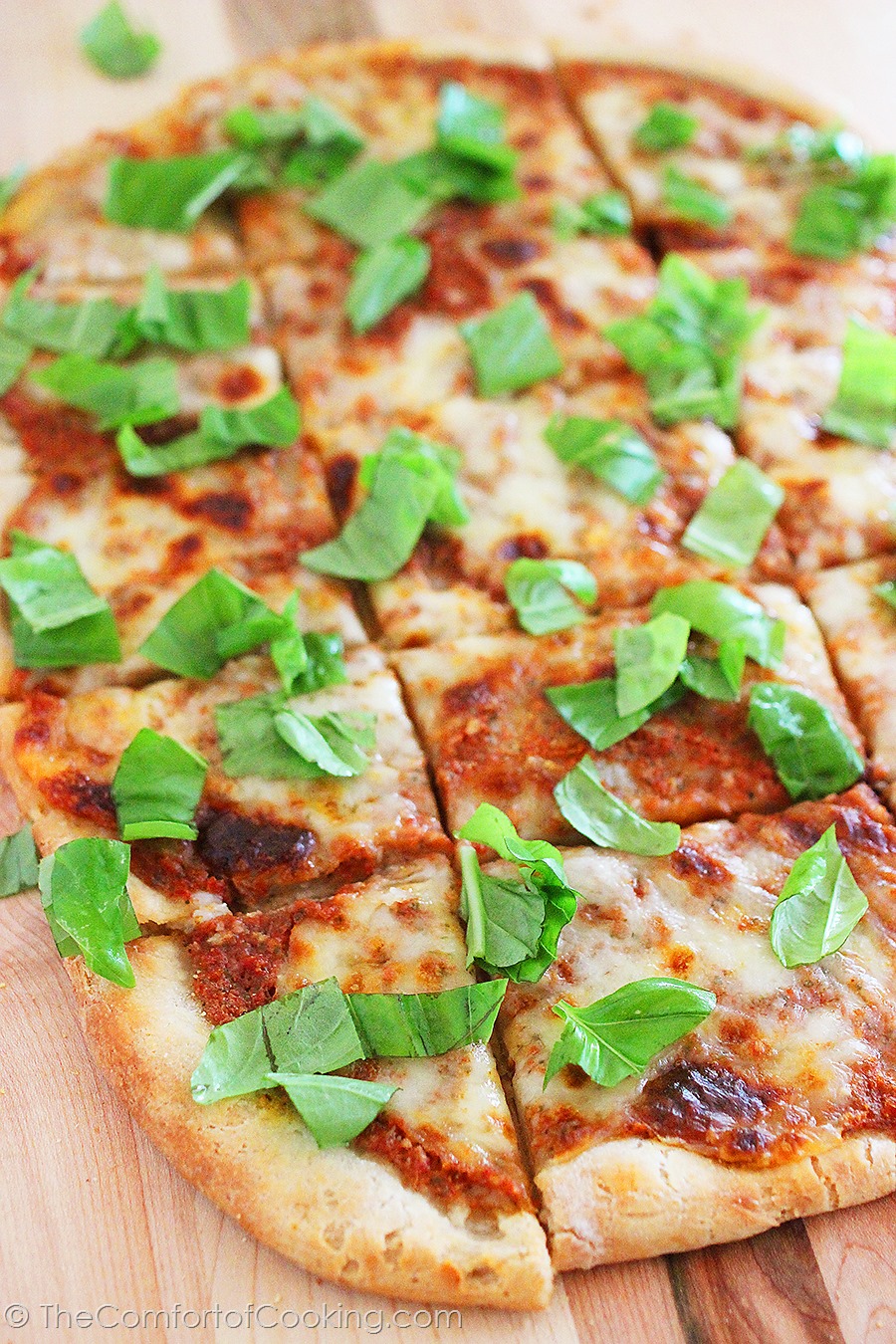 Simple as it may be, this is my favorite type of pizza. Does my husband share the same affinity for a bubbly, beautiful margherita covered with creamy sliced mozzarella and sprinkled with fresh basil? NO. The man can't understand why anyone would want anything other than a pizza piled with ham, pepperoni, salami and sausage. All at once. I mean, seriously?
I love a good, greasy slice once in a while myself, but c'mon, dude. Come to the light side. Lemme serve you up a slice of this mouthwatering margherita and change your man-ivore ways!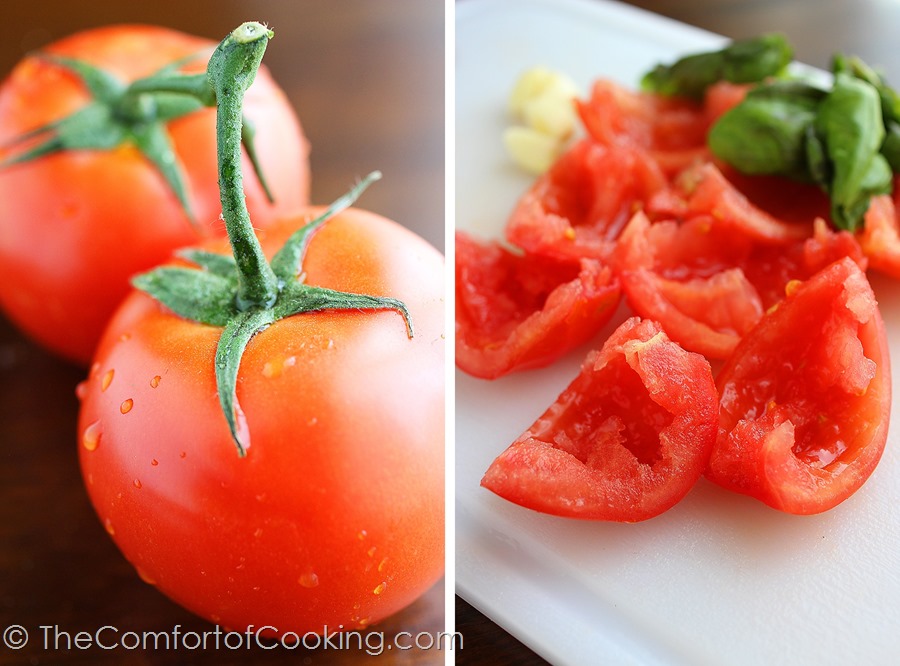 Shall I count the ways in which margherita pizza is the fairest of them all? Yes, yes, I shall.
ONE: You blend together tomatoes, basil and garlic to make an amazing, flavorful, fragrant sauce that is crazy easy and basically the basis for this amazing pizza. It's all in the sauce, baby.
TWO: Besides the dough, all you need is four ingredients to be on your way to cheesy, gooey pizza nirvana. If you're anything like me, all of them are staples in your house, too. High-five for four ingredients? Don't leave me hangin'.
THREE: Melty mozzarella. That is all.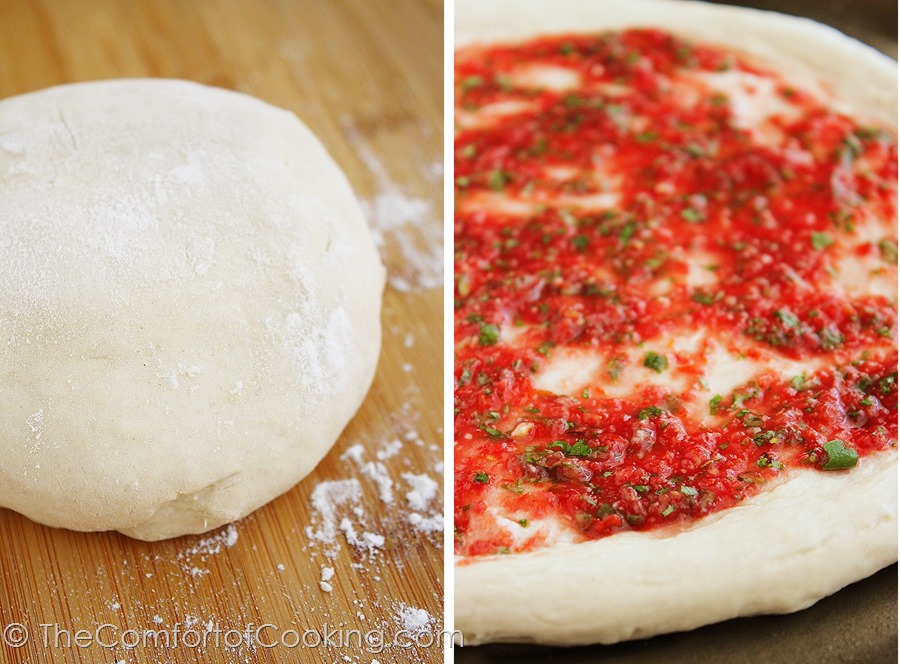 Let's just assume there are more reasons. You're probably tired of the counting by now.
Please tell me those convinced you just a little, hubby?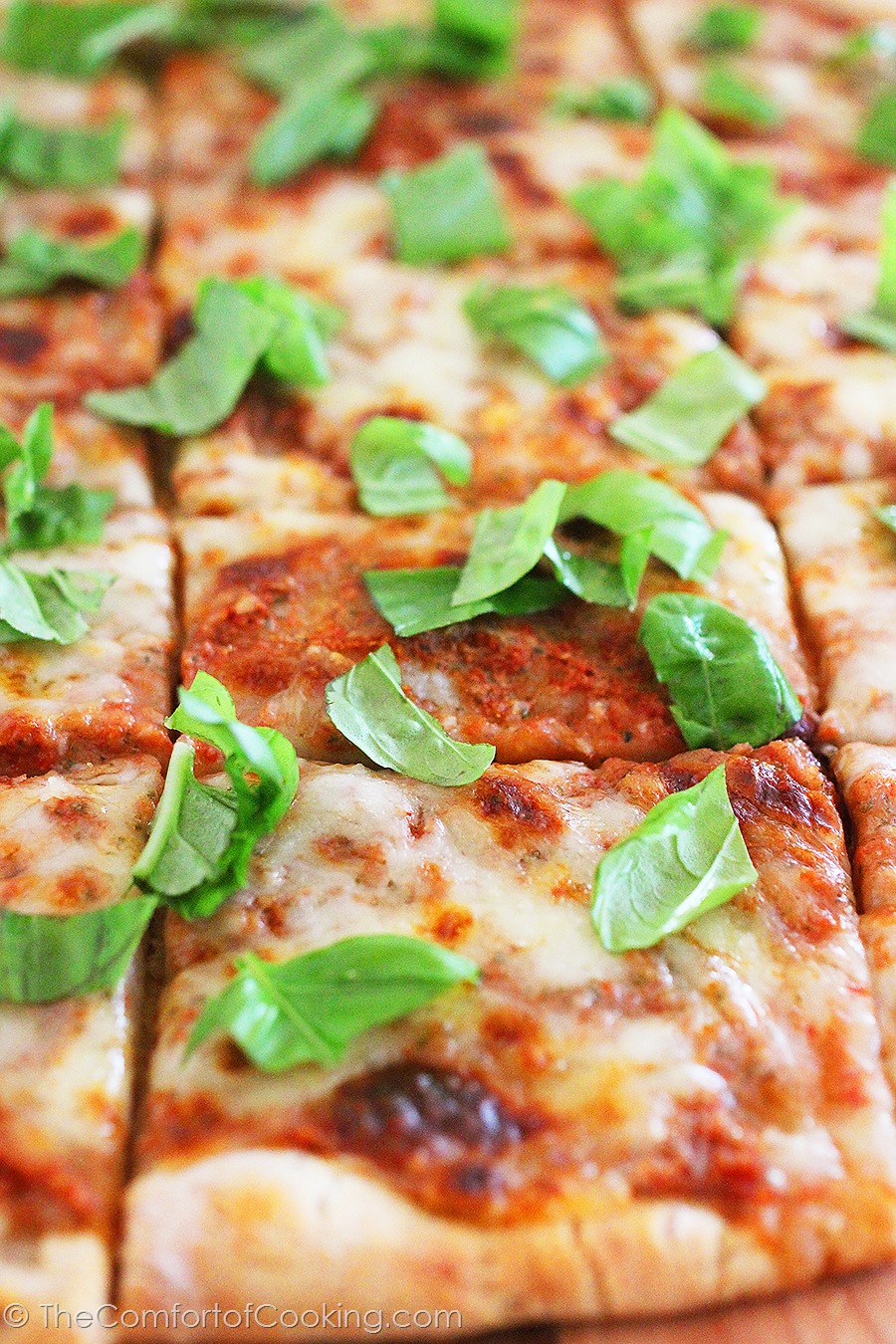 The first time I made a margherita, (and, hello? why hadn't I made one 'til just last month?), my 100% Whole Wheat Pizza Dough was the crisp canvas. I found that it soaked up the tomato sauce a little more than my favorite Homemade Pizza Dough, but was still delicious and a healthy choice!
Like I said, the sauce is what MAKES this pizza, though. If you have a go-to whole wheat pizza dough recipe, go for it. I guarantee it will still taste great. If not, mix up the latter dough and you'll love it!
So, what are you waiting for? Make it a pizza night!
If whoever you enjoy this pizza with doesn't exactly *ahem* agree with your pizza preferences, make it a half-and-half with some fun topping options for the other side. Everyone loves pizza, so worry not. An agreeable arrangement can always be made!
I know you'll love this classic Italian pizza and enjoy a lighter twist on your usual. It's salty, creamy, and incredibly fragrant and fresh. Like summer on a plate!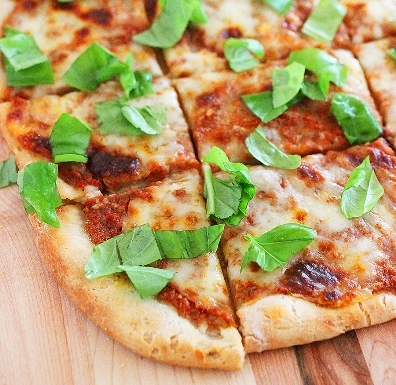 Classic Margherita Pizza
Ingredients
1 lb. pizza dough, store bought or homemade
1 lb. (2-3 medium) tomatoes (preferred: Roma)*
1 clove garlic
1/4 cup loosely packed basil, torn into pieces
8 ounces (about 1 cup) fresh mozzarella cheese, sliced
Salt and pepper, to taste
Instructions
Preheat your oven to 500 degrees F or as hot as it can go.
On a floured surface, shape pizza dough into a 12" round or rectangle. Transfer to a large baking stone or baking sheet.
Quarter each tomato and gently squeeze wedges over sink to remove the excess juices and seeds. Add to the bowl of a food processor or blender, along with garlic and half of the basil. Process until tomatoes break down into a sauce, scraping down sides as needed. If desired, strain to make a thicker sauce. Evenly spread sauce over pizza dough and top with mozzarella slices, leaving some space between pieces of mozzarella.
Bake for 5-10 minutes—exact cooking time will vary depending on your oven temperature. The crust should be golden brown and the cheese bubbling.
Sprinkle pizza with basil and let cool briefly before slicing and serving.
Enjoy!