This crispy, chewy whole wheat pizza dough makes a delicious canvas for all kinds of tasty toppings. Bake up a homemade thin crust pizza tonight!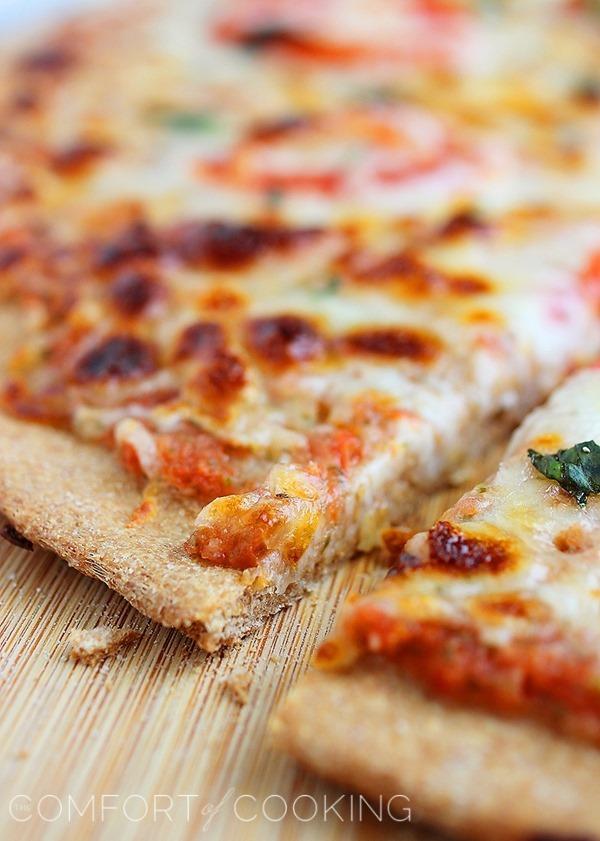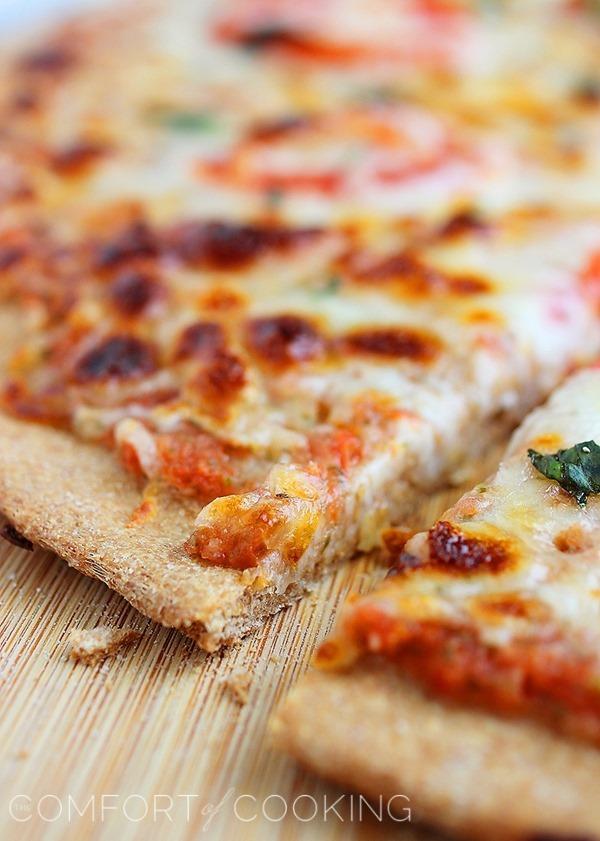 Ever since I started making my own pizza dough, I've never looked back! Pizza doughs are fun to make, always delicious, and you really feel like you accomplished something pretty cool!
Plus, there's something so amazing about so few ingredients combining to make a crispy, chewy canvas for all kinds of tasty toppings…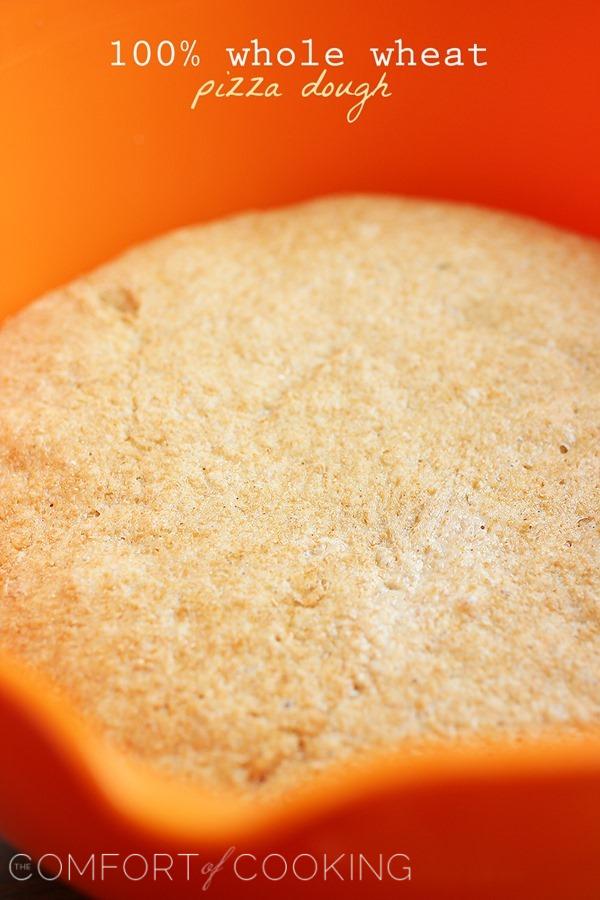 Call me boring, but I love a classic margherita pizza with fresh mozz, tomatoes and basil. I'll be sharing the recipe for this one with you soon!
Hint: It may look pretty basic but the secret's allll in the sauce. baby.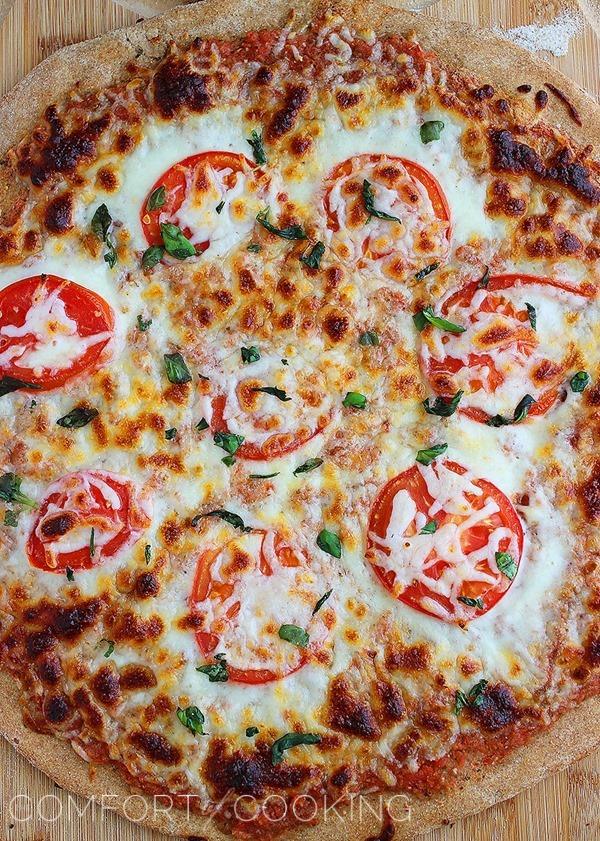 The true star of all my Friday night pizza-makin' is this delicious dough. Made with only whole wheat flour, it comes together quickly, only rises about an hour, and cooks in a flash.
Not going to use it right away? No probs. Just wrap it up in plastic wrap and freeze 'til you get that pizza craving. They tend to hit often in this house…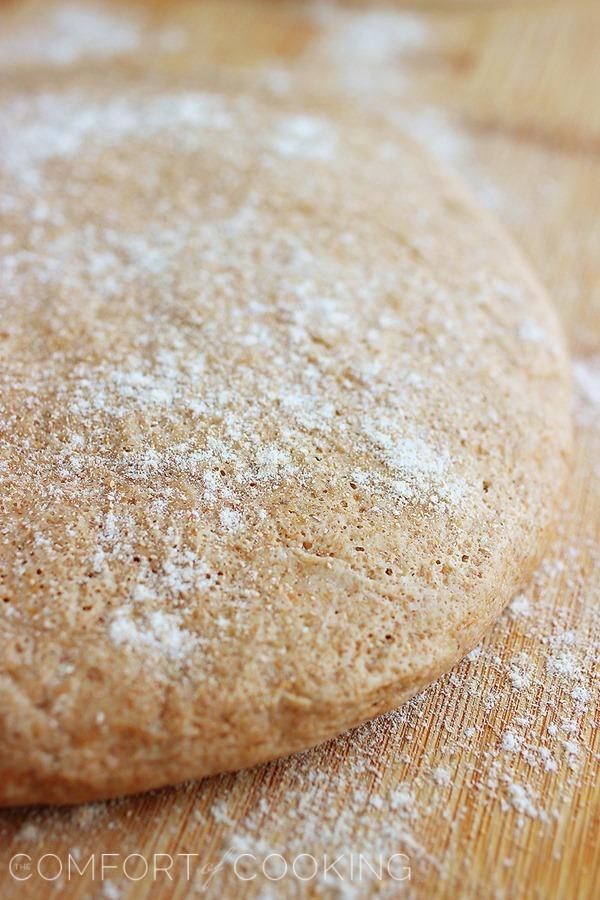 I know you'll love this dough just as much as Mark and I did. Nothing will replace my go-to pizza dough, but this one is still an awesome option for when we want to be healthy but still indulge a bit.
Have a fabulous week ahead, and whip up a homemade pizza some weeknight for a change of pace!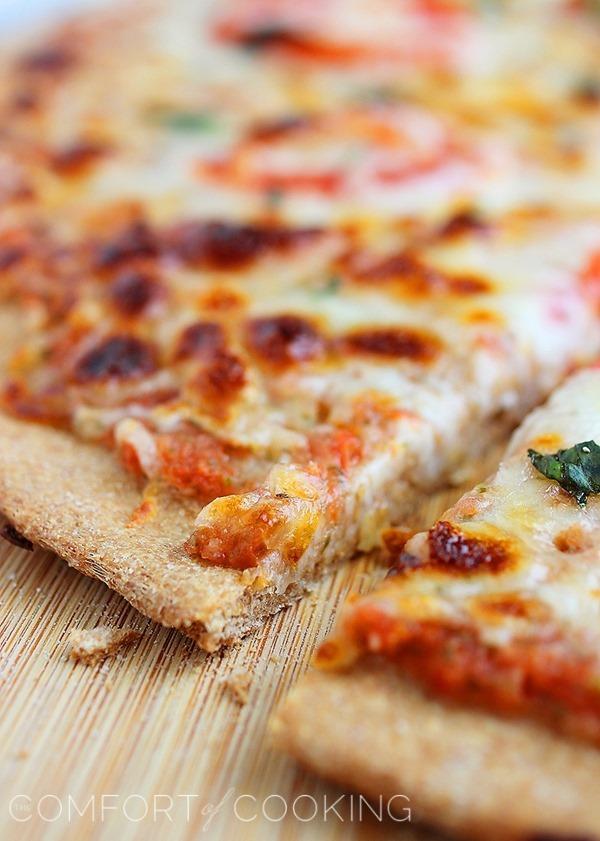 100% Whole Wheat Pizza Dough
Yield:
1 ball pizza dough (enough for 1 10-inch pizza)
Ingredients
2 1/4 teaspoons active dry yeast, (one 1/4 ounce package active dry yeast)
1 cup warm water
2 teaspoons sugar, divided
2 1/4 cups whole wheat flour, plus more for dusting
3/4 teaspoons salt
1 Tablespoon extra virgin olive oil
Instructions
In a small bowl, combine yeast, water and 1 teaspoon sugar; Let sit for five minutes.
In a large bowl or the bowl of a stand mixer, combine 2 cups flour, salt and remaining teaspoon sugar. Make a well in the center. Add yeast mixture and olive oil.
Stir with a wooden spoon or the paddle attachment until the dough just comes together. Knead, either by hand or in a stand mixer fitted with the dough hook, for about 5 minutes (2-3 minutes if using a stand mixer). As you knead, add remaining 1/4 cup flour in small increments, just until dough is no longer sticky. (You may not need to add the full 1/4 cup)
Shape dough into a ball. Place in a lightly greased bowl, turn once to coat, and cover with plastic wrap. Let rise at room temperature until doubled, about 1 hour (up to 2 hours).
Punch down risen dough and place on a lightly floured surface. Shape dough into a ball. Either wrap dough in plastic wrap and refrigerate/freeze for later use, or bake right away.
To bake, preheat oven to 475 degrees F. On a lightly floured surface, roll out dough to desired crust thickness and place on a pizza stone or baking sheet. Add your desired sauce and toppings. Bake 10-12 minutes, or until crust is golden brown and cheese is melted. Let rest for about 5 minutes before slicing.
Enjoy!