Just 3 ingredients, 10 minutes, and patience while they bake is all it takes to have your own cheater's chocolate "croissants"! You won't believe how good these are.
Enter the lazy girls' guide to croissants! Though the real thing may be beautiful, and I have huge admiration for anyone willing to take the time, croissants are also just that – time consuming.
When it comes to pastries, I have none to waste! (And it would only be a waste because I would undoubtedly fail at them. Like, seriously fail.)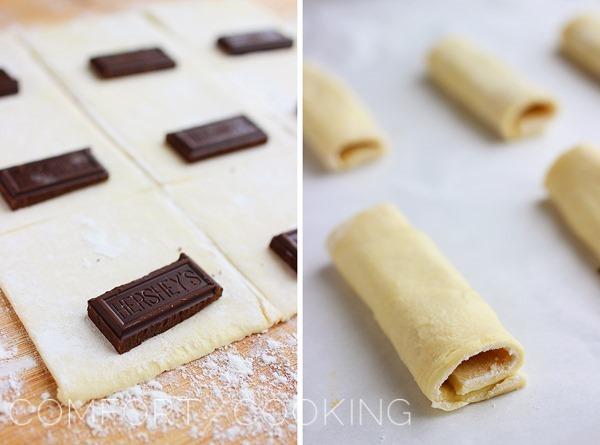 These cute and delicious cheater's "croissants" take 10 minutes to come together and are easy peasy. They're a great activity for your little aspiring bakers, too!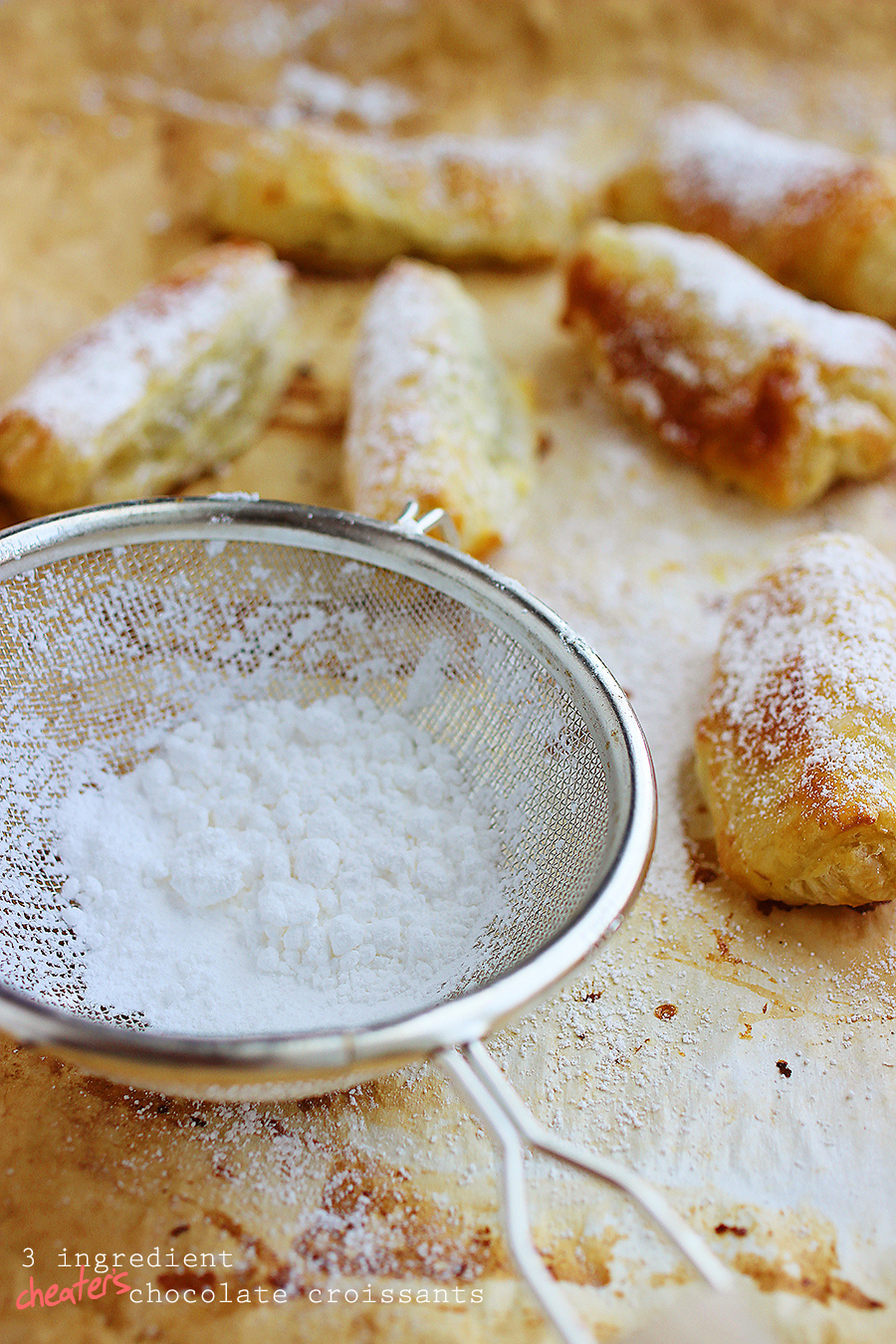 And you read right – all they need are three ingredients: Puff pastry, a chocolate bar, and an egg. But a bit of powdered sugar for sprinkling doesn't hurt either…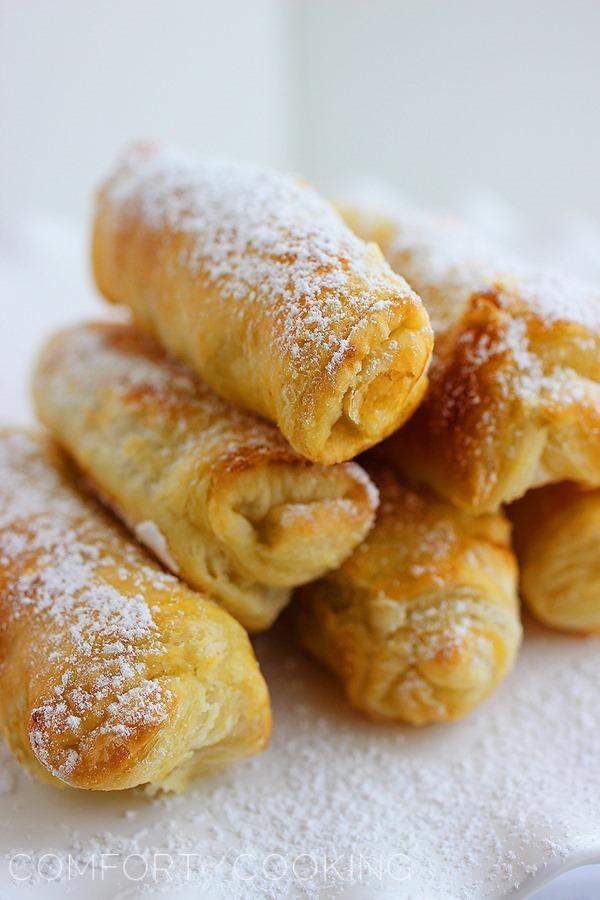 Just roll out your puff pastry sheet and slice it into 9 squares. Place a small chunk of your chocolate bar at one end of each square, and fold the pastry over once. Brush the remaining dough with a little egg wash, fold it over again, and pop it on your baking sheet.
The pastries need to firm up in the fridge for about 10 minutes, because pastry gets puffiest when it's cold, cold, cold. Preheat the oven and distract yourself by cleaning up a bit!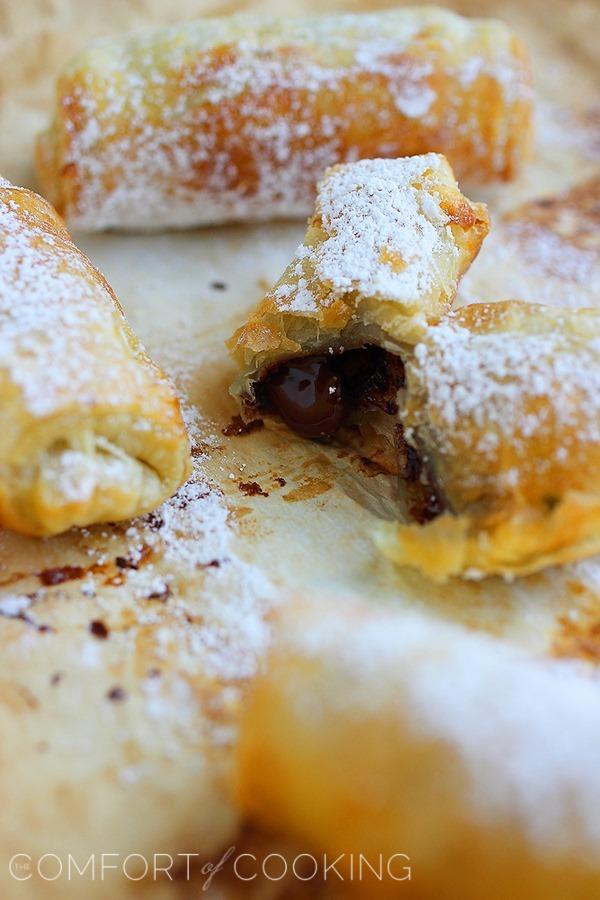 I used dark chocolate this time, but with all the chocolate bar flavors out there, feel free to get creative! I know Lindt carries chili, orange, caramel, and passion fruit chocolate bars at most grocery stores.
Oh, the possibilities!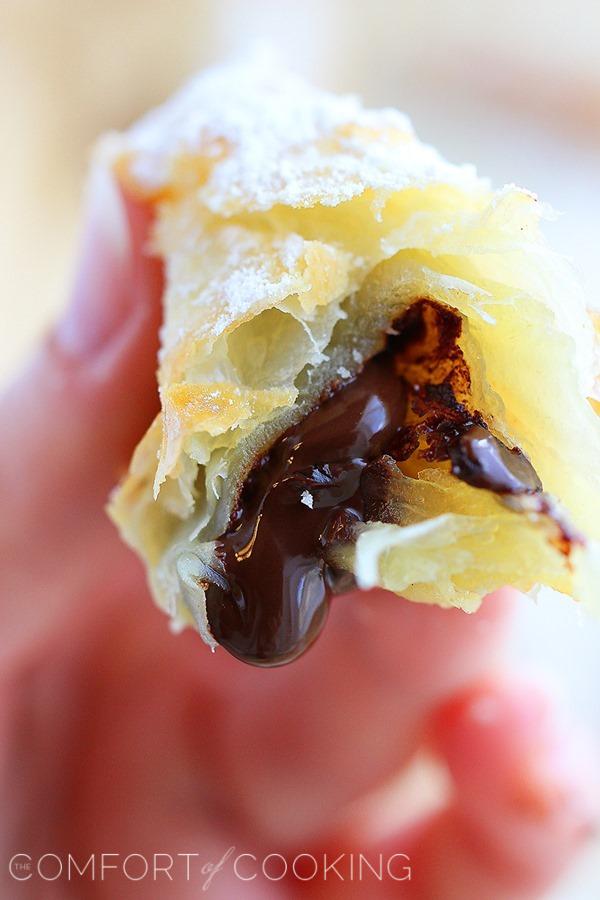 Make these for Mother's Day, or any special weekend breakfast or brunch! They're easy, absolutely scrumptious, and can be made up to 12 hours ahead of time.
Totally guaranteed to impress whoever's lucky enough to enjoy them with you!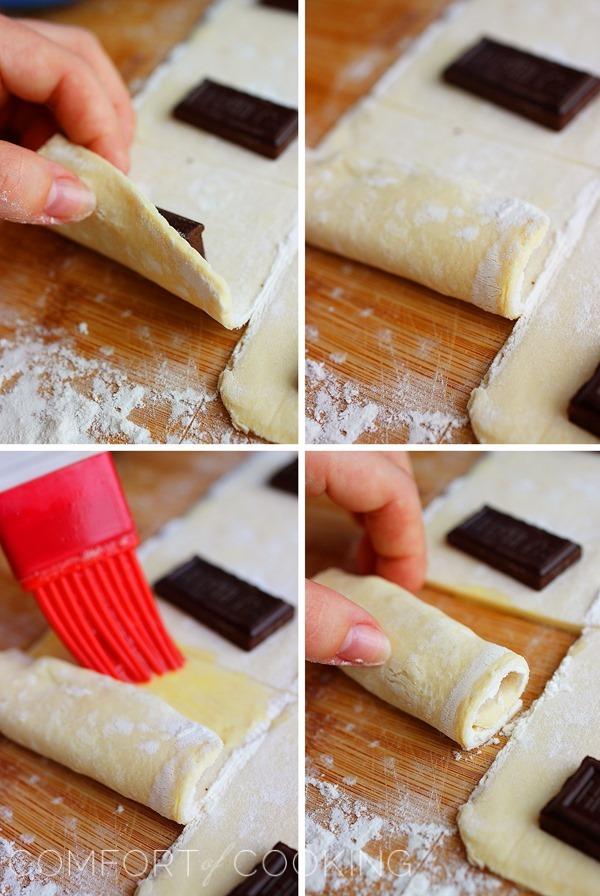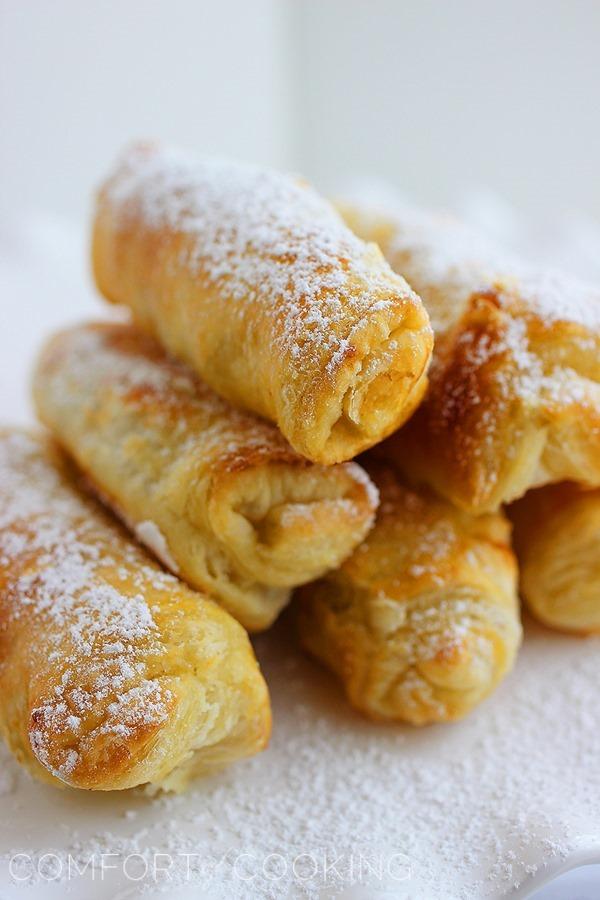 3-Ingredient Cheater's Chocolate Croissants
Ingredients
1 sheet puff pastry, about 1/2 lb.
1 4 oz. chocolate bar, any kind – I used semisweet/dark
1 egg + 1 Tablespoon water
Powdered sugar, for dusting
Instructions
Prepare a baking sheet lined with parchment paper. Set aside.
On a lightly floured surface, place puff pastry and roll out slightly with a floured rolling pin. Cut into 9 (5-inch) squares.
Cut or break up chocolate bar into 9 (1 inch x 1/2 inch) pieces.
Whisk egg and water in a small bowl, until well combined. Set aside.
Place 1 chocolate piece at the bottom of each pastry rectangle. Fold pastry over the chocolate. Lightly brush egg wash on the remaining dough and fold over again to seal. Place seam side down on your lined baking sheet.
Lightly brush each pastry with egg wash. Refrigerate tray for at least 10 minutes (up to 12 hours) to firm up.
When ready to bake, preheat oven to 400 degrees. Bake for 10-12 minutes, until golden brown and puffed. Allow to cool for about 10 minutes, then dust with powdered sugar.
Enjoy!