Around this time of year, when the markets aren't overflowing with juicy berries and colorful fruits ripe for the picking, I love to bake with pears. While they may look a little awkward and are usually discarded for more alluring summer produce, their crisp, subtly sweet taste is always so satisfying and reminds me why pears are so darn delicious.
A fruit crisp is also one of my favorite, and most easy, desserts to make. Warm spiced pears laced with the fragrant bite of fresh ginger are snuggled below a bed of flour, oats, brown sugar and cinnamon. The dish is popped into the oven for just over half an hour, and does it ever make your home smell cozy and get you excited for fall! Dip a spoon into the dish to serve to your family and friends, or just yourself, and top it off with some whipped cream or, my personal preference, a scoop of vanilla ice cream.
Even if the weather is still mighty warm where you are, crank up the air conditioning, break out your favorite snuggly sweater, and bake up this delicious, simple pear ginger crisp. Fall will be here soon enough, but if you can't help but rush it a little like me… well, bake on, lovers of falling leaves and cinnamon desserts – I'm with you!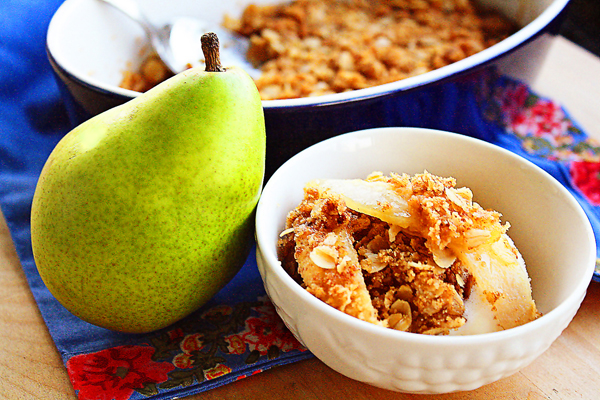 Pear Ginger Crisp with Vanilla Ice Cream
Ingredients
Topping:
1/8 cup flour
1/3 cup old-fashioned oats
1/4 cup packed light brown sugar
1/2 teaspoon ground cinnamon
1/8 cup canola oil
Filling:
2 firm but ripe pears, peeled, cored and cut into 1/4-inch slices
1/2 tablespoon fresh lemon juice
1/2 tablespoon freshly grated ginger
1 tablespoon sugar
1 tablespoon all-purpose flour
1 1/2 cups reduced-fat vanilla ice cream or frozen vanilla yogurt, optional
Instructions
Preheat the oven to 375 degrees F.
For the topping: Combine the ingredients in a medium bowl and work together with a fork or with your fingertips until the ingredients are moistened.
For the filling: Combine the pears slices, lemon juice, and ginger in a large bowl. Add the sugar and flour, and toss to blend.
Spray a baking dish with cooking spray. Transfer the pear mixture to the dish. Sprinkle the topping over the pears. Bake crumble until the pears are tender and the topping is golden brown, about 40 minutes. Let cool for 10 minutes before serving.
Serve warm or at room temperature, with a scoop of ice cream, if desired.
Enjoy!