Soft and fluffy homemade whole wheat bread with a touch of honey – perfect for hearty sandwiches and buttery toast!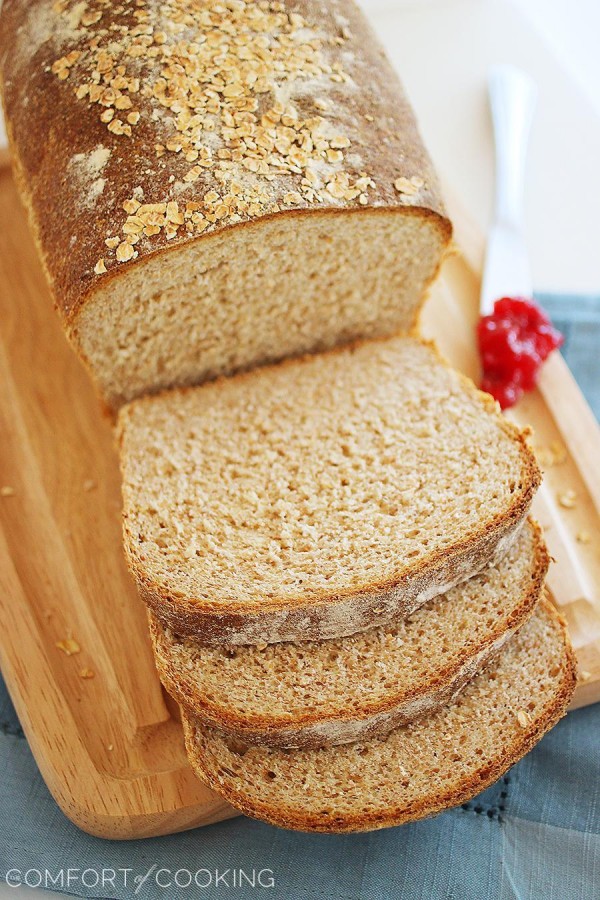 Whew, what a whirlwind of a holiday weekend! Though I didn't expect to take such an extended step back from blogging duties, the break gave me a nice chance to unwind. Lapping up time with family, scrumptious home cooked food, and the sunny, brisk beginning of winter in Austin were to-dos high on my list, and I accomplished them all. It was wonderful.
So, I sit down at my computer again with mixed emotions – I enjoyed not staring at it for seven days, but it's time to get back to real life. Bill paying, chore doing, and delicious blogging… which I love!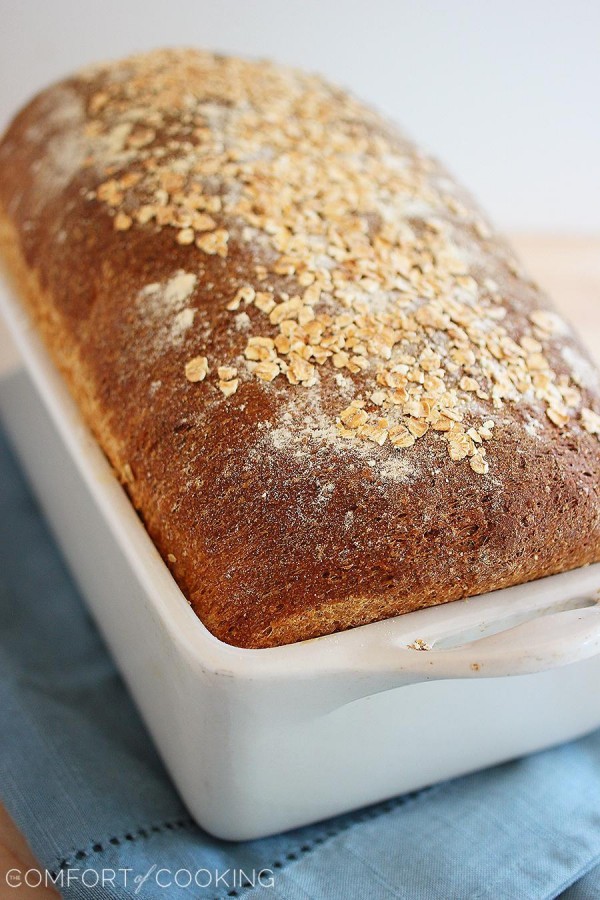 I didn't do too much cooking over the holiday, honestly. We had my in laws cozied up in the house for a short but sweet stay. The night before Thanksgiving, I just cooked up my favorite Easy Herb Roasted Chicken, creamy mac 'n cheese, and roasted cranberry green beans.
Turkey day brought an exciting new spin on tradition, where we gussied up and headed out to Austin's finest, The Driskill Grill, for the biggest, grandest buffet dinner I've ever seen… and I've been on cruise ships, people!
It was magical and beautiful and delicious. Everything you could have ever wanted and more. Plus more. Did I mention more? And ohhh, I ate it all. They'll attest to that! I tell ya, this preggo belly can hold a lot of stuffing and mashed potatoes (and pecan pie and cranberry sauce, and…)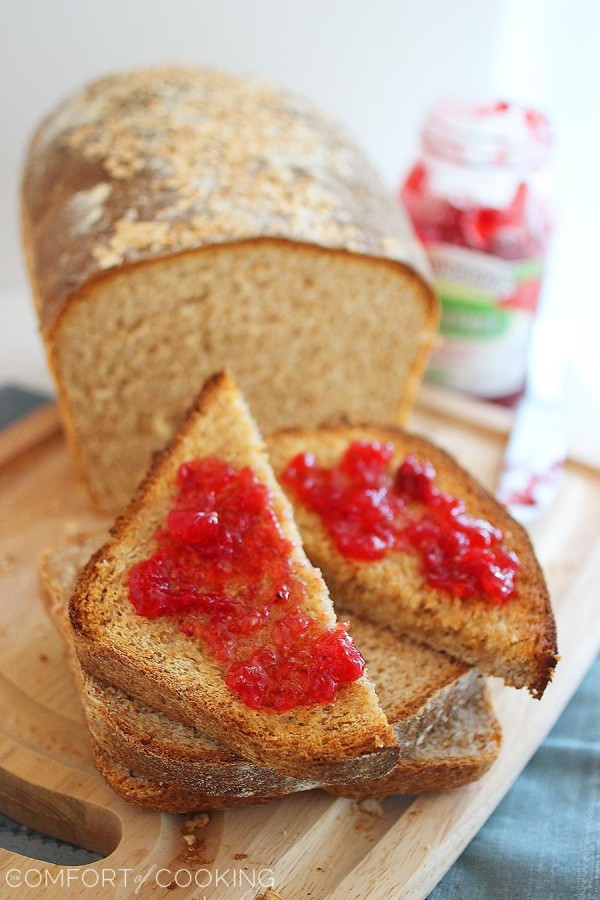 It was just a really happy holiday, and we were sad to see it over in such a flash. But, we've already decked the halls here at home and are looking forward to a very merry Christmas. I'll share a few snaps from around the house soon!
To make our nest feel even more cozy (and toasty warm), I've been baking up a storm. This bread from my fellow blogger friend with a baby-to-be, Stephanie from Girl Versus Dough, has become a new favorite! Soft and chewy, perfect for buttery toast and hearty BLTs, and easy enough for a lazy baker like me.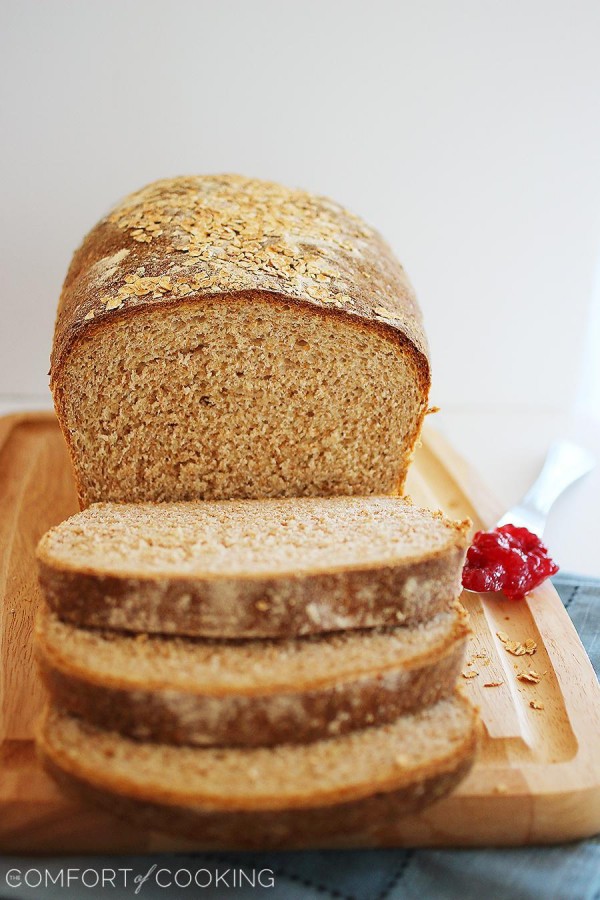 As a fun project on a brisk winter morning, or any time of year you want fresh, fluffy bread, this one will hit the spot. It comes together so easily and bakes up beautifully golden brown every time. You probably already have most of the ingredients in your cabinets, too.
I hope you enjoy this recipe, friends!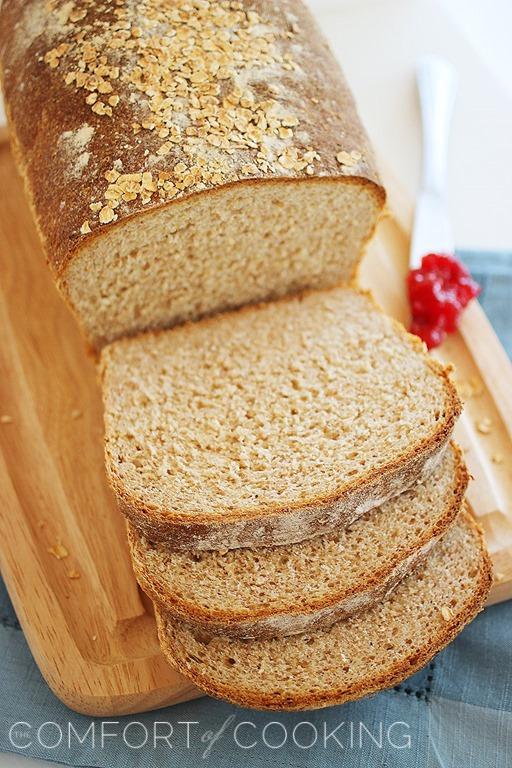 Whole Wheat Honey Oatmeal Bread
Ingredients
1 cup water
1 cup milk, I used skim
2 1/4 teaspoons (1 packet) active dry yeast
2 tablespoons honey
2-1/2 cups whole wheat flour
2 cups bread or all-purpose flour*, I used only bread flour
1 cup rolled oats, plus more for topping loaf
4 tablespoons (1/2 stick) unsalted butter, melted and cooled slightly
1 tablespoon coarse salt (not table salt)
Instructions
Combine water and milk in a microwave-safe bowl; heat 30-45 seconds until warm (about 115 degrees F). Pour into the bowl of a stand mixer. Add yeast and honey. Let sit 10 minutes until yeast is foamy.
Stir in flours, oats, butter and salt. Using a dough hook, knead on medium speed 6 minutes until dough is smooth, elastic and only slightly sticky (alternatively, knead by hand 10 to 15 minutes on a lightly floured surface). Keep dough in bowl and cover with a tea towel. Let rise in a warm place* 1 hour until doubled.
When dough is doubled, punch down and transfer to a lightly floured surface. Press into an 8-by-8-inch square, tuck in sides slightly and roll up into a log. Transfer to a lightly greased 9-by-5-inch loaf pan, seam-side down. Cover with a tea towel and let rise 30 to 40 minutes until dough reaches the edges of the pan.
Heat oven to 400 degrees F (375 degrees F if loaf pan is dark or nonstick). Sprinkle oats on top of risen loaf. Bake 40 to 50 minutes, rotating halfway through baking, until loaf is deep brown on top and sounds hollow when tapped on the bottom. Remove from loaf pan and transfer to a cooling rack to cool completely.
Enjoy!