Hot out of the oven and ready for snacking! Deep dish has gone deliciously mini with these cheesy pull-apart pepperoni pizza bites. Add your favorite toppings and serve for game day, or as a fun twist on a traditional pizza dinner!
Oh, gorgeously golden, soft and gooey pizza bread! How I love you. Dotted with salty-spicy pepperoni, dolloped with robust tomato sauce, sprinkled with mozzarella and fresh parsley. Slid into the hot oven, and the aroma that fills the kitchen as the fluffy bread rises and the cheese bubbles!
It's a magical thing.
One bite of this irresistibly cheesy, soft pull-apart pizza bread, and you'll agree. It is simply the best ever appetizer for cozy fall get-togethers, game days, and family dinners that call for something a little different. I mean, you guys. This is comfort food at its best! So much love for cheese, pepperoni, and bready goodness during the fall and winter months. It's all about family, friends and sharing good food around here… the best stuff in life.
Let's do this!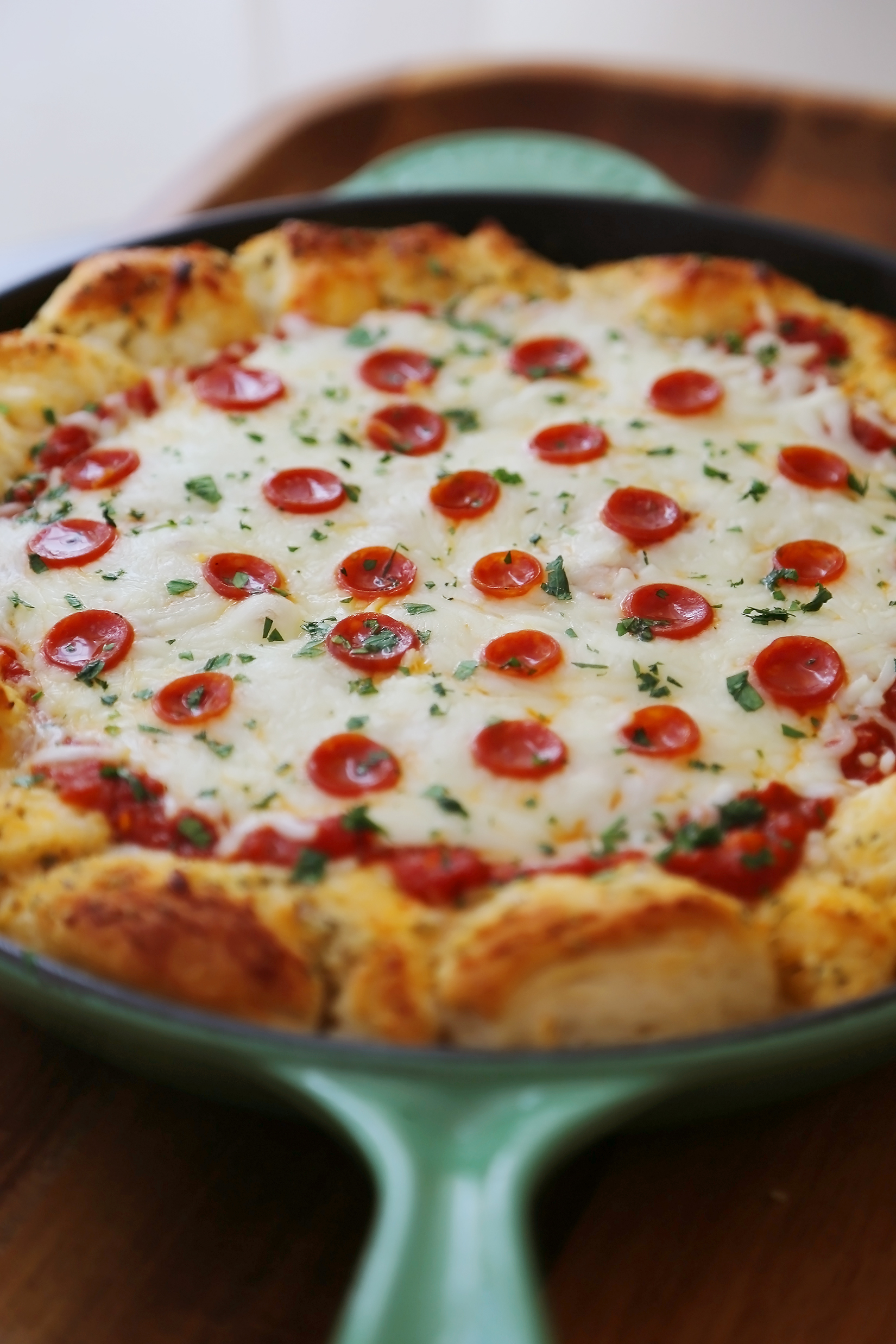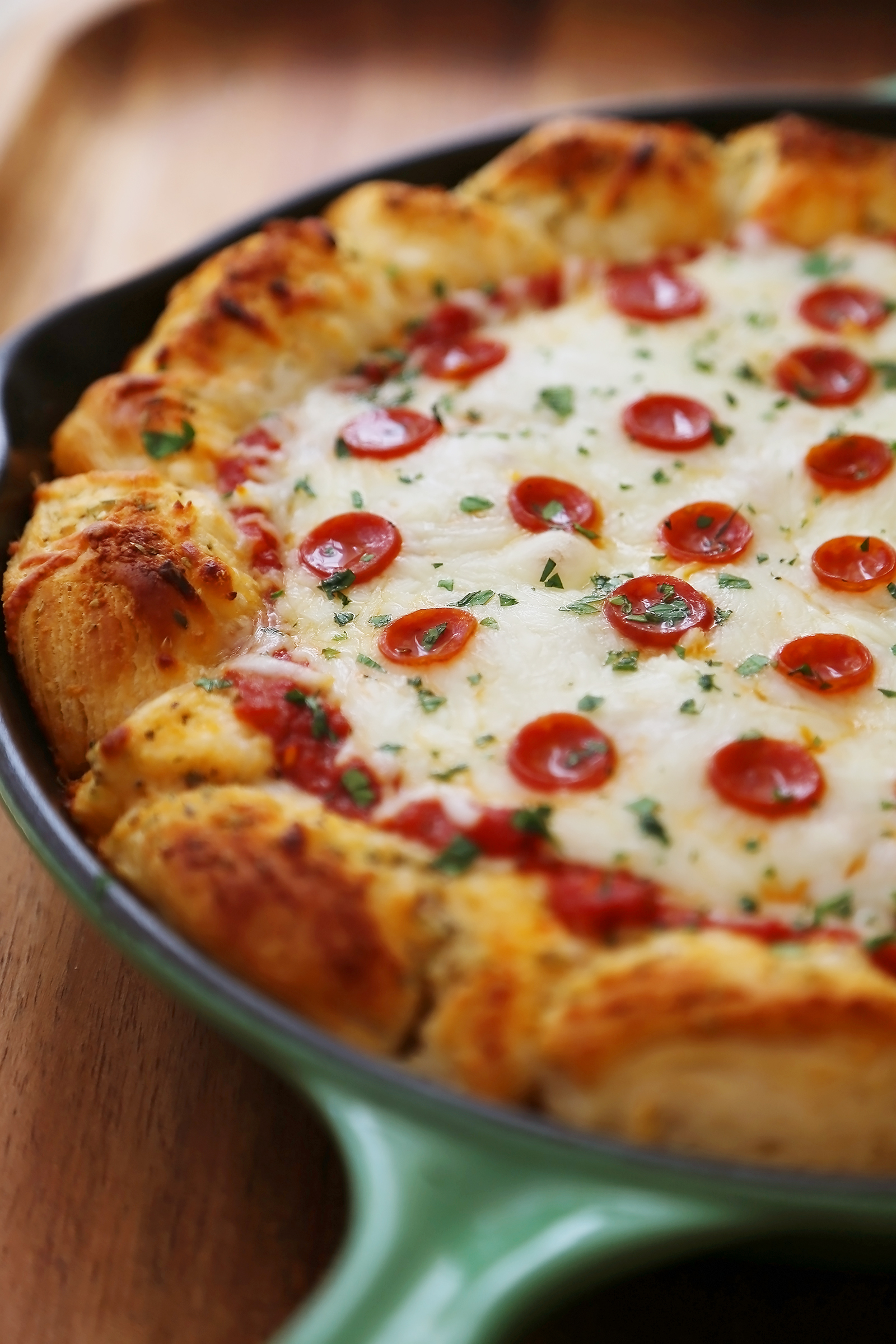 The ingredients and steps are simple!
First, make your garlic butter topping by combining butter, garlic, oregano and Parmesan in a small bowl. Easy, fragrant and the true magic behind what makes this bread so, so good.
Next comes the fun part! Pop open your refrigerated biscuits and cut each biscuit into four pieces. Arrange the pieces tightly together in a greased skillet or baking dish, about 8-10 inches across. Spread on the pizza sauce, sprinkle on the mozzarella, and pop on your mini pepperoni. Set your oven to 400 degrees, slid in your skillet, and let those bites bubble up!
When the bread is risen and the cheese is perfectly gooey, grab your skillet out of the oven and a hungry crowd! Sprinkle with parsley, serve 'em hot and watch everyone go weak in the knees.
You'll love these appetizers so much, you will HAVE to go back for seconds… and thirds! These cheesy pepperoni pizza bites will rule the appetizer table, and no one will believe how easy they were.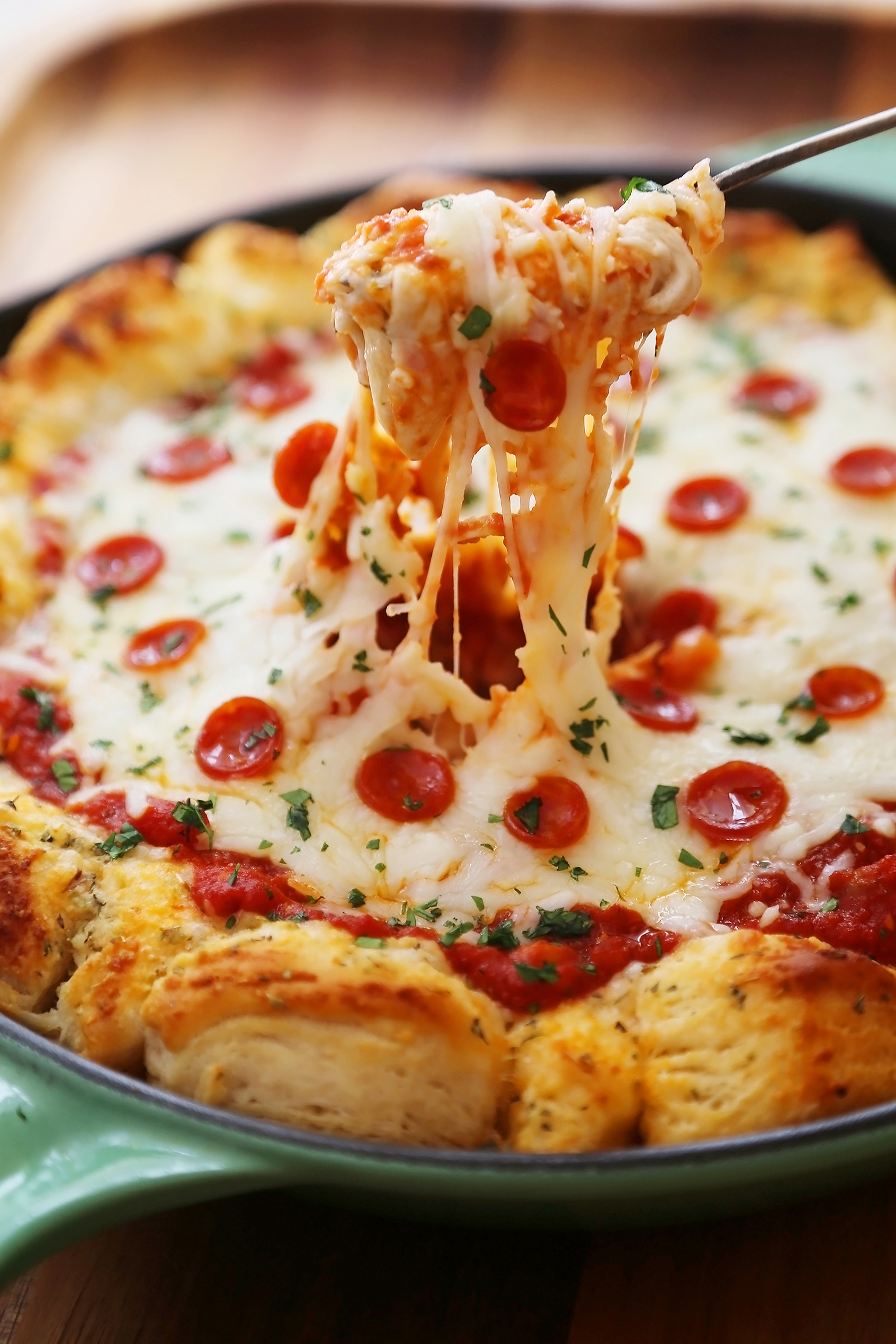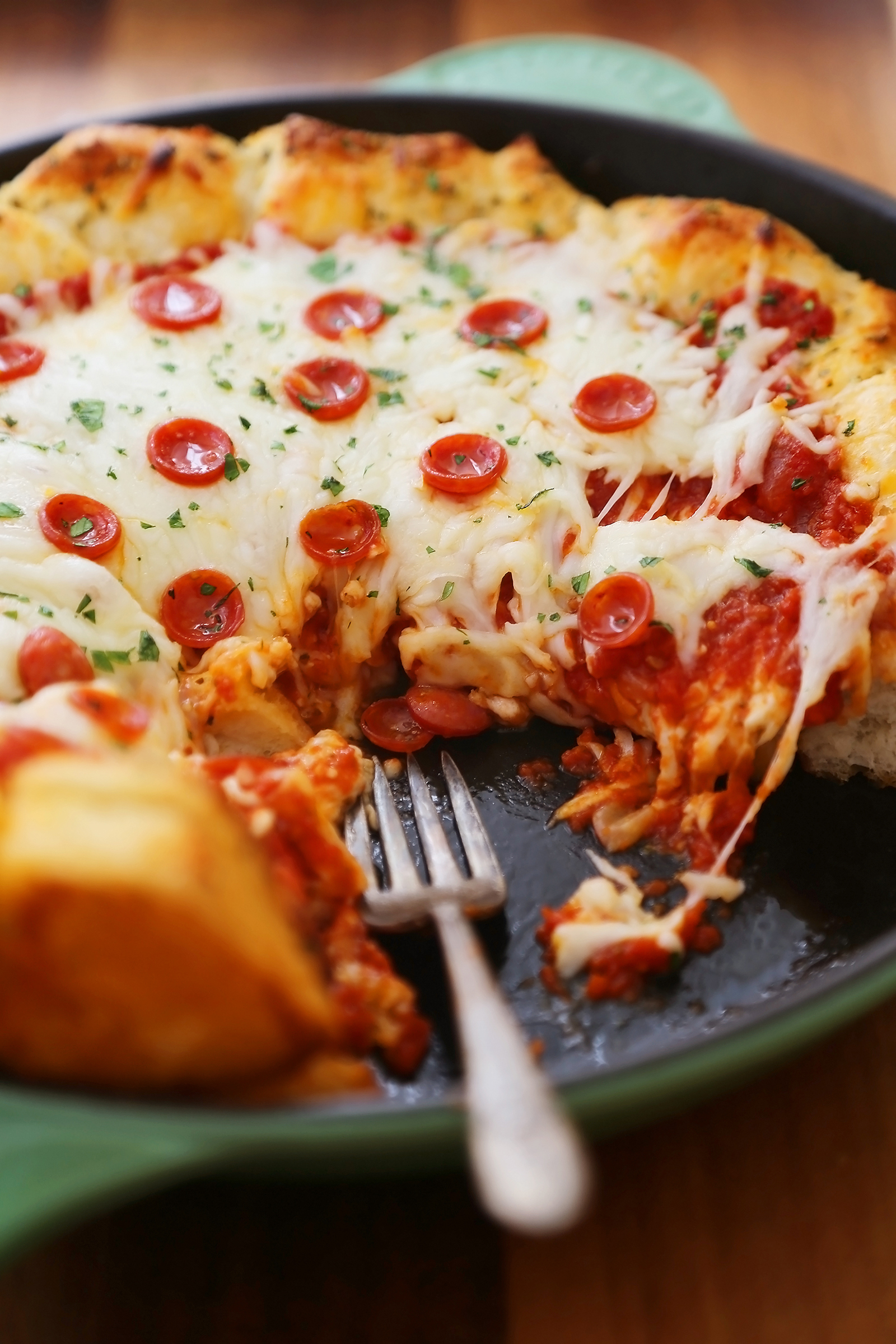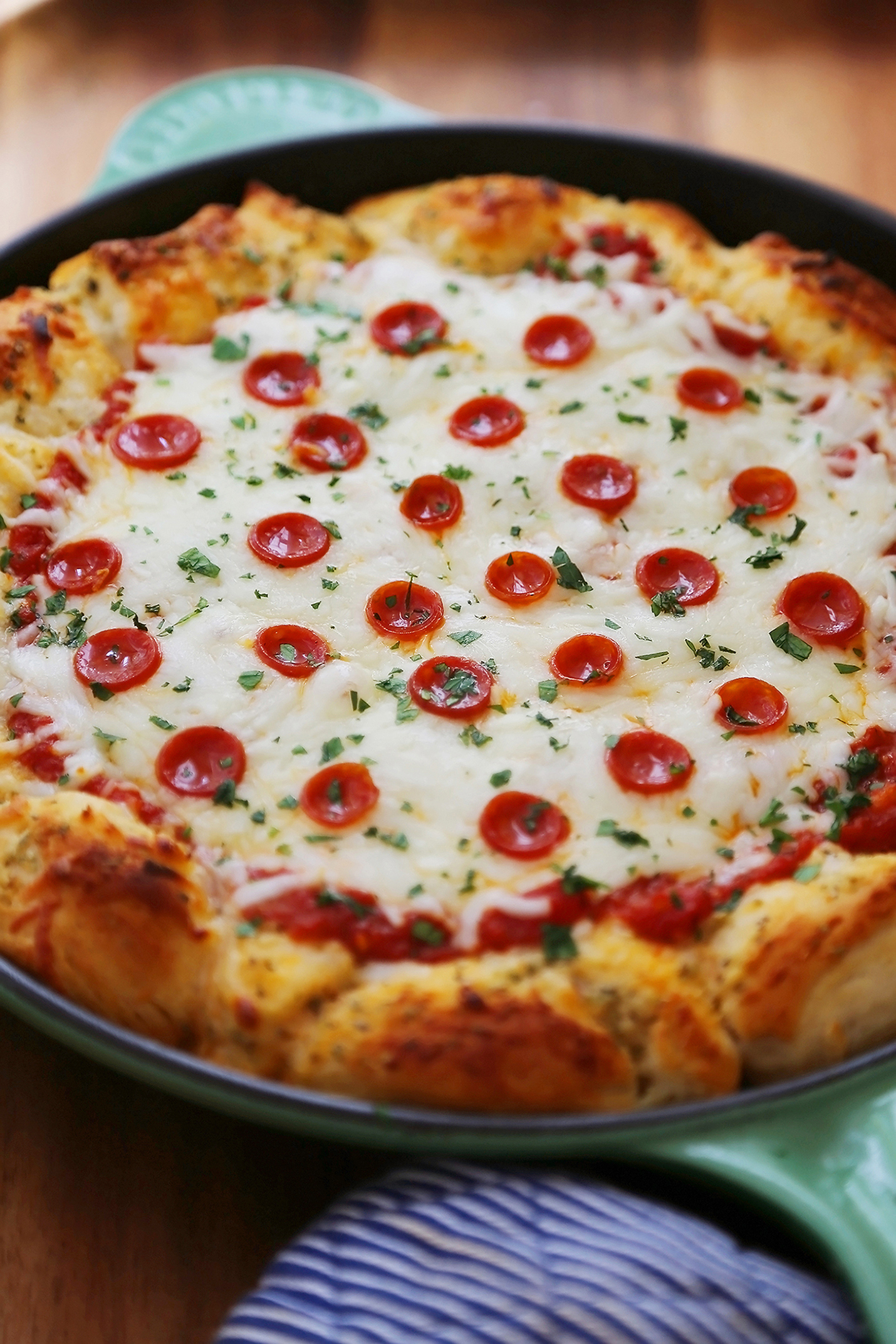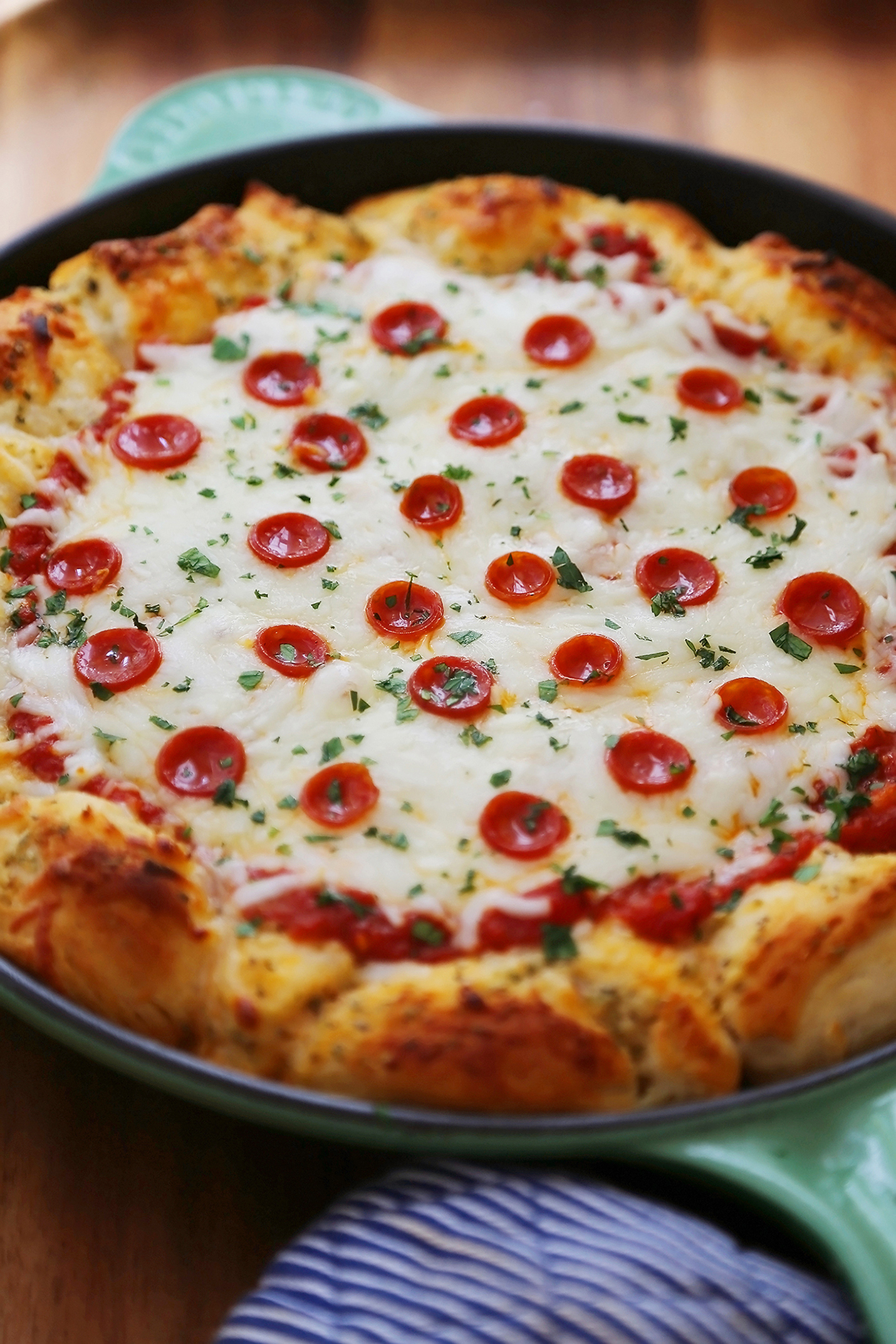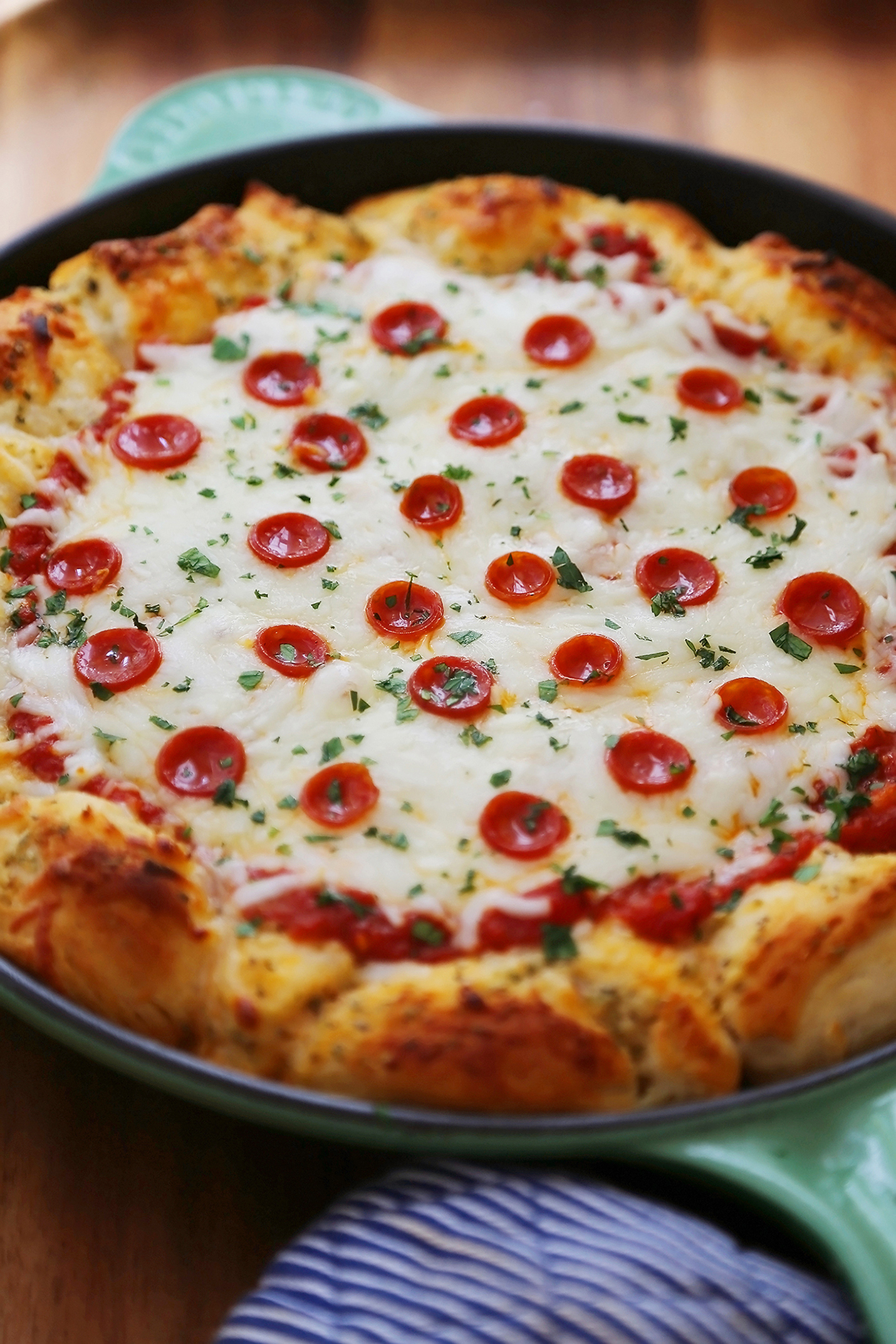 Cheesy Deep Dish Pepperoni Pizza Bites
Ingredients
For the garlic butter topping:
1/4 cup butter, melted
2 Tablespoons grated Parmesan cheese
3 minced garlic cloves or 1/4 teaspoon garlic powder
1/2 teaspoon dried oregano
For the pizza bites:
1 (16 oz.) tube refrigerated buttermilk biscuits
1/2 cup pizza sauce
1-1/2 cups shredded mozzarella cheese
1/4 cup mini pepperoni
2 Tablespoons chopped fresh parsley
Instructions
For the garlic butter topping:
In a small bowl, whisk butter, Parmesan, garlic powder and oregano. Set aside.
For the pizza bites:
Preheat oven to 400 degrees F. Coat a (8-10") round skillet or square baking dish with nonstick cooking spray.
Cut each of the 8 biscuits into 4 pieces, making 32 pieces. Arrange pieces in the prepared skillet, in a single layer. Brush all over with garlic butter topping. Spoon on pizza sauce. Sprinkle with mozzarella and mini pepperoni.
Bake until cheese is melted and bubbly, about 15 minutes. Remove from oven, garnish with parsley and serve hot.
Enjoy!