It's pumpkin season, y'all! This super moist, fluffy pumpkin-banana bread is full of sweet, cake-like goodness and baked easily from scratch. Drizzle with a 2-ingredient vanilla glaze for an elegant finish. Perfect for gifting or enjoying for breakfast, brunch or dessert!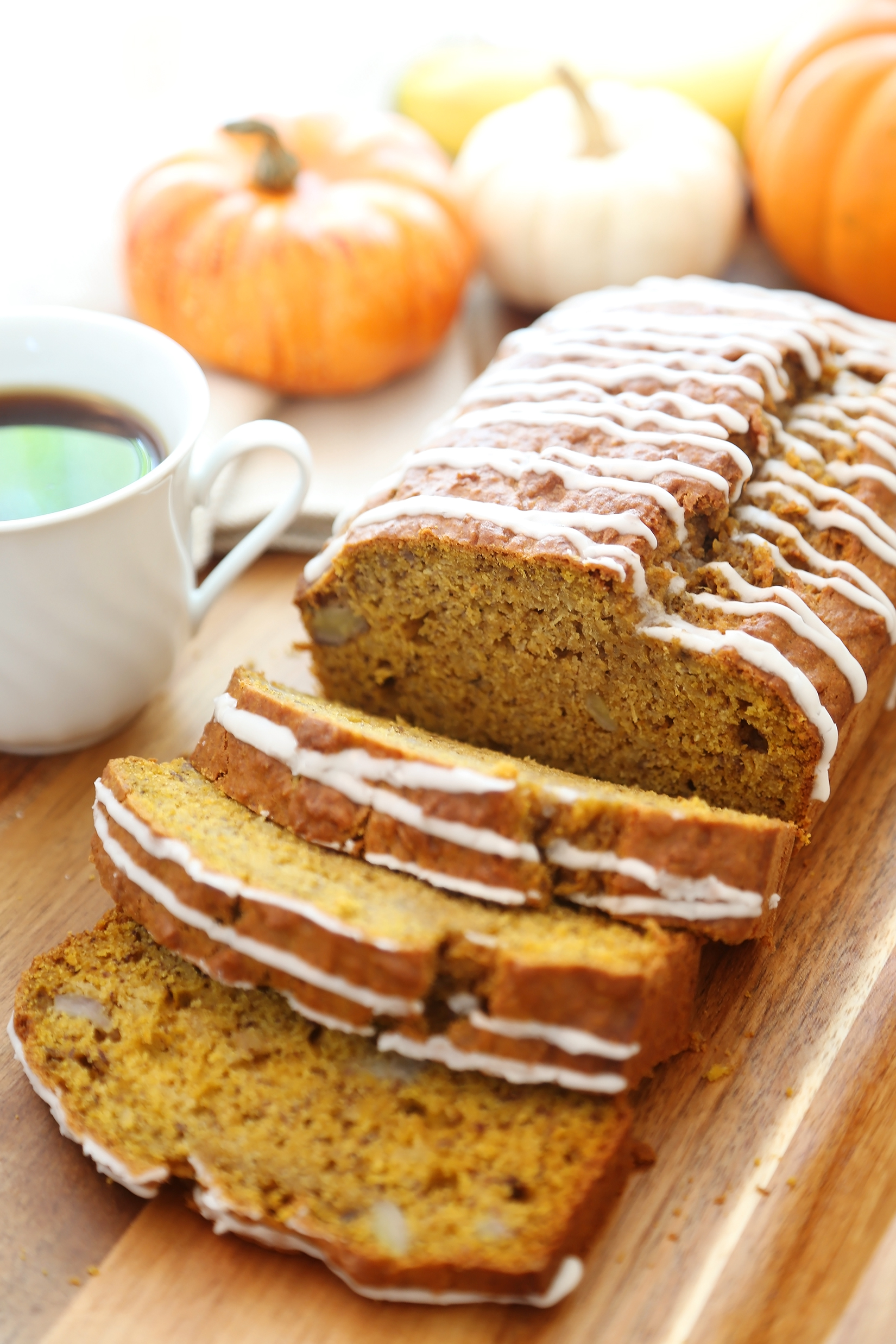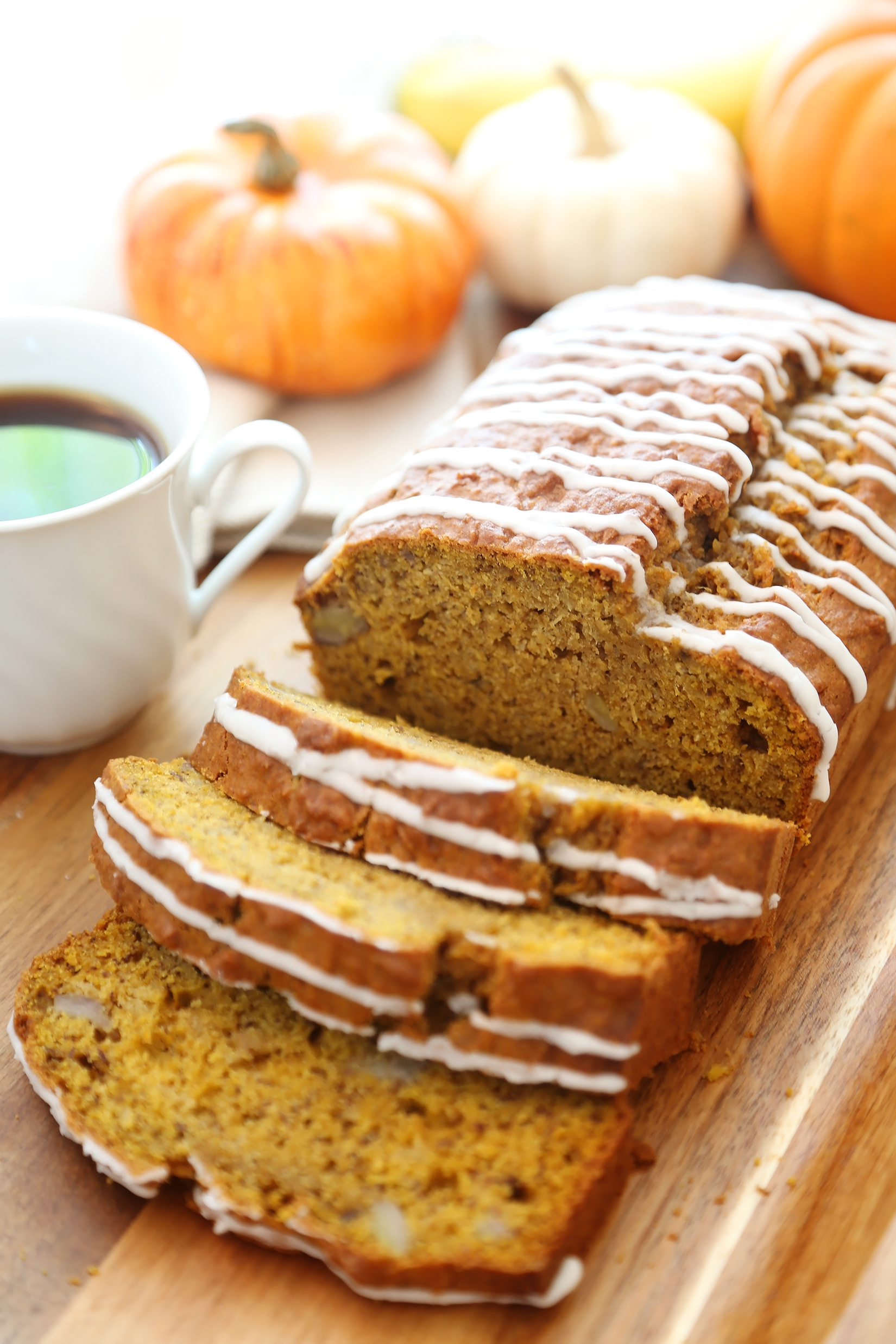 It's two o'clock in the afternoon on an autumn afternoon. I live in New England now, I'm realizing after four months.
I've been writing to you from the warmth of my squishy bed, nestled inside my favorite blanket, clutching a cup of gingerbread tea to warm my hands. The leaves are blazing with shades of fiery red and yellow, twisting softly down to Earth and dampening in the soft grass. My sweet new puppy is laying at my feet, tired from this morning's play. The sound of rain tapping gently on my windows has inspired a sense of ethereal calm, and it's got me thinking we should stay in for dinner. Warm up the house with a tender roast and potatoes, hot cocoa for dessert, then dishes and playing on the floor with the puppy. The usual good stuff. Then it's bath time for my little girl, pajamas for all, reading books, and gloriously, back into my warm bed. This calm yet wild, delicious life is what I live for. As reluctant as I am to get out of bed most days, my people (and animals) make it well worth it.
The next morning, the aroma of freshly baked pumpkin-banana bread is the first sight and smell to welcome me downstairs. I snag a slice from the cake stand. Chasing each super-moist morsel with a swig of hot vanilla coffee – a true necessity with a new puppy – I am warmed to the core and my hair is a tangled mess, but I am ready for the crazy.
I've been waking earlier than usual, which has allowed me moments like this. Moments to tend to myself first, and then everyone else and what they need. Even 15 minutes extra has been tremendously therapeutic, for doing a little makeup, sipping coffee while the house is still asleep, answering emails and snuggling the pup (let's be real, I can choose one of those me-time activities per morning!). For those minutes, I am thankful. I'm also thankful for treats like this pumpkin-banana bread to wake up to.
Um, hello beautiful!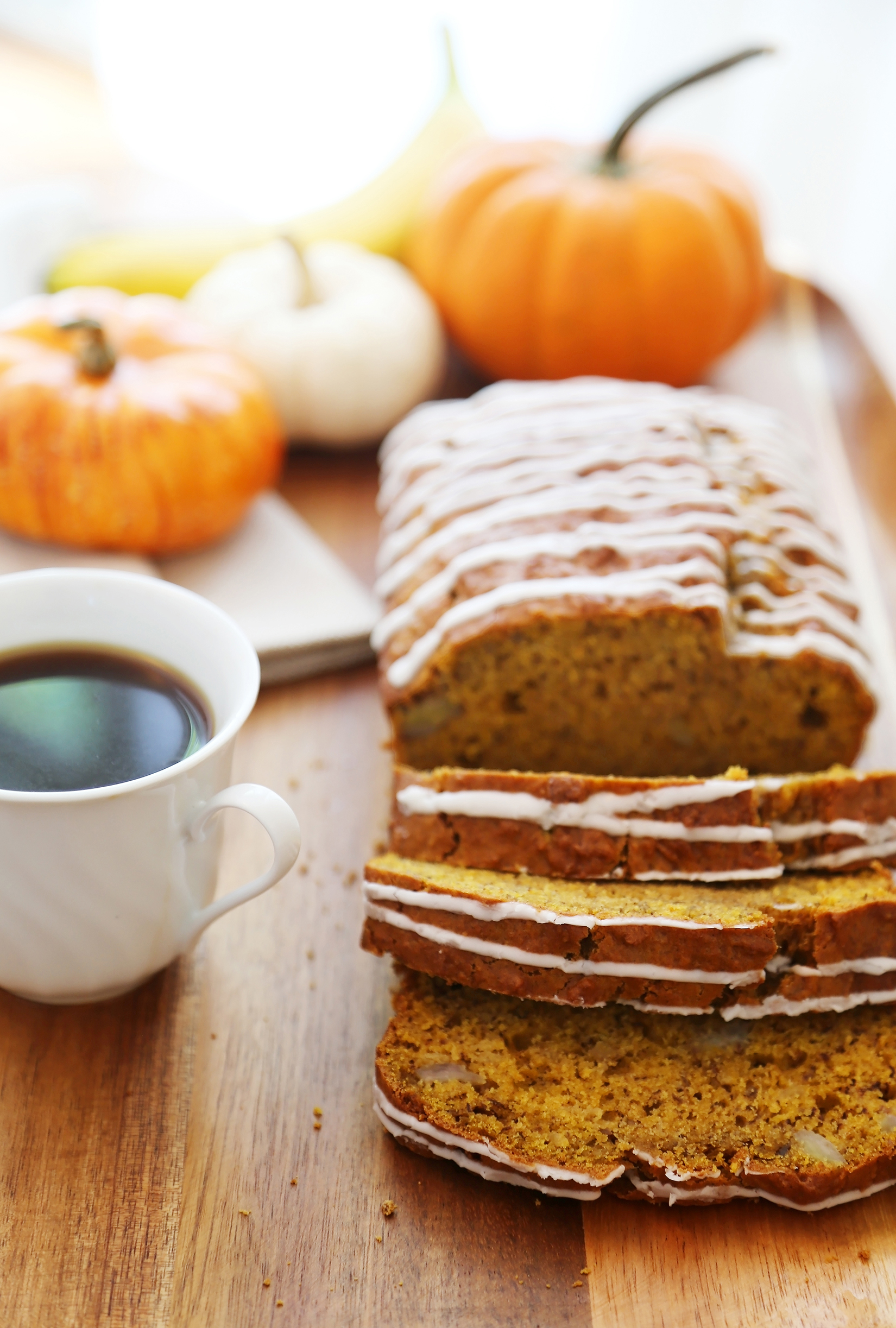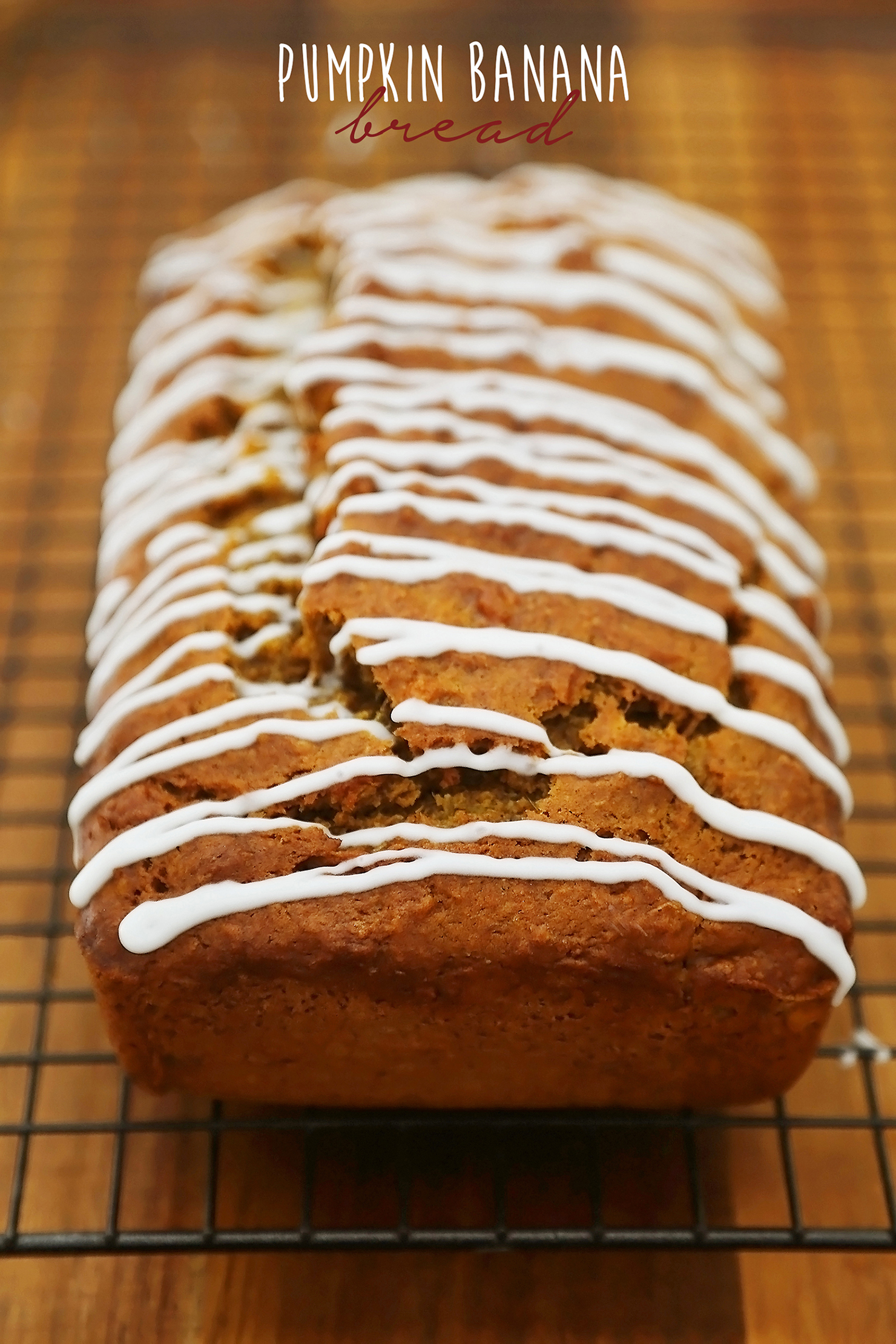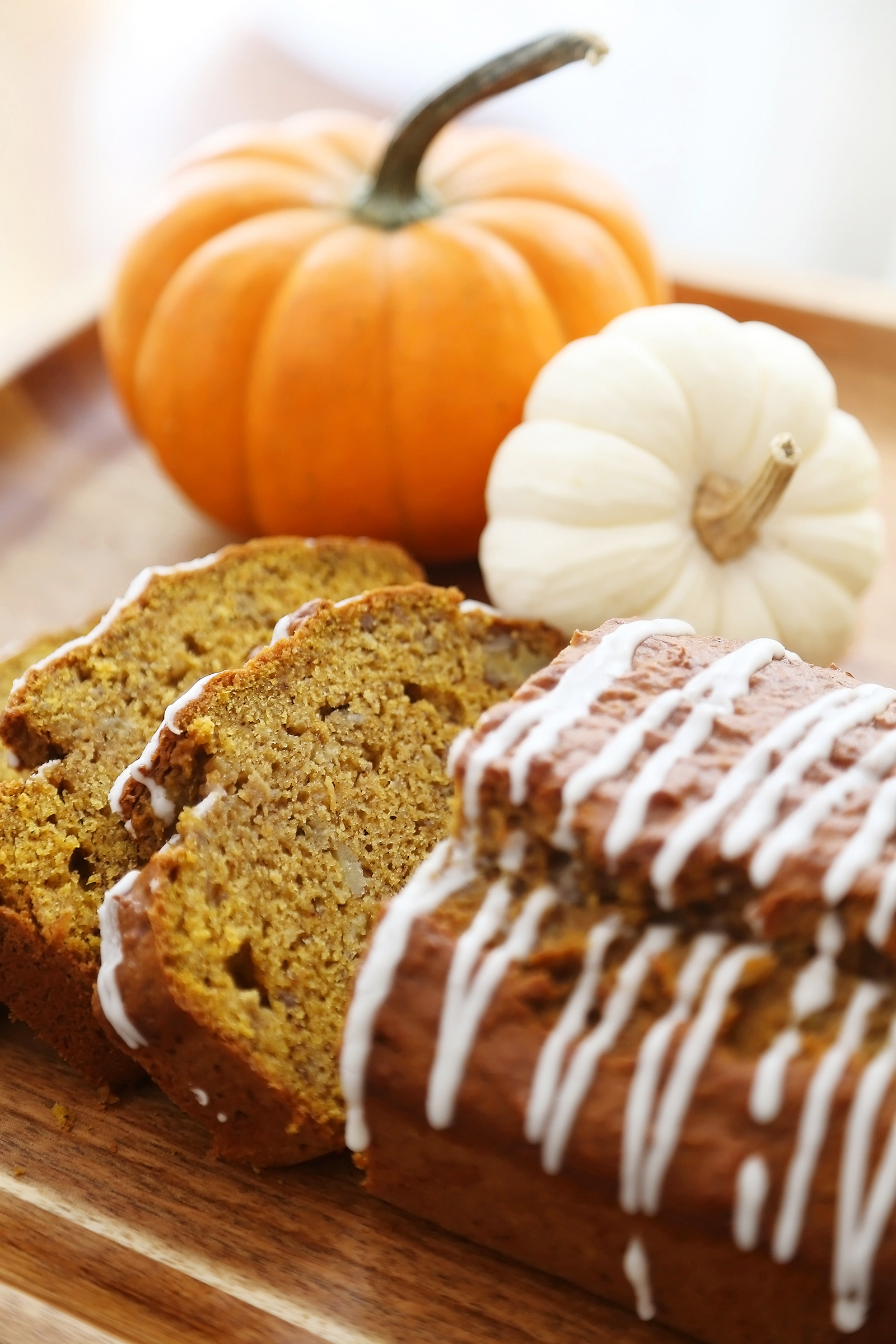 When I found this recipe on Bridget's guest post at The Pioneer Woman, the closet pumpkin-spice-lover in me flipped! My Southern husband is a big time lover of banana bread, and I adore pumpkin desserts, so this recipe was calling to me. Pumpkin bread has been on my must-try list for ages, but I have always been curious to combine it with banana for an extra moist spin with added flavor.
The verdict? Amazing! This recipe, which makes two loaves (hello, gifting) turned out the most fragrant, soft and cake-like pumpkin bread I've ever had. So moist and crumbly, melting in your mouth but holding up well enough to be dunked into a hot coffee. With a quick vanilla glaze drizzled on top, this amped-up banana bread was both delicious and elegant. I was in pumpkin-banana bliss!
The ingredients are plentiful, but basic, and turn out a very flavorful pumpkin-banana bread. Simply combine your dry ingredients (flour, baking soda, salt, baking powder, cinnamon, nutmeg, ginger and cloves) in a bowl. Mix your sugars, oil, eggs, pumpkin and banana in a separate bowl. Blend them together, and watch a happy marriage of deliciousness materialize! You have enough here to bake two loaves, or bake one and freeze the batter for a second.
The aroma when it comes out of the oven is nothing short of blissful! Those rich fall spices and the mound of freshly baked, risen bread will beg you to steal a crumb off the edge. Pro tip: Cut a slice while it's hot enough to melt a pad of butter on top, and shake with a little cinnamon.
Get living your best autumn life, and bake this bread, I beg you! You will love this pumpkin-banana bread, so share it with the ones you love, and let me know how yours turns out.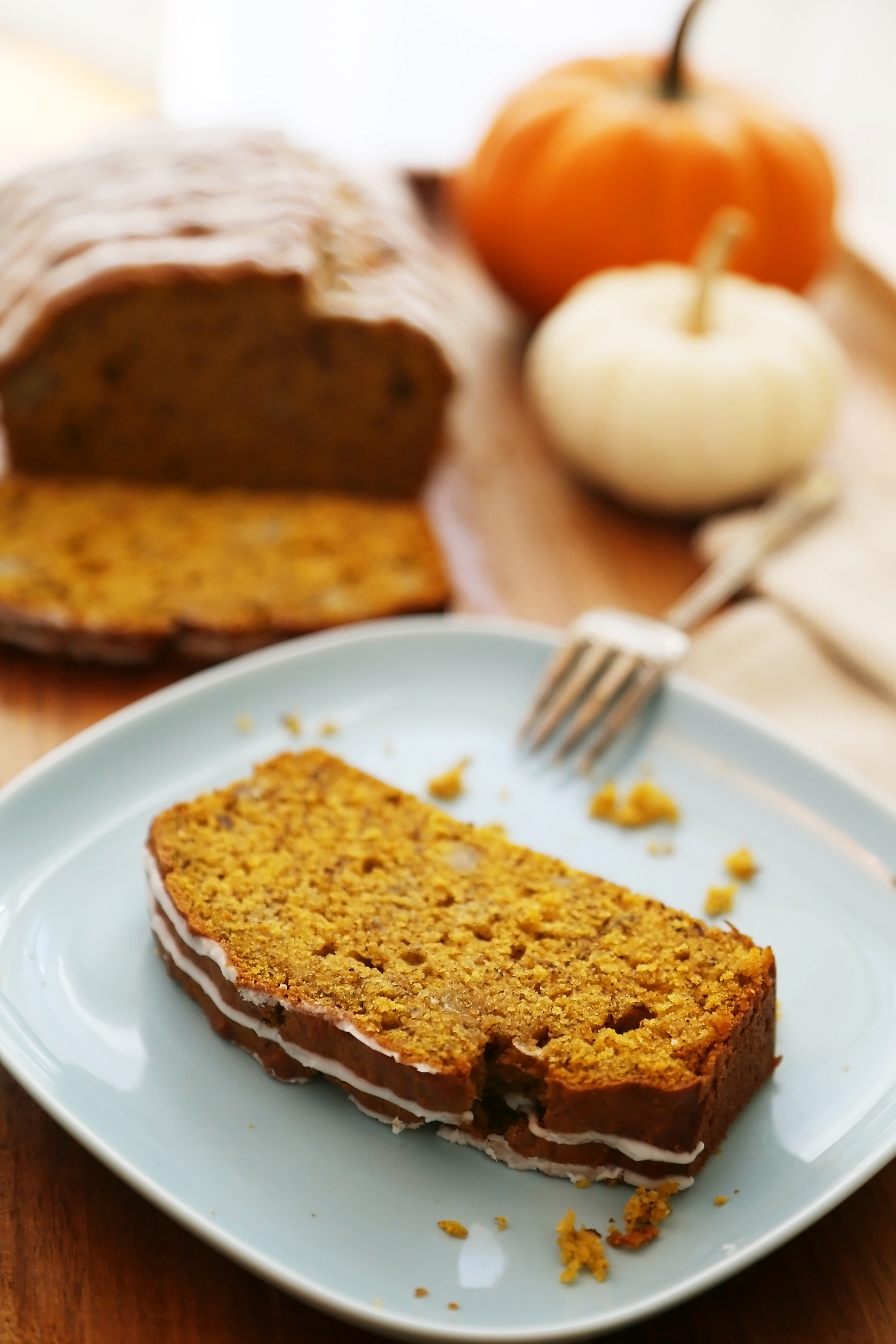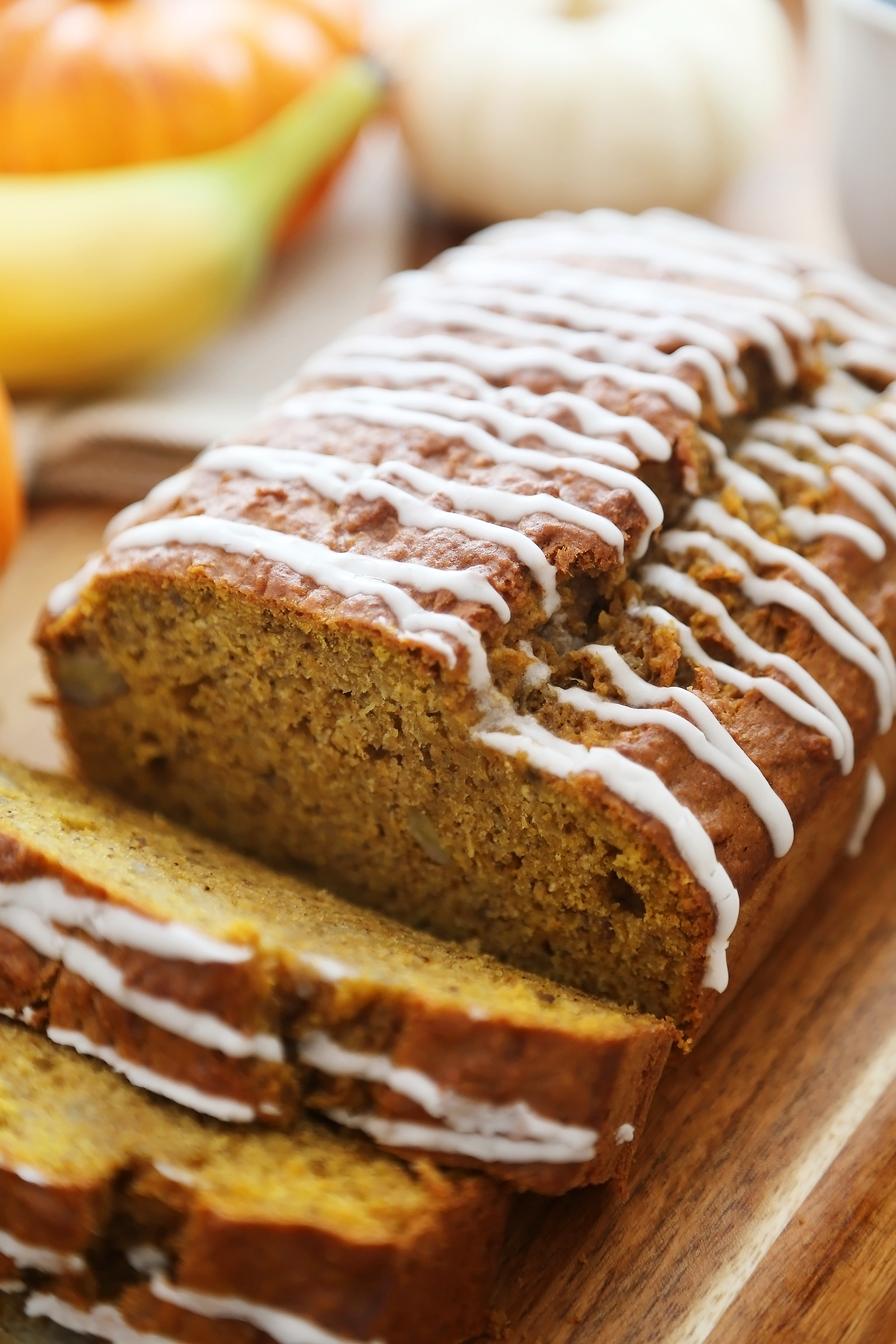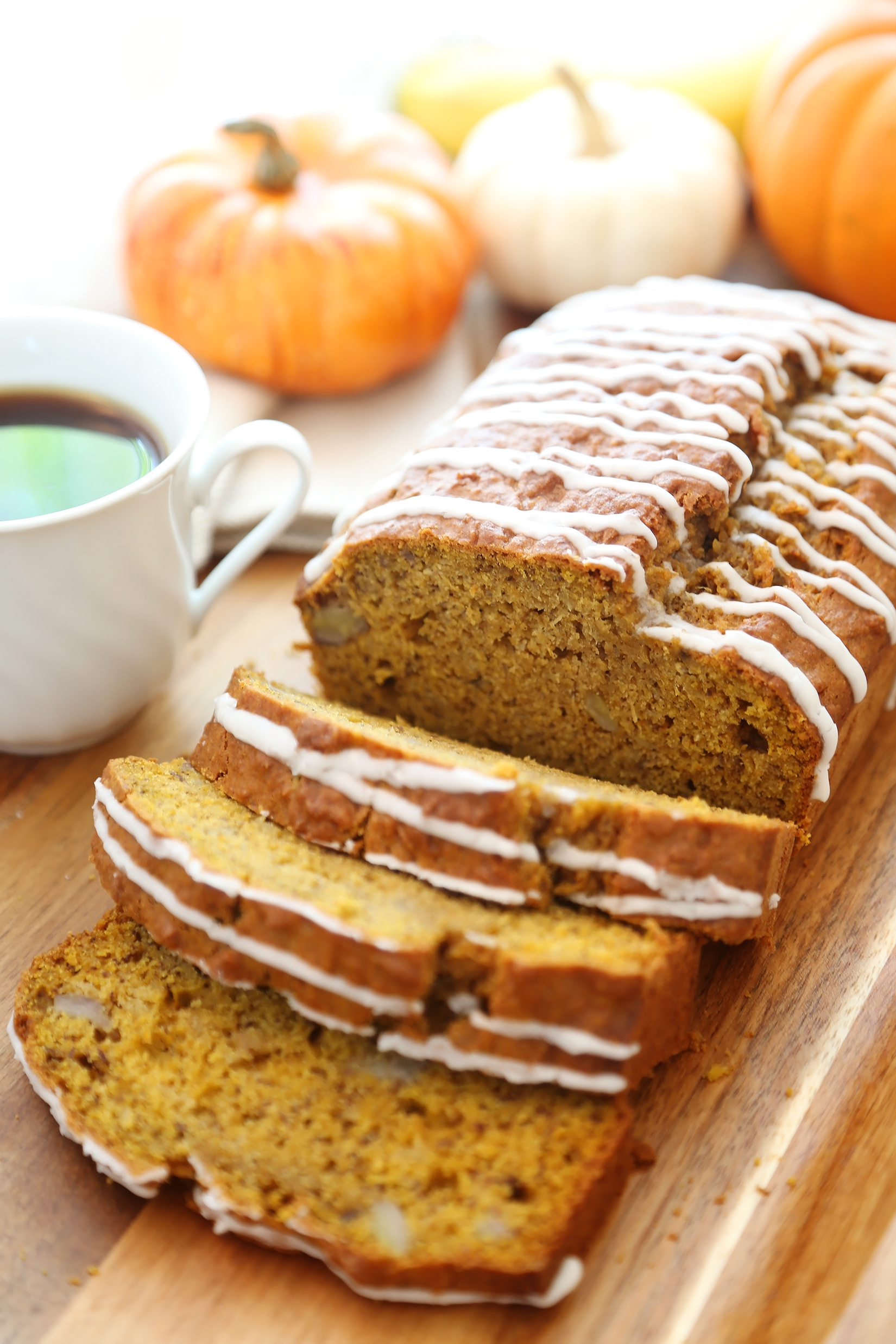 Pumpkin Banana Bread with Vanilla Glaze
Ingredients
Nonstick cooking spray
3 cups all-purpose flour
2 teaspoons baking soda
1 teaspoon kosher salt
1/2 teaspoon baking powder
1-1/4 teaspoon ground cinnamon
3/4 teaspoon ground ginger
1/2 teaspoon ground cloves
1/4 teaspoon ground nutmeg
1 cup granulated sugar
1/2 cup light brown sugar
2/3 cups vegetable oil
3 large eggs
1 cup canned pumpkin puree
1 cup mashed ripe banana (from 3-4 medium bananas)
Instructions
Preheat oven to 350 degrees F.
Coat two loaf pans with nonstick cooking spray. Lay a strip of parchment paper lengthwise down the loaf pan, to help with easy bread removal.
In a large bowl, whisk flour, baking soda, salt, baking powder and spices together. In another bowl, beat sugars, oil, and eggs until combined. Add pumpkin and banana; mix well. Stir in flour mixture.
Divide batter evenly between pans. Bake for 45-50 minutes, or until a toothpick inserted in the center comes out with a few moist crumbs. If the tops are browning too much, tent loosely with foil.
Let bread cool in pans for 5 minutes. Lift parchment paper flaps to bread to remove from pans. Let loaves cool completely on a wire cooling rack, before drizzling with vanilla glaze (recipe in notes - optional).
Serve warm or at room temperature. To store, wrap bread in foil and refrigerate, or leave room temperature.
Enjoy!
For the vanilla glaze:
Whisk 1 cup sifted powdered sugar and 3 Tablespoons heavy cream in a bowl. Add tiny drops of water or vanilla extract to thin to desired consistency.