Try these fun, delicious Asian beef lettuce wraps for a fresh and healthy twist on your usual menu!
Apart from being a shrill, shouting TV chef, Gordon Ramsay has long been a big influence in my cooking. The softer side of him is evident in many of his Britain based shows. In my new favorite, Ultimate Cookery Course, he highlights his love of simple, flavorful ingredients and the amazing meals they make. Watching it makes me want to gnaw my arm off, but hey, it's a good way to get inspired!
In a recent episode, he stirred up some Asian beef lettuce wraps that got both me and the mister drooling! They were sweet and spicy, fresh and tangy, and just what we needed to balance all the comfort food I've been cooking up.
Here's what ya gotta do… Into a sizzling hot pan, toss in bell peppers and onions, add in the beef and get it nice and browned. Slip in a scrumptious combination of garlic, soy, hoisin and chili sauces, rice wine vinegar and fragrant fresh ginger.
The aroma is amazing! Commence arm gnawing.
Pile it high in a big bowl and plop it in the center of a bunch of crisp lettuce leaves. Serve it with a bowl of your favorite rice and you have yourself a mouthwatering dinner… and leftovers for lunch! These lettuce wraps make for a delicious way to switch up a mundane menu and inspire you to cook with simple yet exotic flavors!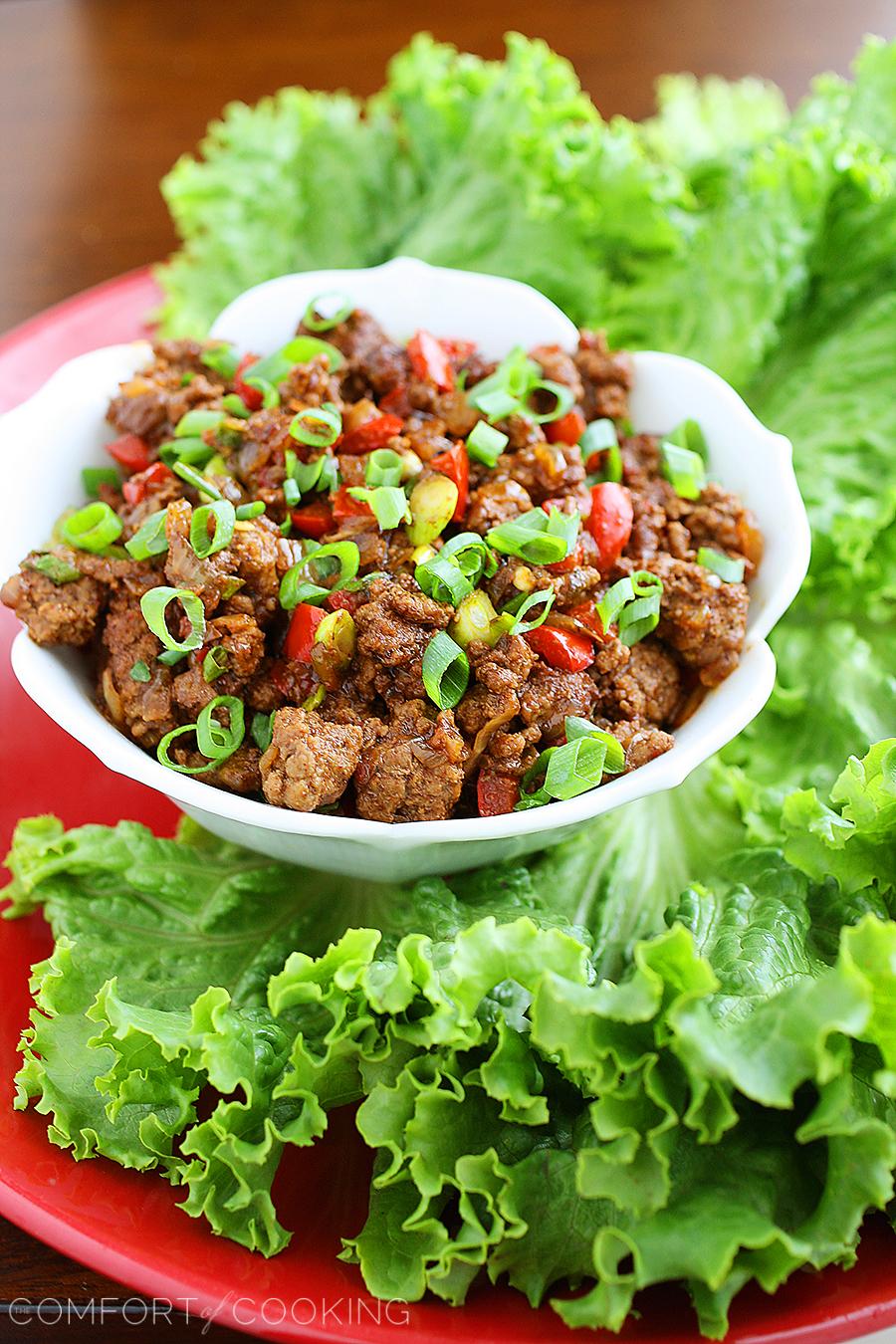 Asian Beef Lettuce Wraps
Ingredients
12 leaves lettuce, iceberg, romaine, Boston or green leaf
1 tablespoon vegetable oil
1 red bell pepper, seeded and diced
1 yellow onion, diced
1 lb. ground beef
1/4 tsp. each salt and pepper
2 garlic cloves, minced
1 tablespoon soy sauce
1/4 cup hoisin sauce
1-2 Tbsp. chili sauce, such as Sambal Oelek*
1 teaspoon ground ginger
1 tablespoon rice wine vinegar
1/2 Tablespoon honey
4 green onions, chopped
Instructions
Gently rinse lettuce leaves and pat dry, careful not to tear them. Set aside.
In a large nonstick skillet, heat oil over high heat. Add bell pepper and onion, cook 3 minutes. Add ground beef and cook 5 minutes, breaking up with a wooden spoon. Drain grease and return pan to stovetop; reduce heat to medium. Season with salt and pepper. Stir in garlic, soy sauce, hoisin and chili sauces, ginger, rice wine vinegar and honey. Cook until sauce has thickened, 3-4 minutes. Stir in green onions.
Spoon meat mixture into a medium bowl and place on a large serving platter. Arrange lettuce leaves around the bowl and serve.
Enjoy!