These crispy sweet potatoes make a scrumptious and elegant side that's a cinch to make! Shallots tucked in between the layers make this dish extra aromatic and full of flavor. The perfect healthy compliment to a hearty winter meal!
Yesterday was not a weeknight meal cookin' kind of a day. It was a I'm-making-Christmas-cookies-til-I-drop-dead kind of a day, because I'm sick, and mothering while sick has to be one of the hardest. things. ever. So, I felt sorry for myself and made cookies. A lot of cookies. Like, four different types. Only to give them away to my friends.
Want to be my friend?
The night before, my savory cravings got the best of me, and I did somehow convince my husband to risk life and limb while working these sweet potatoes on the mandolin. And, somehow, he wrangled the Kitchenaid out of my hands and forced me down for a meal!
I tell ya, that guy's a keeper.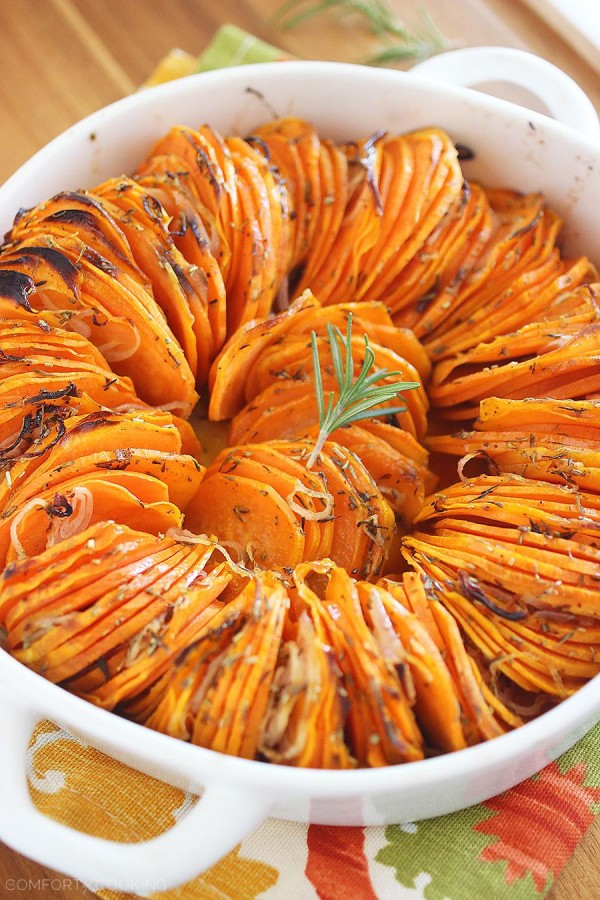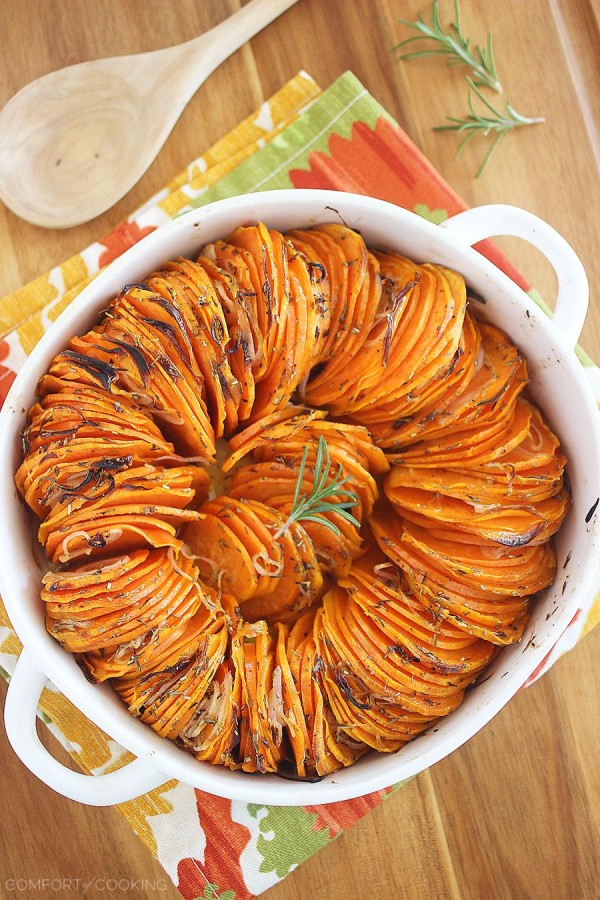 I'm so glad he did (and so glad he picked up a roasted chicken on the way home, so that our main course wasn't salted caramel cookies)! This sweet potato dish is not only scrumptious and super fragrant, it's incredibly easy to make. No cooking, no fuss. Just slice up your potatoes, arrange in your dish, and slather those beautiful layered buds in buttah! Well, butter, olive oil and rosemary. The essential wintertime trio!
I consider this the super-sized version of my Crispy Parmesan-Rosemary Sweet Potato Stacks. Both are so fun to make and full of hearty, healthy goodness. The potatoes are tender on the inside, with buttery-crispy edges and the delicious fragrance of rosemary and shallots.
This sweet potato dish is a must for your holiday table, and any weeknight meals in between that call for something unique and special!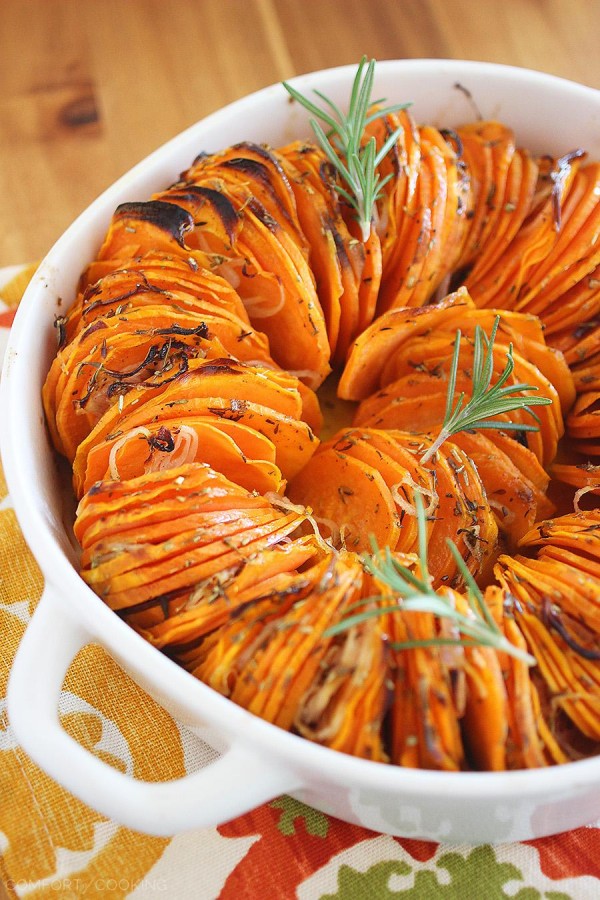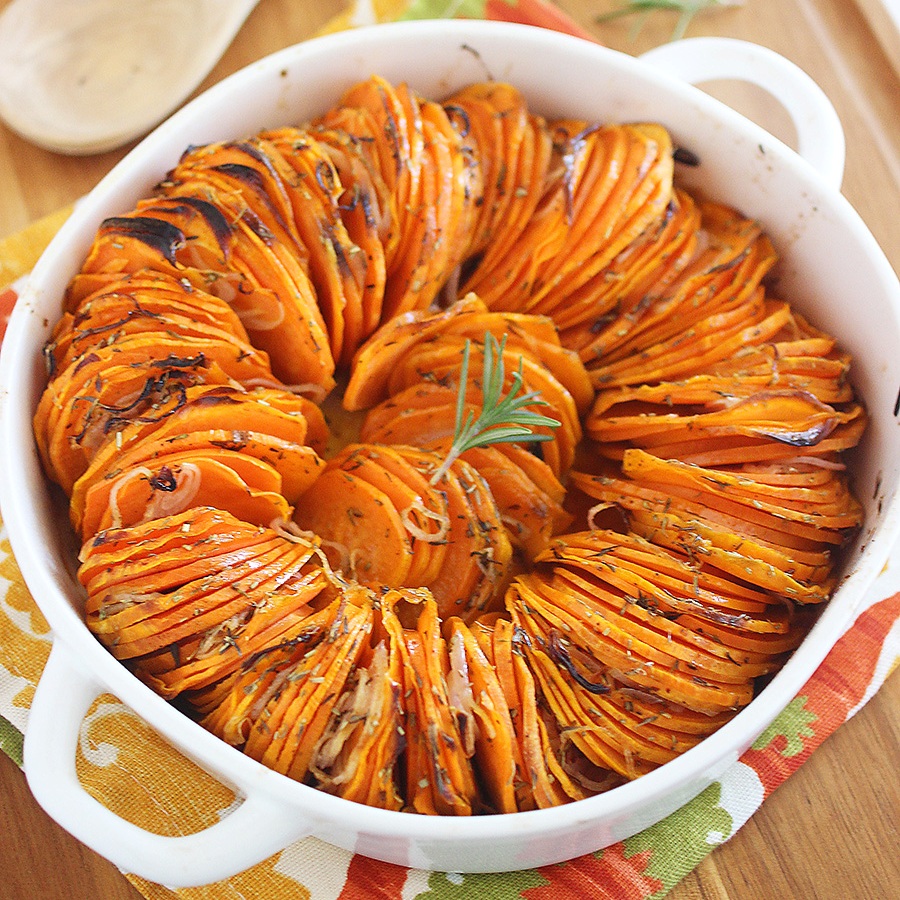 Crispy Roasted Rosemary Sweet Potatoes
Ingredients
3 Tablespoons butter, melted
3 Tablespoons olive oil
1/4 teaspoon crushed dried rosemary, or 1/2 tsp. fresh
3 lbs. 3-4 medium sweet potatoes, peeled and sliced thinly
1 shallot, peeled and sliced thinly
Kosher salt and freshly cracked black pepper, to taste
Instructions
Preheat oven to 400 degrees F.
Combine melted butter, oil and crushed rosemary in a small bowl. Pour 2 tablespoons of butter-oil mixture in the bottom of a 2-quart baking dish. Arrange potato slices vertically in the dish. Add a sliver of shallot between every few slices of potato. Brush top with remaining butter-oil mixture. Season generously with salt and pepper.
Cover dish with foil and roast for 1 hour, covered, until potatoes are tender (If your potato slices are thicker than shown, you may need to increase cooking time). Increase oven heat to 450 degrees F. Remove foil and roast another 10-15 minutes, until tops of potatoes are browned and crisp.
Enjoy!