These crisp, buttery Parmesan-rosemary sweet potato stacks are SO delicious and only need 4 ingredients! Cook them for a fun weeknight side dish, or serve them as a unique part of your Thanksgiving menu.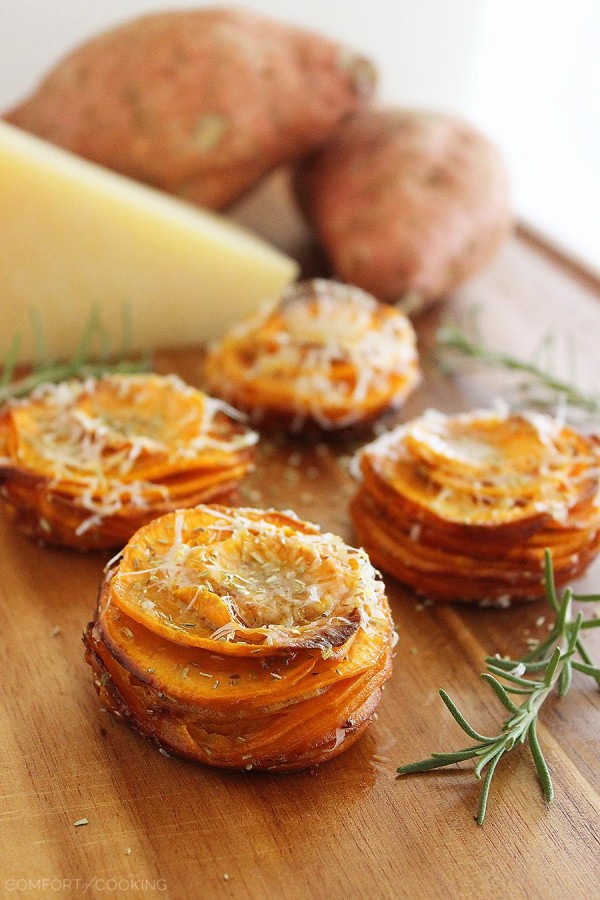 I'm the biggest fan there is of classic Thanksgiving comfort foods. Give me fluffy mashed potatoes, tangy cranberry relish and a perfectly crisp turkey any day! I dream of the sausage stuffing. I plan the menu months in advance. I live for the leftovers. And I'm dying to dress my baby in a little turkey costume.
What? It's her first Thanksgiving! And it's one of my favorite holidays of the year. Just in case that wasn't already crystal clear.
That's not to say I don't like to switch things up once in a while. And sweet potatoes are one of my favorite food canvases to play with!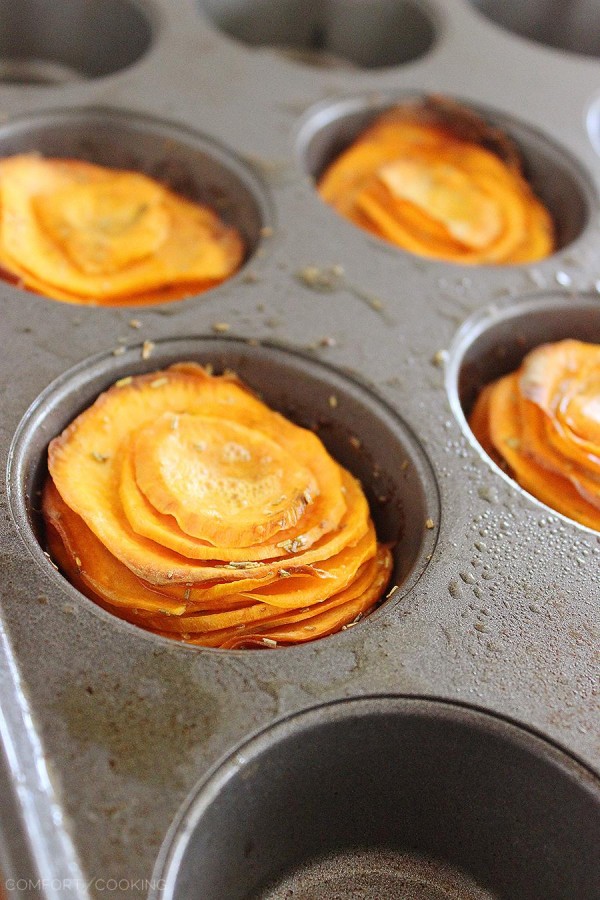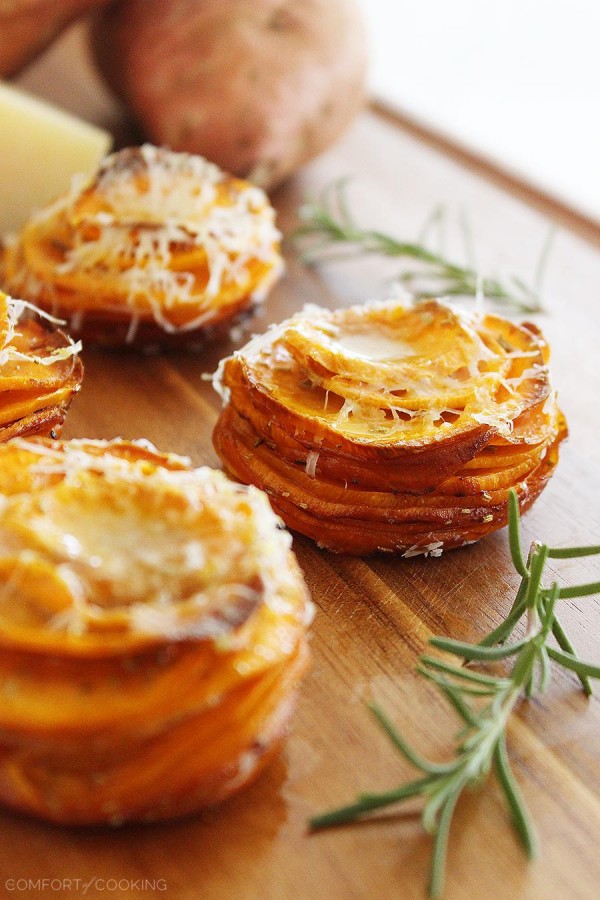 These crisp, buttery herbed sweet potato stacks were so fun (and easy) to make! I can totally see myself serving them alongside our next Thanksgiving feast, and on the side of more cozy weeknight meals. All you need are 4 ingredients, plus a pinch of salt!
Just thinly slice a couple sweet potatoes, using a mandolin (CAREFULLY… sorry, I'm a mom, I have to say that) or a sharp knife (I mean it, please don't hurt yourself). Then toss them in a mixture of melted butter, Parmesan and chopped rosemary. You can even add some minced garlic or crumbled bacon. Stack them up in a 12-cup muffin tin and bake until the potatoes are tender and the edges are crispy. Sprinkle on some more Parm and rosemary, and voila! Fall side dish perfection that serves 6.
Dig in!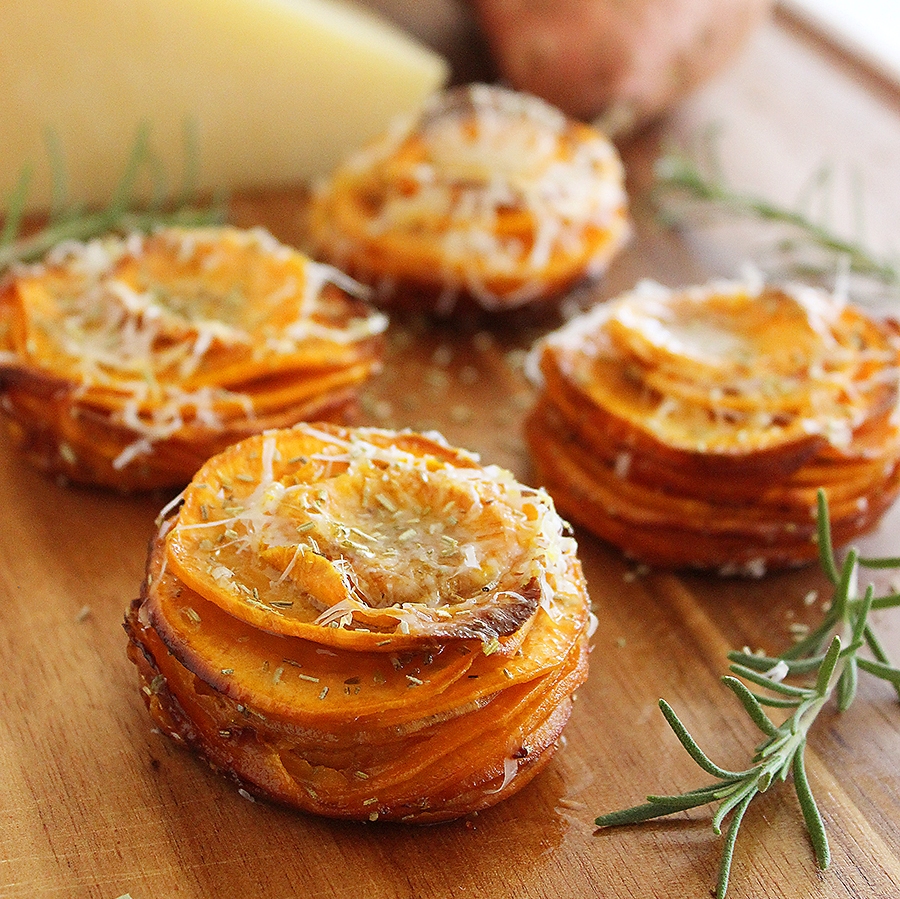 Crispy Parmesan-Rosemary Sweet Potato Stacks
Yield:
12 stacks / 6 servings (2 each)
Ingredients
2 medium sweet potatoes, thinly sliced
3 Tablespoons butter, melted
2 Tablespoons grated parmesan cheese, plus more for garnish
1 teaspoon fresh chopped rosemary or 1/4 teaspoon dried, plus more for garnish
Kosher salt
Instructions
Preheat oven to 375 degrees F. Coat 12 standard-sized muffin cups with nonstick cooking spray.
Thinly slice sweet potatoes (a mandolin makes this easy). In a large bowl, whisk together butter, Parmesan and rosemary. Add sliced sweet potatoes and toss to coat evenly. Layer potato slices into muffin pan and fill to the top. (They will shrink down as they cook.) Sprinkle with salt.
Bake for 45-55 minutes, depending on thickness of your sweet potatoes, until edges and tops are golden brown, and potatoes are tender.
Let cool for 5 minutes before removing with a spoon. Top with additional Parmesan and rosemary. Serve hot.
Enjoy!