Bake a batch of caramel-filled thumbprint cookies to give to someone special! They're adorable, delicious and easier to make than you may think. Chopped pecans make the perfect pretty coating!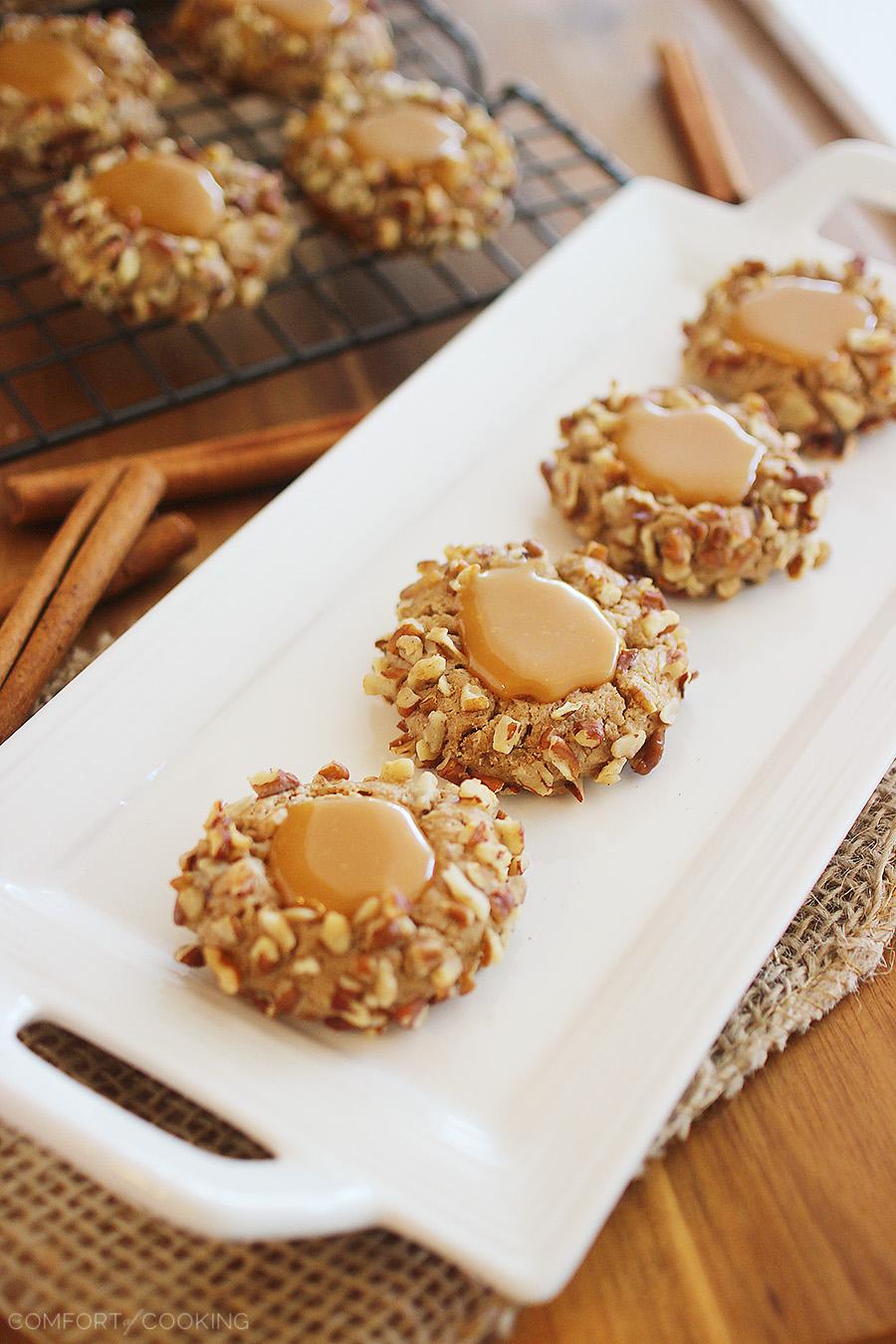 The sweltering Texas summer may have proved difficult for us with a newborn, but the winter is shaping up wonderfully. The tree is trimmed, the house is decorated, and I have a lovely little helper in the kitchen. And by helper, I mean she bangs together measuring cups and tips the flour canister on the floor.
Even though it's all "happening" – you know, the decorating and baking and jolly fa-la-la-ness, I've been getting into the Christmas spirit more slowly this year. I think it's because I've anticipated the season SO MUCH since Lily was born, and now it's here. Christmas. In the blink of an eye. And it's very hard to believe. Time seems to slip away so much faster when you have a baby.
But, we're cherishing her baby days and making our first warm winter memories. Including staying in our pajamas all day and baking lots and lots (did I mention lots?) of cookies.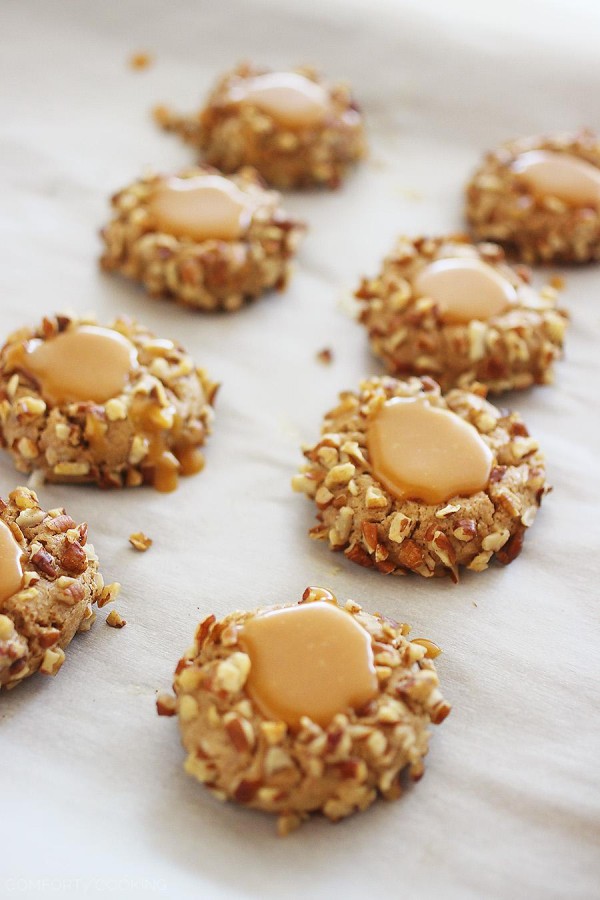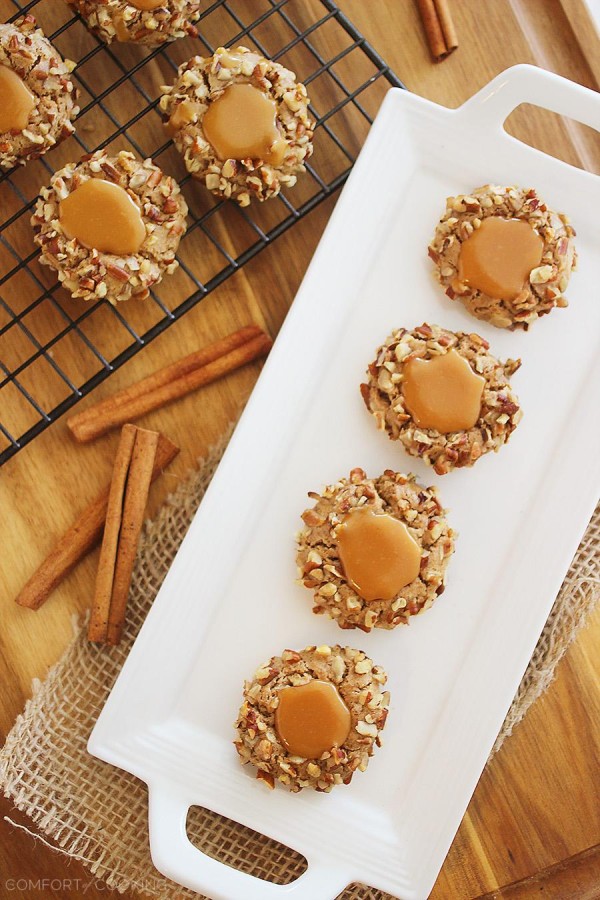 I'm a big fan of traditional jam thumbprint cookies. They're just so classic and Christmassy, subtly sweet and full of buttery goodness. But, I thought the classic could use a little boost… with a cinnamon spiced cookie, a dollop of gooey caramel, and a pretty pecan coating!
These cookies are easily made with a boxed cake mix, but use any spiced cookie you prefer. These would also work wonderfully with my pumpkin gingerbread cookies. The dough bakes up super soft, thick and fluffy cookies that provide the perfect nest for sticky sweet caramel. It's the most fabulous flavor combination, and they make a gorgeous homemade holiday gift.
Bake a batch of these caramel thumbprints to give to someone special!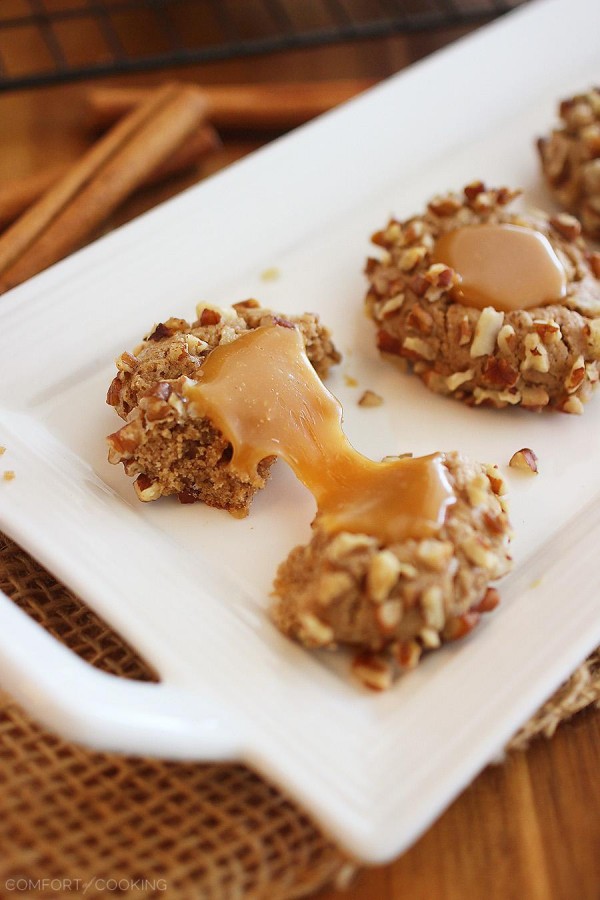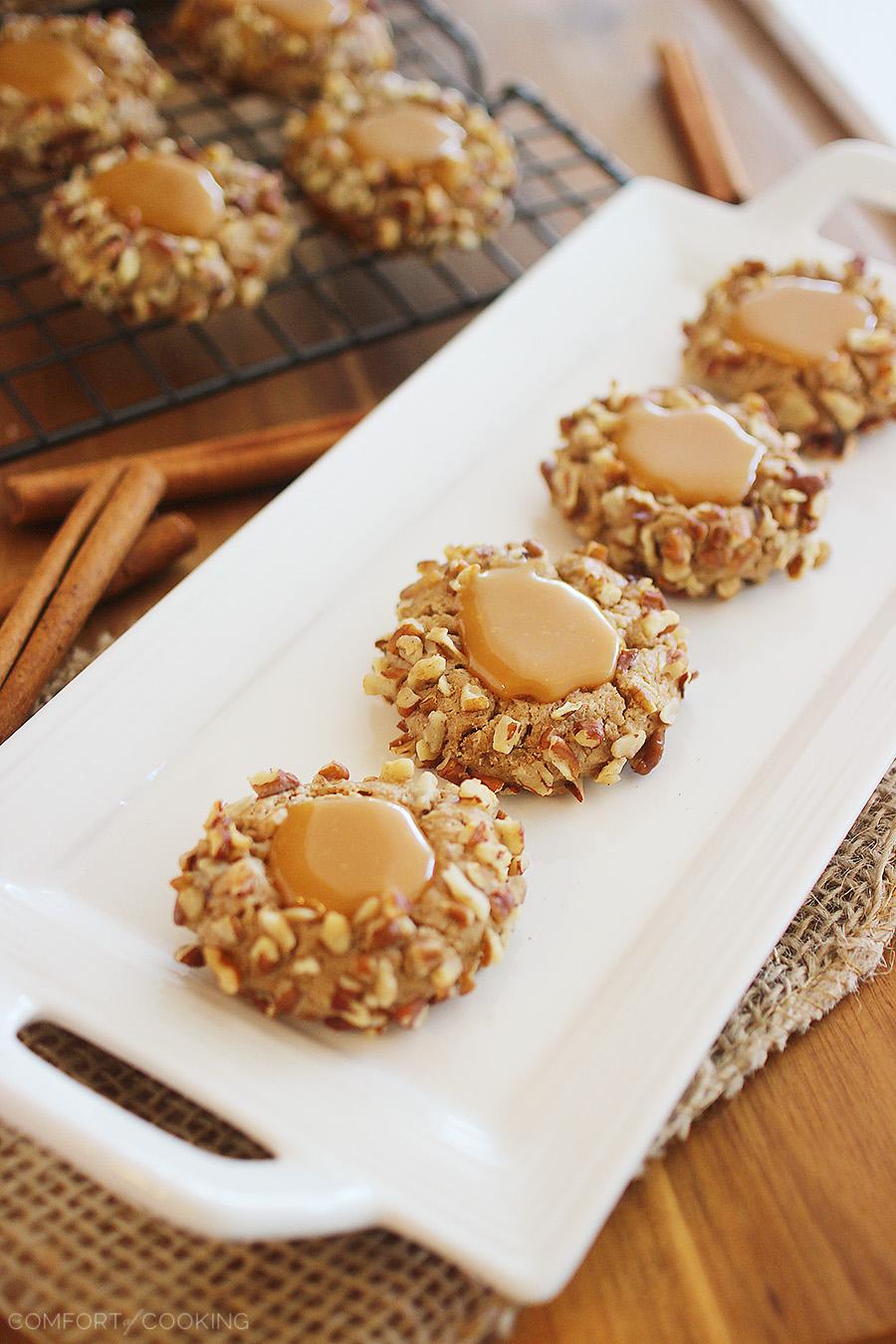 Caramel Spice Thumbprint Cookies
Ingredients
For Cookies:
4 oz. light cream cheese, softened
1 stick, 1/2 cup butter, melted
1 large egg
1 teaspoon vanilla extract
1 16-18 oz. box Spice Cake mix
For Pecan Coating:
1 egg white
1 1/4 cups finely chopped pecans
For Caramel Filling:
16 soft caramels, I used Kraft
3 Tablespoons heavy cream
Instructions
For Cookies:
Preheat oven to 350 degrees F. Line a large baking sheet with parchment paper.
In a large bowl with an electric mixer, beat cream cheese until fluffy. Add melted butter, egg, and vanilla. Beat until thoroughly combined. Gradually add cake mix, mixing until well combined.
Refrigerate dough for at least 1 hour then roll dough into 1-inch balls.
For Pecan Coating:
Lightly beat egg white in a small bowl. One at a time, dip dough balls in egg white then roll in chopped pecans. Place balls on prepared baking sheet, about 1 inch apart. Using your thumb, press in the center of each dough ball, making an indentation.
Bake for 8-10 minutes. If the indentation has disappeared during baking, use a small measuring spoon to recreate the indentation.
For Caramel Filling:
In a small saucepan over medium-low heat, place unwrapped caramels and heavy cream. Stir until smooth. Spoon caramel mixture into each cookie's center indentation*, taking care not to over-fill the cookies. Remove to a wire rack to cool completely.