Last year, I wrote about a special memory of my first Valentine's Day with my husband. Every year he's been my Valentine since has been more special than the last, but though I may be a hopeless romantic I've never made a huge deal out of the heart-shaped holiday. So, this year, while he's away on a business trip I'm happy enough with a dozen flowers and a date on the calendar for me to look forward to him coming home!
In the meantime, though, I figured I'd whip up a special cookie to celebrate early and give you a delicious, adorable idea for your own Valentine. Not to mention, it's kind of amazing what a bunch of basic ingredients and a handful of Jolly Ranchers can produce! Kids would have a blast with this, and I think it's safe to say anyone would be tickled pink to receive them!
These stained glass cookies are an impressive but surprisingly simple sweet treat for a special Valentine. Just make a basic sugar cookie and use a heart cookie cutter to shape the cookies. Use a smaller cutter to remove a tiny heart from the inside of the cookie, and fill it with crushed hard candies. After baking, the melted candy becomes glass-like and makes for a pretty cookie and a sweet, sentimental homemade treat that's as tasty as it is fun to make!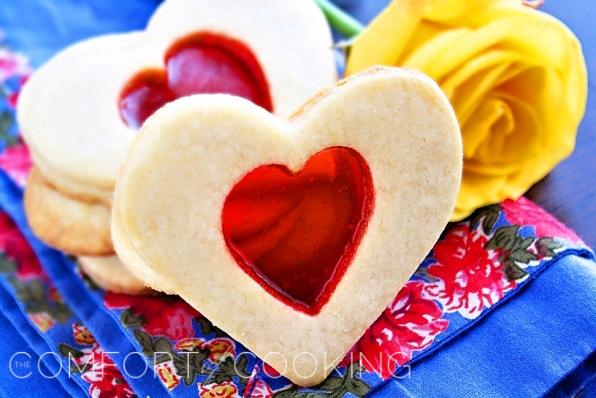 Stained Glass Heart Cookies
Ingredients
1 cup unsalted butter, softened
3/4 cup sugar
1 large egg
1 teaspoon vanilla extract
1/3 teaspoon salt
2 1/2 cups flour
15 small hard candies for cookie center, I used Jolly Ranchers, crushed
Instructions
To make the dough: Using an electric mixer at medium-high speed, cream the butter, gradually adding the sugar. Beat in the egg until evenly mixed, then blend in the vanilla extract and salt.
With a wooden spoon, stir the flour into the creamed ingredients, about one third at a time, until evenly blended. Divide the dough in half. Flatten each portion into a disk and seal in plastic wrap. Refrigerate overnight.
To create the cookies: Heat the oven to 375 degrees. Cover a sturdy baking sheet with aluminum foil and lightly coat the foil with cooking spray. Between two sheets of waxed paper lightly dusted with flour, roll the dough to a 1/4-inch thickness. Remove the top sheet.
Cut out the cookies with a large heart cookie cutter. Use a lightly floured spatula to transfer the shapes to the baking sheet, leaving about an inch between cookies. Remove the centers of the cookies with a smaller heart cookie cutter.
Place a pinch of crushed hard candy into the center of each cookie and bake until the cookies start to brown lightly around the edges and the candy is melted, about 8 to 10 minutes. Let the cookies cool on the baking sheet for 5 minutes, then transfer to wire racks to cool completely. To prevent sticking, line your serving plate or tin with waxed paper and place additional waxed paper between layers.
Enjoy!