Treat yourself (and your sweetie) to these delicious, decadent small-batch chocolate cupcakes with Nutella frosting. The perfect sweet and simple treat for any occasion!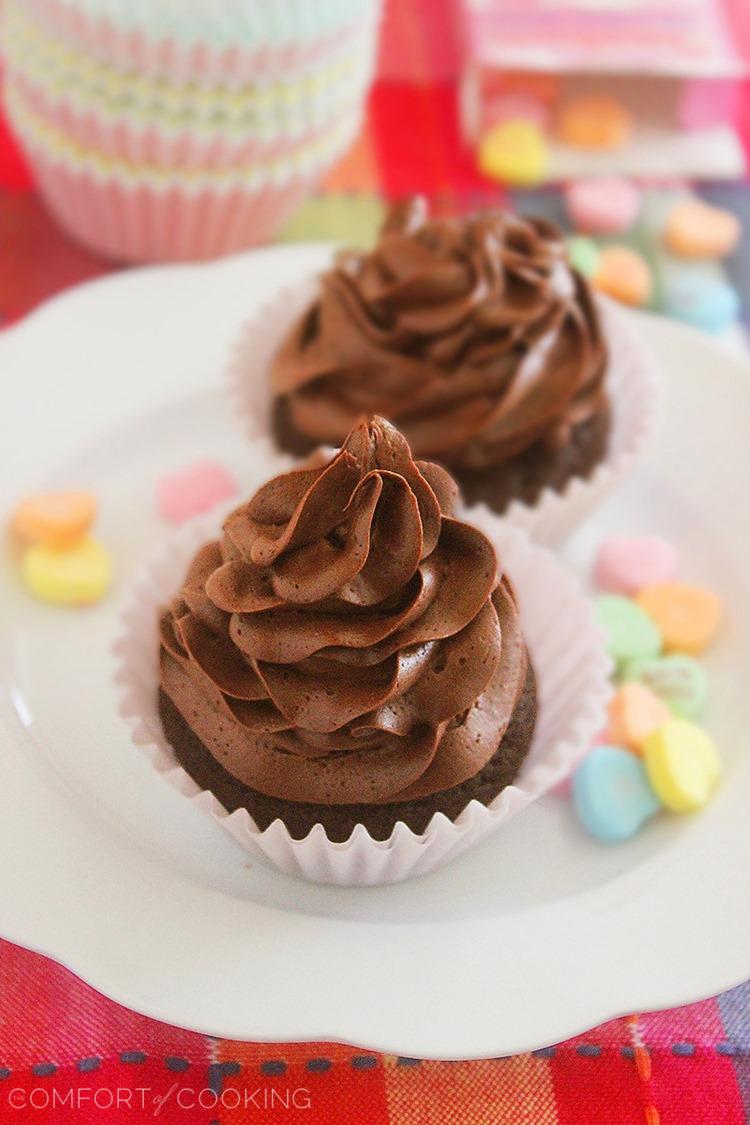 … Or one sweets lovin' mama-to-be.
These have to be the most fabulous chocolate cupcakes I've ever made from scratch. Super soft, fluffy and absolutely decadent with a dollop (okay, more like a heap) of homemade Nutella frosting. They come together in less than 5 minutes, bake in 20, and can be in your belly in another 5… seconds. Just slather on the frosting, put them on a pretty plate, and dig in. Whether you share or not is up to you!
Clearly, since it's not Valentine's Day yet (and technically I count for two) I did no such sharing.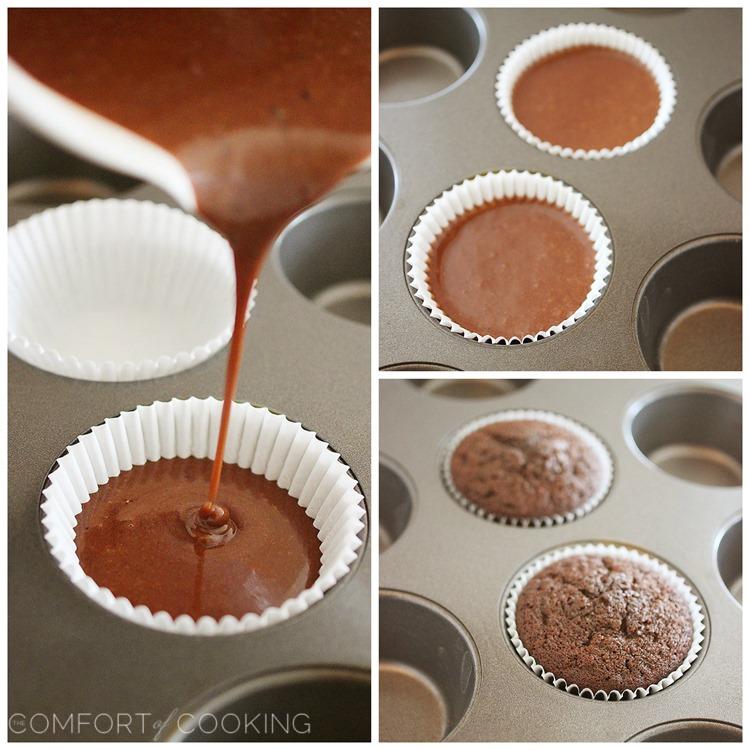 Chocolate not your (or your sweetie's) thing? Scoot on over to my One Bowl Vanilla Cupcakes for Two instead… just as easy-peasy and perfectly delicious. I won't judge you for being a vanilla lover. It's my personal favorite, too! Just don't be me and forget to add sprinkles.VANILLA DEMANDS SPRINKLES.
It's the law.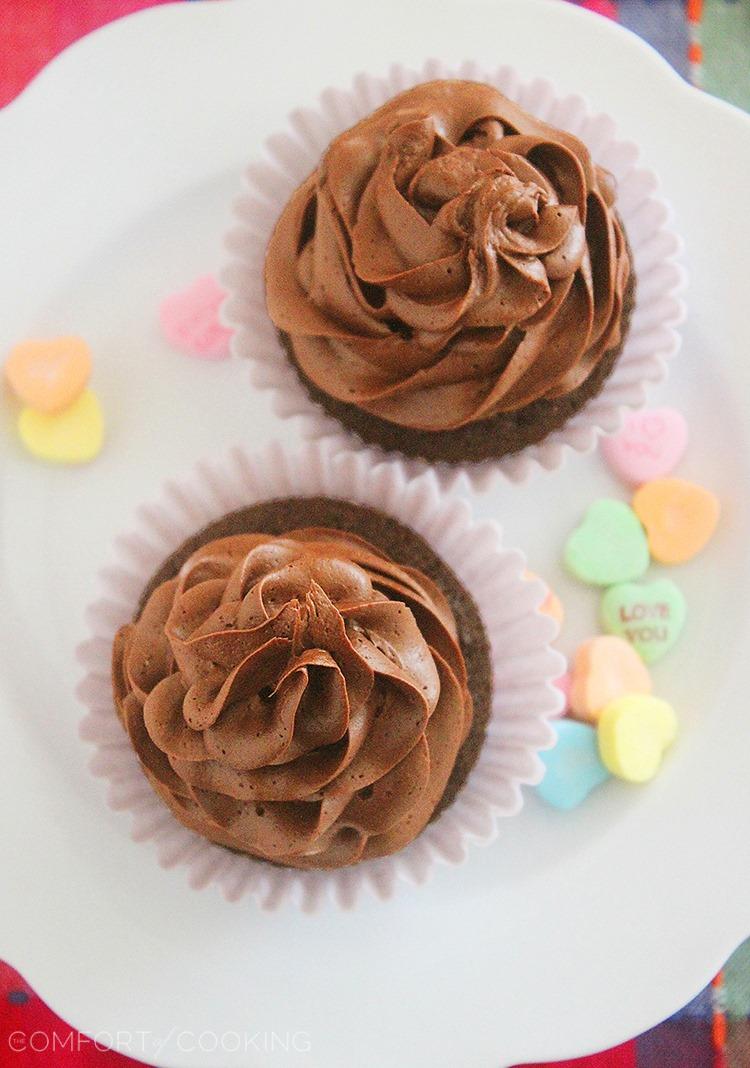 But, back to chocolate! It happens to be my other half's favorite flavor, and since he's taking me to a fancy pants dinner next Friday, I'll have to bake him another batch then. And then another batch still, since I'll probably eat the second batch myself. And then, why wouldn't I have just made a dozen damn cupcakes in the first place?!
Cupcakes for two: A recipe for convincing yourself that you have self control. My newest book?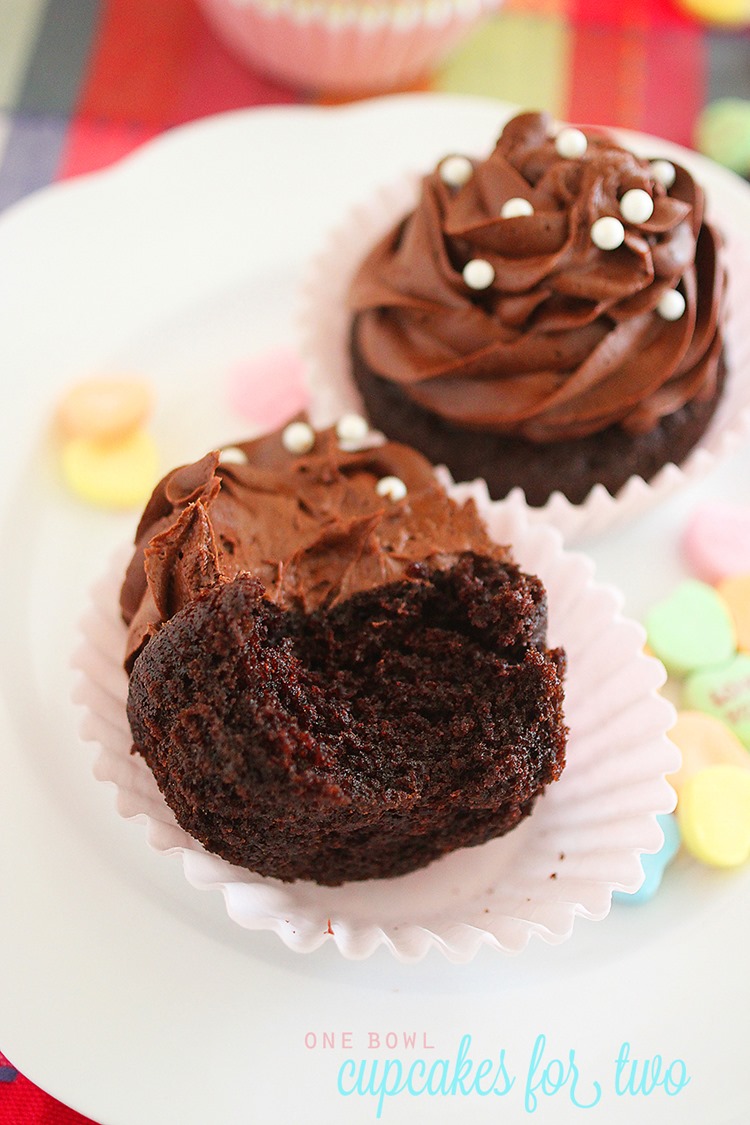 You're gonna absolutely love these easy, egg-free cupcakes, I guaran-darn-tee it. All you need are itty bitty measurements of basic pantry staples, a love of chocolate, and a willingness to pretend they're for "two." With a swirl of rich, creamy Nutella frosting, each bite of this cupcake is a little bit of bliss!
Garnish yours with a pinch of sprinkles, fresh berries, or candy hearts for a special sumthin', maybe? Or, if there's no time, just grab a glass of milk and go to town!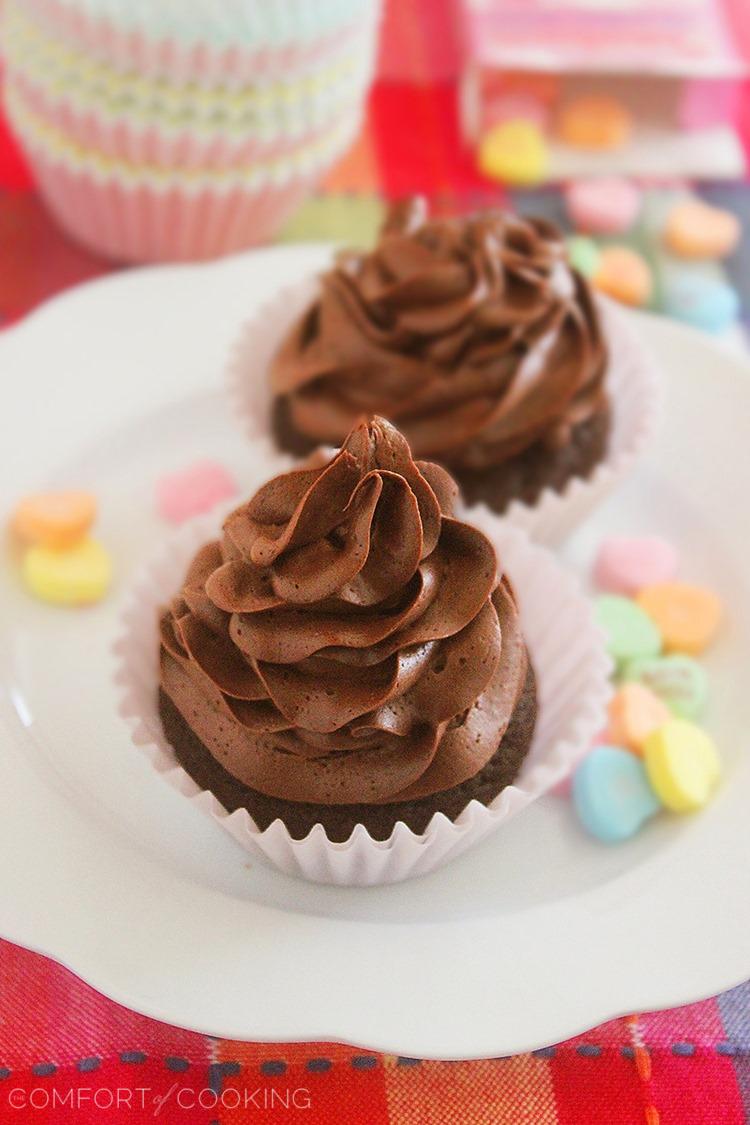 One Bowl Chocolate Cupcakes for Two
Ingredients
For the Chocolate Cupcakes:
3 Tablespoons all-purpose flour
2 Tablespoons granulated sugar
1 Tablespoon unsweetened cocoa powder
1/4 teaspoon baking soda
1/8 teaspoon salt
3 Tablespoons milk
1 Tablespoon vegetable or canola oil
1/2 teaspoon pure vanilla extract
For the Nutella Frosting:
2 Tablespoons unsalted butter, room temperature
1/4 cup Nutella
1/4 cup powdered sugar
1/4 teaspoon vanilla extract
1/2 to 1 teaspoon milk
Instructions
For the Chocolate Cupcakes: Preheat oven to 350 degrees F. Line 2 cups of a 12-cup muffin tin with paper liners. Spray with nonstick cooking spray.
In a medium bowl, whisk together flour, sugar, cocoa powder, baking soda and salt. Whisk in milk, oil and vanilla until just combined. Divide batter evenly between cups.
Bake for 20-22 minutes, or until a toothpick inserted in the center comes out clean. Let cool completely before frosting.
For the Nutella Frosting: With an electric mixer in a medium bowl, beat butter and Nutella until smooth. Mix in powdered sugar until well blended. Add vanilla and 1/2 teaspoon milk; mix until incorporated. Add additional milk if necessary to achieve desired consistency.
Spread or pipe onto cooled cupcakes.
Enjoy!