Just 3 ingredients and 10 minutes is all you need to create this delicious, flaky puff pastry tart with fresh strawberries! So simple and scrumptious with a 2-minute citrusy whipped cream.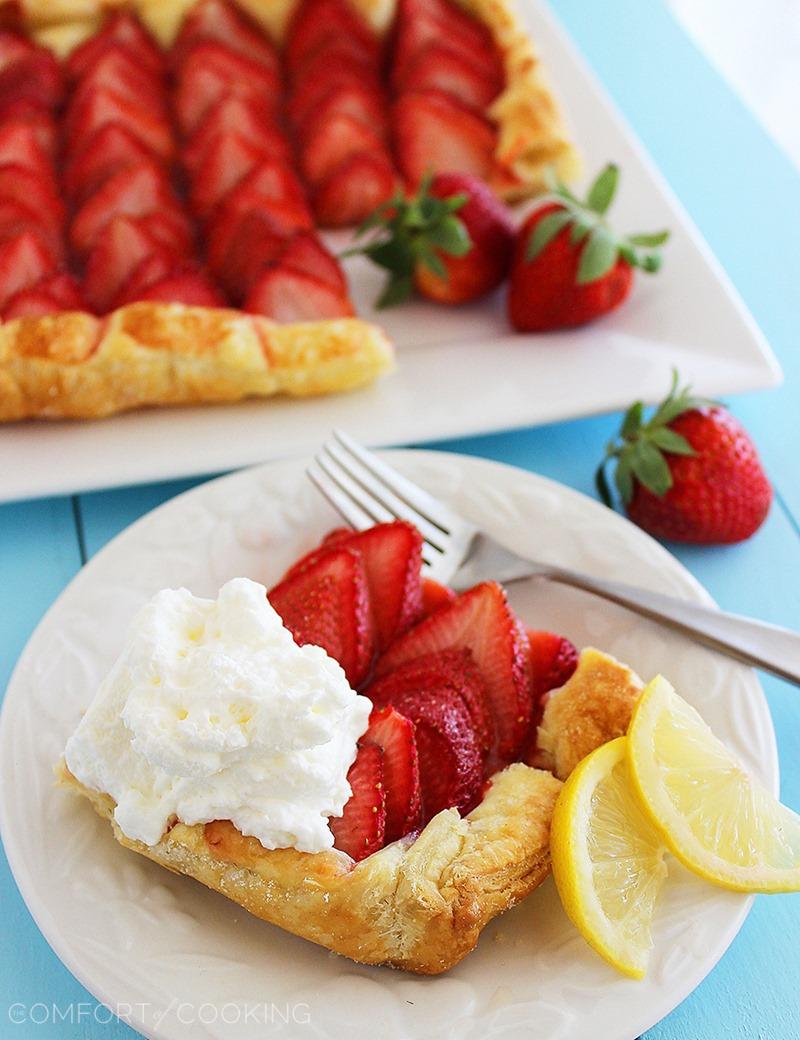 My motto in the spring and summer is "easy does it." The holidays and months surrounding them can be such a blur that, come spring, I just wanna let my hair down. And in every sense of the phrase, I do!
Never has my easy livin' philosophy applied more than it does this year, as we're preparing to welcome our first baby. I'm taking it easy in every way I can… especially when it comes to dinners and desserts!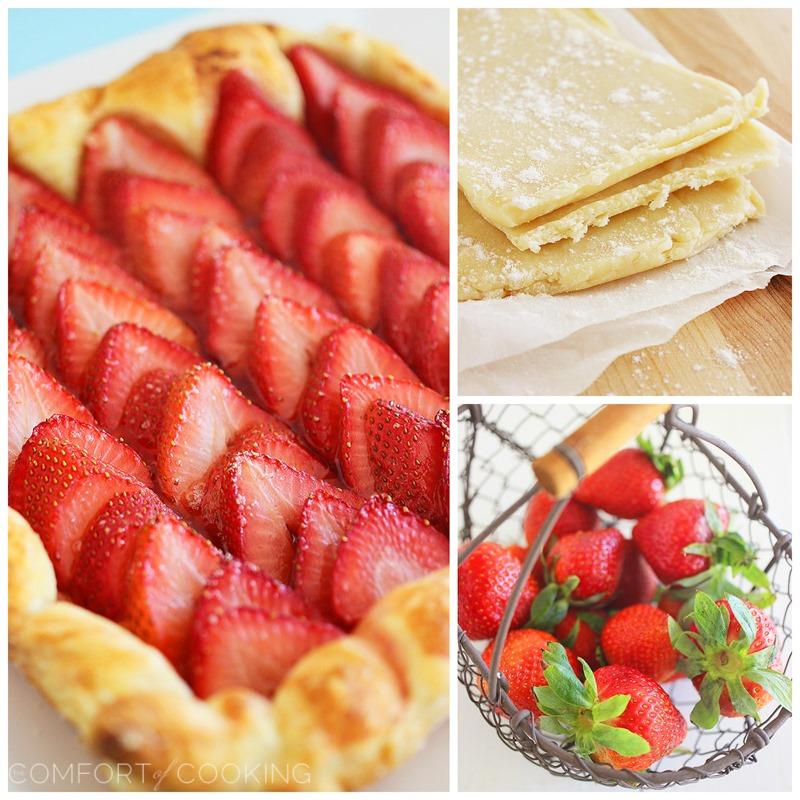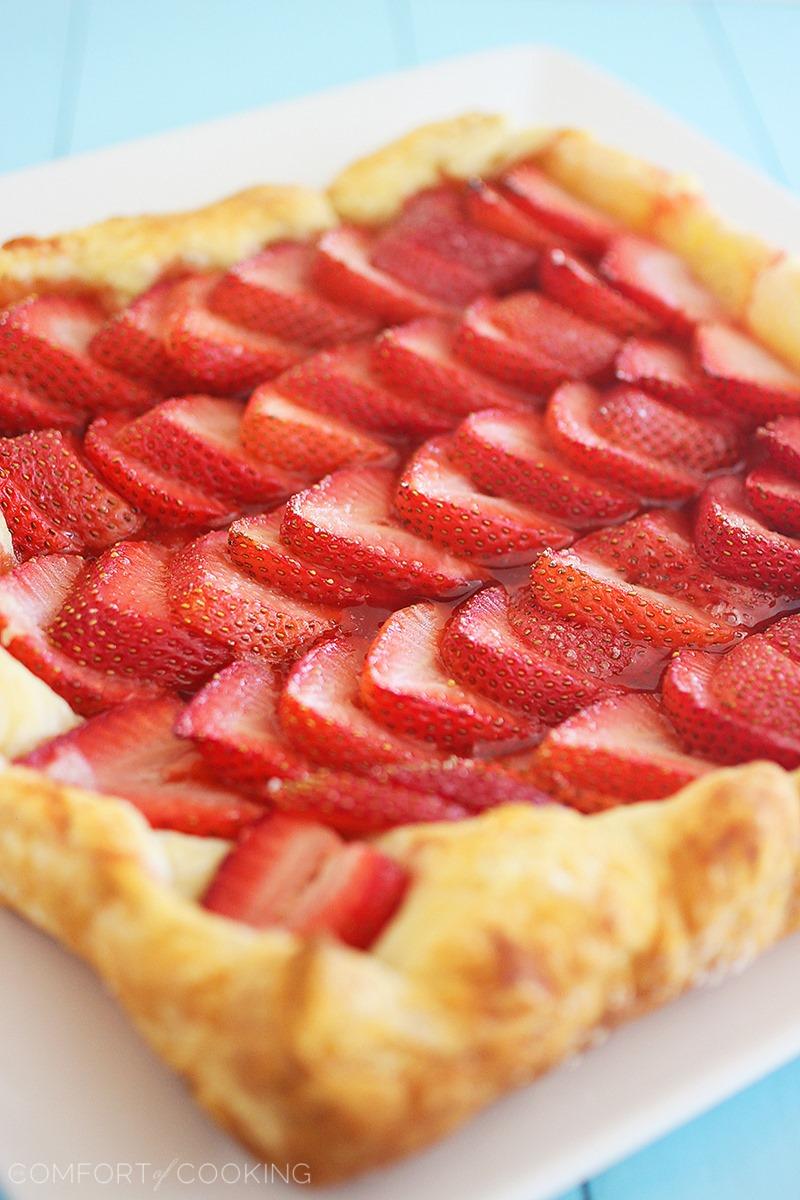 This strawberry tart is a perfect example of simplicity at its best. I stocked up on stacks of juicy berries (a sale this girl just can't resist) and couldn't wait to put them to good use. Combined with flaky, buttery puff pastry and a sprinkle of sugar, the natural sweetness of the strawberries really pops.
Plopped with a dollop of lemon whipped cream, this 3-ingredient strawberry tart was an incredible treat! It's great to serve at parties, or just to have a little sweet something to indulge in after dinner. Or before. I won't judge.
Your prep before popping it the oven couldn't be easier, either. Just lay out a sheet of puff pastry, arrange your strawberries over top, and dust with sugar. You could also use a sugar substitute, like I did for this tart, which still yielded deliciously sweet slices. While your tart crisps and puffs its way to pastry perfection, make your lemon whipped cream. Just another 3 ingredients for a fabulous finishing touch to the strawberry tart!
The combination of sweet pastry and tangy whipped cream will totally get you in that spring-ified mood… even if there's still snow on the ground. I feel for you guys suffering a long winter this year!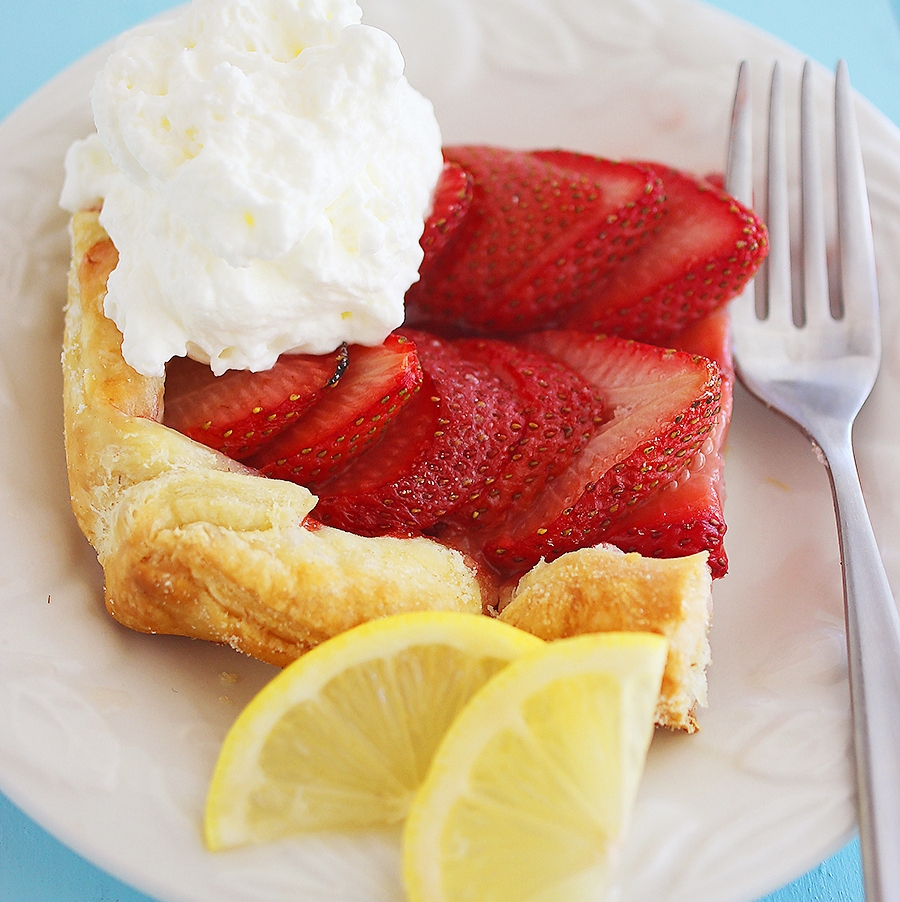 3-Ingredient Strawberry Tart with Lemon Whipped Cream
Yield:
6 slices / 1 1/2 cups whipped cream
Ingredients
For Strawberry Tart:
1 (12 x 12-inch) sheet puff pastry, thawed
16 oz. fresh strawberries, sliced
1 Tablespoon sugar or sugar substitute
For Lemon Whipped Cream:
1 cup chilled heavy cream
2 Tablespoons powdered sugar
Zest and juice from 1/2 lemon
Instructions
For Strawberry Tart: Preheat oven to 400 degrees F.
Place puff pastry square on a large parchment paper-lined baking sheet. Lay sliced strawberries over top with 1 inch of pastry edge. Turn up pastry edges slightly over strawberries. Sprinkle with sugar.
Bake for 18-20 minutes, or until pastry is puffed and golden brown.
Slice into 6 portions and serve with Lemon Whipped Cream, if desired.
For Lemon Whipped Cream: With an electric mixer, beat heavy cream to soft peaks on medium speed. Add powdered sugar, lemon zest and juice. Continue beating on medium speed to stiff peaks. Cover and chill up to 4 hours before serving.
Enjoy!