This fresh, crisp caprese salad with cucumbers is my new favorite side for spring and summer. Add an easy balsamic vinaigrette (recipe included) and serve with crusty bread!
There's no flavor combination I love in the world more than mozzarella, tomatoes and basil mixed with a tangy balsamic vinaigrette. And nothing I'm looking forward to more this summer than plucking the plump tomatoes right from my garden, and a handful of basil, too, with baby on my hip. I have a feeling it's gonna be another good one!
I'm learning to love summer, you see.
Well, I say that now, as I sit in my cozy sweater with the breeze rolling in and birds chirping. Spring in Austin is lovely. But our summers tend to be a little suffocating, what with a daily forecast that promises to fry you like a cracked egg on hot pavement. Or melt you like a popsicle. Sizzle you like a grilled steak? Choose any number of yummy food analogies.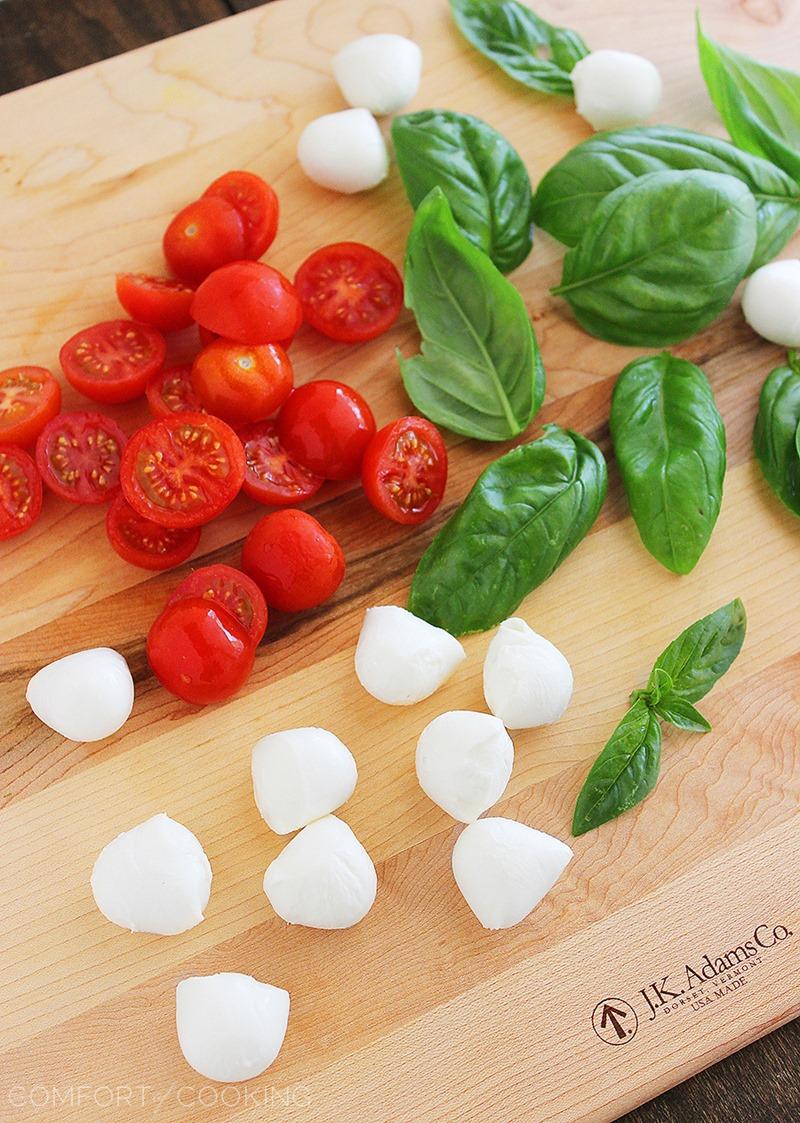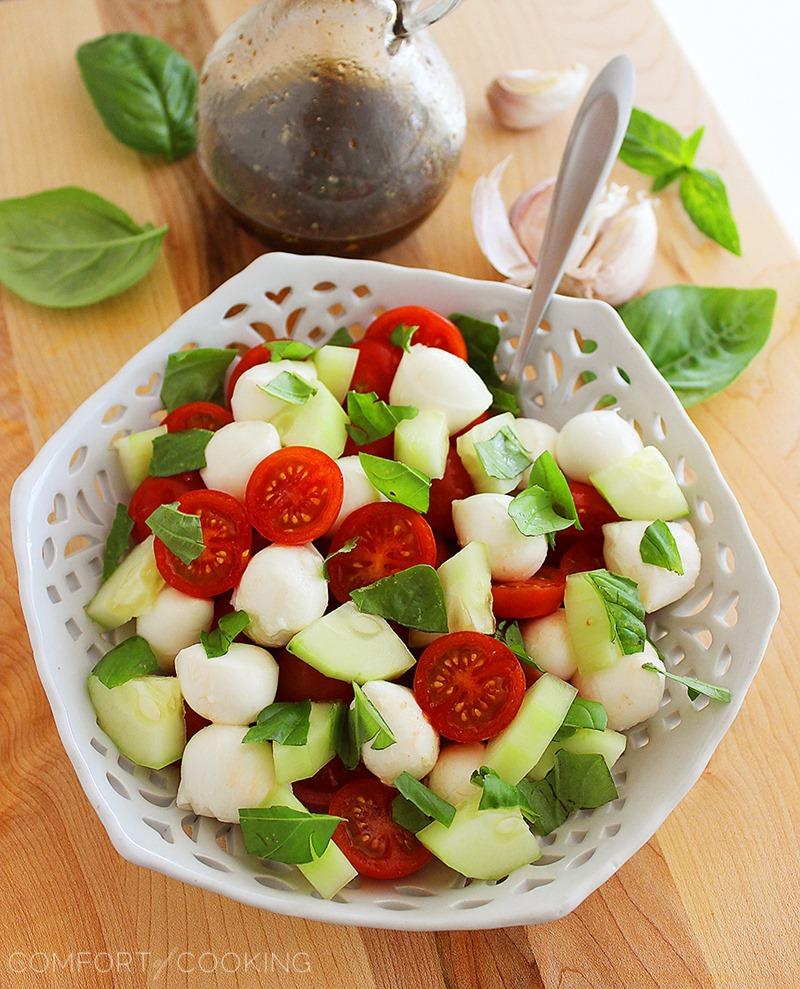 The flavorful, fresh food is what gets me through the season, after all. Every weekend, and most weekdays, you can find us flipping meat on the grill, mixing up colorful salads, and digging into a bowl of strawberries for dessert. With whipped cream, of course. Summer is just so crisp, juicy and delicious!
… Which I think describes caprese pretty well, too!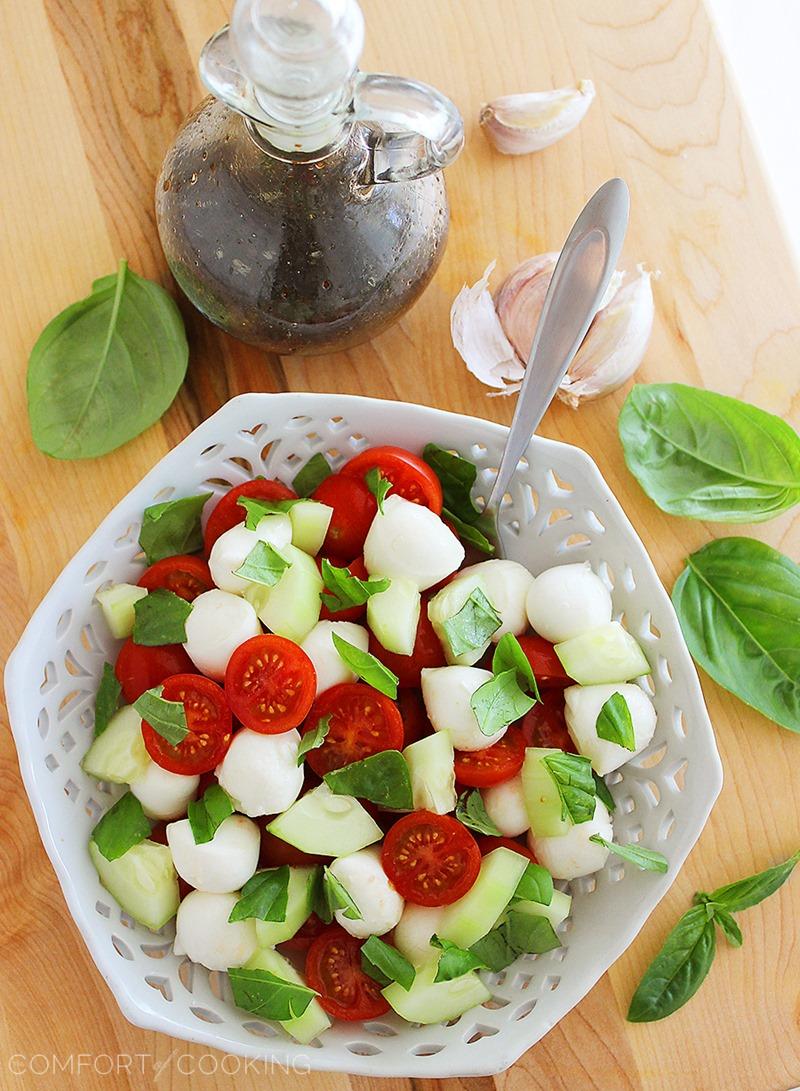 I already have a half-dozen variations of caprese on here (did I tell you I loved it, or what?), but this has been my favorite way to enjoy it lately. A big bowl full of crunchy, healthy tomatoes and cucumbers tossed with creamy mozzarella, basil and a balsamic-oil dressing? Come to mama!
This salad is unbelievably simple, so scrumptious, and works well as either a main dish or side. Or, you could even toss it onto toasted crostini for an elegant appetizer! However you dish it up, you're gonna love this delicious cucumber caprese with fresh basil… even better with a big glass of white wine to wash it down! (Or at least that's how I'm picturing it in my preggo-daydreaming. Sigh.)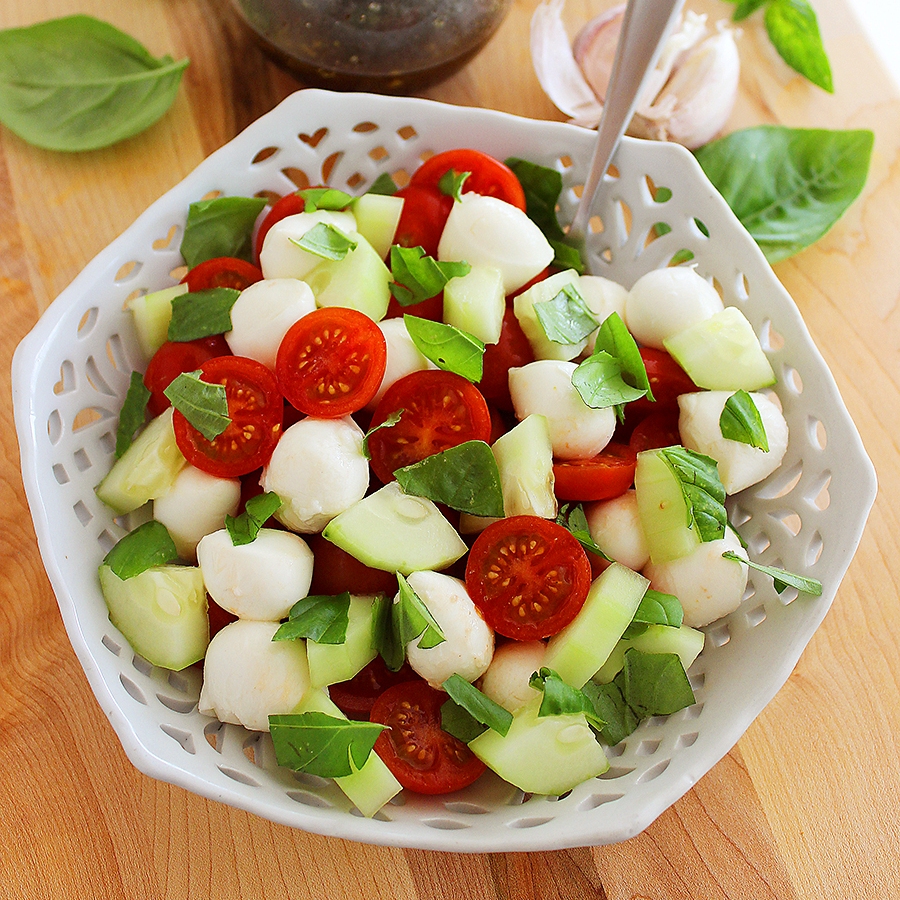 Chopped Cucumber Caprese Salad
Ingredients
1 1/2 cups grape or cherry tomatoes, halved
1 medium cucumber, peeled and cut into quarters
8 oz. fresh mozzarella, cut into chunks (or use ciligene)
10-12 fresh basil leaves, torn into small pieces
2 Tablespoons good quality olive oil
1 Tablespoon balsamic vinegar
1 garlic clove, minced
Pinch of salt, pepper and sugar, to taste
Instructions
In a large bowl, combine tomatoes, cucumber, mozzarella and basil leaves. In a separate small bowl, whisk together olive oil, balsamic vinegar, garlic, salt, pepper and sugar. Pour over the tomato-mozzarella mixture and toss. Serve immediately, or prepare up to 4 hours ahead of serving.
Enjoy!