7 ingredients (plus your favorite toppings) made easy in your muffin tin! Hearty, cheesy chili scooped into crisp tortilla shells. Always a huge hit! Serve them for summer parties and weeknight dinners!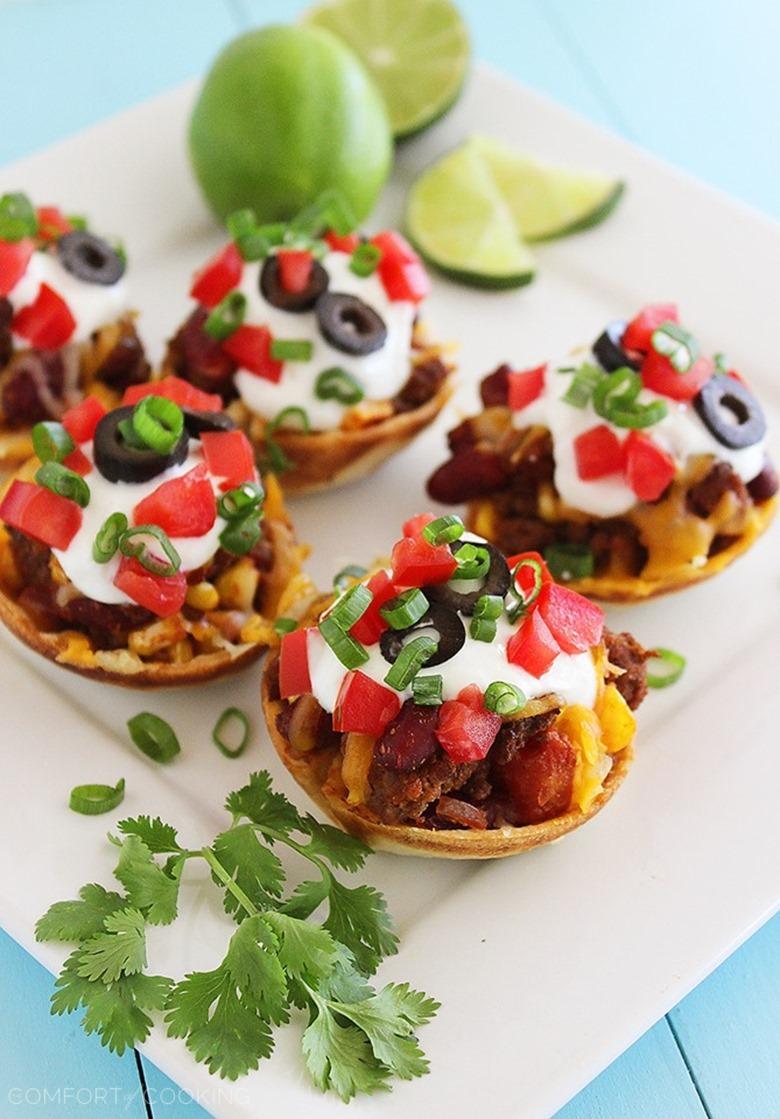 Though hubby and I have years of adventures and travels under our belts, our home is my favorite place in the world. We've continued to pad our nest every month since moving in, tweaking and touching up things the way we like, making it a comfy place for us and guests. That's why hunkering down with our new baby girl has been fun (a challenge at times, of course, but fun overall!). I can't picture myself happier anywhere else. But, even the coziest homebody needs to fly her coop once in a while!
When I do, there's nothing I enjoy more than indulging in delicious drinks and grub with good friends. After all, even if you're just toasting the night away nearby, the right margarita can make you feel miles away!
And what would go better with a tall frosty one than these zesty tortilla cups?
These little chili bites are super easy to whip up, and alongside a margarita, perfect party food! The crisp tortilla shell (baked in your muffin tin) nestles a mouthwatering mixture of beef, beans, corn, salsa and seasoning. Sprinkle with shredded Mexican cheese, bake 'til toasty, and top these tiny appetizers with your favorite chili toppings. So yummy!
For summer parties, a casual get together, or even weeknight meals that call for something fun, these Mini Mexican Chili Tortilla Cups are gonna be your go-to. They're cute and colorful, hearty and healthy, and bound to be a big hit wherever you serve them. I think I might make them again for July 4th!
But first, I've got my mind on a margarita…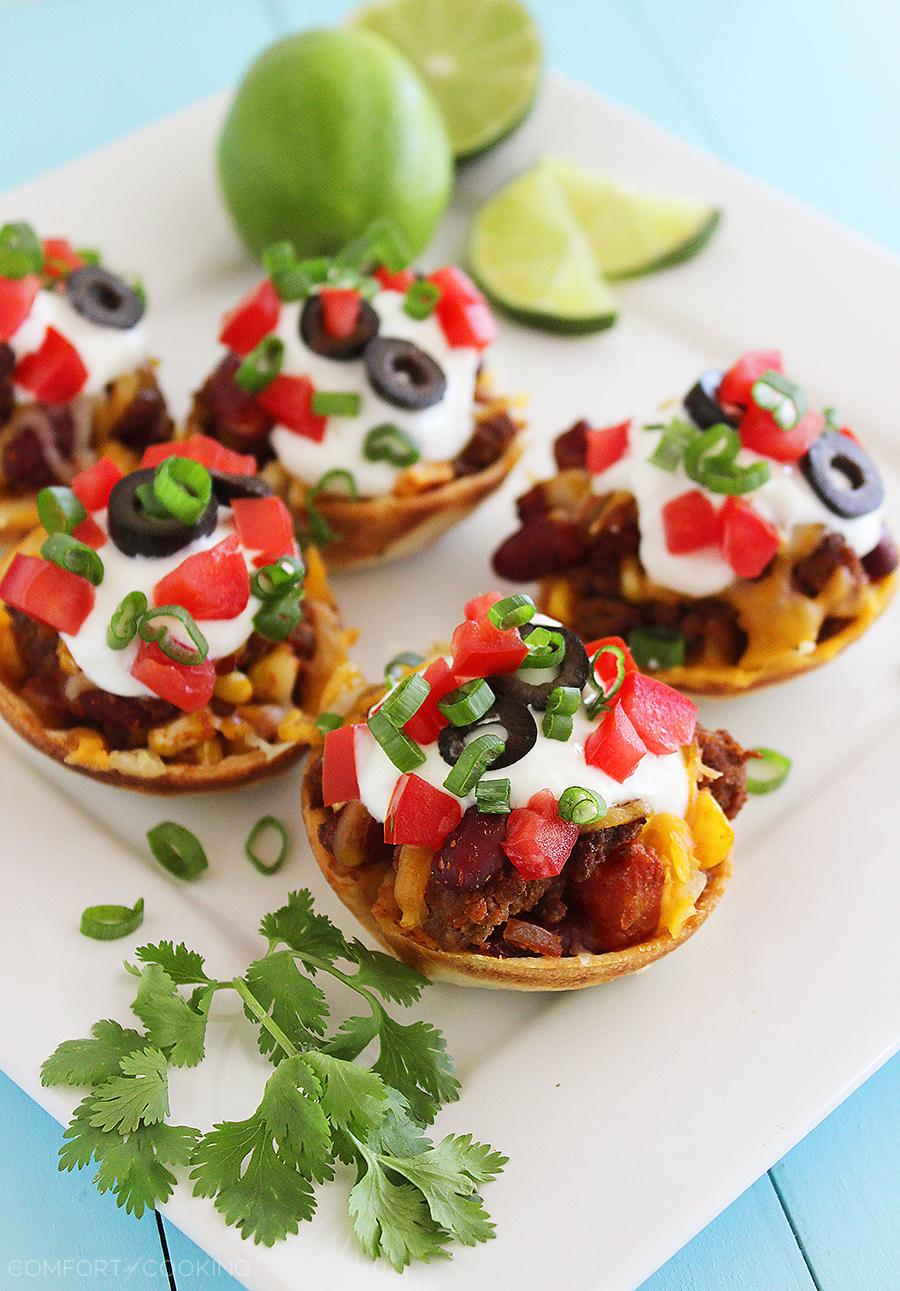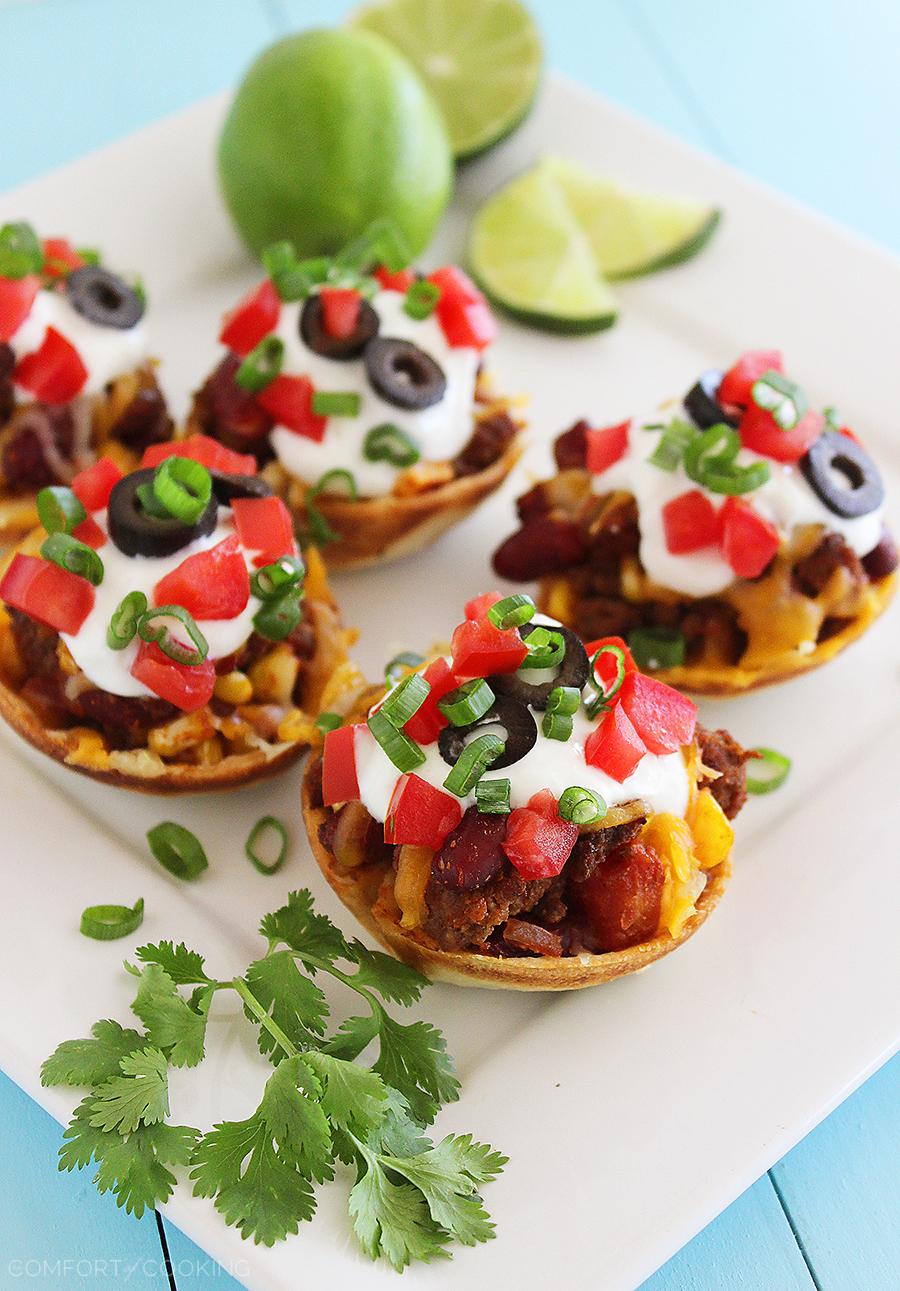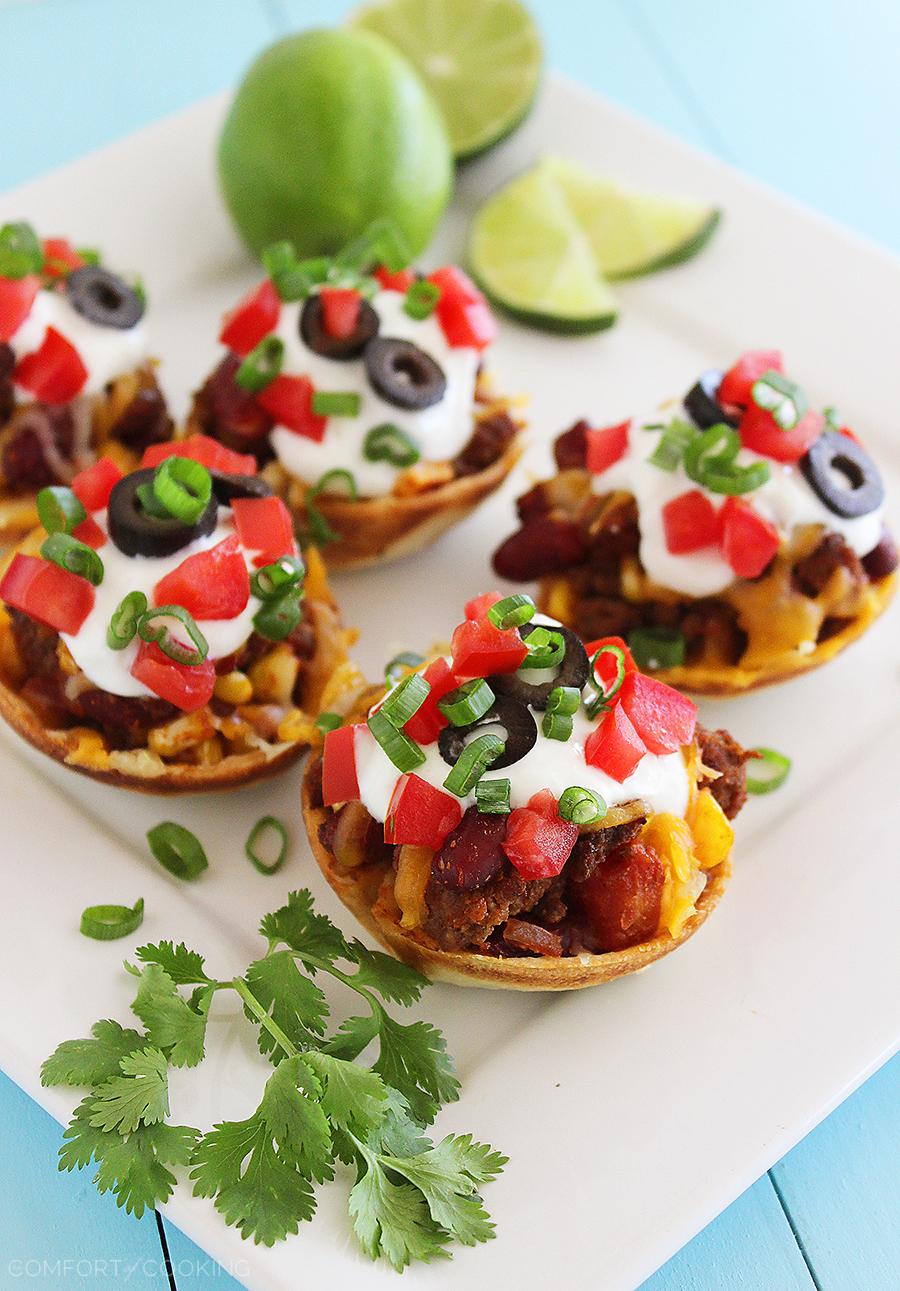 Mini Mexican Chili Tortilla Cups
Ingredients
6 large flour tortillas
1 cup cooked ground beef
1/2 cup salsa, your favorite
2 teaspoons taco seasoning*
1/2 cup kidney or black beans
1/4 cup frozen corn
1/2 cup shredded Mexican cheese
Optional toppings:
Chopped tomatoes
Sliced black olives
Sliced green onions
Fresh cilantro
Sour cream
Instructions
Preheat oven to 425 degrees F. Spray cups of a standard size 12-cup muffin tin with nonstick cooking spray.
With a cookie cutter, cut 2 medium circles out of each tortilla. Press each circle into a muffin cup.
In a medium bowl, mix ground beef, salsa, taco seasoning, beans and corn. Stir until well combined. Scoop a heaping tablespoon of meat mixture into each muffin cup. Top with shredded cheese.
Bake for 10-12 minutes, or until cheese is melted. Let tortilla cups cool for 5 minutes before removing. Garnish with desired toppings and serve.
Enjoy!