These fluffy mini rolls are made with a super-easy pizza dough and brushed with a rosemary garlic butter. Perfect for serving alongside roasted meats, veggies, soups, stews and salads! (You can use the dough recipe to make a pizza, too!)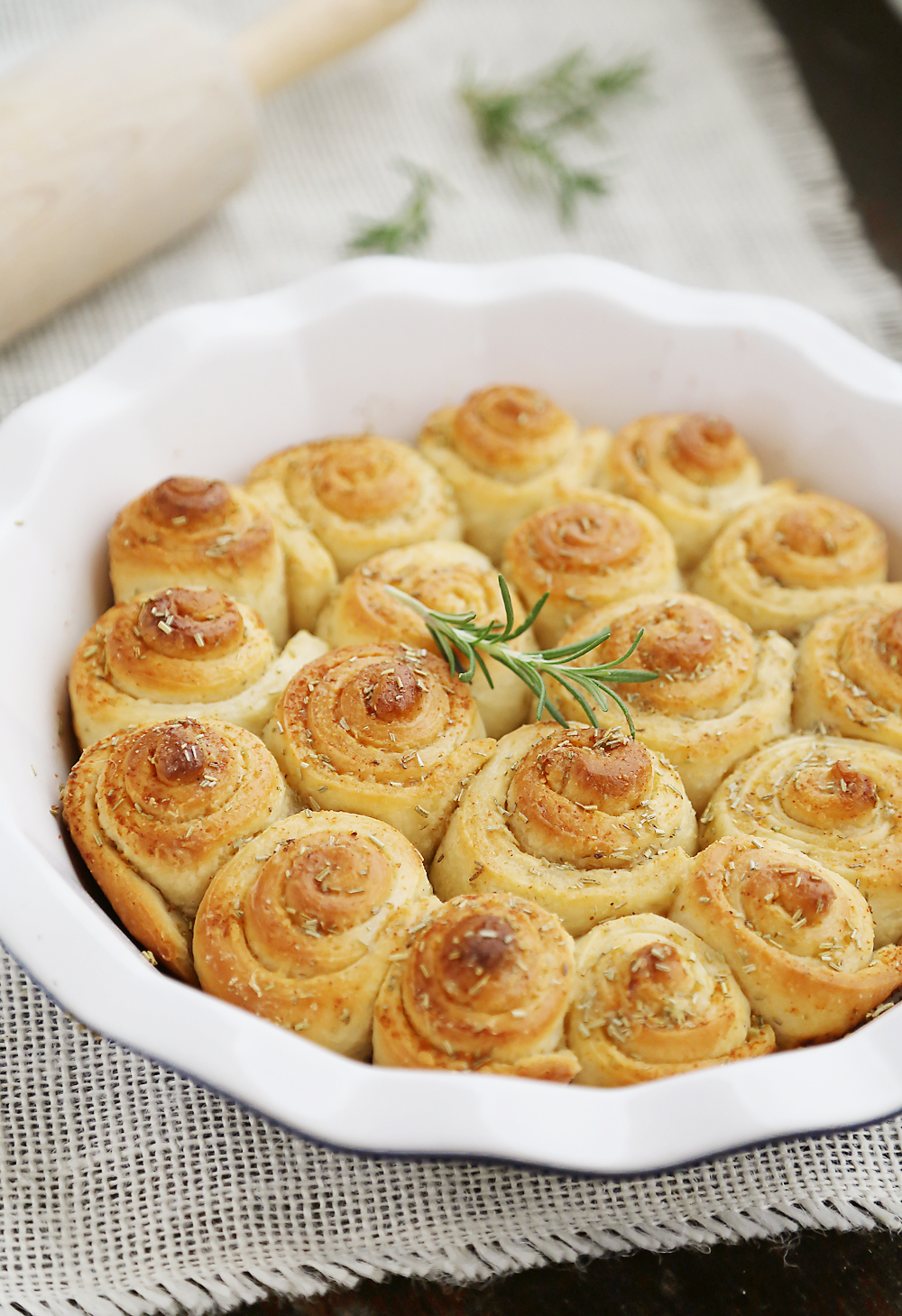 When it comes to winter sides, there is nothing I love more than a soft, fluffy bread roll with a savory herb butter. This scrumptious side is so simple to make homemade, and perfect for mopping up sauces, last bits of soup, and serving alongside a fresh salad. If you've never baked with yeast before, fear not! It's easier than you think, and especially so with these quick-rise rolls.
Not only are these rolls irresistibly good with roasted veggies and meats, but I can make them using the same delicious recipe (below) that I use for my favorite pizza dough! Meaning, I can make a double batch of dough, use one for these rolls, and pop the other in my freezer to make a pizza another time! Because, let's face it, we all need a midweek pizza and who doesn't like to save time during a busy week?
So, really, this is like two recipes in one. You lucky duck.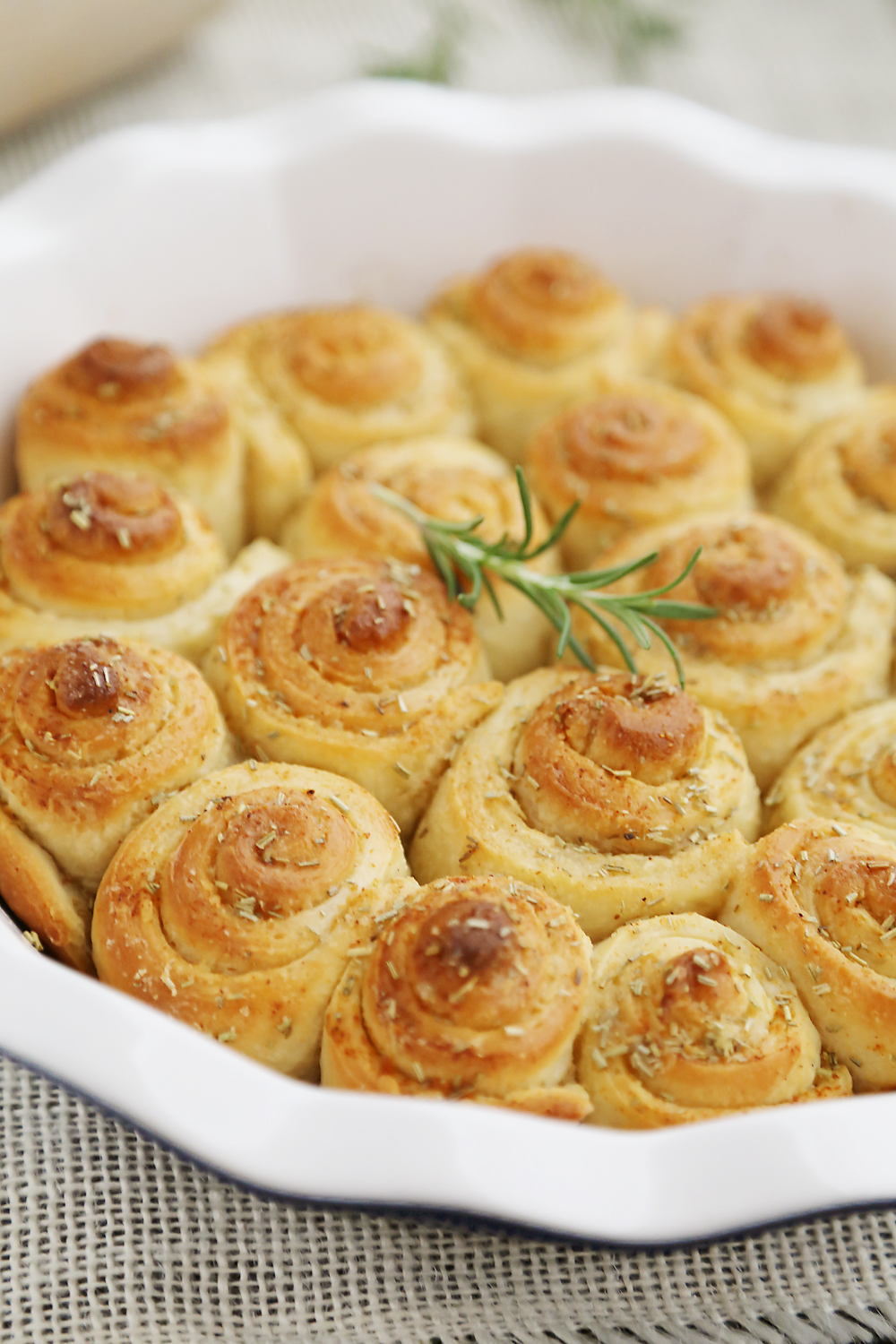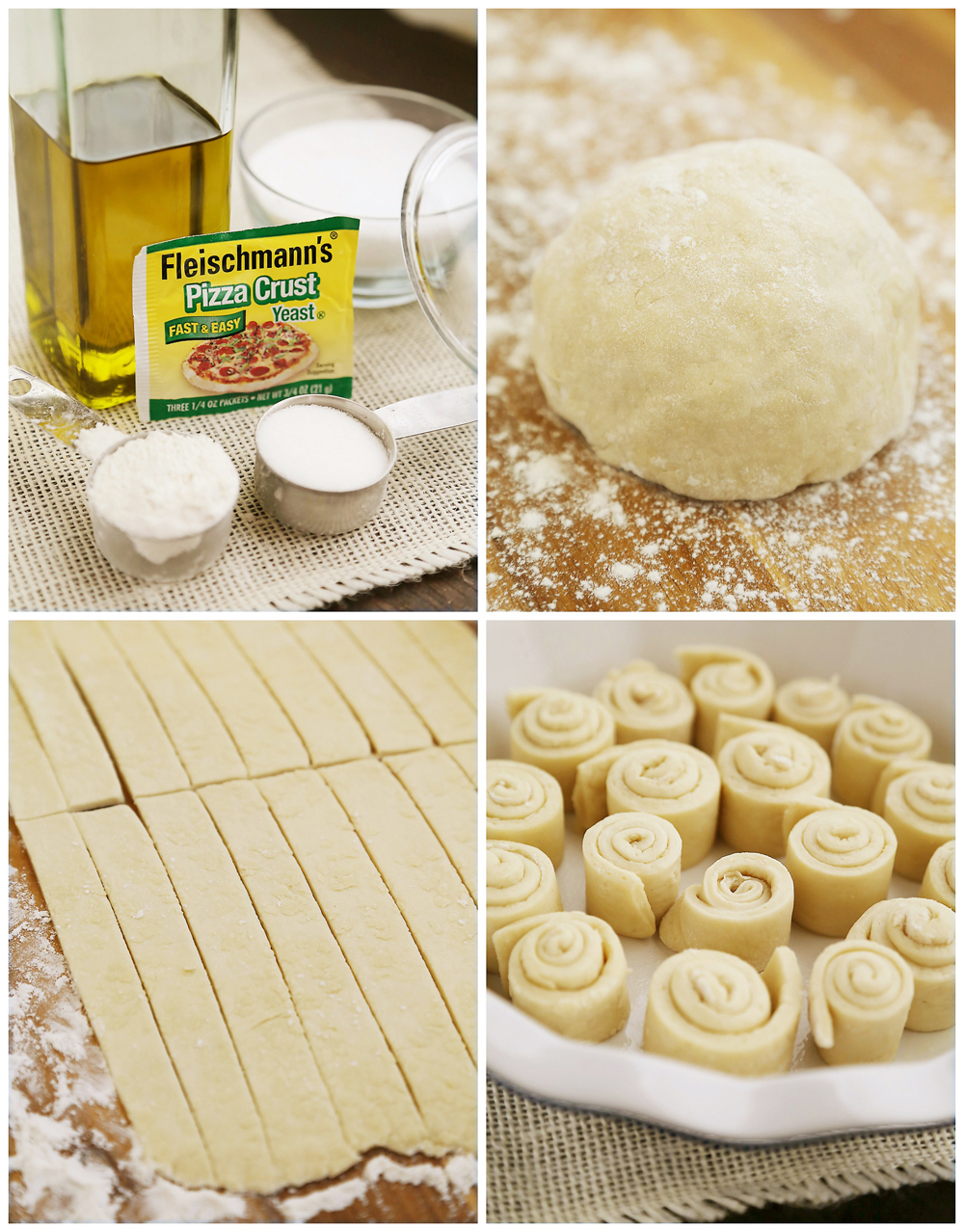 Using this simple pizza crust recipe featuring Fleischmann's® Pizza Crust Yeast, you can easily make a big batch of these mini rosemary rolls for any of your weeknight or special occasion meals. Just pop your dough in the fridge and bake when ready!
For these rolls, simply form your floury dough ball, let it rise, then roll it out and cut into strips. Roll up the strips into tiny swirly rolls, then pop in a baking pan to let rise once more. Slather on some garlic-rosemary butter, then bake for about half an hour.
Your home will smell cozy, warm and absolutely delicious as they rise and puff up to a gorgeous golden brown. It's the most wonderful scent!
Spread on the remaining butter, then try not to burn your fingers as you greedily grab one after another of these amazing rolls! They are just so good, and perfect for sharing with family and friends, especially this time of year, when we are all serving hearty, belly-filling meals that need a little something extra on the side. Try them today!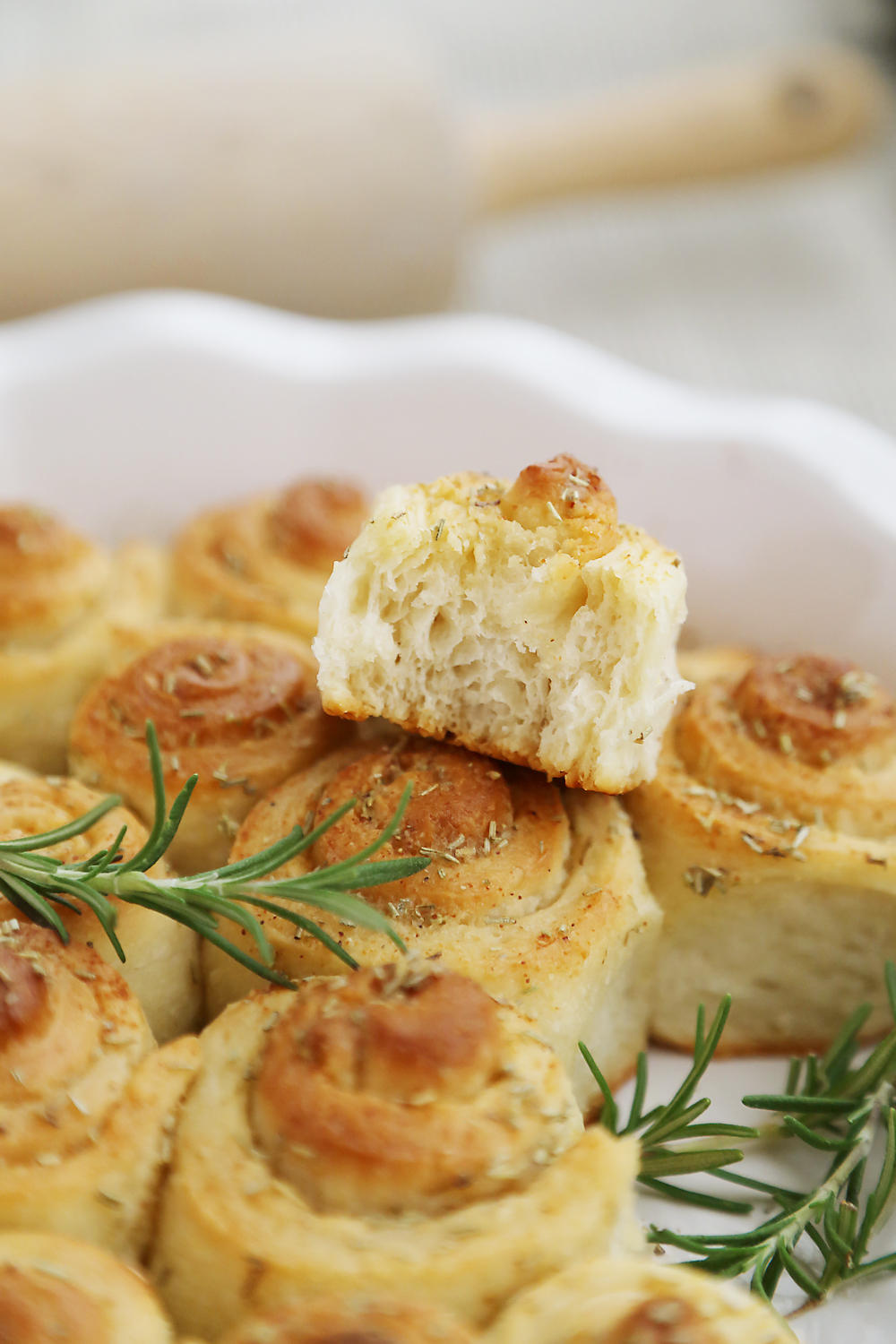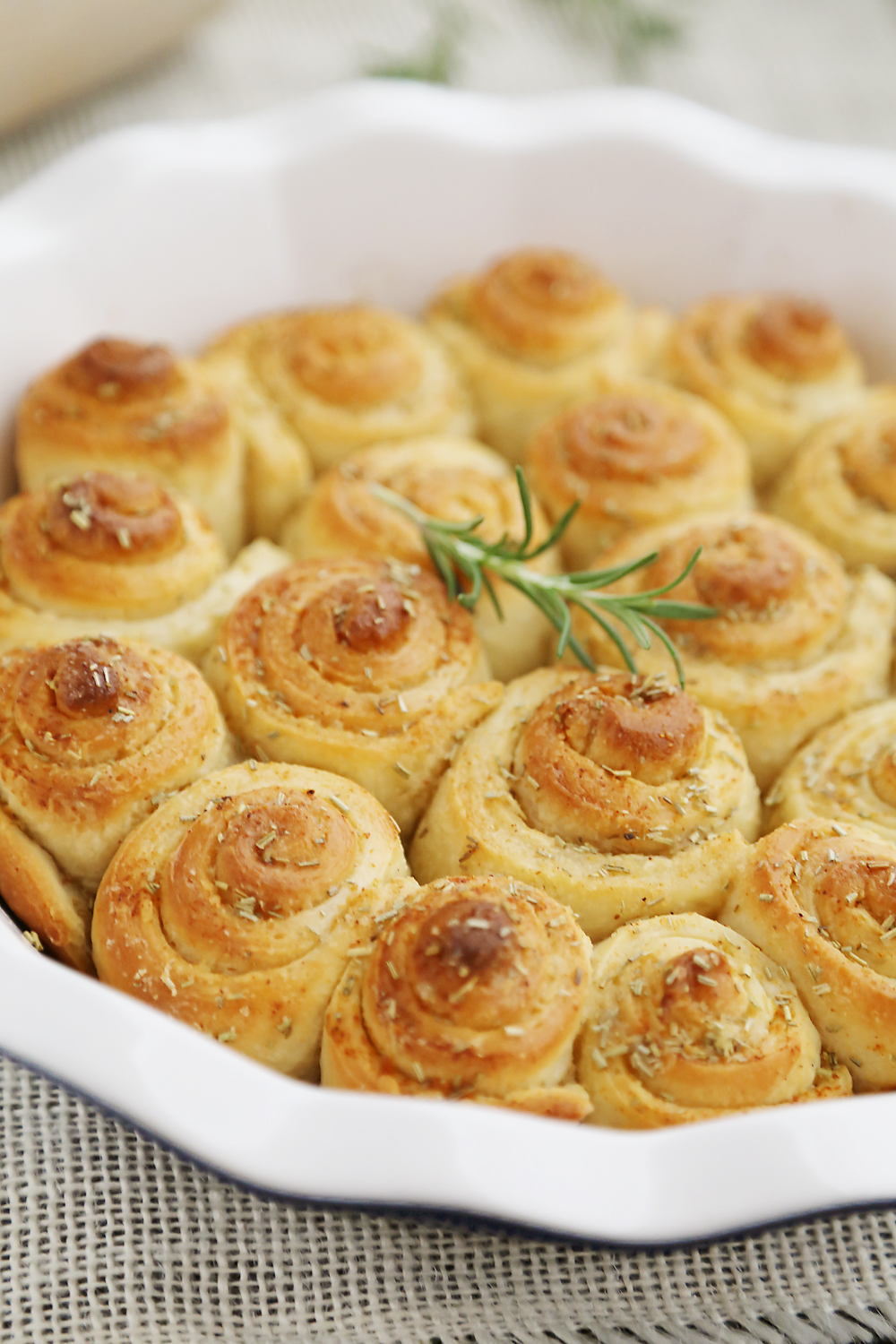 Garlic Butter Rosemary Rolls
Ingredients
For the dough:
1-3/4 to 2-1/4 cups all-purpose flour
1 packet Fleischmann's® Pizza Crust Yeast
1-1/2 teaspoons granulated sugar
3/4 teaspoon kosher salt
2/3 cup warm water
3 Tablespoons olive oil
For the garlic butter topping:
3 Tablespoons butter, melted
1/4 teaspoon chopped rosemary
1/8 teaspoon garlic powder
Instructions
For the dough:
In a large bowl, combine 1 cup flour, yeast, sugar and salt. Mix in warm water and oil until well blended, about 1 minute. Gradually add enough remaining flour to make a soft dough. Dough should form a ball and will be slightly sticky. On a floured surface, knead dough with your hands for a few minutes, until smooth and elastic. Transfer dough to an oiled bowl and let rise in a warm place for 30 minutes.
Remove dough from bowl. On a floured surface, roll dough into a large rectangle. Cut into long strips, then cut in half crosswise. Roll strips into small rolls, and place into a greased cake pan. Cover and let rise in a warm place for about 1 hour.
When ready to bake, preheat oven to 400 degrees.
For the garlic butter topping:
Combine all ingredients in a small bowl. Brush half over top of rolls just before baking. Bake for 20-25 minutes. Remove from oven and brush remaining butter on rolls.
Enjoy!