Try this fabulous 5-ingredient frozen ice cream cake, with cookies 'n cream ice cream! So easy, elegant and deliciously sweet for celebrating any time of year.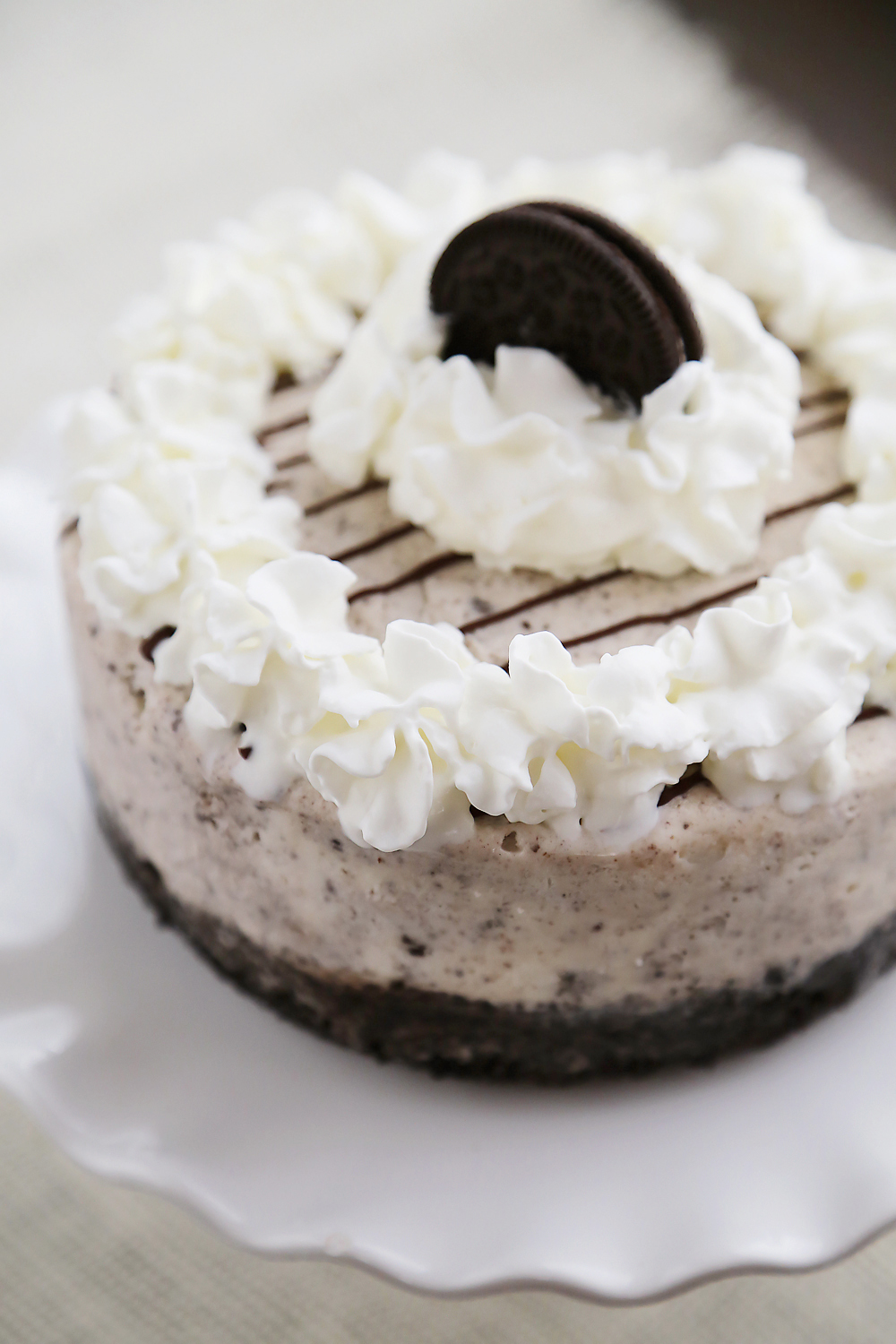 If you're anything like me, the mere mention of ice cream cake conjures up delicious memories and an eager fork. This is especially true when it comes to the oh-so heavenly combination of chocolate sandwich cookies and cookies 'n cream ice cream. Plus whipped cream! The perfect marriage of decadent-meets-more-decadent-meets-ridiculous. And it couldn't be more ridiculously easy!
All you need for this amazing cake are five ingredients, a 6-inch springform pan (found at most baking and craft stores), and a fellow cookies 'n cream enthusiast. Got at least two of those? Wonderful. Now, let me get to showing you how to make this crazy good ice cream cake!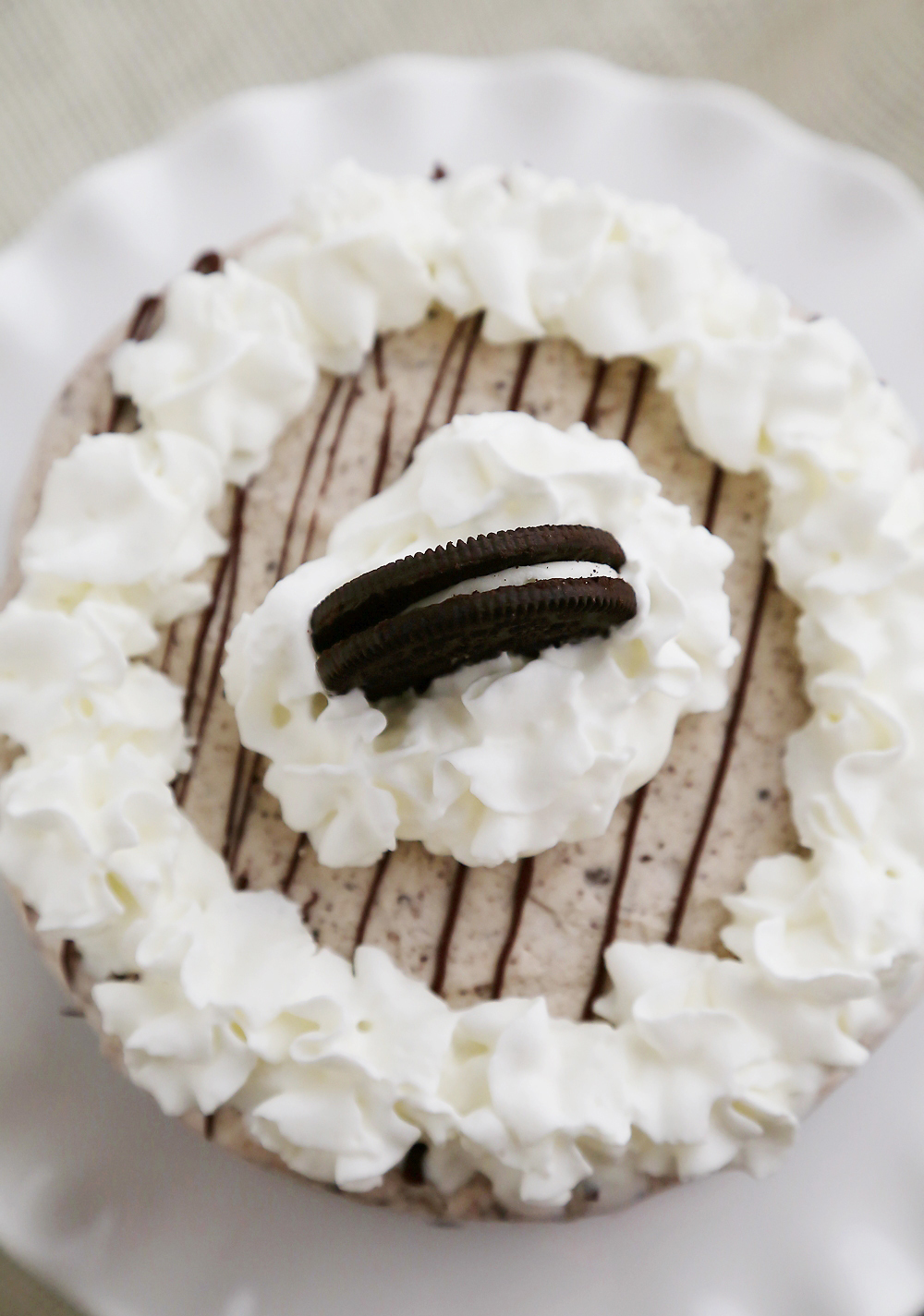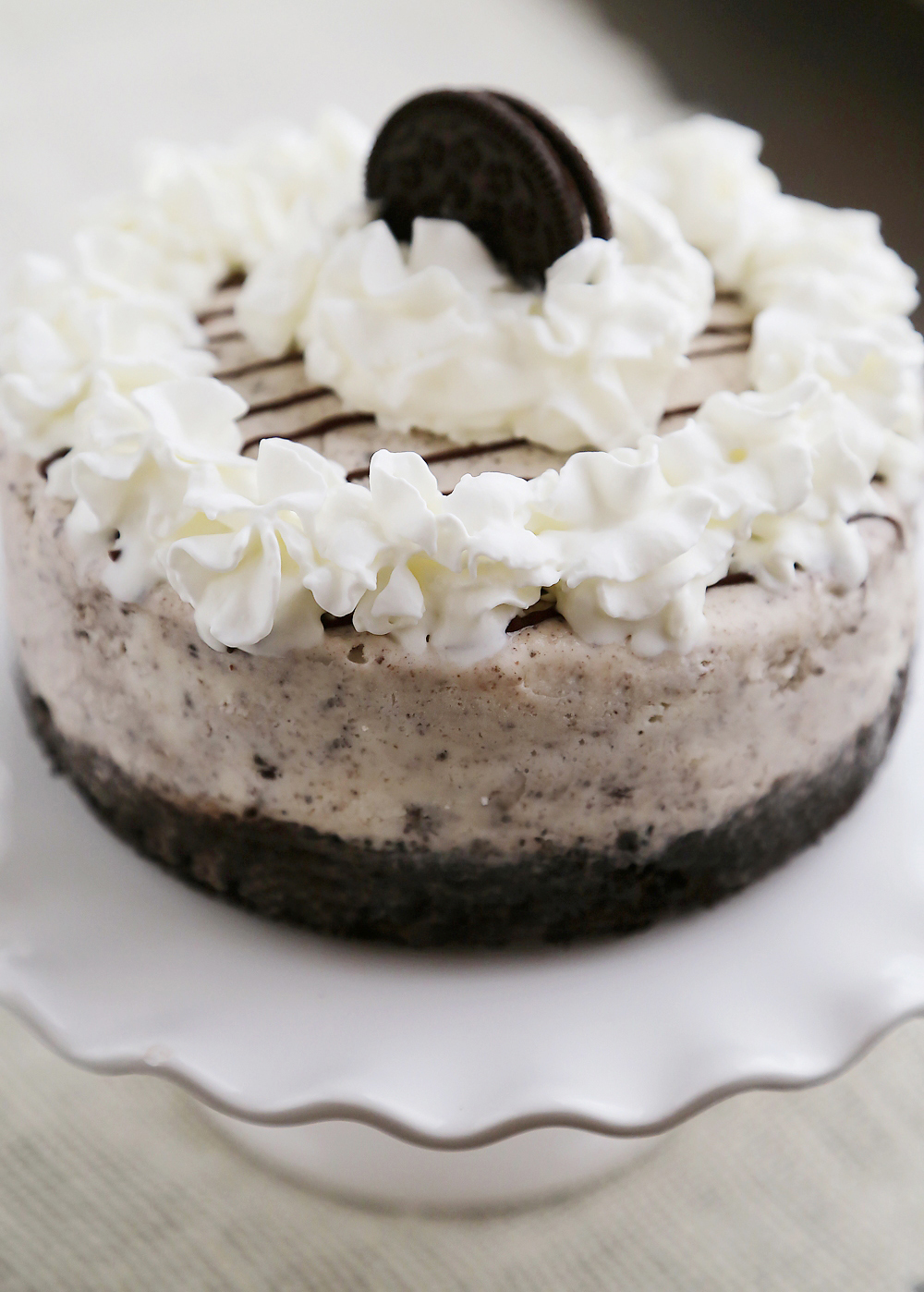 Start by smashing two dozen chocolate sandwich cookies, and combining the crumbs with melted butter. Pat it into your springform pan, and try not to nibble on the buttery cookie bits as you go. No judgment if you can't help yourself!
Place heaping scoops of deliciously creamy Dreyer's Slow Churned Cookies 'N Cream light ice cream on top of the cookie crumbs, and smooth the top with a rubber spatula. Dreyer's ice cream has been a longtime go-to brand of mine; I just love it. Since cookies 'n cream happens to be my boyfriend's favorite ice cream flavor, I couldn't resist treating him! If you find me at the grocery store, you will always find a tub of Dreyer's Slow Churned light ice cream in my cart. It's my little treat to myself after dinner most nights, and since it has half the fat of regular ice cream, I never feel the guilt!
Just fyi, the brand is known as Dreyer's west of the Rockies, and Edy's east of the Rockies, but don't fear, it is the same great ice cream by either name!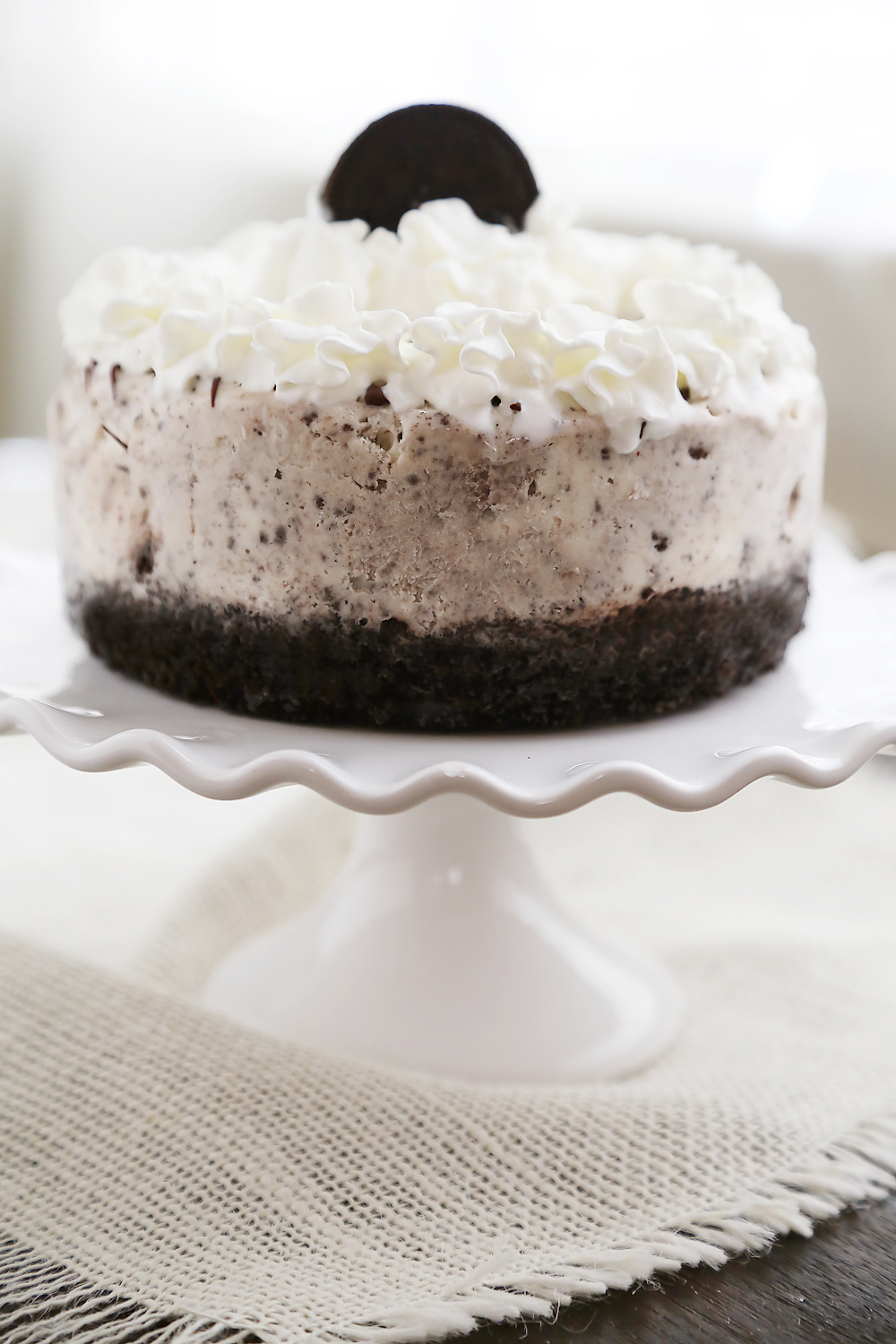 Once your ice cream and cookie layer set in your freezer, the fun really begins! Now you can feel free to decorate your cute little cake any way you wish. For mine, I drizzled some melted chocolate chips over top, and piped whipped cream around the edges and in the center. A simple cookie garnish, and this gorgeous cake is complete!
Take care not to decorate your cake with whipped cream until shortly before serving, though, especially if your whipped cream is somewhat watery or thin. It will "melt" around the edges, but you can always pipe more on top for a freshened up look!
I know you will enjoy this cake so much, for every season. I cannot wait to make it again soon for birthdays, baby showers and other upcoming events that call for something sweet and special!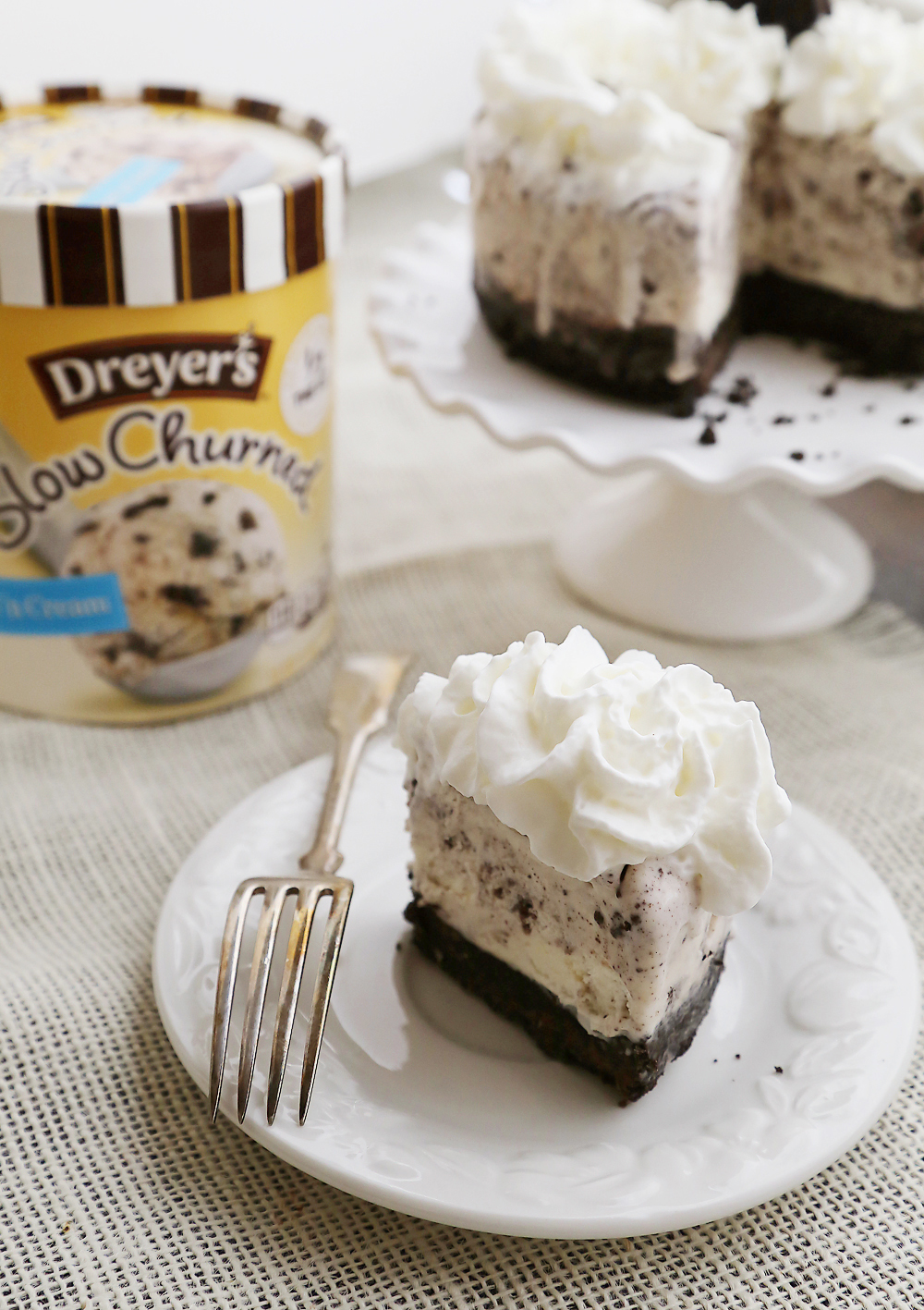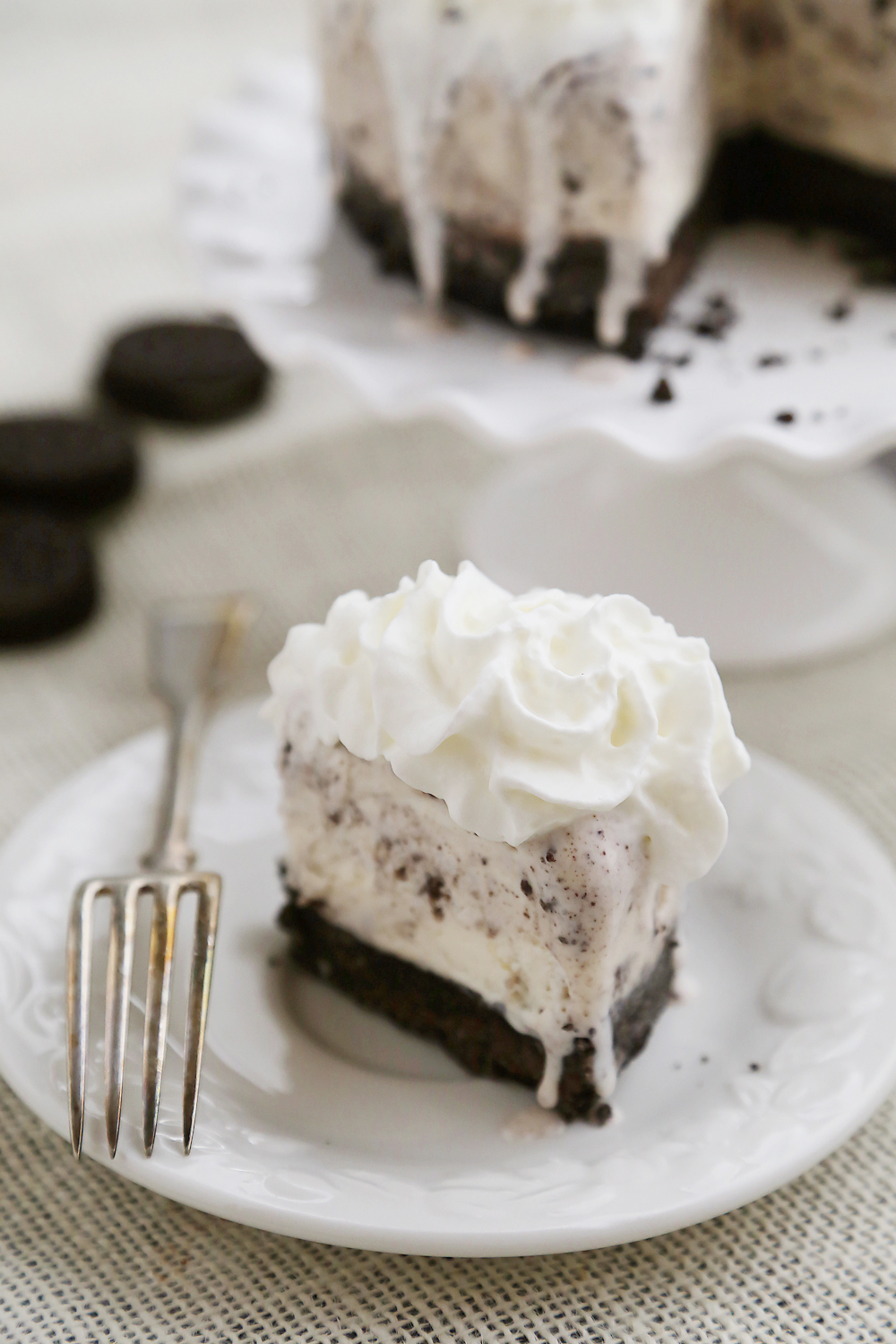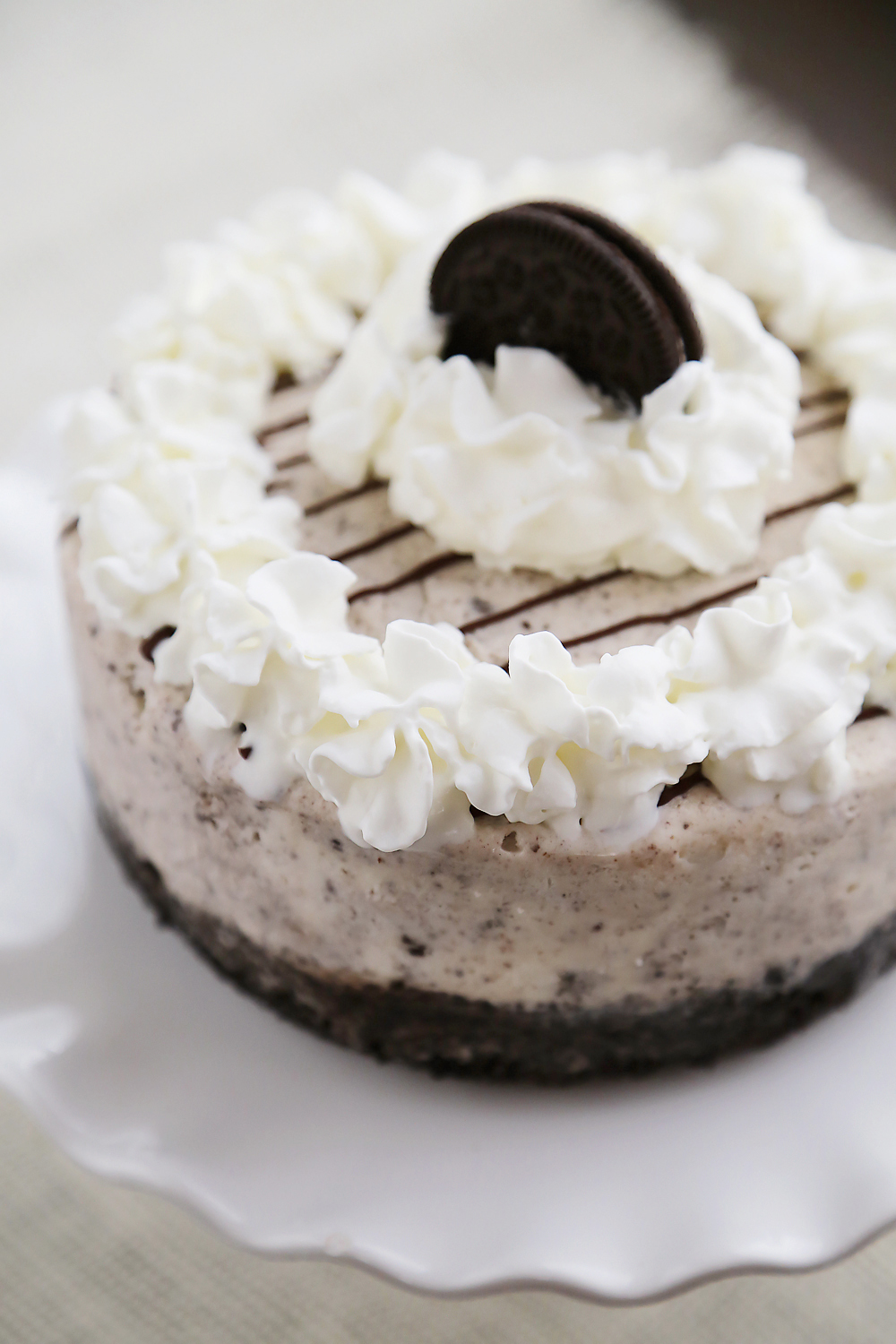 Easy Cookies 'n Cream Ice Cream Cake
Instructions
Remove ice cream from freezer about 20 minutes prior, to let thaw slightly for easy spreading.
Place cookies in the bowl of your food processor, or into a large resealable plastic bag and seal tightly. Smash with a rolling pin until cookies have broken into fine crumbs. If using a food processor, process into fine crumbs. Stir in melted butter.
Press crumbs firmly into the bottom of a 6-inch springform pan. Spoon entire container of ice cream on top, pressing into the pan. Smooth top with a rubber spatula. Cover with plastic wrap and freeze until firm, about 6 hours.
Once firm, melt a handful of chocolate chips in your microwave. Drizzle on top of the cake. Replace plastic wrap and return to freezer until ready to serve.
Just before serving, if desired, pipe whipped cream on top. Top with a cookie, or your preferred garnish.
Enjoy!