Spice up dinnertime with this simple, scrumptious buffalo chicken mac 'n cheese with veggies, whole grain pasta and a zesty kick!
Three days a week, I've been bounding out of bed and onto a treadmill, if for no other reason than because I love good food. And let's be real… it's about time to face the music and cut out some of my delicious vices. But! There's no reason a good granola eating girl can't indulge once in a while, and oh did I. With a few green things thrown in, of course.
With all these fabulous flavors in one dish, my inner fat girl rejoiced! Though my sensible skinny girl had a little self control and stopped at one serving.
A creamy mixture of blue cheese, buffalo sauce, garlic and cream cheese coated a bed of penne, vegetables, chicken and cheese, which was dusted with breadcrumbs and popped into the oven for just over half an hour. Hello, heaven? It's Buffalo Chicken Mac 'n Cheese calling.
Try this as a tasty weeknight meal that's easy and fast, or as a delicious dish to devour with fellow football lovers! It may be a little sinful, but it's totally heavenly for when you're craving something bad that's OH SO good!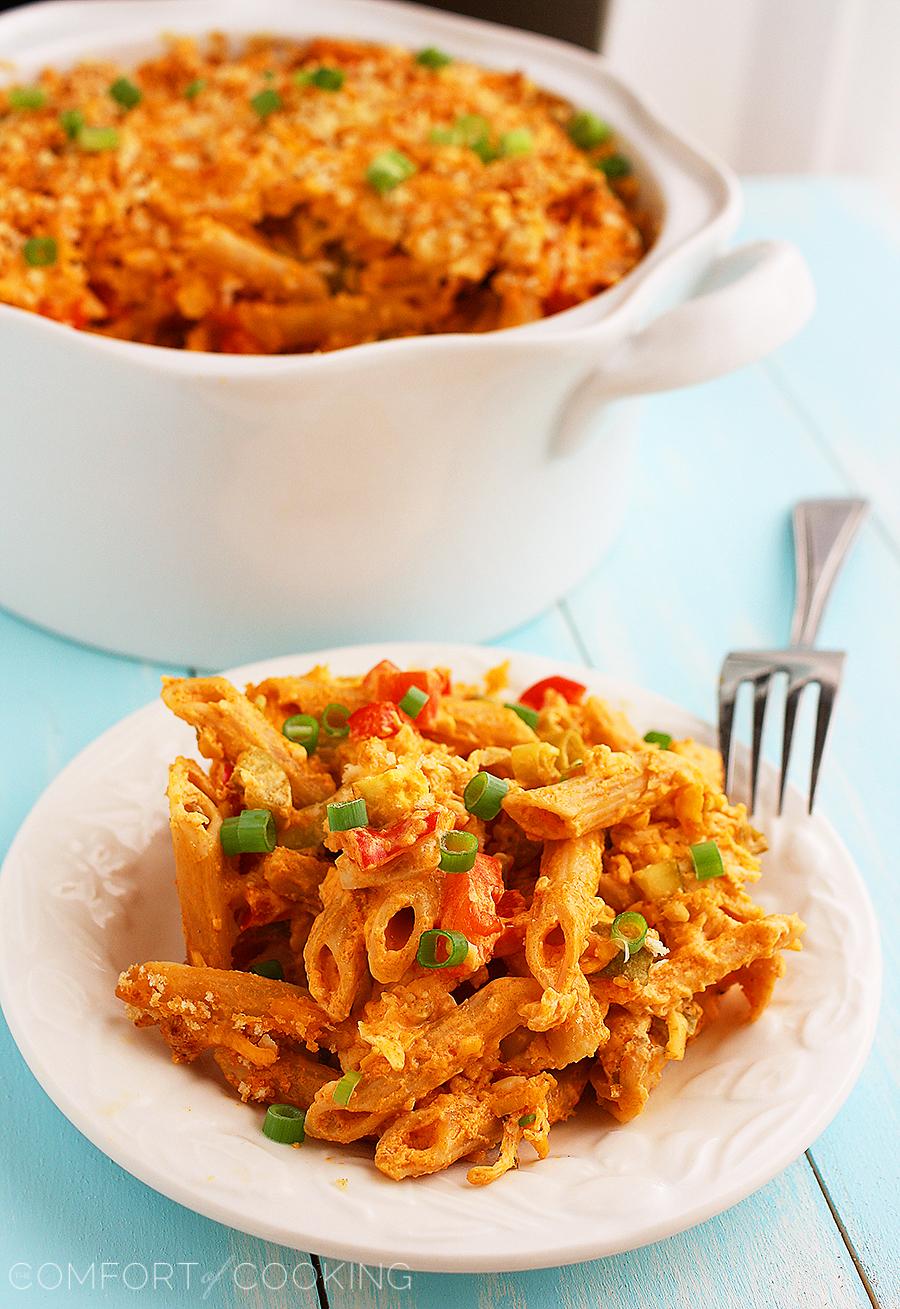 Buffalo Chicken Mac 'n Cheese
Ingredients
13 oz. box whole grain pasta, penne, shells or rotini
1 lb. cooked chicken, cut into bite-sized pieces
2 small bell peppers, red and yellow, seeded and chopped
1 bunch chopped green onions, divided
2 garlic cloves, minced
8 oz. cream cheese
1 cup blue cheese dressing, recommended: Wishbone
1/2 - 3/4 cup buffalo sauce, recommended: Frank's Red Hot
3 cups shredded cheese, divided (cheddar, mozzarella or a blend)
3/4 cup panko breadcrumbs
Instructions
Preheat the oven to 350 degrees F.
Boil pasta in salted water according to package instructions. Drain and transfer to a 13 X 9 inch baking dish. Toss in cooked chicken, bell peppers, half of the green onions, and half of the shredded cheese. Mix well.
Place the garlic, cream cheese, blue cheese dressing and 1/2 cup buffalo sauce in a food processor. Puree until smooth, taste and add another 1/4 cup buffalo sauce if needed. Pour over the pasta and toss.
Mix the remaining 3/4 cup cheese and the panko together. Sprinkle over the top of the pasta.
Bake until golden, approximately 30-40 minutes. Sprinkle with remaining green onions.
Enjoy!