Whip up this creamy, healthy pasta in minutes with a mixture of avocado, lemon juice, olive oil and fresh basil. The avocado makes an incredibly delicious, buttery sauce that you'll crave again and again on your favorite pasta!
Let's see. The things I won't miss about summer? Mosquitoes. Humidity. The A/C bill (and you know we New Englanders keep it cranked!). The things I will miss? Juicy lemons. Fragrant basil. And, oh mama, those buttery smooth avocados.
Can you tell I'm a winter kind of girl?
For the 2.456 seconds that Austin will have cool weather and I can still get a decent avocado, I'm going to wrap up in a cozy sweater and pile a big bowl of this into my mouth. All for myself. 'Cause that's just how we do.

You'd swear there was at least a pound of butter in this beautiful pasta, but nope! Just a little olive oil, lemon juice, fresh basil and a bunch of smooooth avocado whirred up into a savory sauce.

Toss in some chopped tomatoes, cooked bacon or chicken, or a heap of freshly grated Parmesan. However you dress up this fuss-free pasta you're gonna love it. And then you're gonna pass out from carblicious bliss. Mmm!

Whip up this divine, delish pasta some weeknight as an easy option for busy nights. And before avocados are out of season and overpriced, stock up and savor the smooth, savory goodness until summer's over for good!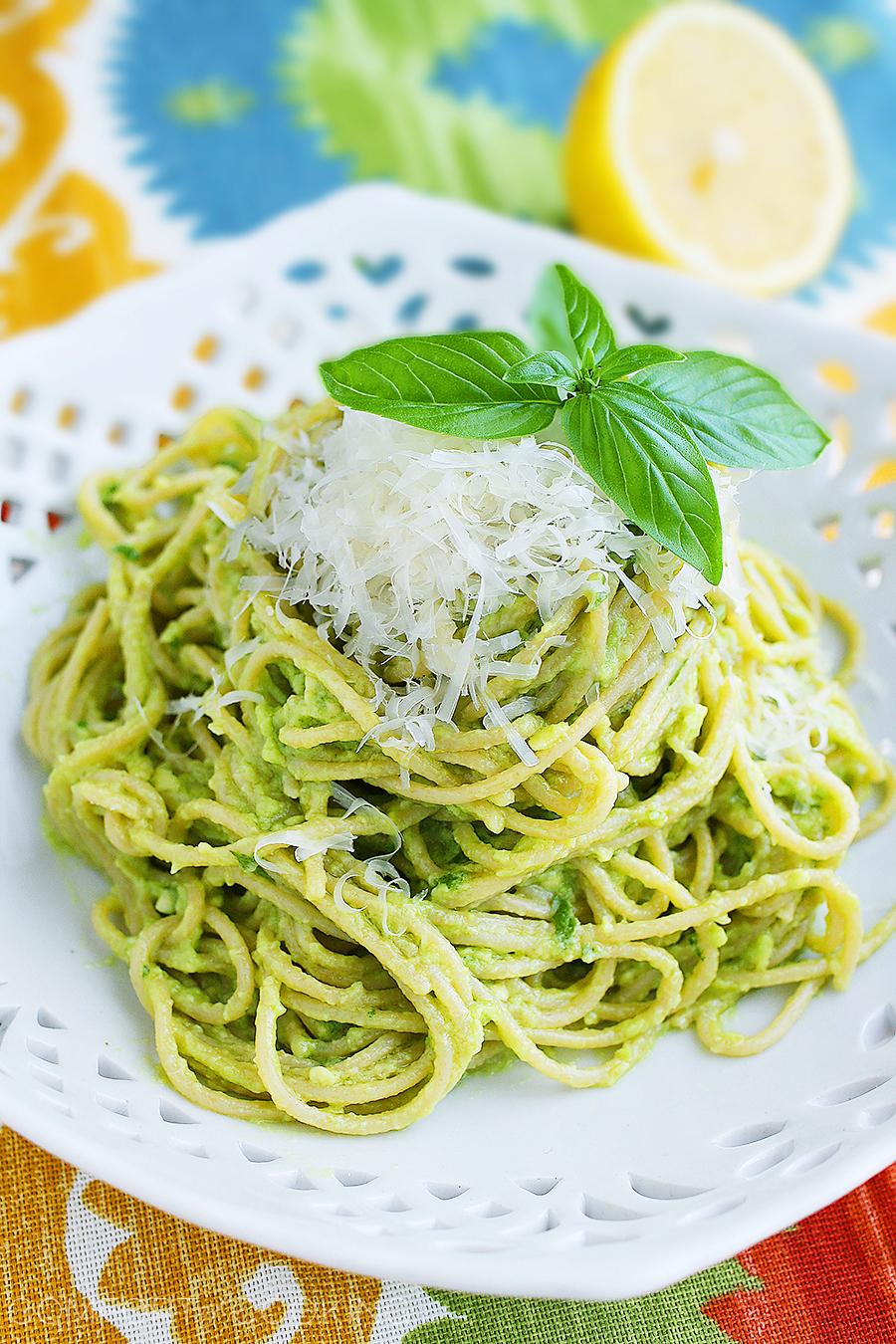 Creamy Avocado Pasta*
Ingredients
12 oz. pasta, I used whole wheat spaghetti
2 ripe avocados, pitted and scooped
1 lemon, juiced
2 cloves garlic
1/4 cup olive oil
1 handful fresh basil
1/4 tsp. kosher salt
Freshly grated parmesan
Instructions
Set a medium-sized pot of salted water to boil. Add pasta, reduce heat slightly and cook until al dente, 8-10 minutes.
In a food processor, combine avocado flesh, lemon juice, garlic, olive oil, basil and salt. Blend until smooth and creamy. Set aside in a large bowl.
Transfer cooked pasta to the bowl. Toss with avocado mixture and freshly grated parmesan. Serve with additional grated parmesan, if desired.
Enjoy!
Notes
* Please note: This dish must be served same day, same minute it's made. It cannot be left out, refrigerated, or frozen without turning brown from the avocado. As soon as it's done, just dig in!