Put a sweet-salty twist on your leftover pumpkin seeds with a bit of salted caramel! It makes for an irresistibly delicious and healthy snack!
There is so much to love about fall… the fresh, brisk air, snuggling up inside a big warm sweater, the crunch of crisp leaves under your boots, and of course… digging your whole forearm into a giant orange squash, grabbing the guts of it, and making 'em into a delicious snack!
Pumpkin carving is a great fun fall tradition and toasting up the pumpkin seeds with new flavors is the best part! Because what's a better way to admire your newly carved masterpiece than by stuffing your face with it's insides?
For these scrumptious seeds (which pup liked too), I combined my love of sweet and salty by making a buttery salted caramel mixed with cinnamon, ginger and nutmeg. If I could bathe in those spices, I tell ya…
If you've got some seeds leftover, give these a whirl! They taste totally decadent and make your home smell amazing!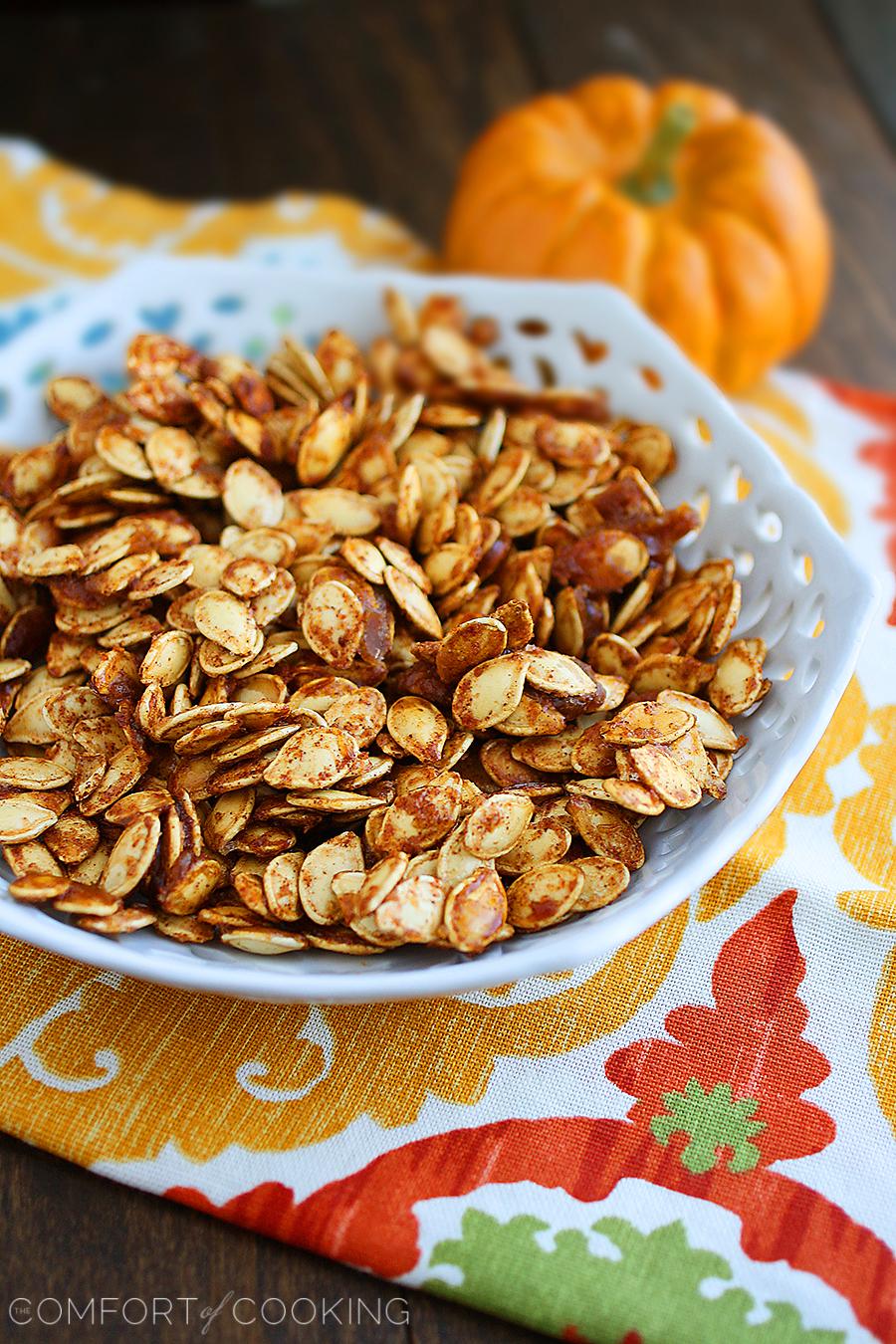 Salted Caramel Pumpkin Seeds
Ingredients
3 tablespoons granulated sugar
1/4 teaspoon ground cinnamon
1/4 teaspoon ground ginger
1/8 teaspoon ground nutmeg
2 cups raw pumpkin seeds, rinsed and pat dry
Nonstick cooking spray
1 tablespoon butter
1 tablespoon each, brown sugar and granulated sugar
1/2 teaspoon salt
Instructions
Preheat oven to 300 degrees F. Line a baking sheet with parchment paper.
In a medium bowl, mix sugar, cinnamon, ginger and nutmeg. Add seeds and toss to coat evenly. Spread on the baking sheet and spray with cooking spray. Bake seeds until lightly golden, 20 to 25 minutes.
Melt butter in a large nonstick skillet over medium heat. Stir in sugars and salt; cook until deep golden brown, 1-2 minutes. Reduce heat to low and stir in seeds; coat with buttery caramel mixture and cook an additional minute. Remove from heat and let cool before serving.
Enjoy!