Hello, everyone! I hope you had a wonderful weekend, however you may have spent it. We had a great weekend noshing on steak, guzzling beer-itas (their surprisingly good beer/tequila/limeade concoction), and watching the fireworks display by the beach!
Speaking of seafood, I have a very fun and simple shrimp dish for you today. I have been seriously craving some seafood in my diet lately, because sometimes it seems like we are on a cycle of chicken-pork-beef-repeat every week. Though it can be pricey (keep a lookout for deals!), buying a large bag of frozen raw shrimp goes a long way, and even though frozen, the shrimp is still very tender and tasty once cooked. I have more than enough left over for another recipe, plus maybe one more.
A little garlic bread was just the right compliment to this stellar dish, and each flavor truly shined, from the sweet corn and juicy tomatoes, to the fresh zucchini, parsley and succulent little bites of shrimp.
Next time, I think I'll add a little lemon juice to the pan to amp up the crisp, clean flavor even more. This stir fry also made for great leftovers, so it's one you can keep enjoying again and again.
Whether serving it as an easy, quick weeknight meal or a savory summer meal for guests, you are sure to love this one as much as we did!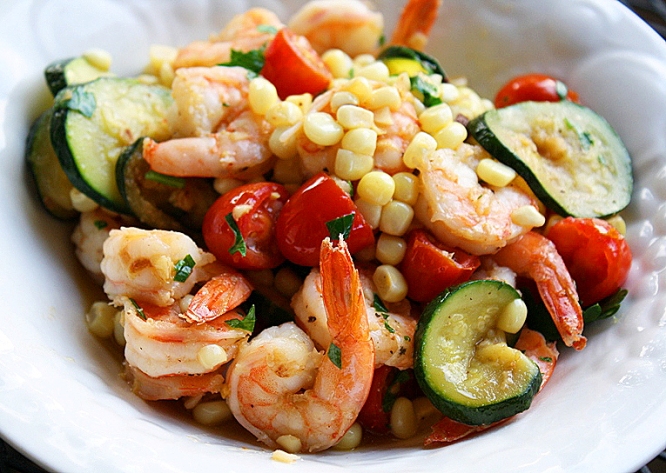 Summer Stir Fry
Ingredients
2 tablespoons butter
2 tablespoons olive oil
4 cloves garlic, minced
25-30 whole shrimp, peeled, deveined, tails left on
2 whole zucchini, sliced on a slight diagonal
2 ears corn, kernels sliced off
½ cup grape tomatoes, halved
Salt and freshly ground pepper, to taste
Chopped fresh herbs, such as parsley/basil/cilantro, if desired
Instructions
Heat 1 tablespoon butter and 1 tablespoon olive oil in a large skillet over medium heat. Add minced garlic. When oil/butter is hot, add shrimp and cook for 3 minutes. Remove to a plate. Do not clean skillet.
Add the remaining 1 tbsp. each of butter and oil, and heat over medium heat. Add zucchini slices in a single layer and cook for one minute, flipping once. Move the zucchini to the edges of the pan, then add corn kernels to the middle of the pan. Cook for one minute. Add grape tomatoes, salt and pepper, and toss around, then add shrimp. Cook for an additional 30 seconds, then remove from heat. Serve.
Optional: Serve with garlic bread, couscous, white or brown rice, or pasta such as linguine, spaghetti, or fettucine.
Enjoy!