Kick up the spice with this scrumptious steak salad, full of fresh veggies and drizzled with a homemade cilantro-lime dressing! It's the best steak salad I've EVER made (or eaten).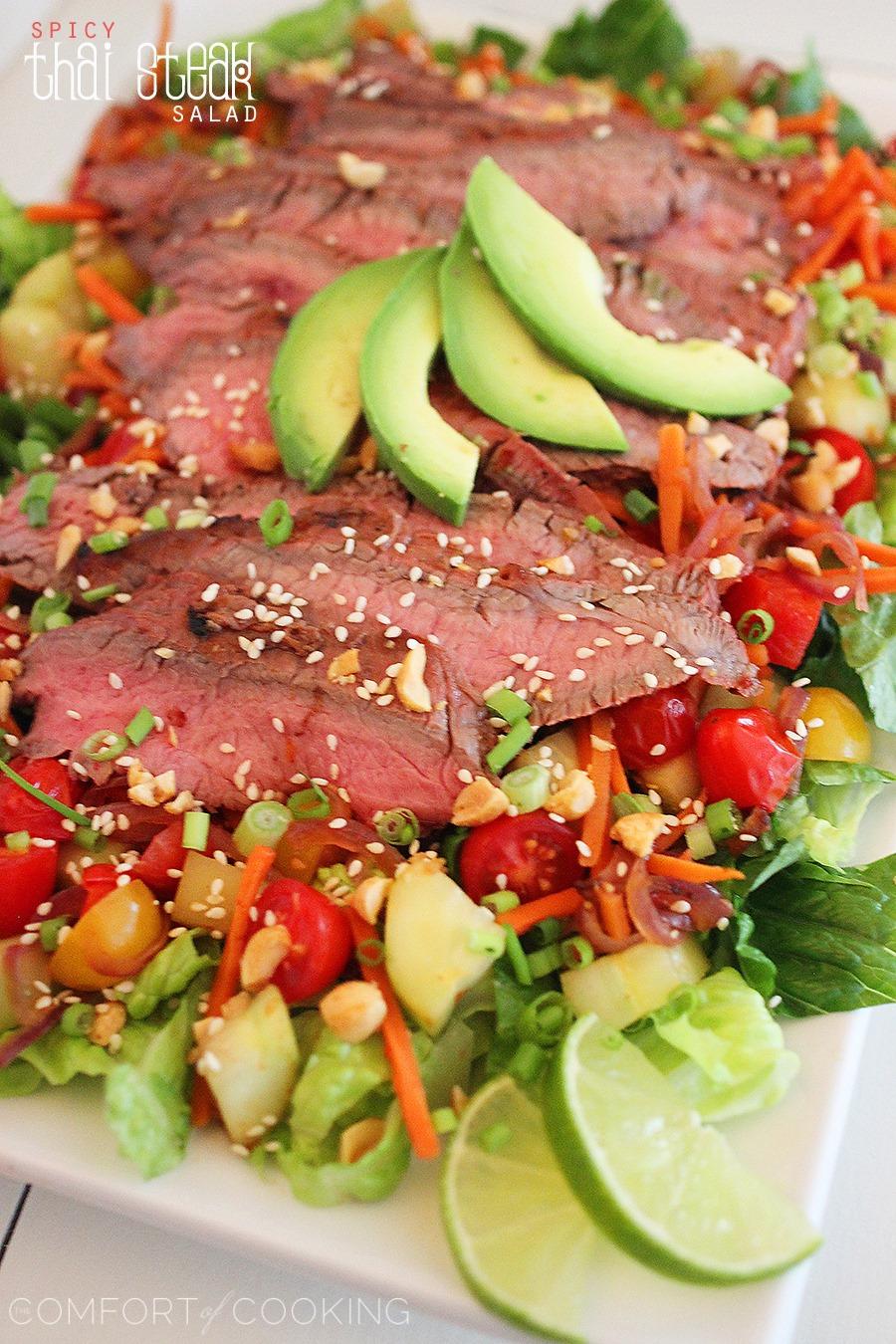 I tend to be kinda klutzy in the kitchen. You wouldn't think so, since at the end of the day I'm able to turn out good looking food, but getting there can sometimes be… a process!
Take this salad, for example. I laid out all the lettuce, tomatoes, cucumbers and veggies, topped it with toasty hot, tender slices of flank steak, then got to garnishin'. A sprinkle of sesame seeds, a little fresh lime, peanuts and scallions, and oh! What does every good, tasty Thai dish need? A handful of creamy avocado slices…
Oh, I got my handful.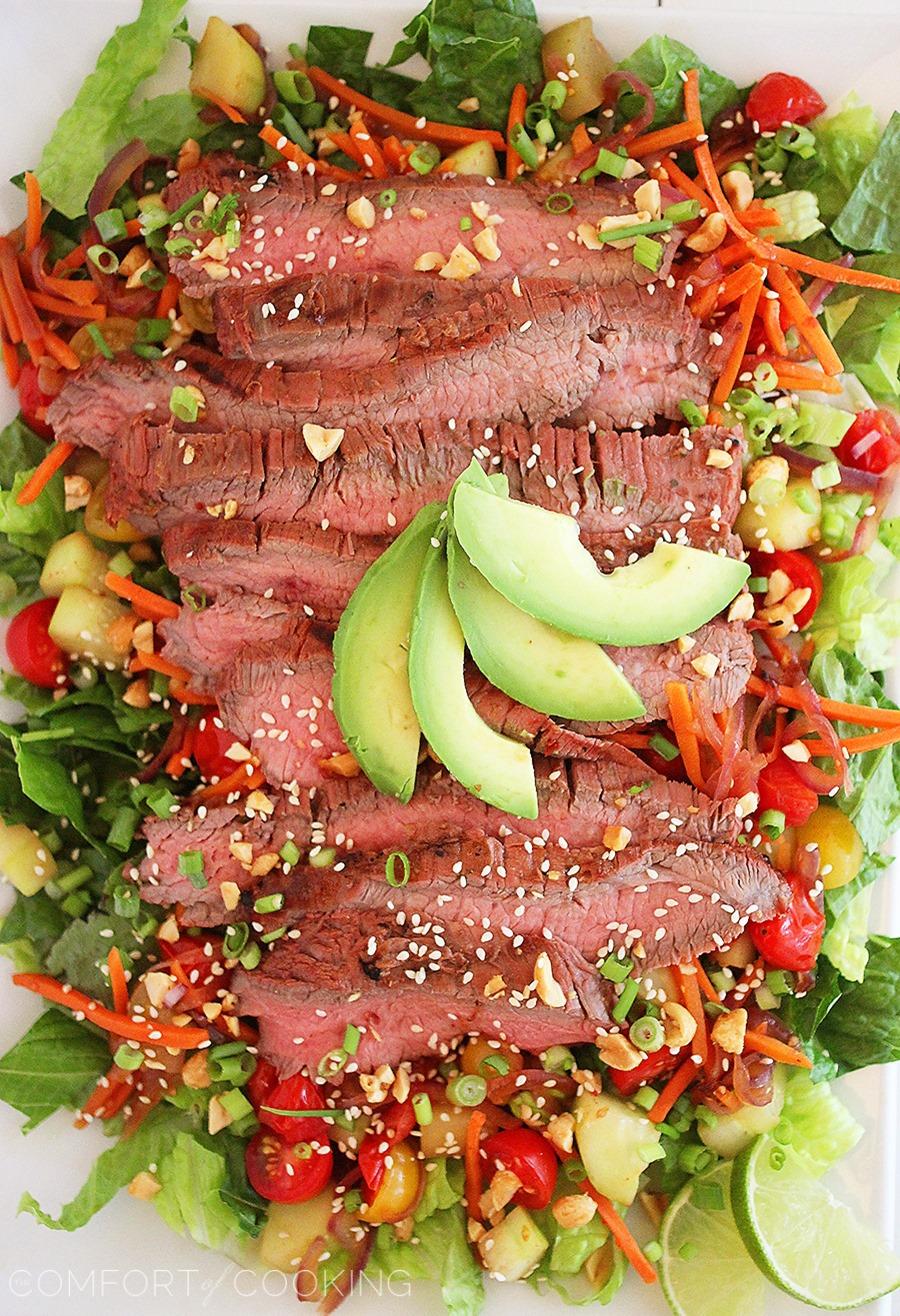 Cue accident: Hubby, being helpful as usual, got to chopping the avocado, but the bugger of a pit just wouldn't come loose. I was flying through the kitchen, here there and everywhere, yanked the knife from him and offered to quickly help. WRONG DECISION.
Avocado in one hand, knife in the other, WHAMMO. The knife didn't pry the pit loose, but it did slice into my hand. Think deep paper cut. Yea, I know. It hurts just to THINK about it happening all over again.
Little girl sobbing ensued, as did insisting that I'd need 10,654 stitches. But, my hero came to the rescue with band-aids and Neosporin, and the show went on! The things I do for a tasty looking shot… (and also 'cuz I love ya).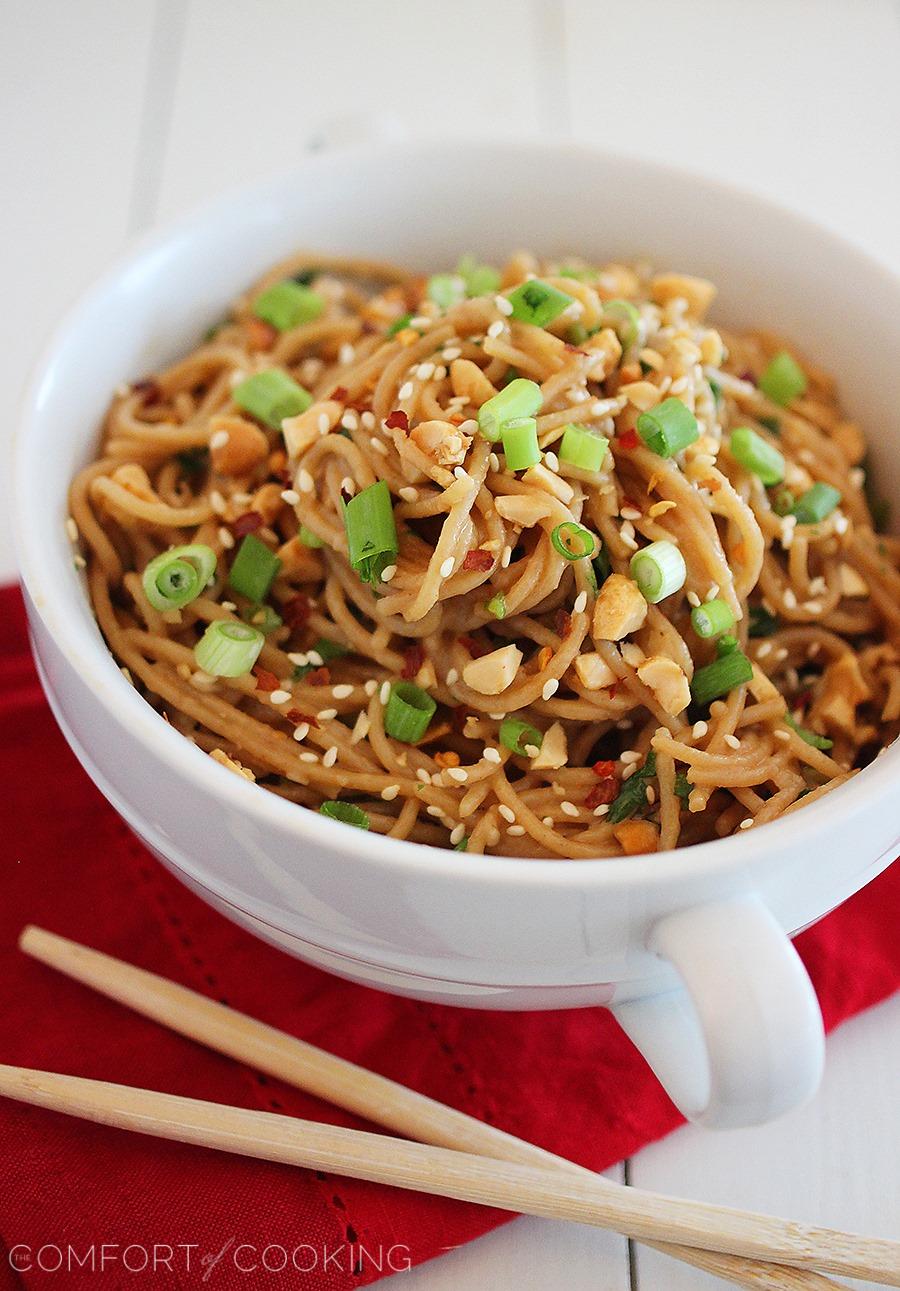 So, let's finally get talkin' Thai, shall we? Enough about my goofy antics!
This is one of the best salads I've ever had, and that's the truth. When hubby and I were noshing down, we didn't even come up for air to have a nice chat, a sip of water, or a pause to put our forks down for a minute. We just WENT for it. After one bite, you'll see what I mean!
Served with my Simple Asian Soy-Peanut Noodles, this meal was absolutely mouthwatering. I don't cook Asian dishes often – I'm always trying to learn, and I think this was a step in the right direction! I can't wait to serve this the next time we have spice-lovin' friends over for a scrumptious dinner!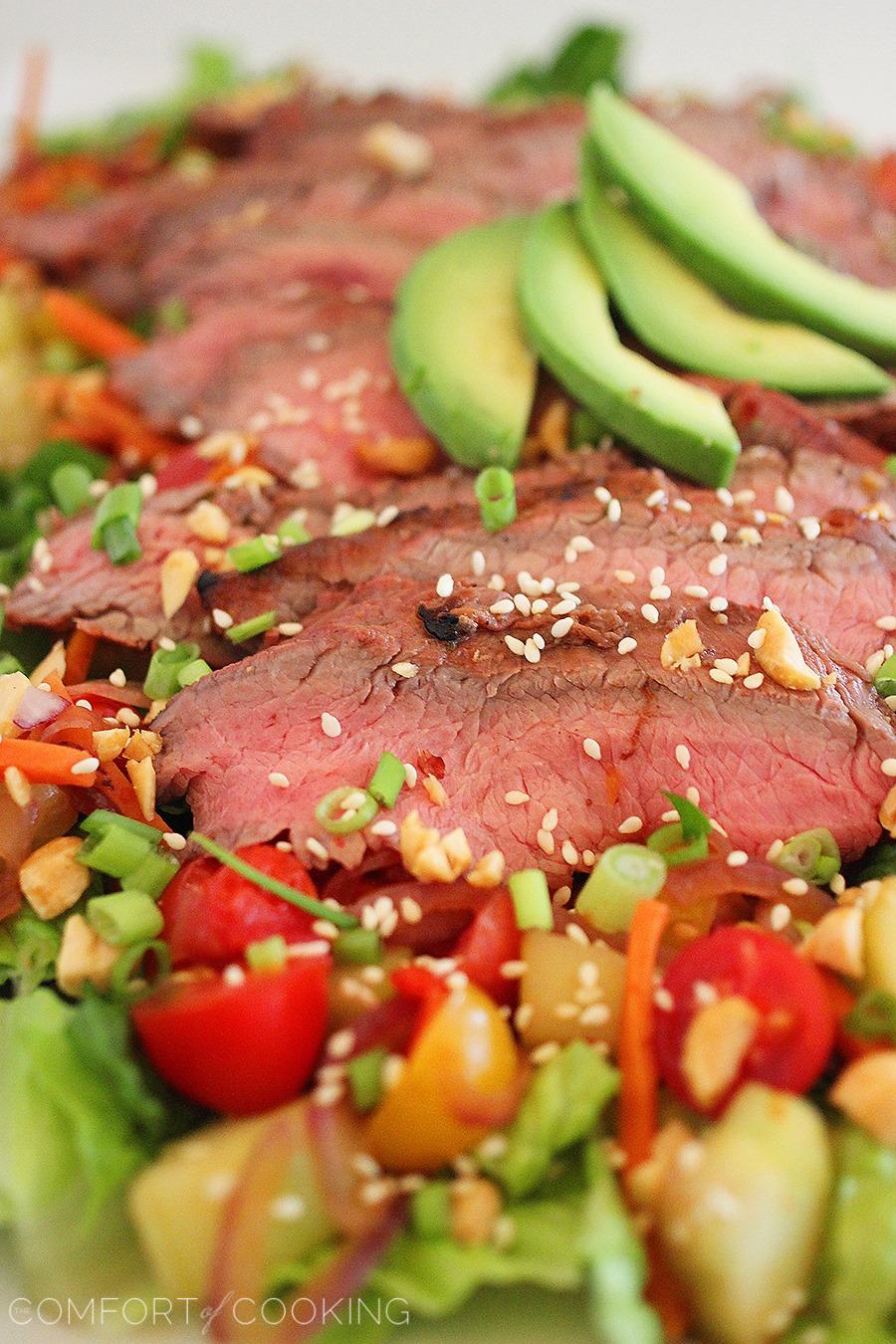 If you're not big on spice, though, feel free to cut the amount of chili garlic sauce to half. The salad will be more mild, but still zesty and delicious!
Marinated in a mixture of lime juice, cilantro, ginger, garlic and spices, the flank steak was melt-in-your-mouth tender and delicious. We served it over a bed of juicy tomatoes, crisp cucumber, carrots, onion and torn romaine lettuce for a fresh crunch. Topped with green onions, toasted sesame seeds and a (haphazardly sliced) avocado, it was an amazing meal that I intend to make again and again.
Maybe next time with chainmail gloves, though!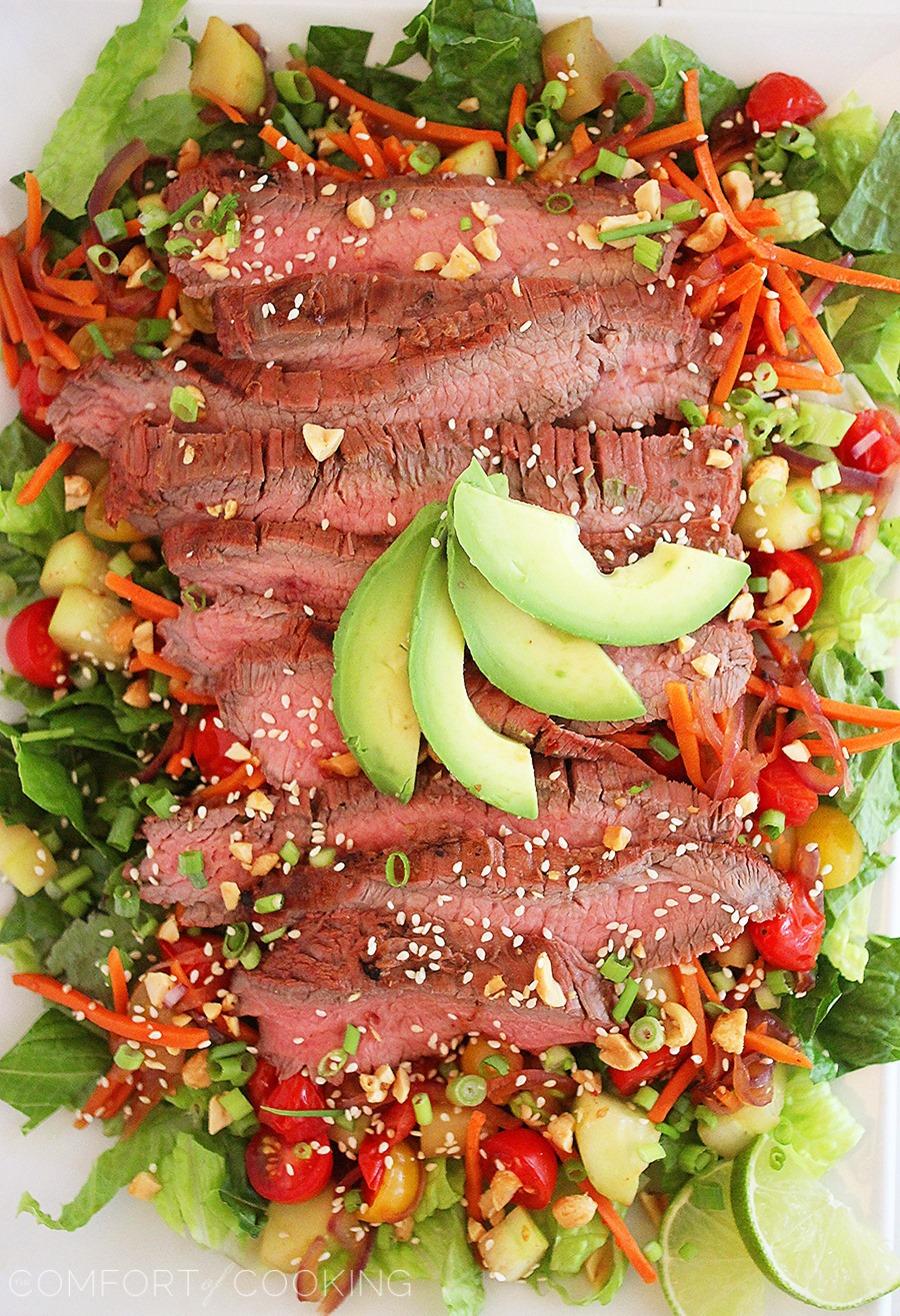 Spicy Thai Steak Salad
Ingredients
For the marinade/dressing:
3 Tablespoons olive oil
1/2 cup fresh lime juice
1/4 cup chopped fresh cilantro
1 Tablespoon red wine vinegar
1 Tablespoon freshly grated ginger
2 Tablespoons brown sugar
2 Tablespoons fish sauce
2 Tablespoons chili garlic sauce
1 teaspoon ground cumin
2 garlic cloves, minced
1 1 1/2-pound flank steak, lightly scored crosswise
For the salad:
1 red onion, thinly sliced
1 pint cherry tomatoes, halved*
1 English cucumber, halved and thinly sliced
1 cup julienned carrot
4 cups torn romaine lettuce
For garnish (optional):
Toasted sesame seeds
Green onions, sliced
Sliced avocado
Chopped fresh mint or fresh Thai basil
Dry roasted unsalted peanuts
Instructions
Combine all marinade ingredients, except steak, in a large resealable plastic bag. Remove half of marinade mixture to a small bowl (this half will be used as the salad dressing). Add steak to plastic bag with marinade, toss to coat and seal. Marinate in refrigerator at least 10 minutes, up to 12 hours. Remove steak from bag and discard marinade.
Heat a large nonstick skillet coated with cooking spray over medium-high heat. Add onion; sauté 3 minutes. Add tomatoes, cucumber and carrot; sauté 2 minutes. Place sautéed vegetables and lettuce in a large bowl; toss gently to combine.
Preheat your outdoor gas grill, grill pan or broiler. Coat your cooking surface with cooking spray.
Cook steak 5 minutes on each side or until desired degree of doneness. Remove to a cutting board, tent loosely with foil, and let stand 5 minutes. Meanwhile, divide salad equally between 4 plates. Thinly slice steak across the grain, lay slices on top of salad, and drizzle with remaining marinade.
Garnish with green onions, fresh mint, Thai basil, and/or roasted peanuts, if desired.
Enjoy!