Craving a big bowl of comfort? Look no further than this hearty, 6-ingredient slow cooker sausage, peppers and white bean dish in a rich tomato sauce. So easy and perfect with a green salad and slices of crusty bread!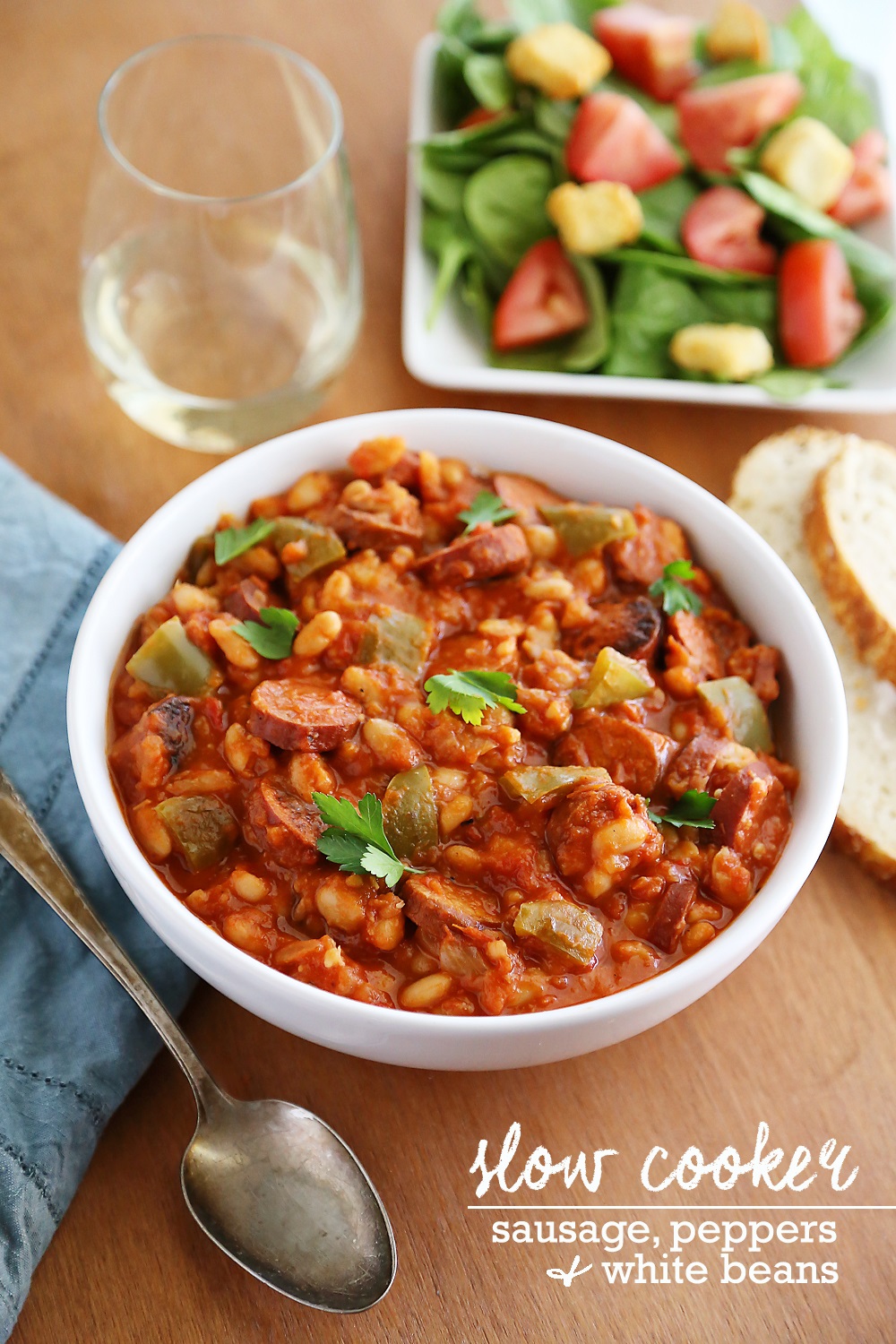 This may look like a simple enough dish, but it is full of flavor. And incredibly delicious for next-day leftovers, too. If you're lucky enough to have any.
I love a warm, hearty homemade meal on weeknights. I love it even more when it's healthy. And even more when all I need are a handful of ingredients. Bonus points if it's made in one pot and I don't have mountains of dishes!
There's nothing not to love about this mouthwatering medley of white beans, smoked sausage, veggies and tangy tomatoes. Even the kids in your family will love it!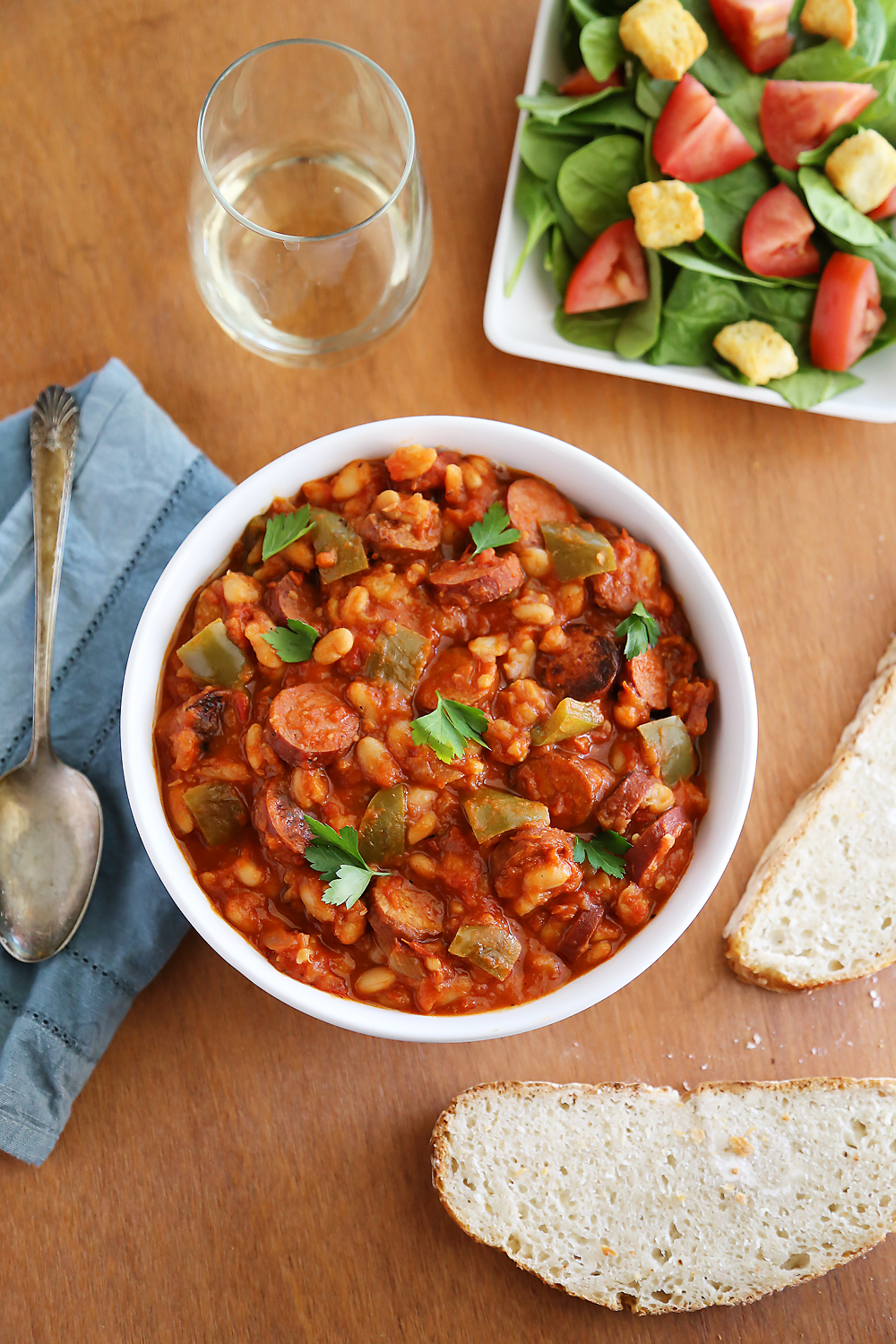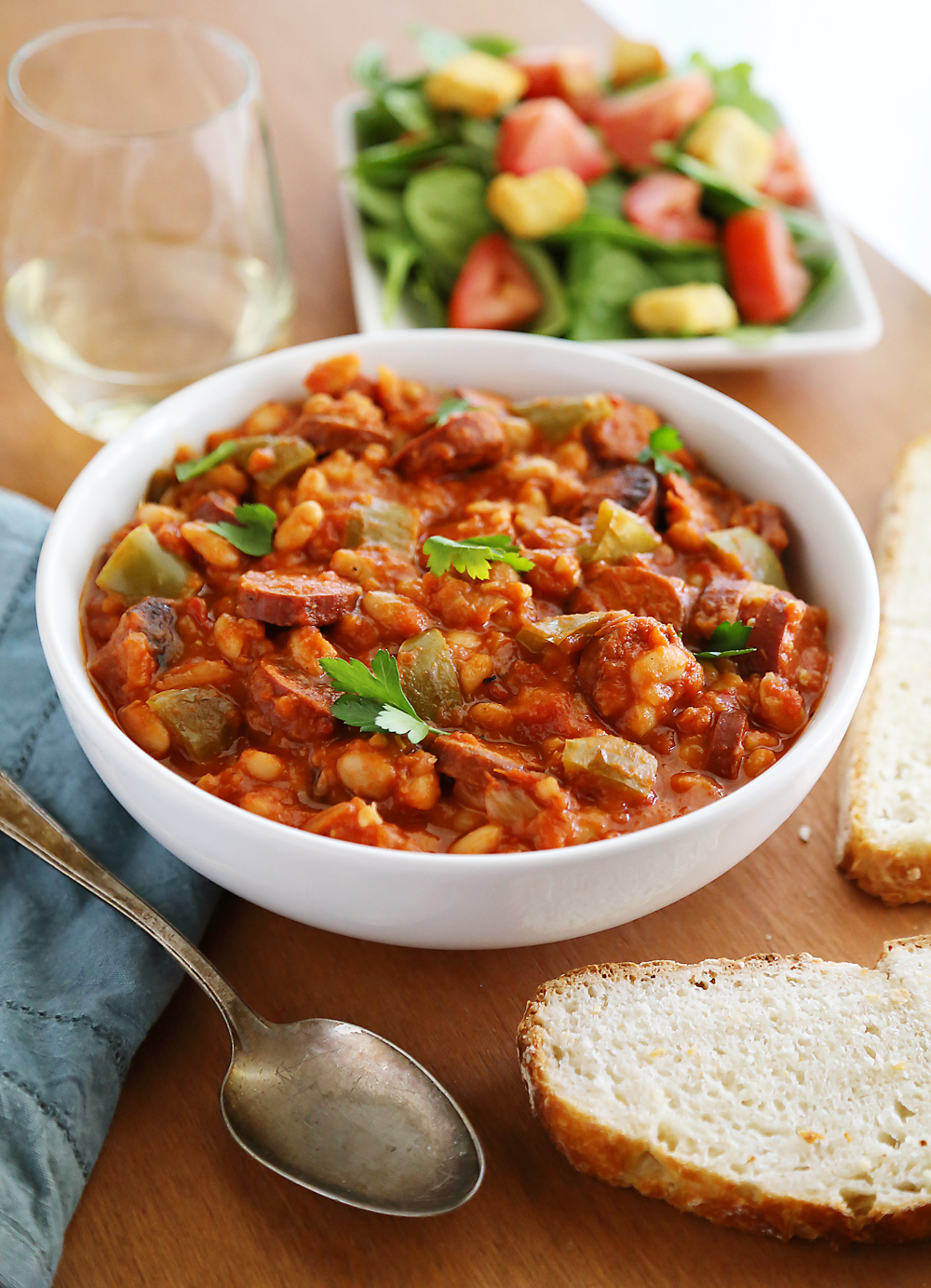 It's as simple as this: Chop your green peppers and onions, slice a link of smoked sausage, crack open a can of white beans and crushed tomatoes, and add it all to your slow cooker. Set it and let it sizzle the day away. Come home to a hot home-cooked meal, maybe serve crusty bread or a green salad on the side, and enjoy.
If you don't have a slow cooker, you can cook this over low heat in a large stockpot. The cooking time will be reduced to 3 hours. Instead of covering tightly, leave the pot's lid slightly ajar.
You will love this super simple, 6-ingredient bowl of goodness! So comforting, so delicious and so perfect for sharing with family and friends.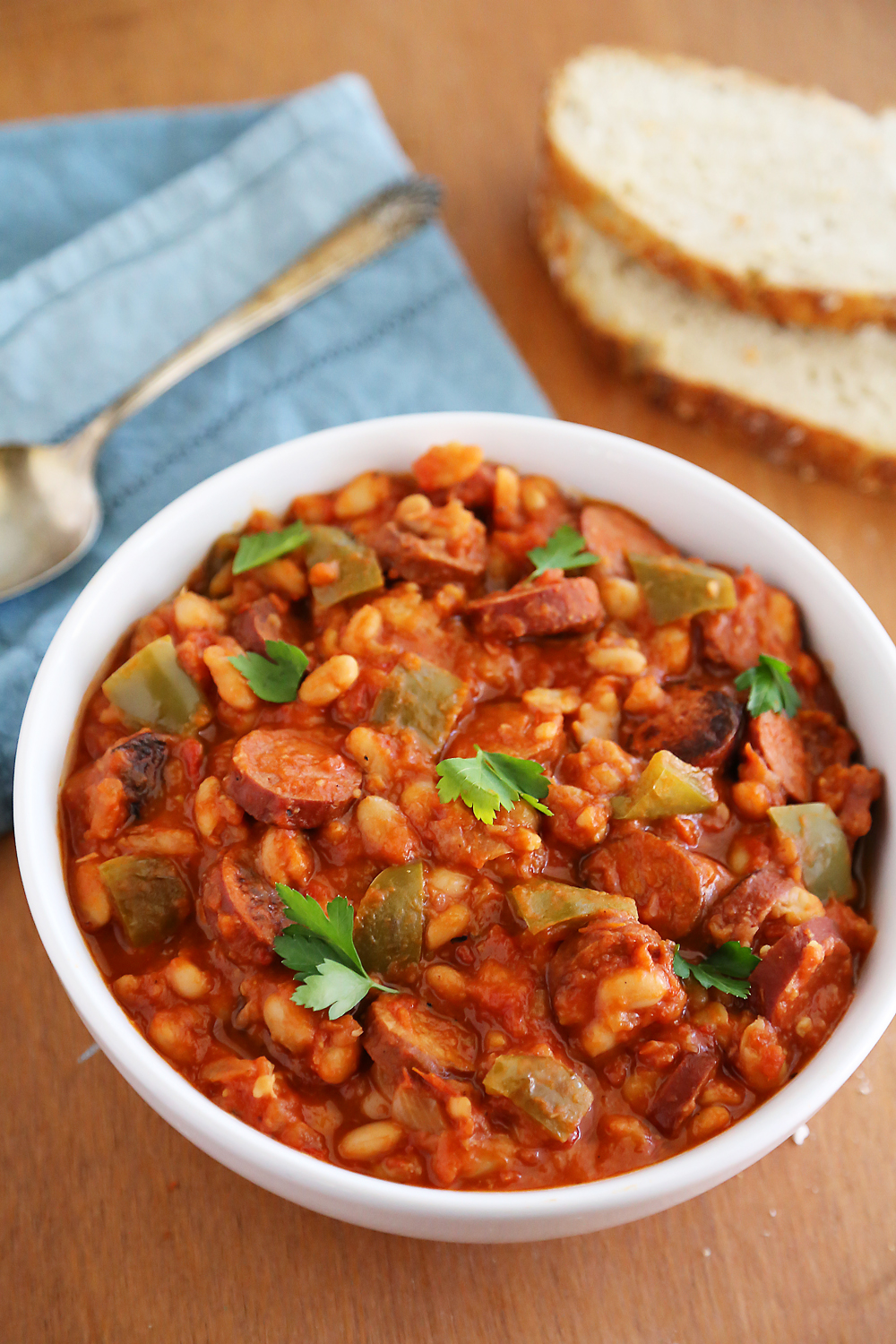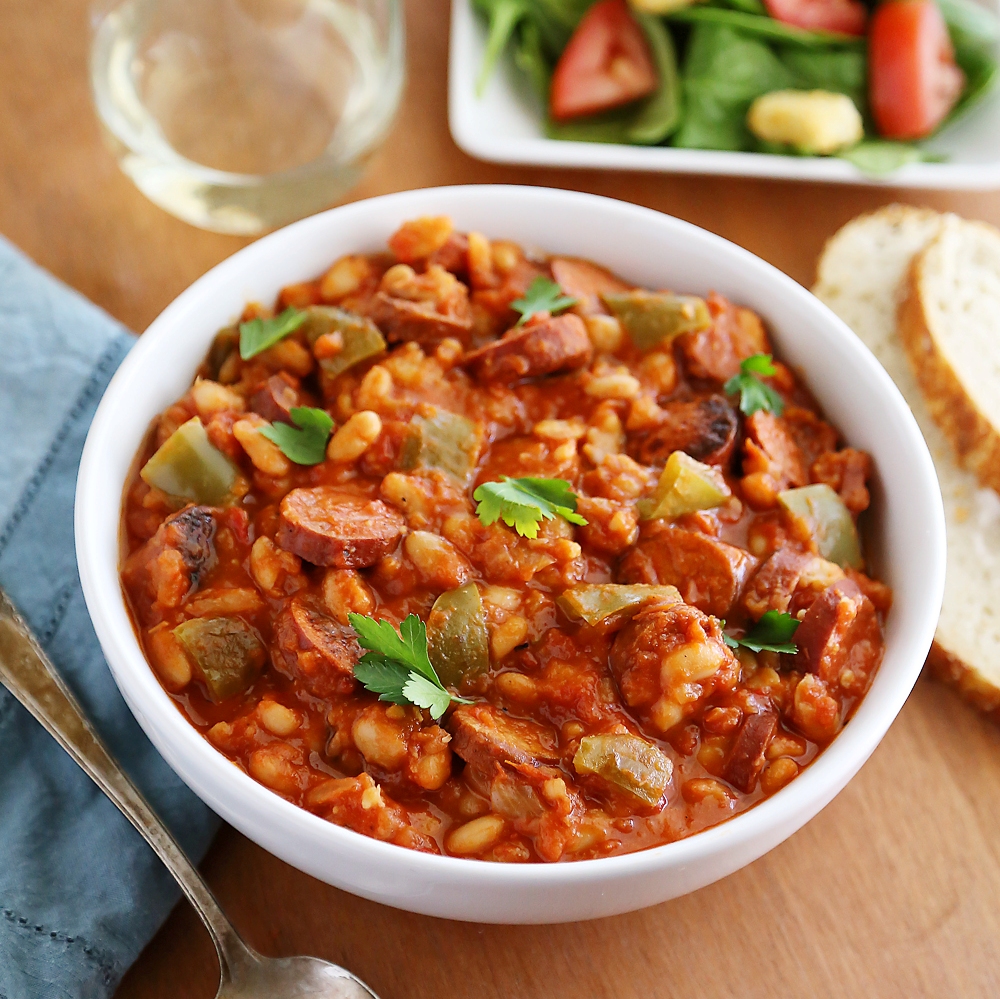 Slow Cooker Sausage and White Beans
Ingredients
12 oz. kielbasa or smoked sausage, sliced
1 green pepper, chopped
1/2 onion, chopped
Kosher salt and freshly ground black pepper, to taste
2 (15 oz.) cans Great Northern white beans
1 (14 oz.) jar crushed tomatoes
Instructions
In a large skillet set to medium-high, cook sausage until lightly browned. Stir frequently as you cook, about 5 minutes. During last few minutes of cooking, add green pepper and onion. Cook until tender. Season with salt and pepper, to taste.
Combine cooked sausage-vegetable mixture and remaining ingredients in a slow cooker. Cover and cook on high for 4 hours, or low for 8 hours, or until warm throughout.
Enjoy!