Let's be honest. Even if you love to cook, there's a good chance that you've shaken out a box of Stovetop stuffing or set a pot of minute-rice to simmer and served them as side dishes. I sure have, because sometimes there's no time for anything more complicated than that. But, here's a secret: Homemade side dishes don't have to be complicated.
This delicious dish is full of plump pasta, juicy tomatoes and sweet spinach, tossed with freshly grated Parmesan cheese and a white sauce made from a little olive oil, sauteed garlic, heavy cream, and lemon zest and juice. Served alongside grilled chicken breasts, it made for a light but mouthwatering meal, but this pasta can also be served on its own, or with a salad and garlic bread. You can also swap the pasta for whatever else is in your cabinet, such as farfalle, fusili, rigatoni or penne. Or, you could even add some cut-up cooked chicken or shrimp and toss it together for a whole meal in one pot!
However you dress up this simple dish, it's sure to be delicious. I know you'll just love the bright lemon flavor combined with the pasta, creamy Parmesan and tender, colorful summer produce as much as me and my husband did.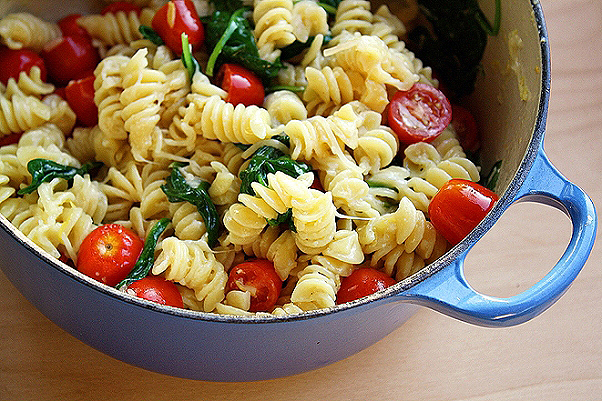 Creamy Lemon Pasta with Spinach & Tomatoes
Ingredients
1-1/2 tablespoons extra virgin olive oil
2 cloves garlic, minced
1 cup heavy cream
2 lemons, zested and juice reserved
1/2 teaspoon salt
1/4 teaspoon black pepper
1/2 pound rotini pasta
3 ounces baby spinach
1/4 cup grated Parmesan
1/2 pint grape or cherry tomatoes, halved
Instructions
Set a large pot of water to boil.
Heat the olive oil in a medium saucepan over medium heat; add the garlic and cook for a minute. Add the cream, the lemon zest and juice, salt and pepper. Bring to a boil, then lower the heat and simmer for 10 minutes, until it starts to thicken.
Meanwhile, add some salt to the boiling water and add the pasta; cook according to the directions on the package, stirring occasionally.
Drain the pasta and place it back into the pot. Immediately add the cream mixture and cook it over medium-low heat for 2-3 minutes, until most of the sauce has been absorbed in the pasta.
Take the pot off heat and add the spinach, Parmesan, and tomatoes. Toss well until the spinach has wilted. Season to taste, and serve hot.
Enjoy!