A stack of soft, fluffy gingerbread donuts are perfect for a cozy winter breakfast or brunch! These donuts are baked and not fried, but taste extra indulgent. Easy to make and irresistible with a cup of coffee. Holiday mornings practically require them!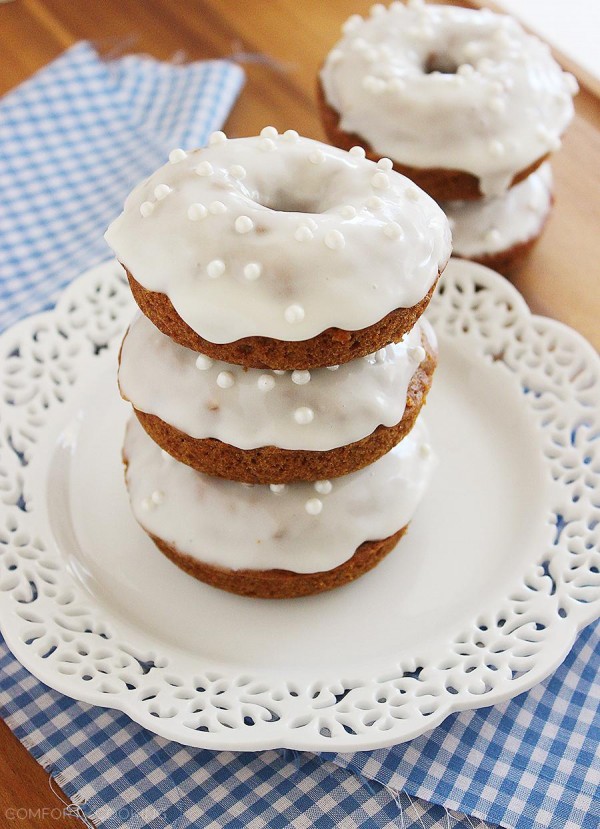 Forget the classic gingerbread house – I'm no good at sweets with frills! Specifically, licorice doors, gumdrop bushes and candy cane support beams. That would never pass a home inspection, after all!
I'm no fuss about my desserts. That is, except for the time that I spent 346,294 hours making Gingerbread Men. So cute. So yummy. But such a time suck.
As labor intensive as some may be, I do confess to be obsessed with all treats gingerbread. That warm, spicy mix of ginger, cinnamon and molasses is what makes my winter-loving heart beat. Perfect in cookies, loaves, cakes, and now donuts!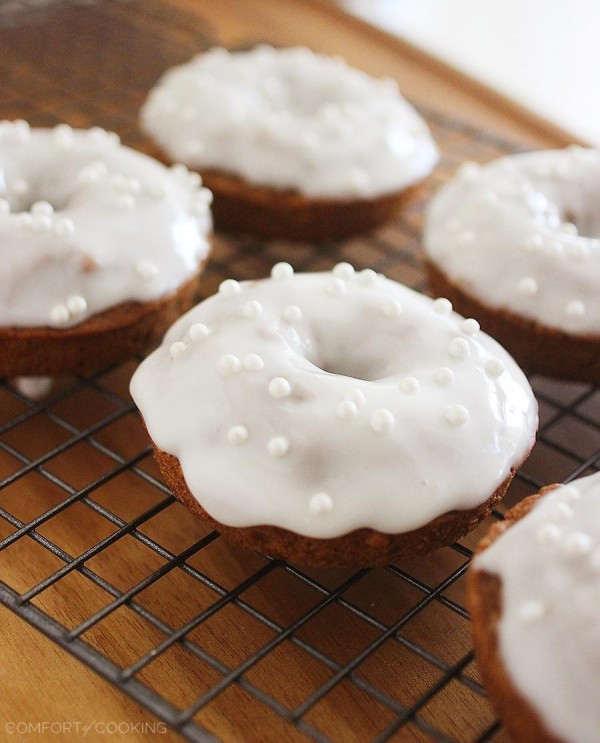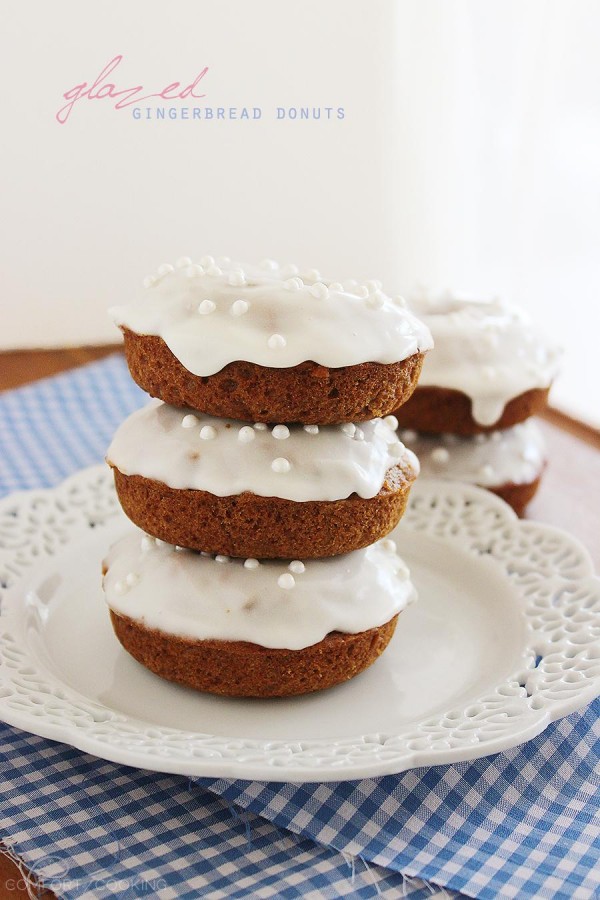 Need something unique to bring to a brunch? Gingerbread donuts! Want to treat your sweetie on a weekend morning? Gingerbread donuts! Love sweet and spicy flavors, and feeling like you're wrapped in a big fluffy blanket? Gingerbread donuts! I recommend a blanket, too. And maybe someone to bring you the donuts.
Can you say heaven?
Since these donuts are baked not fried, you can indulge in these incredible treats without as much guilt! They're super soft, quick and easy, and full of rich fall spices. Not to mention, they make your home smell delicious while they're churning away in your oven.
Bake a batch for next weekend!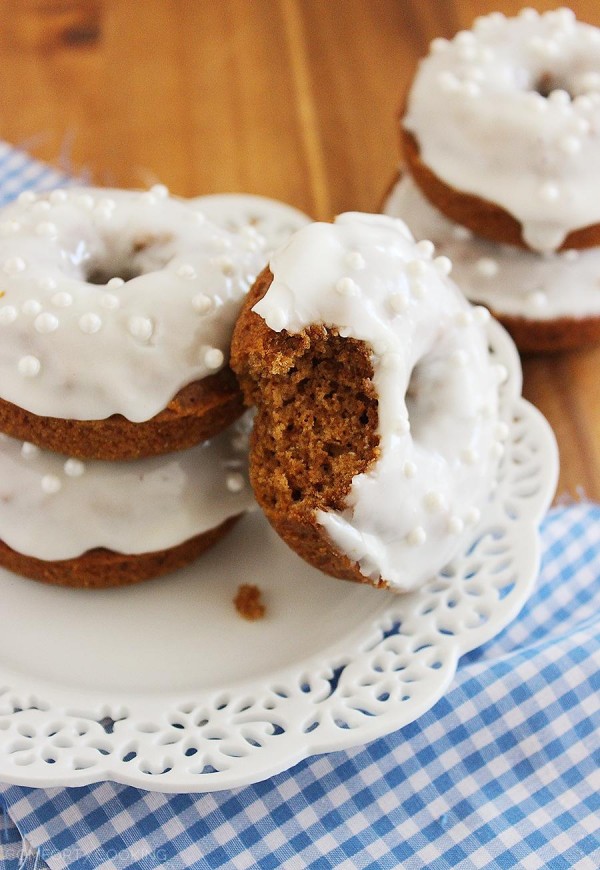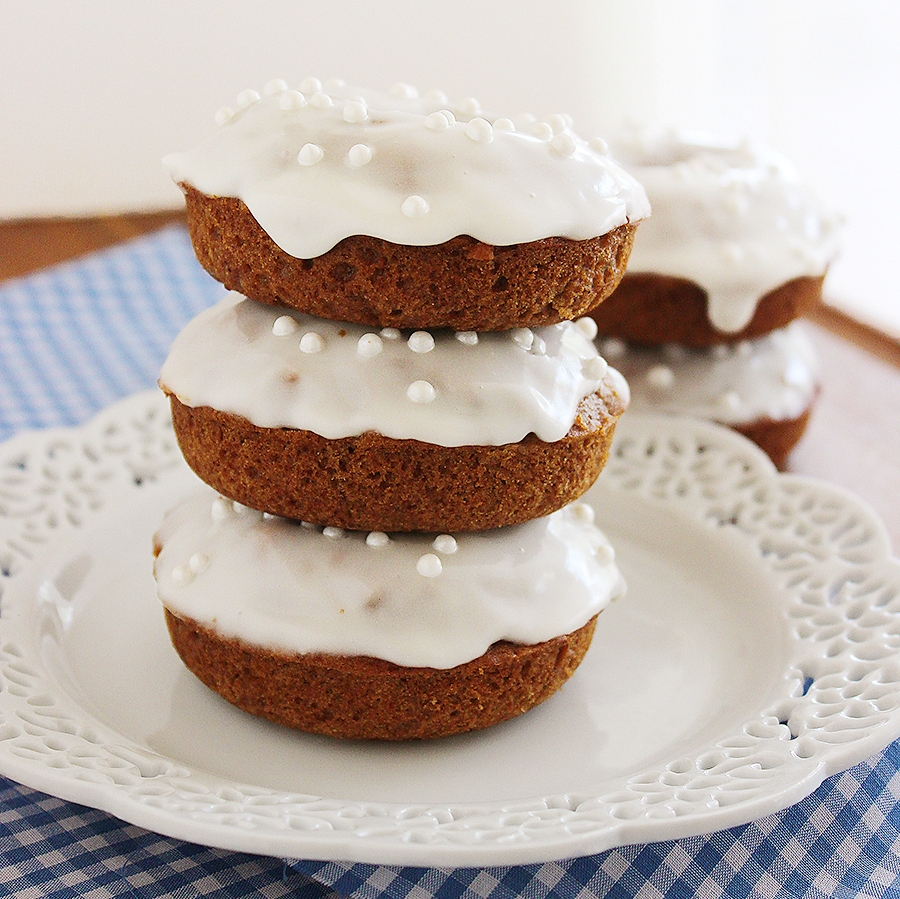 Glazed Gingerbread Donuts
Ingredients
For the Donuts:
1 cup all purpose flour
2 Tablespoons granulated sugar
1 teaspoon ground cinnamon
1/2 teaspoon baking soda
1/4 teaspoon ground ginger
1/8 teaspoon ground nutmeg
1/8 teaspoon ground cloves
1/2 cup buttermilk, or 1/4 cup milk + 1/4 cup greek yogurt
1/4 cup vegetable oil
3 Tablespoons molasses
1 large egg
1 teaspoon vanilla extract
For the Glaze:
1 cup powdered sugar
2 Tablespoons plain yogurt/sour cream
1/2 teaspoon milk
Instructions
For the Donuts: Preheat the oven to 350 degrees F. Lightly grease a standard size 6-cup donut pan.
In a large bowl, combine flour, sugar, cinnamon, baking soda, ginger, nutmeg, and cloves. Mix well.
In a separate smaller bowl, combine buttermilk, oil, molasses, egg and vanilla. Mix well.
Pour wet ingredients into dry ingredients, mixing until just combined. Do not over-mix or your donuts could be tough. Batter should be lumpy. Spoon batter equally into the 6 donut pan cups.
Bake for 12-14 minutes, or until a toothpick inserted into a donut comes out clean.
For the Glaze: Whisk all the glaze ingredients together until well incorporated. Once donuts have cooled completely, top with glaze.
Enjoy!