There seems to be this sudden craze for homemade donuts in the food blogging world, and it's got me craving them BAD. But since I don't have any of the fancy equipment needed to bake or fry them properly, I wanted to try to make these decadent little breakfast treats in a different way.
These soft, flaky puff pastry donuts with a filling of sugared fresh fruit and a lemon glaze were so good. And I mean, someone-please-help-'cause-I-can't-stop-eating-them good.
And since there's fresh fruit in there, that means they're good for you, right? I'd say yes. Let's go with that.
Though these donuts don't require anything more than a baking sheet, the warm and gooey taste still give you the same satisfaction as your everyday donut. That, and then some. Make them and you'll see!
Great for feeding hungry guests, or just a small family who wants something different and decadent with their morning coffee, these lemon-glazed fruit donuts will be sure to hit the spot!
I used strawberries, bananas and pineapple to fill mine, but feel free to experiment with different berries and fillings. You could try blueberries, raspberries, pie filling, pastry cream, jelly, jams… Use whatever you like, but I can guarantee no matter what, you will love these just as much as we did.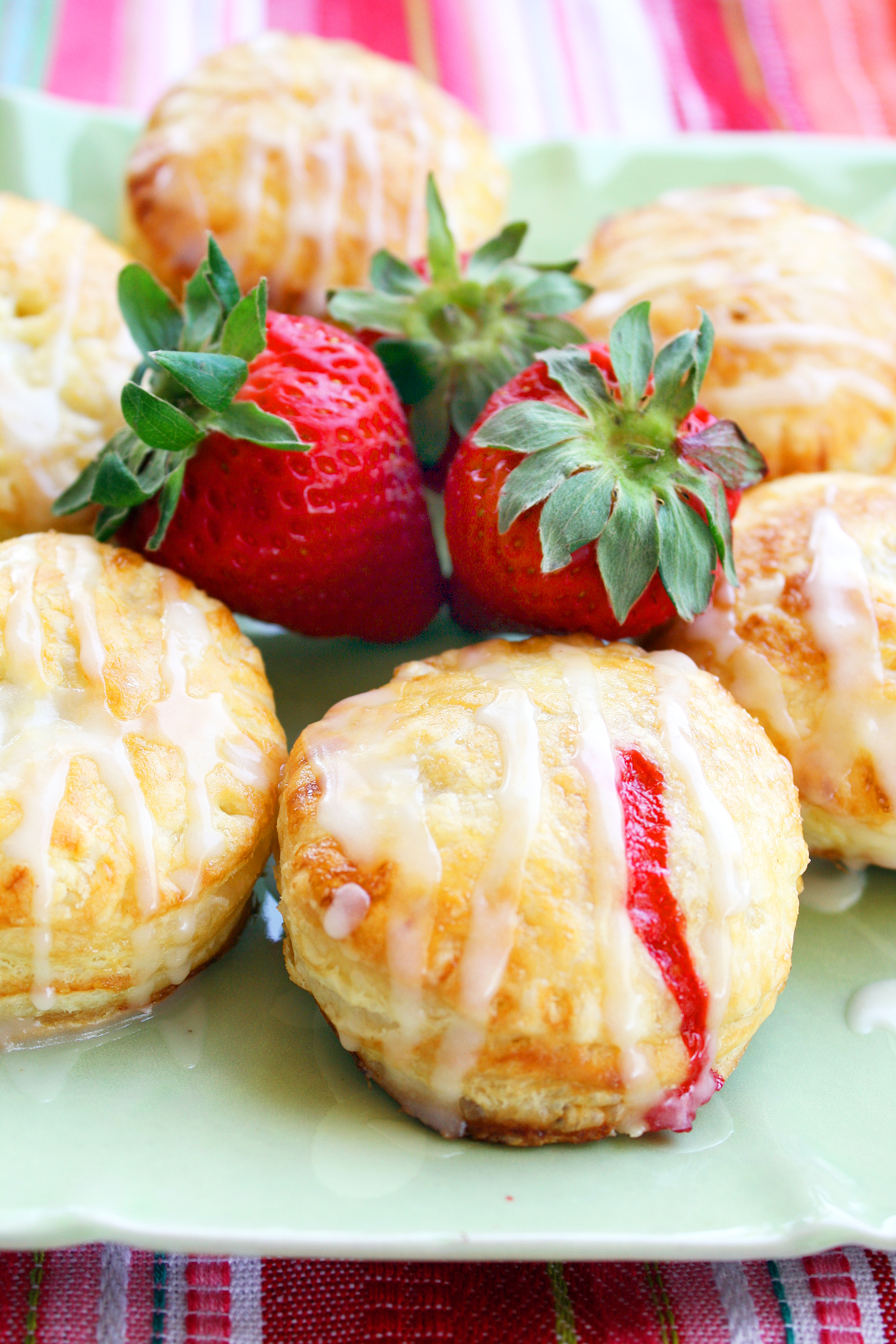 Fruit-Filled Puff Pastry Donuts with Lemon Glaze
Ingredients
1 egg
1 Tablespoon water
1 package (17.3 oz.) Pepperidge Farm Puff Pastry Sheets, thawed
Cut-up fruit such as strawberries, bananas, raspberries, blueberries, etc., I used strawberries, bananas and pineapple
Sugar
Lemon glaze:
1/4 cup lemon juice
1 cup confectioners' sugar
Instructions
To make the lemon glaze, combine ingredients in a bowl and whisk together. The consistency should be slightly thick but runny.
Preheat the oven to 400 degrees.
Beat the egg and water in a small bowl with a fork; Set aside. Unfold 1 pastry sheet on a lightly floured surface. Using a round cutter, cut the pastry sheet into 9 (3-inch) circles. Repeat with the remaining pastry sheet. (Don't waste the scraps – re-roll them and cut into as many circles as possible)
Place half of the pastry circles onto a parchment lined baking sheet. Top each with a small amount of cut-up fruit and top fruit with a pinch (about 1/8 teaspoon) sugar. Brush the edges of the pastry circles with the egg wash. Place the remaining pastry circles over the filling. Press the edges firmly to seal and crimp edges with a fork. Using a sharp knife or a pair of kitchen shears, cut two small slits in the top of each filled pastry.
Bake for 15 minutes or until the pastries are golden brown on the top and the bottoms. Let the pastries cool slightly and drizzle the lemon glaze, or simply shake confectioners sugar, over the tops.
Enjoy!